iTunes Converter Review: An Audio Converter and Music Player For All
We love music to refresh our mood and relieve our stress, and iTunes always works as a music player to play songs for us. However, iTunes has a hidden feature to convert music files while your audio files are not playing with your music player. For that reason, we will review iTunes Converter. This converter will definitely give a smooth and fast conversion with extra features. Also, it has a simple interface. Do you want to know more? Let us read now!

1. Our Verdict
Pros

It is easy to use.
It has a straightforward interface.
It has a music subscription service.
It has a MiniPlayer interface.
It supports iCloud integration.
Cons

It has a problem with the authorization limit for people who have many devices.
There is a lag in the Windows version.
Overall Ratings
Easy to use:9.0
User-friendly:9.0
Conversion speed:8.5
2. What is iTunes Converter?
Price: Free, and for regular users: $9.99 a month, for students: $4.99 a month, and for family subscriptions: $14.99 a month.
Platform: Windows and Mac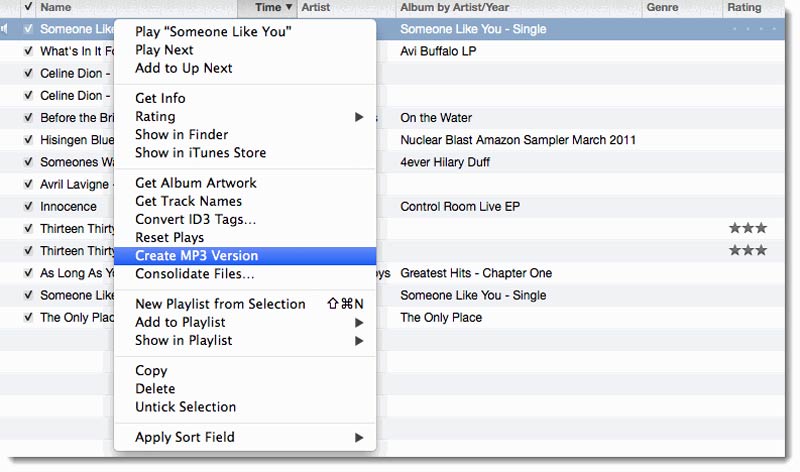 iTunes Converter is one of the features of iTunes. This audio converter lets you convert your audio file. What's more? Take a look at the main features below:
Main Features
iTunes Converter has everything you need in terms of music and audio converter. Please see the features of iTunes below:
◆ You can organize and play your music.
◆ It offers batch conversion.
◆ It has a built-in music player before or after converting.
◆ It enables you to listen to Apple Podcasts, audiobooks, etc.
◆ You can watch movies and TV shows.
3. iTunes Converter Review
Interface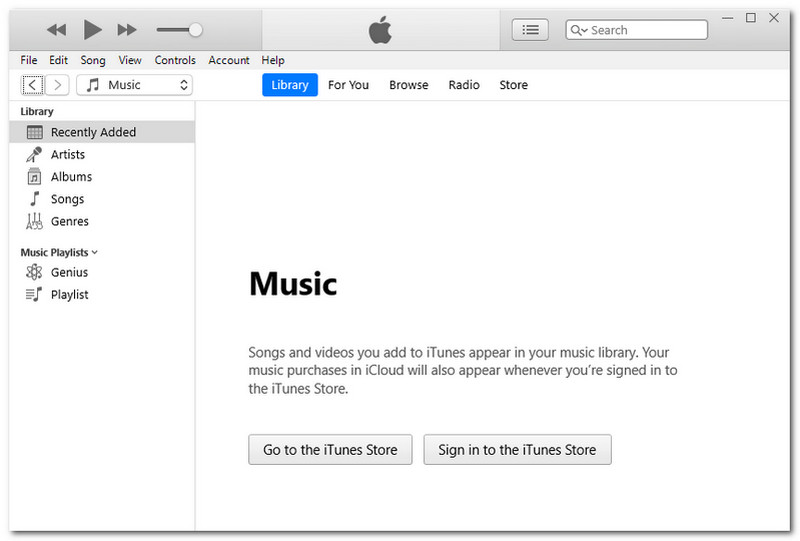 iTunes Converter has an easy-to-manage interface. It is clean and plain in the eyes. Furthermore, the player controls are on the top of the left panel. Below are the options like File, Edit, Song, Video, Controls, Account, and Help. If you want to add a playlist, you can click the File find New and click Playlist. And, if you convert your audio file, you will click the File and look for the Convert, and you have choices such as Create iPod to iPhone Version, Convert ID3 Tags, and more.
Going to View, you can show the MiniPlayer, Equalizer, or switch to MiniPlayer. In Controls, this is where you can increase and decrease the volume of your music. Also, you can see Shuffle and Repeat.
Supported Input and Output Formats
iTunes Converter works on AAC, AIFF, Apple Lossless, MP3, MPEG-4, M4A, QuickTime, Vorbis, FLAC, OGG, and more.
iTunes MiniPlayer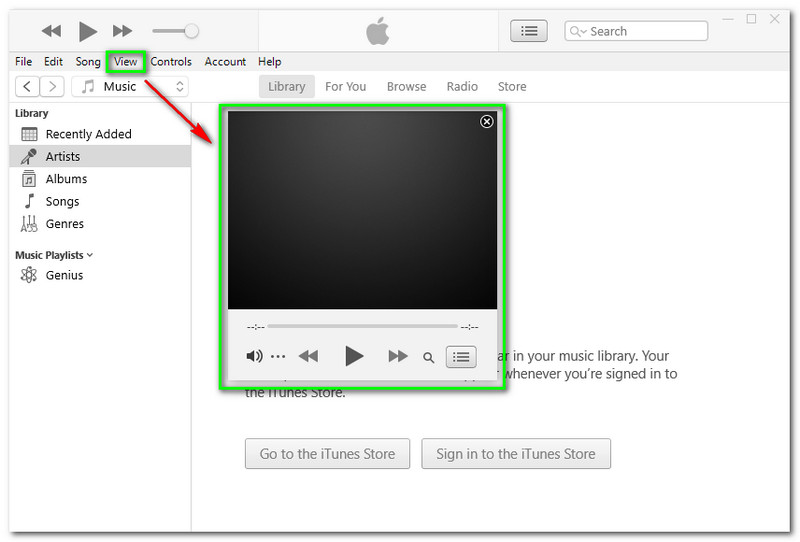 iTunes Converter has a MiniPlayer. It consumes a little space on your computer screen, and you can still adjust the volume. Plus, you can continue to search for songs, and you may choose songs to play next and even further. What's more? Below the player controls, you can see the History of the songs you played. Also, it enables you to see the Lyrics while playing a piece of music. If you want to try it, go to the software and click the View above the panel. Then, tap Show MiniPlayer or Ctrl+Shift+1.
iTunes Equalizer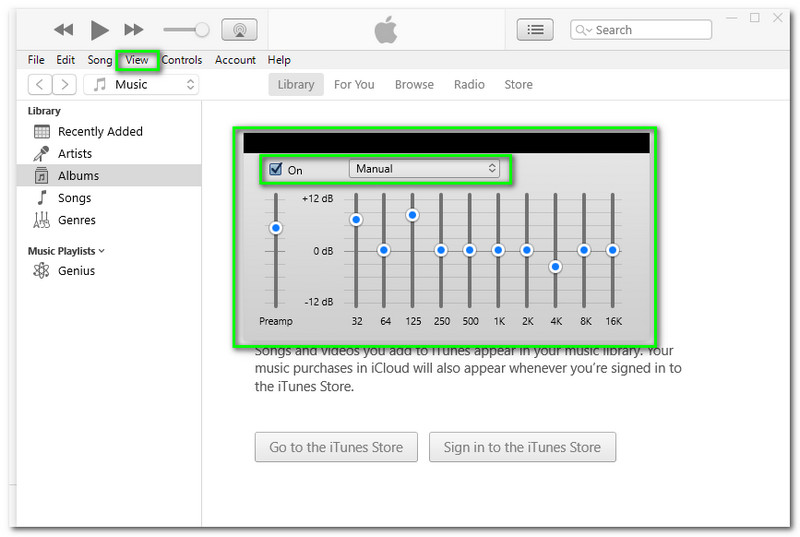 An equalizer is a tool that is essential in an audio player and converter. It allows you to adjust the volume and the frequencies in your audio. As a result, iTunes Converter enables you to adjust the equalizer. To change it, launch the software. After launching the software, click the View on the left panel and hit the Show Equalizer or Ctrl+Shift+2. After that, a small rectangle window will appear. Tap the On and be ready to adjust everything you want. In addition to this, you have an option to make a preset on your own. Select the Make Preset and name it by your choice. You can also choose with the available presets such as acoustic, classical, dance, hip-hop, jazz, bass booster, bass reducer, and even further.
Smart Playlist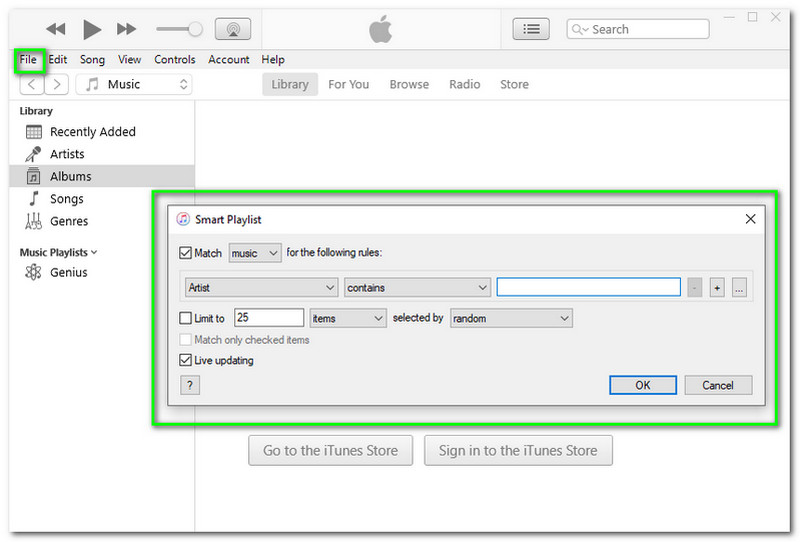 Smart Playlist in iTunes Converter can organize your songs and any other media to become a playlist, and it will be based on the criteria you create. In addition to this, if you remove or add from the iTunes library connected to your Smart Playlist, it will be automatically updated and included at the same time. To find the Smart Playlist, click the File, look for the New button, and go to Smart Playlist. Then, the smart playlist will appear. Furthermore, you have an option to customize it.
What is Best for?
iTunes Converter is best for converting your audio files and playing music. Additionally, since iTunes is from Apple, this software is also best for Apple users. It is easy to use iTunes Converter if you are an Apple user because you can easily connect it with your other Apple devices. Moreover, it is also best for a beginner user because iTunes Converter is direct and manageable to use.
4. FAQ
Is iTunes Converter safe to use?
Yes, iTunes Converter or Apple may collect your data. However, they take your privacy seriously. In addition to this, they are open to any questions regarding your concerns about your data. So, if you have questions, you can visit their webpage.
How can I import songs from CD into iTunes Converter on PC?
First, open the software and choose Edit and select Preferences and tap General. Then, a pop-up menu will appear, and click the When a CD is inserted and choose with options. Select Import CD, then iTunes Converter automatically imports your CD.
What can I sync using iTunes Converter?
Using iTunes Converter, you can sync your albums, songs, playlist, podcasts, TV shows, movies, photos, videos, and so much more.
5. Best Alternative - Aiseesoft Video Converter Ultimate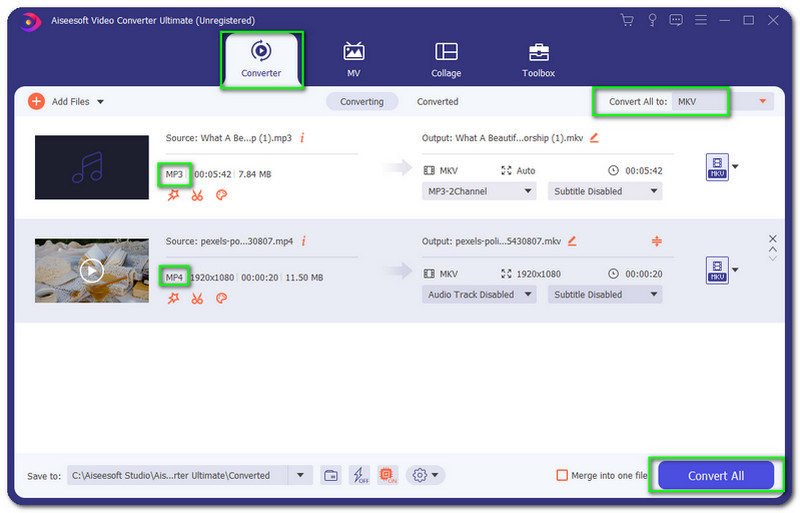 iTunes Converter focuses on converting and playing your audio files only. However, if you are looking for an all-inclusive media converter, Aiseesoft Video Converter Ultimate is perfect for you, and it is the best alternative to iTunes Converter. In addition to this, Aiseesoft Video Converter Ultimate provides you with many features you will love, like editing tools that iTunes Converter does not offer. Moreover, since it is paid, it provides you with the best quality outputs. What's more? iTunes Converter only converts your audio files. Yet, to be specific, Aiseesoft Video Converter Ultimate can convert your video file to another video file. Or convert your video file to an audio file and more. For that reason, we highly recommend Aiseesoft Video Converter Ultimate and assure you to give you the best experience.
Conclusion
To wrap it up, in this article review, we now know that DVDFab Video Converter can meet your needs in terms of converting your files into another kind of file format. In addition to this, we are now aware of DVDFab Video Converter price, platforms, and its main features. Moreover, we also have an idea that DVDFab Video Converter can customize your audio and video output parameters and more. So much for that, we hope to see you in our next article.
Did you find this helpful?
375 Votes
YES

Thanks for letting us know!
No

Thanks for letting us know!
Best Video Audio Converter Review
Aiseesoft Video Converter Ultimate
All-in-one video converter, editor, enhancer upscaled with AI.