Quickly Convert MP4 to WebM With These Four Best Tools
We know that MP4 is the most common format for videos. However, there are cases wherein MP4 doesn't play on some devices with low-quality characteristics. No wonder other users are converting their MP4 files into WebM because of this format's openness to almost all devices, even on the old ones. Suppose you are experiencing the same thing as others. In that case, you can convert MP4 to WebM with the most recommended tools that suit beginners and professionals. Without further ado, see the different MP4 converters below.

Part 1. MP4 vs. WebM
What is MP4?
MP4s are one of the most prevalent video file types used for storing and broadcasting videos from the web. It's a very flexible and compact video format that stores sound, subtitles, and still pictures. It is also compliant with running on limited bandwidth media. MP4 is compatible with a variety of devices and clients as well.
What is WebM?
WebM is a media file type that is open and free, and it was established for use on the internet. This sort of file is made up of streaming video compressed using the VP8 or VP9 video algorithms and audio tracks compressed with the Vorbis or Opus sound file formats, among other things. Because WebM is intended to be played on a browser's integrated media player. It offers the benefit of far greater file compression than other formats.
What are WebM VP8 and VP9?
Additionally, WebM supports media streaming using the VP8 or VP9 video codecs. These are very efficient methods of video compression. VP8 is a video encoding and decoding format for viewing high-definition content as a file. VP9, on the other hand, is an accessible system that requires no licensing costs. This codec is mainly used for Online video streaming. It helps decrease the video transmission data rate by 50% while preserving the quality of the video.
Part 2. How to Convert MP4 to WebM Online for Free
Another thing, it will not give you a hard time navigating the editing tools because it is effortless to use. And it was initially made to convert audio and video files. Vidmore Free Video Converter allows you to select different formats and navigate the audio settings according to your preferences. This tool stands tall because Vidmore Free Video Converter allows you to convert files without restrictions, unlike most online tools. To help you more, please use the steps below as a guide.
1.
On the Vidmore Free Video Converter official website, click the Add files to convert and download the launcher icon. Once the launcher is installed, you may start using the online MP4 to WebM converter program.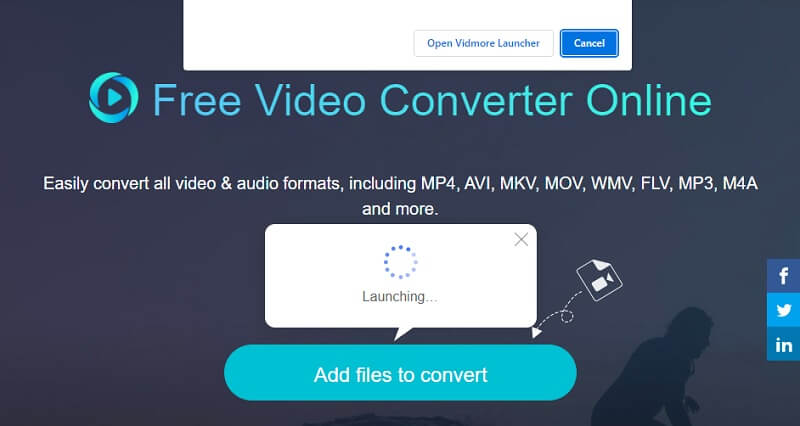 2.
After that, by selecting the Add files to convert button again, go to your Library and choose the MP4 file. You may convert many audio data together to save more of your time by selecting the Add File option.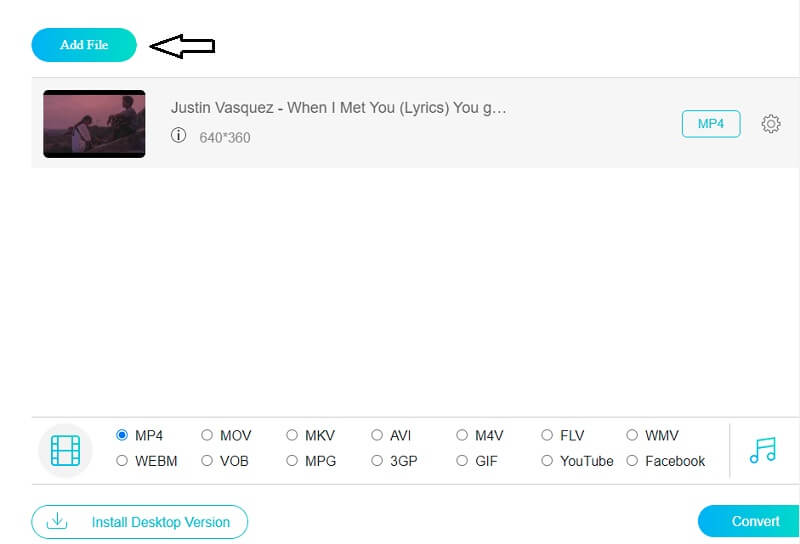 3.
Select the Movie icon, which you may find in the bottom portion of the window. In addition, depending on your choices, it will give you a selection of several audio file formats from which to pick. Then, from the drop-down menu below, choose WebM as your video format.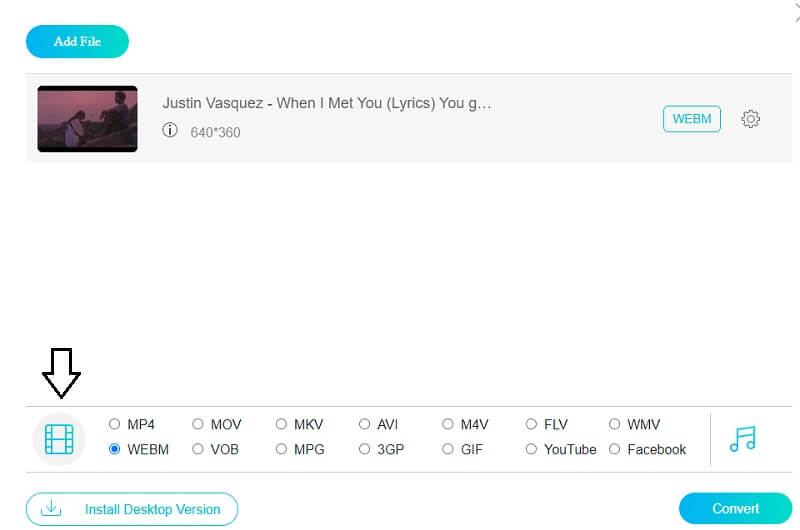 Then, click the Settings icon on the right side of the audio and choose Bitrate, Sample Rate, and Channel if you want to take control of the audio quality and size. When completed, click OK to dismiss the window.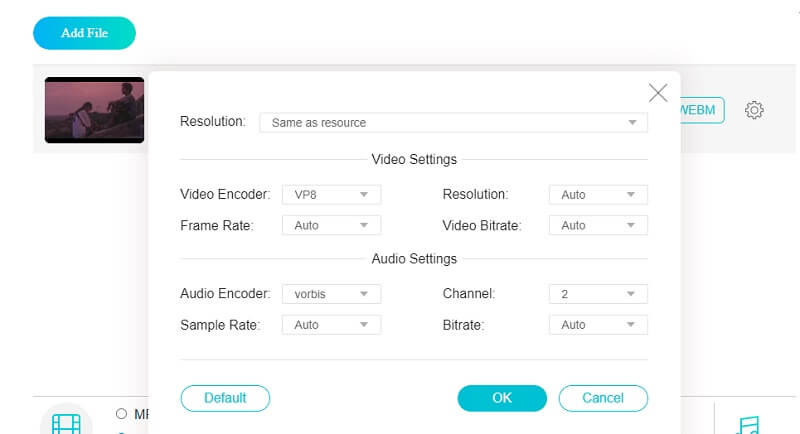 4.
If you want to make permanent modifications to your file, select the Convert button and the target folder for your file, then hit the Select Folder button. This WebM converter program will convert your file into the WebM format in a couple of moments.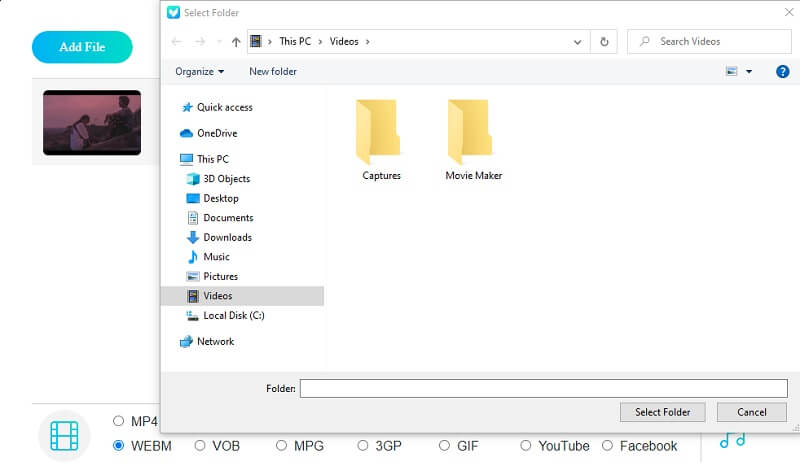 Part 3. How to Convert MP4 to WebM on Desktop
If you have an audio and video converter installed on your device, it's still preferable to use it instead. That is why we have reserved a list of the most valuable converters that you may use on your Windows and Mac computers.
1. Vidmore Video Converter
The Vidmore Video Converter is the first converter you should consider when converting MP4 to WebM. This tool is available with both Mac and Windows devices. If you are a beginner and wish to convert a file to another format, this program is ideal. It is due to Vidmore's built-in attractive UI. You wouldn't need a lot of ability when it comes to video converters since the editing tools are accessible.
Vidmore Video Converter supports a large number of audio and video formats. Additionally, you may alter the file's bitrate, sample rate, and channel. Finally, Vidmore Video Converter performs well although not connected to an internet provider. The following demonstration is how to convert MP4 to WebM using this tool to assist you totally with the following demonstration
1.
Install the Converter on your Device
When you start, you must install the application. To get started, click the Free Download option below. Enable Vidmore on your device and start uploading your videos.
2.
Upload AC3 File From Your Folder
Once the software has access to your device, you can add the video clip on the tools. Start by clicking the Add Files on the left part of the Timeline or the Plus icon on the middle part if you want a quicker way.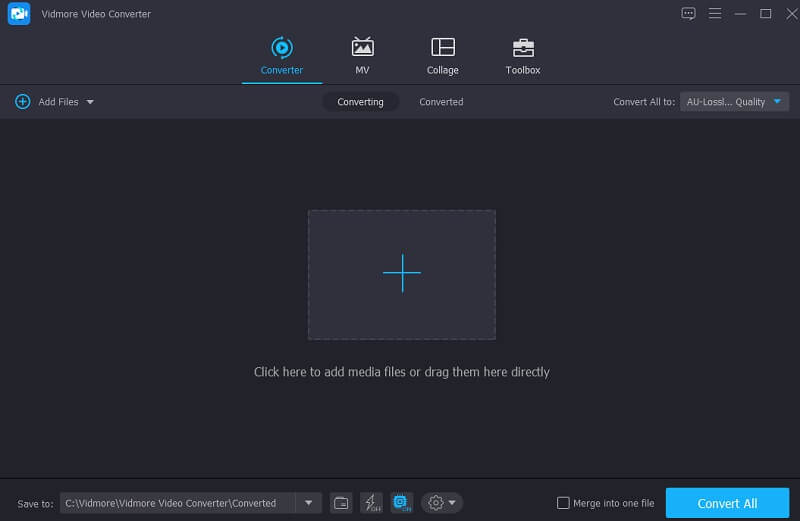 3.
Select a New Format
Once the video clip is on Timeline, proceed to the Profile menu on the right side of the screen and choose the Audio from the list of tabs. Then, please search for the WebM format and set it as a new format.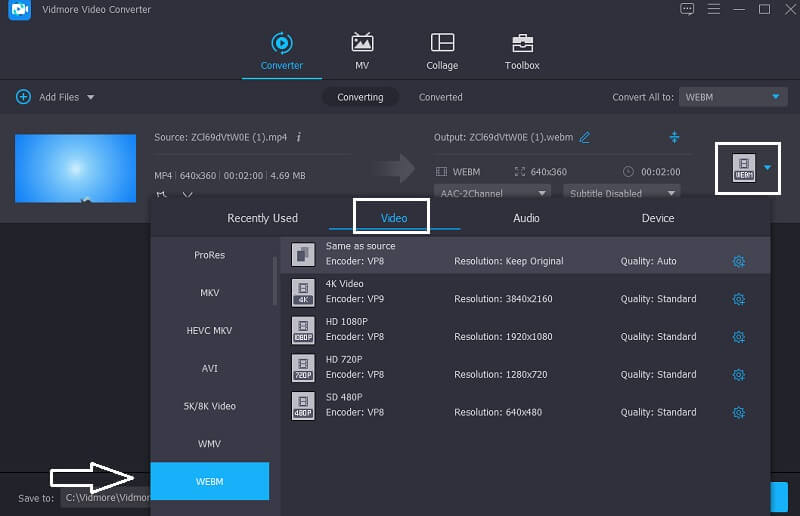 After selecting the WebM format, you may also customize the audio settings. You may modify the Bitrate, Sample Rate, and Channel settings with a single tap of the Settings button. After you've completed changing the audio to your choice, click the Create New button.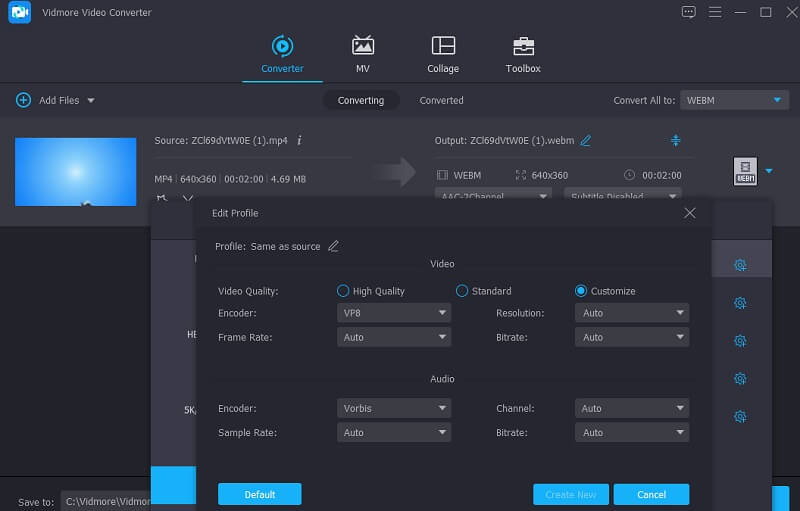 4.
Convert MP4 to WebM
After completing the audio quality upgrade, choose Convert All from the drop-down option to convert all of the files. After that, you'll have to wait for the conversion procedure to be completed before continuing.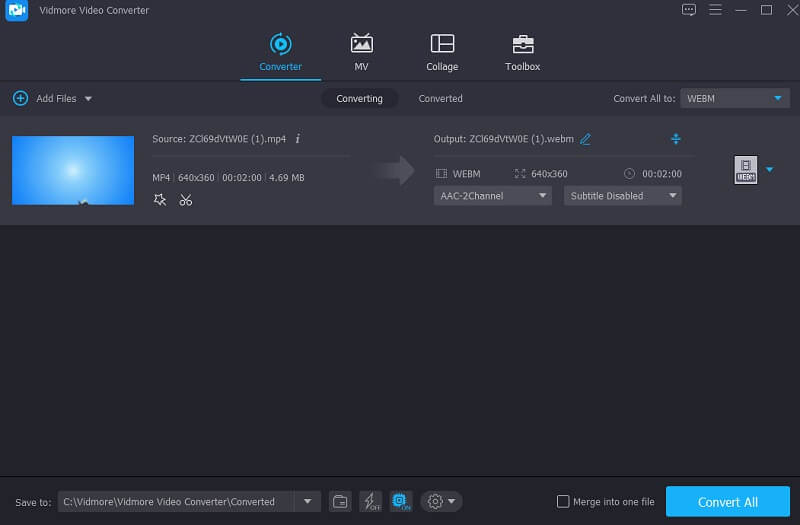 2. FFmpeg
You may also convert MP4 to WebM using a text-based converter such as FFmpeg, which stands for Fast Forward MPEG. In contrast to other audio editors that have straightforward navigation options, the program is a little challenging to master at first glance. FFmpeg can handle the entire transcoding process and video and image editing, encoding, broadcasting, and playback. FFmpeg is free software. It is the most widely used video and picture editing software on the market. It is used by many of the most famous editors in the business.
1.
First, download and install the FFmpeg on your device and wait for it to run correctly.
2.
Then, copy the MP4 file to your Bin folder. After that, type the c:/ffmpeg/bin> on the type bar.
3.
Lastly, to proceed with the conversion of MP4 to WebM, indicate the ffmpeg -i test.mp4 -c:v libvpx -crf 15 -b:v 1M -c: a libvorbis test. webm. Once you are done to create WebM from MP4, find the new WebM file on your bin.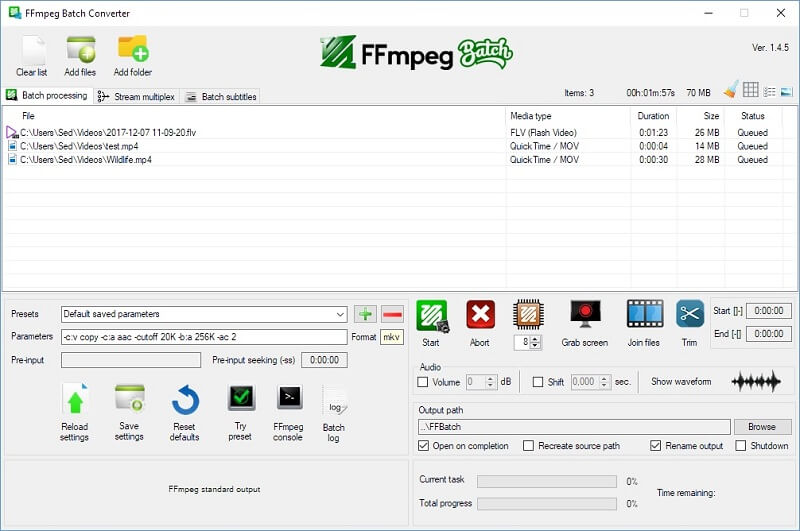 3. Adobe Media Encoder
The Adobe Media Encoder is another helpful tool. It is being used to make media material for the internet and other resources, among other things. It gives you the ability to transform files in various ways, including changing the format altogether. Media Encoder is software that encodes media files, therefore decreasing their size. Here is a simple step to show you how to convert MP4 to WebM.
1.
Open the Adobe Media Encoder, proceed to the File, click the Media, and add the video clip you want.
2.
Then click the WebM as the new file format.
3.
And that's it! You will now see your video clip in a WebM format.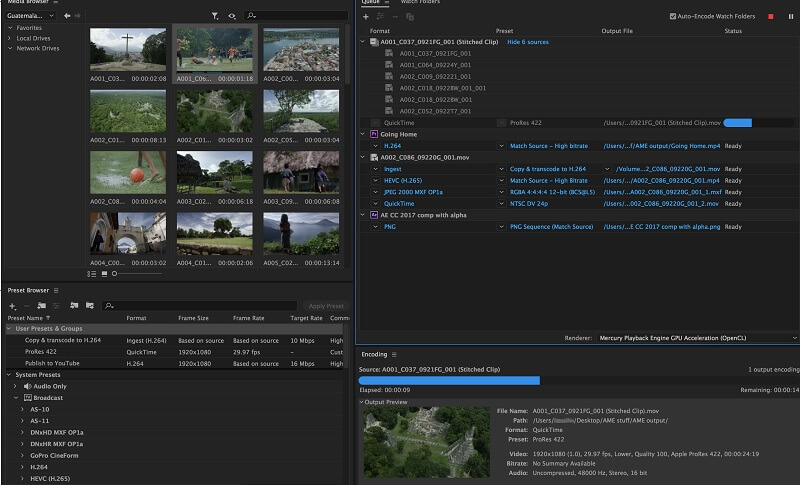 Part 4. Create WebM from MP4 with Chrome Apps
Apart from online tools or desktop programs, you can install the Chrome extensions to help change MP4 to WebM, and WebM to MP4.
MP4 to WEBM Converter is a Chrome app to turn MP4 to WebM. It highly supports MP4, WebM, FLV, 3GP, M4V, MKV, MOV, MTS, WebM, WMV, VOB, MPG, MPEG, and more. Nothing software required, but only download the Chrome app to complete the conversion.
1.
Install MP4 to WEBM Converter on your Chrome.
2.
Drag and drop your MP4 file into this Chrome app.
3.
Click the Convert button (arrow to right) at the bottom to start changing MP4 to WebM.
4.
Once the conversion is done, click Download your file to start saving the converted WebM file to your computer.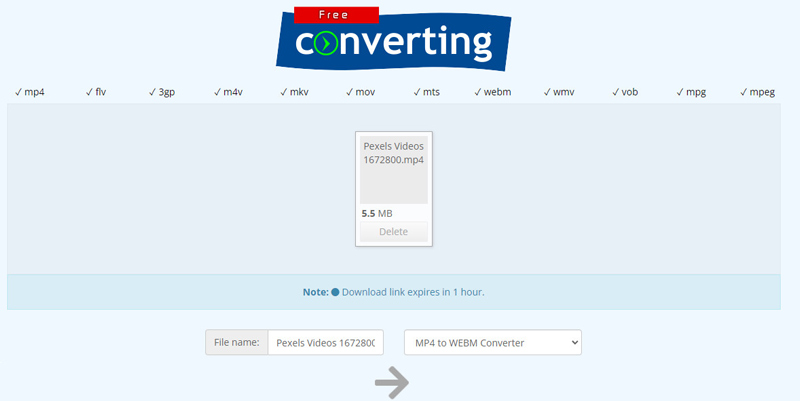 Part 5. FAQs About Converting MP4 to WebM
Is Adobe Media Encoder available for free?
Adobe Media Encoder is free software that performs all of the functions required in the video converting field.
Can I change the size of a video in FFmpeg?
Using FFmpeg, you may modify a video file's resolution and aspect ratio. FFmpeg resizes videos and audio files by executing a sequence of operations.
What are some advantages of a WebM format?
WebM video is supported by fewer media players and thus needs fewer components and plug-ins to function correctly.
Can VLC convert MP4 to WebM?
Yes, surely. VLC is not only a media player, but can also convert MP4 to WebM as a video converter. On the contrary, it can also convert WebM to MP4. 1. Run VLC Media Player on your computer. 2. Click the Media drop-down list to select Convert / Save. 3. Click the add icon to upload your MP4 or WebM files. 4. Again, find the Convert / Save option at the bottom. 5. Find the WebM or MP4 output format from the Profile drop-down option. And select the location to save the converted files. 6. Click the Start button to change MP4 to WebM.
Conclusion
That's all! Converting MP4 to WebM would be as easy as 123! The decision is yours by choosing from the list of the best video converters above. But if you consider the user-friendliness of a tool, Vidmore Video Converter is the best one. On the other hand, you must consider using the Vidmore Free Video Converter if you want a pure video converter.
Did you find this helpful?
365 Votes
YES

Thanks for letting us know!
No

Thanks for letting us know!
Vidmore Converter
Your complete video toolbox to convert, edit and enhance video.