Ultimate Guidelines to Bypass Activation Lock: Instant Fix with Great Tool
Our mobile devices, especially Apple products such as iPhone and iPad, offer outstanding features and specifications that benefit us and convince us to buy their product. Nowadays, the iPhone is also famous for giving its users strong security. Among these features, it offers an Activation Lock that can protect our devices from accessing information by a thief or unwanted person. It is more beneficial, especially when our iPhone is stolen or lost.
However, even though the features are intended to help us and make our mobile device secure, it also brings complications and problems to the users. For instance, forgetting our Apple ID password would be a considerable problem. Also, for the users who are buying a second-hand iPhone. In line with that, let us help these users by giving effective methods to bypass iPhone or iPad activation lock using the great tools.

1. What is Activation Lock
Activation Lock is an anti-theft security technology activated automatically when Find My iPhone is enabled during the first setup process. It protects the gadget and the data on it. Once iCloud Activation Lock is activated, no one else can use their Apple ID to activate the iPhone, and the device cannot be erased from that iCloud account, nor can the Find My service be disabled. These activities are only available if the Apple ID and password set up on the device are input.
Furthermore, if others have your phone and are linked to a recognized wifi network, Apple will track it automatically. In the worst-case situation, the activation lock allows you to delete data from your devices, implying that the person in charge will be unable to access your data, such as emails, photographs, and texts.
Lastly, understanding its fundamental function is beneficial to the security of our gadgets. However, it can also cause problems if we forget our Apple ID password or purchase a used iOS device. Using the strategies listed below, we can alleviate these issues. Please keep reading for more information and guidelines below.
2. 3 Ways to Bypass Activation Lock
Tool 1: Aiseesoft iPhone Unlocker
Aiseesoft iPhone Unlocker is an iPhone unlock tool that allows you to restore your iPhone to factory settings so that you may use it like new. It can get rid of iCloud activation, and use a new Apple ID to log in and activate your iPhone liek a new.
Suppose you have forgotten your iPhone's iPhone's passcode. It also can be utilized if your iOS has been disabled after numerous incorrect password attempts or if you have recently purchased a secondhand iPhone and do not know the correct password. In addition, through the times, this program has been continuously updated. Nowadays, they have added a new feature- Bypass iCloud Activation Lock. Through this, we can now bypass iPhone activation lock jailbreak easily. Aiseesoft iPhone Unlocker can help you with all of the problems listed above. Please follow the instructions below as we remove the activation lock.
1.
Let's install and launch Aiseesoft iPhone Unlocker on your computer as we begin. Then, pick the UI's Bypass iCloud Activation Lock feature icon to see the main interface. After that, connect your smartphone to your computer with a USB cable.
2.
Then, on your iOS screen, a pop-up tab will appear, and we need to hit the Trust button. Afterward, go back to your computer screen and tab the Done button on the software's new tab.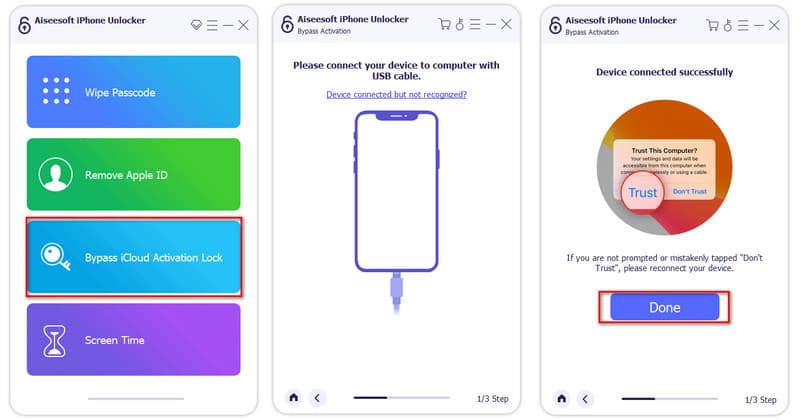 3.
The unlocker will now go through the process of detecting your iOS settings. After the procedure, a new tab will be printed where we can check the icon I have read, use statements and warnings boxes and click Start to begin bypassing. A new tab will open, and you should click the Next button to proceed.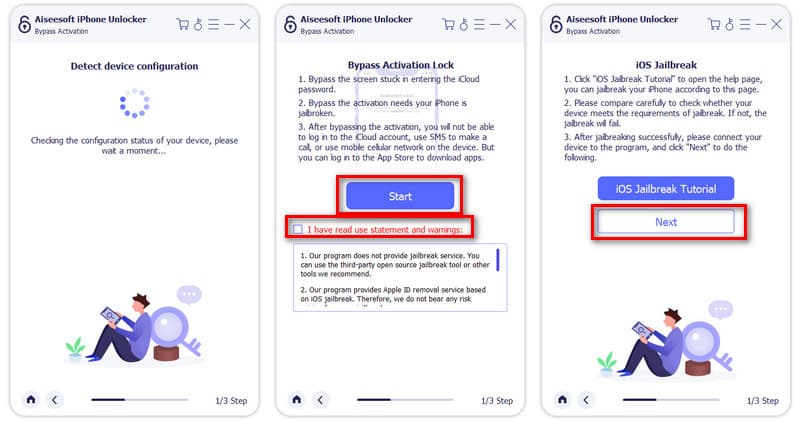 4.
Let us now proceed to the next step. We may see the verification of our specific device's information on the new tab. Then we should press the Start Bypassing Activation button.
5.
On the fifth step, let Aiseesoft iPhone Unlocker software handle the activation lock by processing for a second. As a result, patience will be required until the process is completed.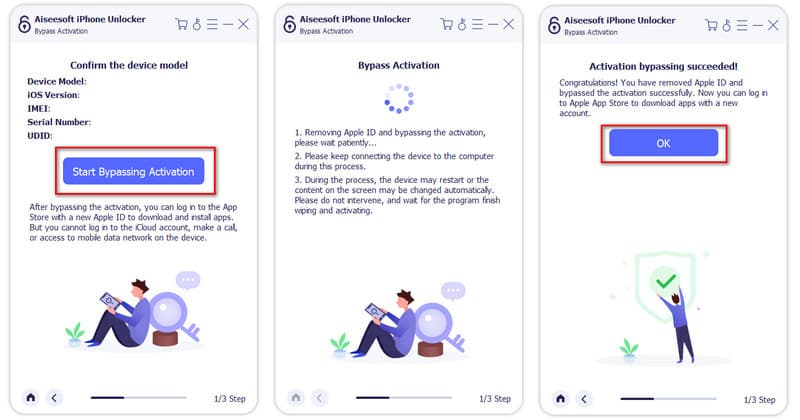 Tool 2: PassFab Activation Unlocker
Let us proceed to the second ku7amazing tool that can help us hassle-free bypass the activation lock. PassFab Activation Unlocker allows you to disable Find My or remove the iCloud activation lock from your iPhone, iPad, or iPod Touch. As an example of its capabilities, this tool can unlock the Apple ID and disable Find My iPhone without requiring a password. You may also mute the camera sound but not the shutter sound. It is possible to wipe the device without entering the password. The detailed procedures for removing the activation lock and disabling Find My using PassFab Activation Unlocker are below. Its effectiveness rate and professional features are a few reasons why many users continuously use it. Kindly see the steps below as your guide in doing the process.
1.
Install the PassFab Activation Unlocker software on your PC. After that, kindly launch the software and see the clean interface. Then from the interface, click the Start to Remove button to proceed with the process.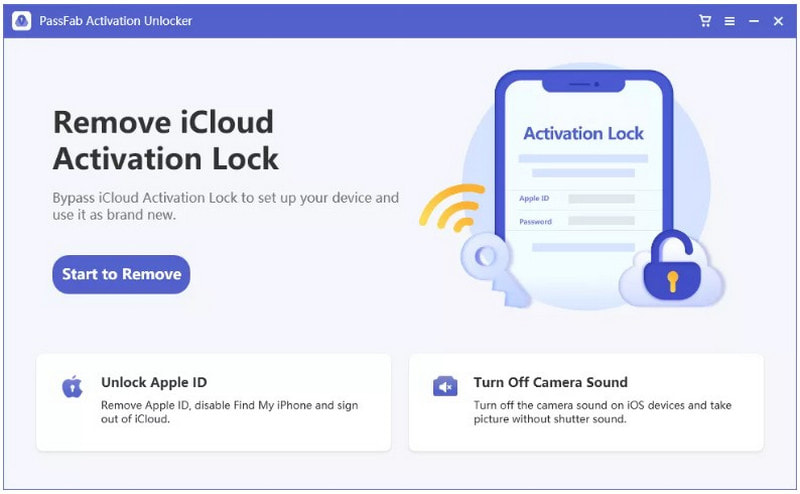 2.
Next, you will now see a new tab that shows some precautions you need to read and bear in mind before utilizing the software. After that, please press the Start button in the bottom-right corner to continue with the third step.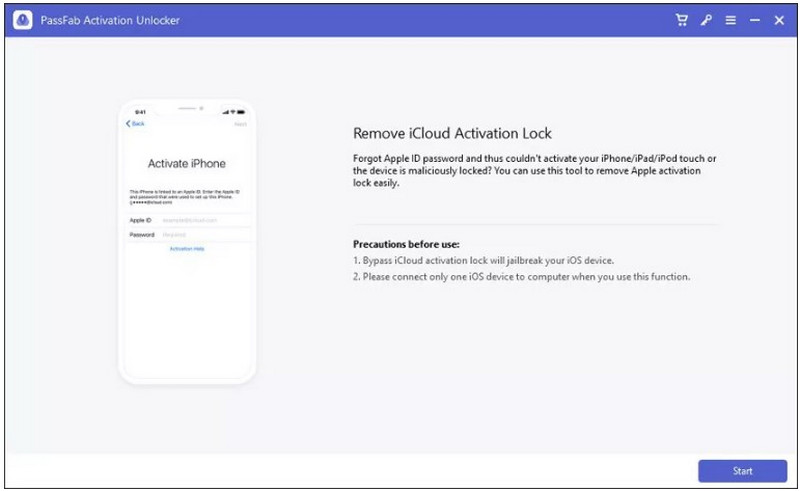 3.
In the third step, you will need to confirm the agreement. Please read the terms and conditions you must follow and prolly the results we can get after the process. Now, please tick the box for I have read and agreed the agreement as an act of approval. Then, click Next, and then connect your iOs to your computer via a USB cable.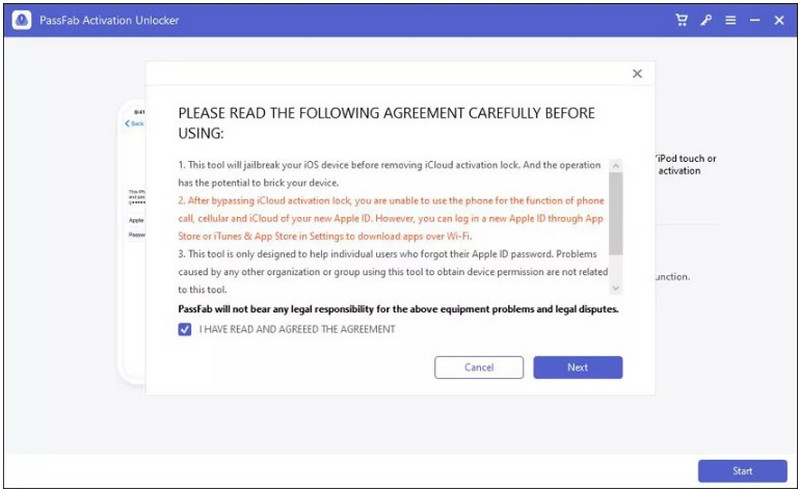 4.
Next, please follow the few on-screen instructions to obtain your iDevice's jailbreak and jailbreak accurately. As simple as clicking the Start Jailbreak, we may now proceed with the next step.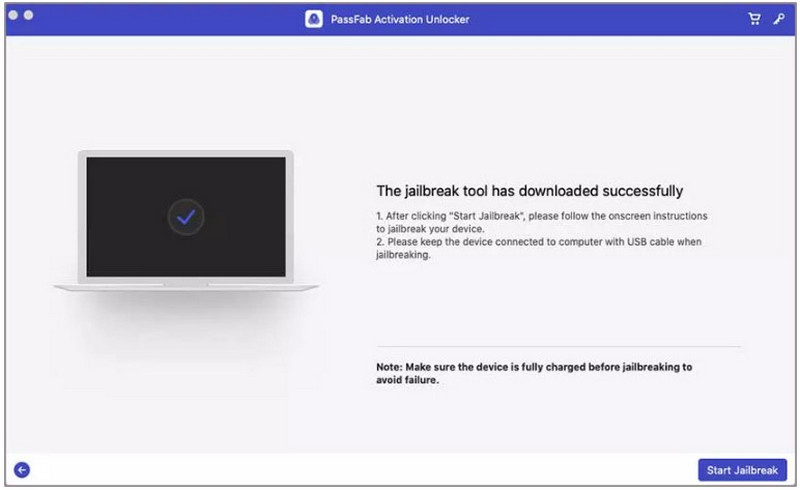 5.
After that, the tool will now process your activation lock on your iPhone. When the process is complete, click the Done button, and your iDevice is now ready to use like a new iOS device.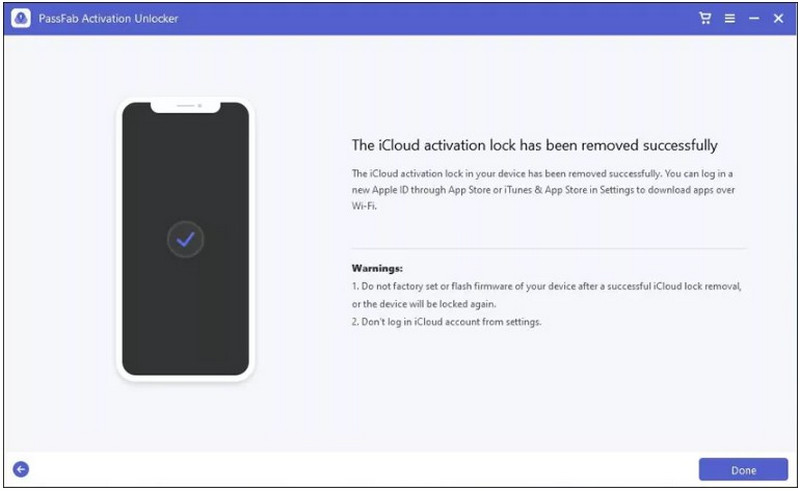 Tool 3:Wondershare Dr.Fone
Dr.Fone Screen Lock is a well-known software application that comprehensively answers any problems with your Android or iOS mobile device. It supported all iOS mobile devices and versions for circumventing Activation Lock, from iPhone 5s to iPhone X and from iOS 9 to iOS 14.8. Using Dr.Fone-Screen Unlock to overcome the Activation Lock will wipe all of your data. Please see the process below to see the instructions for utilizing it.
1.
Install Wondershare Dr.Fone on your computer, then select the Screen Unlock module from the main interface. Select Remove Active Lock from the Unlock Apple ID menu.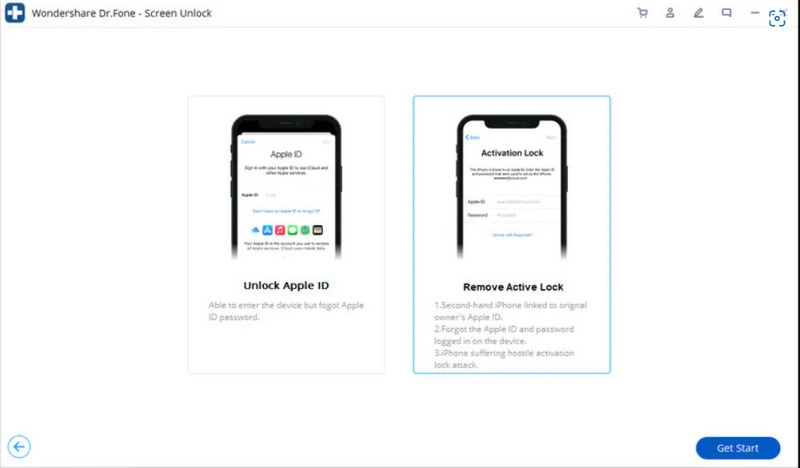 2.
Now that your iPhone has been jailbroken, a warning notice will display on the screen. From there, you must Tick the confirmation letter that you accept with the terms and conditions and hit the Next button, as well as confirm the information, such as the device model.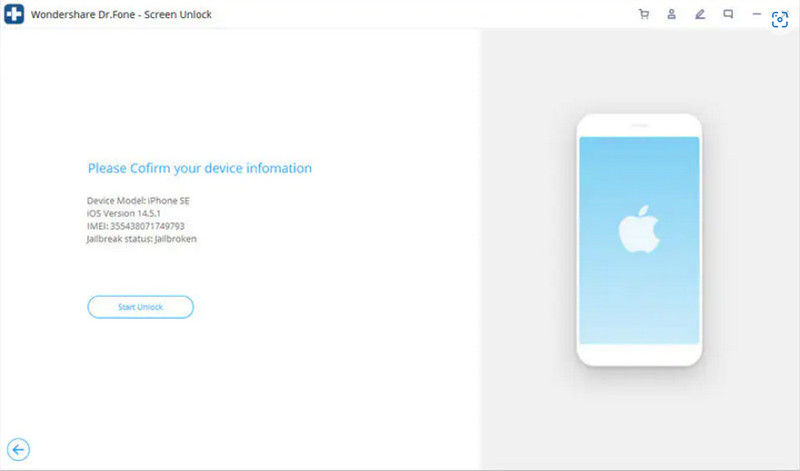 3.
Start the Activation Lock procedure, which will transform the phone into a regular phone by removing the Activation Lock without requiring a password; this will take seconds, and you will be free of the Activation Lock.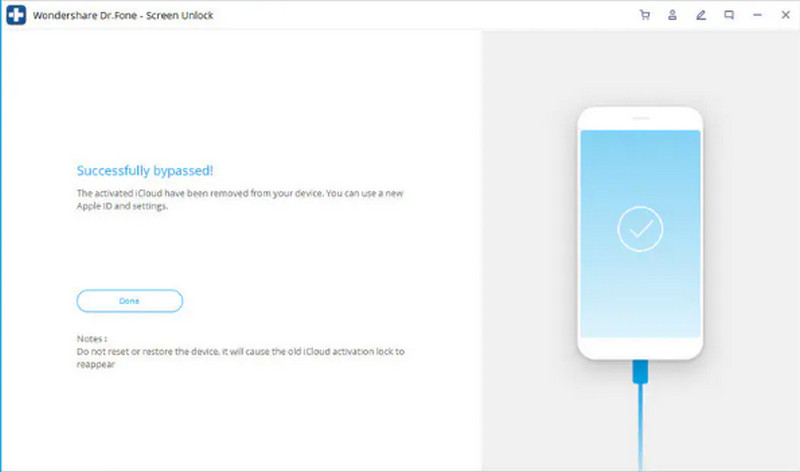 3. FAQs about How to Bypass Activation Lock
How can I bypass the activation lock on Android?
Please, open your Android device's Settings app. Then, navigate to Accounts as we see the Users and Accounts, or something similar with the term. After that, we need to choose the account type, usually Google. From there, we must select the account, which is an email address, and then click the Remove Account, or it can be the Remove button. Finally, could you verify your account and delete it?
Can I use iCloud to bypass the activation lock?
Yes. Since iCloud plays a massive role in offering the activation lock feature on iOS. Then, that means we can also use it to bypass the element. Please visit iCloud.com and enter the Apple ID you have. Now, select the Find iPhone. After doing it, please proceed by ticking the Erase iPhone. Then confirm it by ticking the Erase button. Please click the Next button and see the Remove Account as we move.
Is bypassing the activation lock safe?
Following the experts, bypassing activation locks will not harm. That means it is safe to do as long as we have the right and great tools to use. However, it brings disadvantages like some tools can delete all of the data within your iPhone device.
Conclusion:
Seeing the features coming from the three tools proves that bypassing the activation lock can be done quickly. We only need to follow the proper guidelines in doing it. Therefore, we are hoping that this article will help you. If you are looking for more solutions to apply with your technology and device, you can visit our website for more.
Did you find this helpful?
456 Votes
YES

Thanks for letting us know!
No

Thanks for letting us know!
Aiseesoft iPhone Unlocker
Get into locked iPhone iPad iPod without password or Apple ID.