How to Remove Activation Lock without Previous Owner: Guideline to Ease It
The Find My function on your iPhone includes an Activation Lock that prevents anyone from unlocking your device, typically when it is stolen or lost, thereby protecting your data. It also allows you to recover phone information. This activation lock, however, is a significant issue for individuals purchasing used iPhones. They have difficulty locating methods to remove the activation lock without the prior owner's assistance. When you enable the Find My function, Activation Lock is immediately enabled. This activation lock remains even after you have completely wiped the contents of your phone. No one can access your iPhone unless you have your Apple ID and password and have enabled the Find My function.
This instance might be a massive problem for you if you bought a second-hand iOS and yet the activation lock is active. However, through this article, we will not need to worry anymore because we will be showing you numerous methods that would alleviate the problem. As an overview, we will use three excellent iPhone unlocker software: Aiseesoft iPhone Unlocker, PassFab Activation Unlocker, and FoneDog iOS Unlocker.

1. What is Activation Lock?
The Activation Lock is a security thing introduced by Apple with the release of iOS. It existto prevent unauthorized use of your iPhone, iPad, or iPod touch if it is ever lost or stolen. Furthermore, unlocking your smartphone demands your Apple ID and password when the Activation Lock is active. It implies that if somebody has your gadget, they probably wouldn't be able to use it if you permit them.
In addition, if others have your phone and are connected to a known wifi network, Apple will automatically track it. In the worst-case scenario, the activation lock enables you to wipe data from your devices, suggesting that the person in control will not be able to view your data, such as emails, images, and texts.
Moreover, learning its primary purpose is beneficial for the security of our devices. However, it can also bring struggle, especially if we forget our Apple ID password or buy a second-hand iOS. In line with that, we can ease these problems using the methods below. Please continue reading for more tips.
2. Remove Activation Lock Without Previous Owner
Tool 1: Aiseesoft iPhone Unlocker
Aiseesoft iPhone Unlocker is an iPhone unlocking tool that will allow you to reset your iPhone to factory settings as you can use it as if it were brand new. That is if your iPhone is locked in iCloud activation, you can bypass the lock easily. Moreover, if you have forgotten your iPhone passcode, it can also wipe the screen-lock passcode. It can also be used if your iOS has been disabled after several attempts with the wrong password or if you have recently purchased a used iPhone without knowing the correct password. Aiseesoft iPhone Unlocker will be able to assist you with all of the above problems. Please see the guidelines below as we make it possible to remove the activation lock.
1.
Install and run iPhone Unlocker on your PC. From the interface, please select the Bypass iCloud Activation Lock mode. After that, kindly use a USB cord to connect your iPhone to your computer.
2.
From there, you must click the Trust button on your iOS and then click the Done button on the software.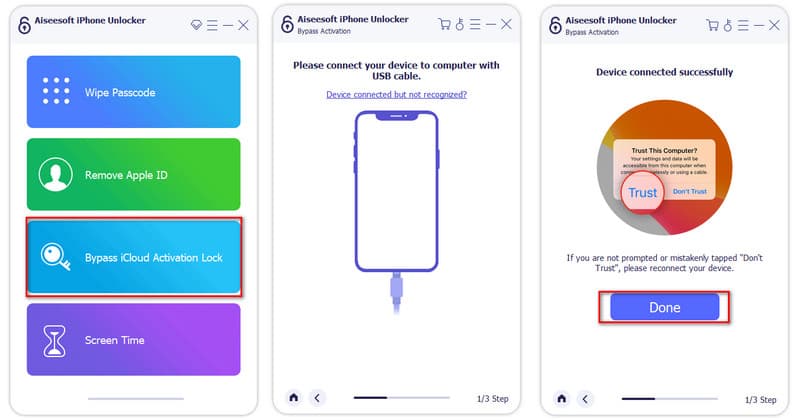 3.
The software will now process the detection of your iOS configuration. After the process, tick on the I have read, use statements and warnings and click Start as we begin the procedure. A new tab will appear, where you must click the Next button.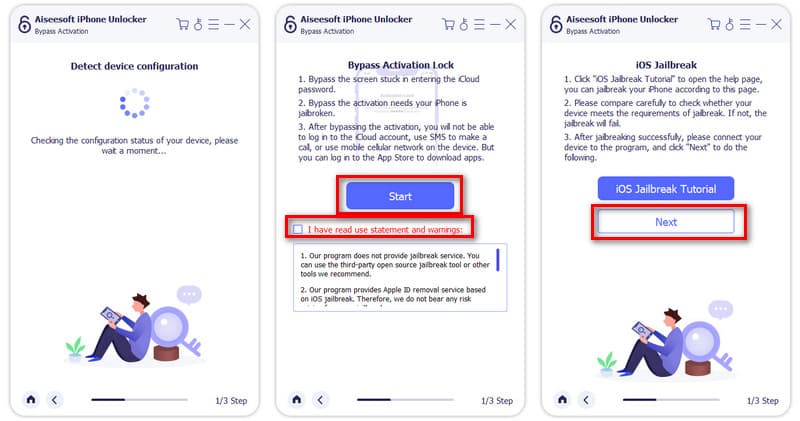 4.
Next step, we can now see the confirmation of our device model. From there, we should hit the button for Start Bypassing Activation.
5.
Finally, allow the program to process the activation lock. Thus, waiting for a moment will be crucial until the process succeeds.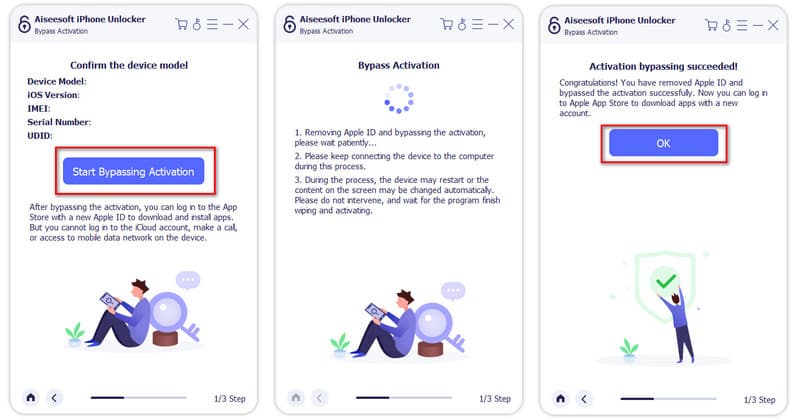 Tool 2: PassFab Activation Unlocker
PassFab Activation Unlocker enables you to remove the iCloud activation lock or disable Find My in your iPhone/iPad/iPod Touch. As an overview of its features, this tool can Unlock the Apple ID and disable the Find My iPhone without a password. It also allows you to disable the camera sound but not the shutter sound. That is possible even without inputting the password to erase the device. The comprehensive instructions for removing the activation lock and turning off Find My using PassFab Activation Unlocker are below.
1.
Install the Passfab Activation Unlocker software on your computer, then click the Start to Remove button.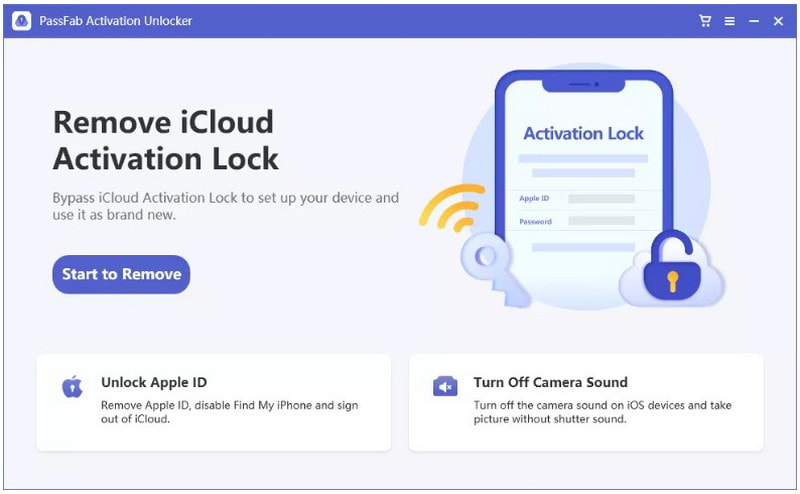 2.
In the bottom-right corner, press the Start button.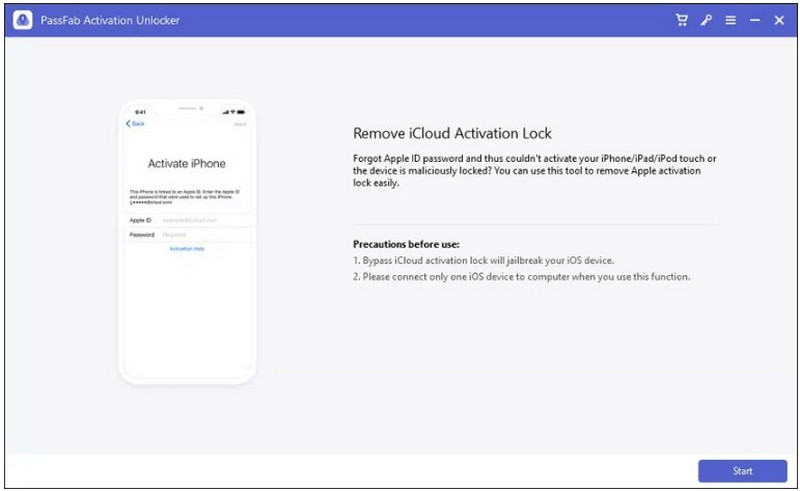 3.
Confirm the agreement, click Next and connect your iDevice to your computer through a USB cord.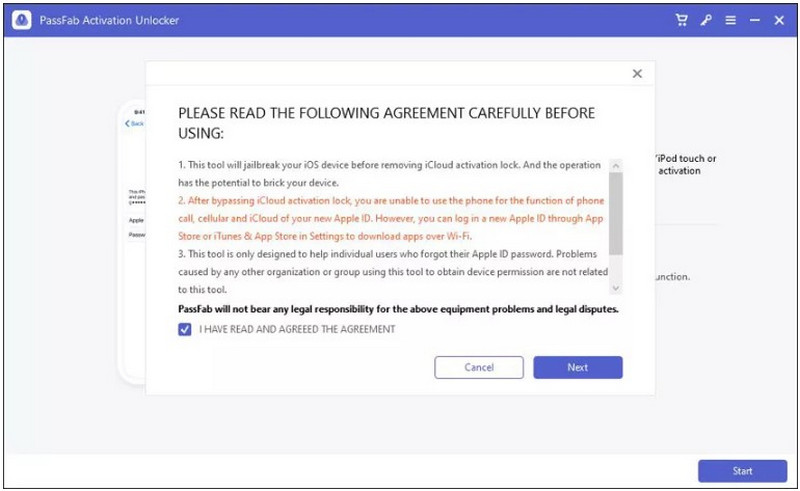 4.
Follow the on-screen steps to download the jailbreak and jailbreak your iDevice correctly.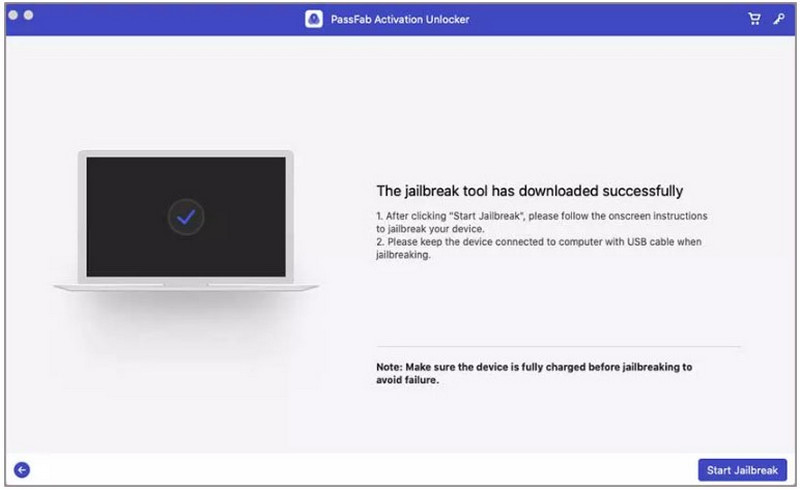 5.
When the process is finished, click the Done button, and you may now set your iDevice.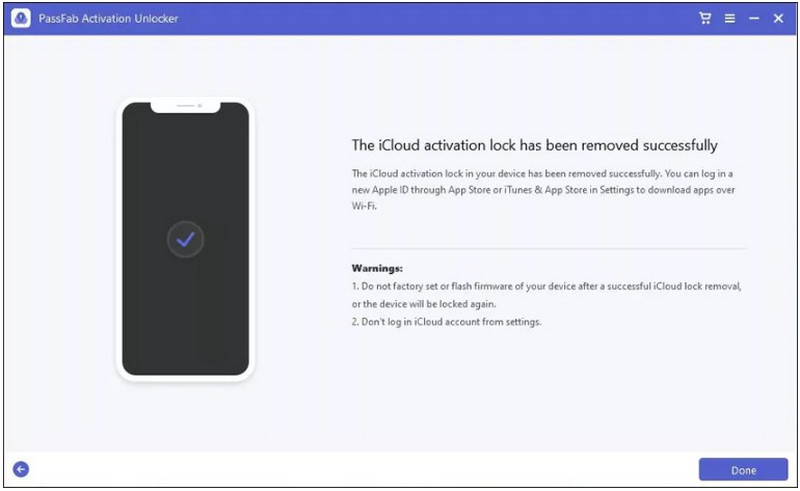 Tool 3: FoneDog iOS Unlocker
The most convenient approach to remove the Activation Lock even without the previous owner is to utilize a paid service such as an iPhone Unlocker; the Apple ID will be erased in a matter of seconds, allowing you to begin using the device immediately. After removing the Apple ID from the iPhone, you will have complete control of the device, including access to iCloud settings and services, among other things. FoneDog iOS Unlocker is one of the greatest iPhone Unlocker services available today. Let us see how to utilize it.
1.
First, install and run FoneDog iOS Unlocker on your PC. After you have run the software, go to the main menu and click Remove Apple ID.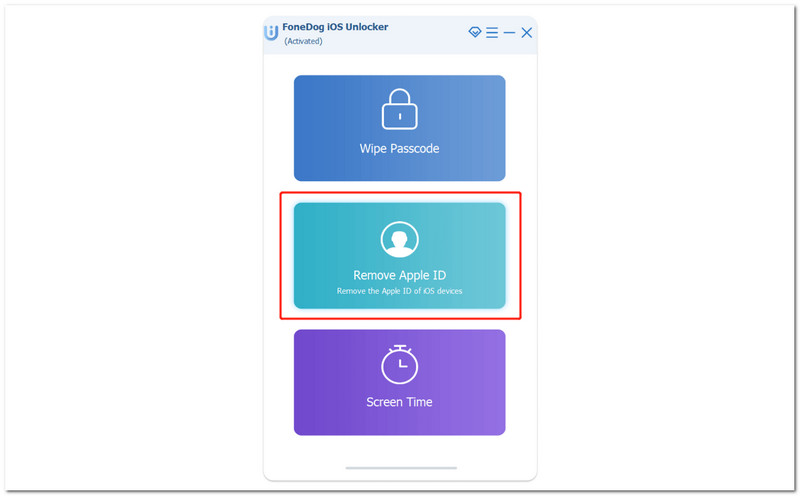 2.
Kindly, connect your iOS to the computer via a USB cord. Hit Trust This Computer if necessary.
3.
To delete the Apple ID linked to the device, go to the Remove Apple ID menu and press the Start button. Your iPhone has now been unlocked. Begin customizing your iPhone the way you want it.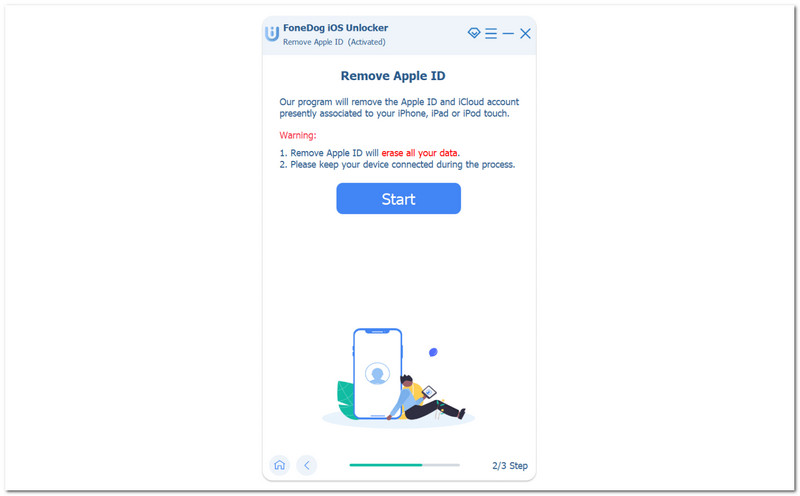 Notes.
◆ You should carefully assess if the Find My feature on the unit is disabled or enabled.
◆ If Find My is on, you need to reset all iPhone settings. Open Settings then hit General, then Reset, then Reset All Settings. To proceed, enter the device passcode if necessary.
◆ When the Find My option is disabled, FoneDog iOS Unlocker will remove the account.
◆ Check to see if two-factor authentication is activated on the iPhone. If you answer yes, you will be asked to authenticate your identity using the devices and phone numbers you registered for the service.
Alternatively, go to Settings, and pick Apple ID, Password & Security. Go to the Two-factor authentication section and enable the feature.
4.
Once you have enabled two-factor verification, type 0000 on the program page to confirm the make and model of your device, it will then prompt you to download the appropriate firmware package by simply pressing the Start button. You wait for the process to finish before the Apple ID is completely erased.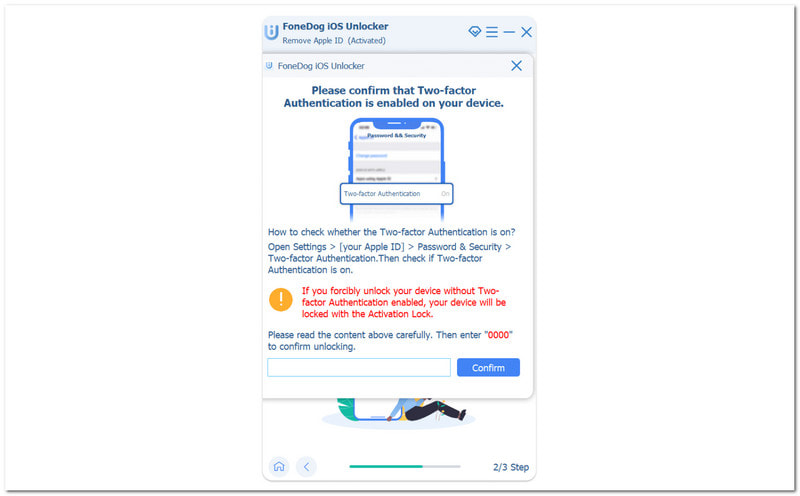 3. FAQs about How to Remove Activation Lock Without Previous Owner
How can I know if the activation lock is on?
The first thing we need to do is double-check that Activation Lock is turned on. After that, we may now proceed by following these procedures to see if Activation Lock is enabled. First, please navigate to your iPad or iPhone Settings. From there, we need to select the iCloud tab. As we proceed, locate the Find My option and verify its status. You only need to remember that if the Find My option is set to Off, the device has no activation lock. Your phone will have an active activation lock if it is on.
Is there also an activation lock on Android devices?
Yes. Activation lock on Android also helps us users secure our devices. It can prevent someone from accessing every critical information on our mobile phones. On the other hand, to remove this feature, please go to the Settings and see the Account or, for others, it is User Account. Then, select the Google account on the option. From there, access the three dots and see the button for Remove Account. Please confirm it again to make the process successful.
Is Apple ID required to activate the Activation Lock features?
Yes. Our Apple ID and password are one of the essential elements that we need to activate the feature for activation lock of our iPhone or iPad devices. Without it, we cannot enable the quality or even disable it properly except when using a third-party tool to make it. (Forgot Apple ID password?)
Conclusion:
Those are the three practical tools we can use to remove activation locks on iOS easily. Because of its features and professionalism, we can see how amazing these tools perform, especially the Aiseesoft iPhone Unlocker. For that, if this article helps you with your itinerary, please share it with others users to help them.
Did you find this helpful?
333 Votes
YES

Thanks for letting us know!
No

Thanks for letting us know!
Aiseesoft iPhone Unlocker
Get into locked iPhone iPad iPod without password or Apple ID.