PassFab Activation Unlocker Review: Your Best Companion For your Locked Apple Device
If you have a locked Apple device such as an iPhone, iPad, or iPod Touch, do not dispose of it yet! We have a better solution for that by using one software. Yes, you read it right. We will use PassFab Activation Unlocker to unlock your device. In addition, this software can do so much for your Apple devices. To get to know them, read this review now!

1. Our Verdict
Pros

It has a good user interface.
It offers a 30-day money-back guarantee.
It has accessible customer service support.
It provides free updates.
It is 100% secure and safe.
Cons

You need to buy the product after the free trial.
Overall Ratings
Interface:9.0
Features:9.0
Removal Speed:8.5
2. What is PassFab Activation Unlocker
Best for: Users searching for an unlocker software for their Apple devices that works on Windows and Mac.
Price: 1-Month License: $29.95, 1-Year License: $39.95, Lifetime License: $49.95, and 1-Year Business Plan: $59.95
Platform: Windows and Mac
Main Features
PassFab Activation Unlocker is software that unlocks Apple devices such as iPhones, iPad, or iPod Touch. Moreover, PassFab Activation Unlocker has four kinds of subscriptions, but the unique about this unlocker software is it offers a Customize License. What does it mean?
The user will decide how many Windows PC/s Mac/s devices the user needs. The users need to fill in the form and submit it to PassFab Activation Unlocker. This kind of subscription will help you just in case the four available subscriptions are not available to you.
Moreover, let us see the features of PassFab Activation Unlocker below:
1. It can remove the activation lock on your iPhone, iPad, and iPod Touch.
2. It can also remove your Apple ID and iCloud from your iOS devices.
3. It can unlock your Apple ID, allowing you to turn off Find My iPhone or iPad without using a password.
4. It can also unlock iPhones Lost Mode without a password.
5. It can turn off camera sounds on your iOS device.
6. It can bypass your iPhone and iPad.
7. It can fix an error like; Could not or Unable to Activate iPhone.
3. PassFab Activation Unlocker Review
Interface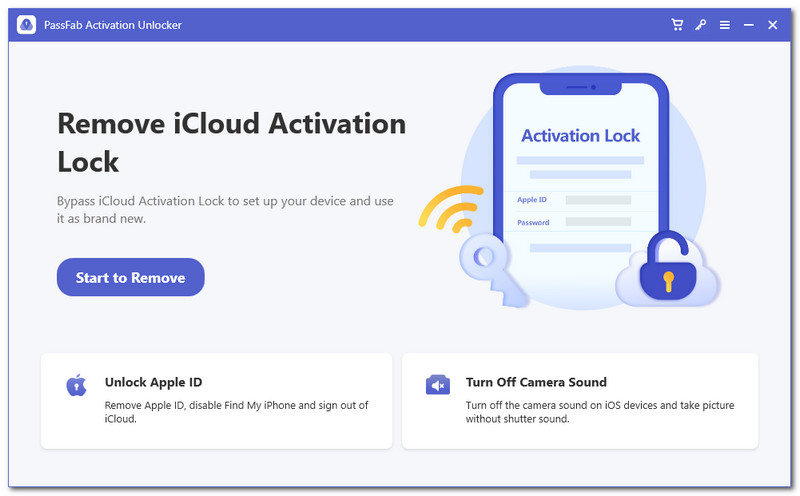 Who would not want an easy-to-use interface, right? PassFab Activation Unlocker will not fail you with its interface since it has a good user and easy to manage interface. Once you launch the software, you will immediately see the name of PassFab Activation Unlocker on the left upper part of the interface.
Then, you will also see the Remove iCloud Activation and the Start to Remove button on the middle part. Also, it has an iPhone, key, and lock vector art on the right side of the interface, which makes the interface looks more impressive.
On the bottom part, you will see the two options; Unlock Apple ID and Turn Off Camera Sounds. Click the option that you want to proceed with and start the process.
Unlock your Apple ID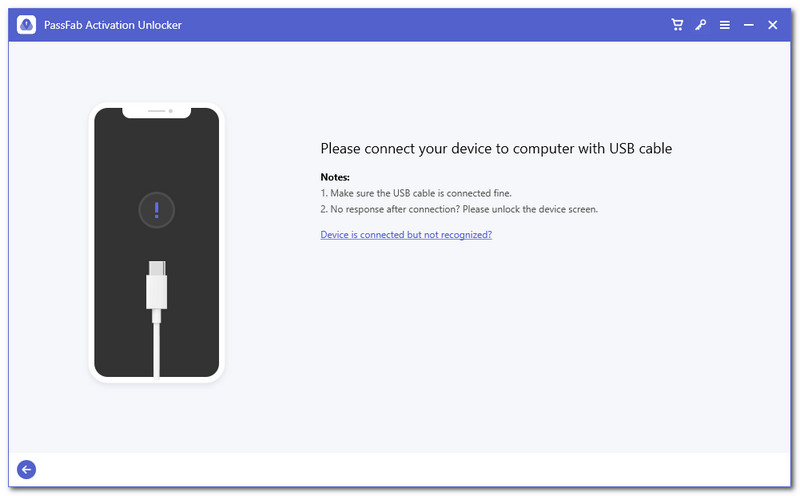 Unlocking your Apple ID with PassFab Activation Unlocker is super easy. You don't have to be professional to unlock your Apple ID. All you need to have is a PassFab Activation Unlocker.
Before unlocking your Apple ID, please connect your Apple device to your computer using an original USB cable. In some cases, the USB cable is not authentic, PassFab Activation Unlocker is not functioning well.
Another tip: just in case there is no response after you connect your device to your computer, you need to unlock your device's screen. Do not let the screen set into Sleep Mode.
Remove iCloud Activation Lock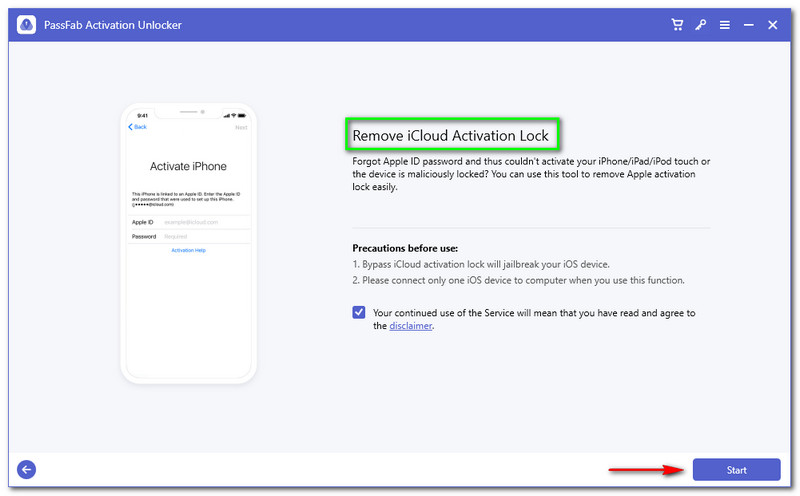 Forgetting your Apple ID password is stressful, right? Nonetheless, your stress will fade away once you use PassFab Activation Unlocker since it can remove your iCloud Activation Lock.
Furthermore, before going through the unlocking process, you need to remember some reminders from PassFab Activation Unlocker. First, when you remove or bypass your iCloud activation lock, it will jailbreak the iOS device that you are using. Next, you must connect only one iOS device to your PC before proceeding with the removing process.
Why? Because it will cause a problem once you connect more than one iOS device on your PC. Now, tick the box that agrees to PassFab Activation Unlock. Then, click the Start button to proceed to the removing process. If you want to unlock locked Android phones, you can use PassFab Android Unlocker.
Turn Off Camera Sound on iOS Device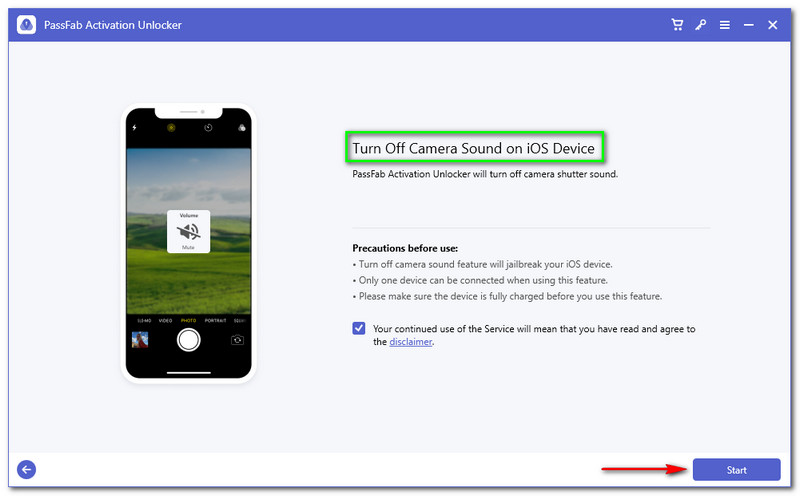 It is a unique feature on PassFab Activation Unlocker, and other unlocker software does not have this kind of feature. Moving on, if you decide to turn off your camera's sound on your Apple device, you need to take notice of some things.
When you turn off the sound of the camera, you need to jailbreak your Apple device. Next, you need to connect one Apple device to proceed with this function, and lastly, you need to ensure that your Apple Device is 100% charged since turning off the camera sound will take some time.
Again, tick the small box to agree on PassFab Activation Unlocker, and to start the process, select the Start button on the right corner of the panel.
4. FAQs of PassFab Activation Unlocker
Is it safe to purchase the PassFab Activation Unlocker website?
Of course. You do not need to worry about purchasing on the PassFab Activation Unlocker website because that is the safeties thing you can do. In addition, your privacy is more guaranteed when you buy on their website.
Why I did not receive a registration code email after purchasing PassFab Activation Unlocker?
Suppose you did not receive a confirmation email from the software within 12 hours, maybe because of your internet problem or system glitches. Or, you type an incorrect email address or check the Spam folder on your email. If there is still none, do not hesitate to contact the Support Team of PassFab Activation Unlocker.
Can I use PassFab Activation Unlocker for free?
You can use PassFab Activation Unlocker for free within 15 days. However, you can no longer use the software for free when the free version ends. Therefore, you need to but the software and register.
5. Alternative - Aiseesoft iPhone Unlocker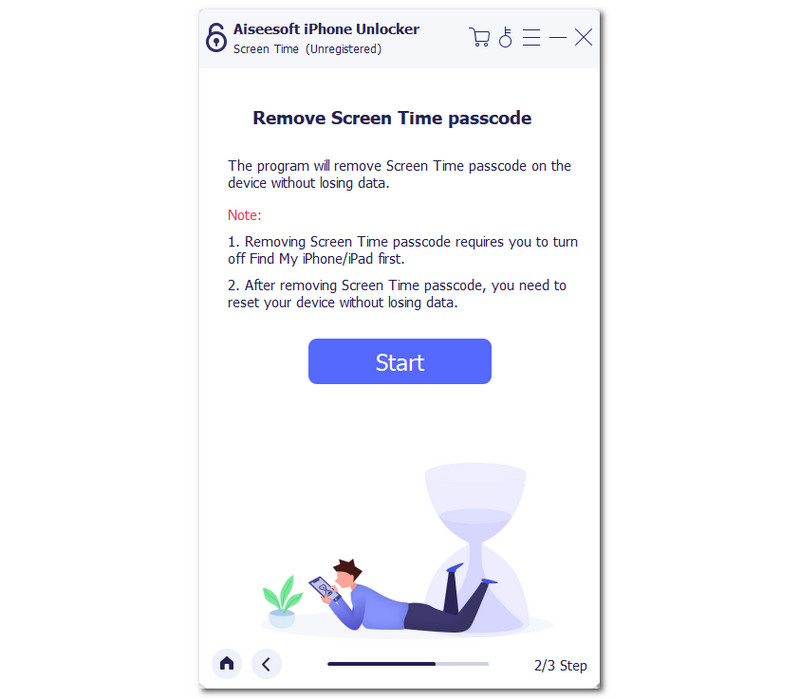 PassFab Activation Unlocker costs $29.95, and Aiseesoft iPhone Unlocker costs $31.96. Therefore, Aiseesoft iPhone Unlocker is much more costly, but why is it the alternative to PassFab Activation Unlocker?
Because Aiseesoft iPhone Unlocker is more convenient and easier to use. It has an excellent user interface and provides numerous features. Below, you will see some features of the Aiseesoft iPhone Unlocker:" /]
1. It can wipe your four-digit and 6-digit passcode easily.
2. It can remove your forgotten Apple ID and password.
3. It can recover your Screen Time passcode without losing data.
4. It is 100% clean and safe.
5. It can unlock your Touch ID and Face ID.
There's more! Do not miss them all, and you can visit Aiseesoft iPhone Unlocker and try it for free!
Conclusion:
Overall, we cannot deny that PassFab Activation Unlocker is one of the excellent unlocking software you can have! We also offer an alternative, just in case you also want to try another unlocking software. Moreover, thank you for reading, and see you again in our next review upload!
Did you find this helpful?
345 Votes
YES

Thanks for letting us know!
No

Thanks for letting us know!
iCloud Activation Bypass Tools Review
Aiseesoft iPhone Unlocker
Get into locked iPhone iPad iPod without password or Apple ID.