How to Bypass iPhone Restrictions with these 3 Effective and Less Complicated Methods
Our passcodes are the doorway in accessing a piece of specific information within our iOS devices, like the iPhone restrictions feature. They are essential information that we need to secure and always remember. Forgetting this information can take away your ability to access the information we need on our iOS device. Without it, we lose the access to manage the restrictions with our iPhone. Indeed, we can face a severe problem, especially if the passcode we forgot is for the restrictions of our iPhone device. Having this issue, we have different solutions for that. Let us get rid of this problem by following these methods we offer for you. Join us in this post to get to know the best thing we need to do about how to bypass iPhone restrictions without experiencing complications. Please navigate the post as we alleviate your problem regarding the limits within your iPhone. You may use the navigation sections for easy discovery.

1. What is iPhone Restriction
As we begin with the process of bypassing iPhone restriction passcodes, we need to understand what it means by iPhone Restrictions. We need to be reminded about its definition and essence before modifying it. As all know, iPhone restrictions are one of the great functions brought by iOS with its users. This feature allows us to restrict the activities within our iPhone. This restriction includes determining web content from Safari preventing installing applications or purchasing digital services on App Store, Amazon, or iTunes. In addition, it also avoids sharing our location with others for safety and can restrict the time in using our WiFi. This feature is suitable for the parents out there. Through this function, they may now limit their children's usage with mobile devices.
2. 3 Ways to Bypass iPhone Restrictions
As we proceed to the next part of this article will present you with three effective methods you may follow. These three are easy to do and alleviate your problem in terms of iPhone restrictions passcode. Let us see them one by one and see the best solution for you. These solutions will help us bypass iPhone WiFi time restrictions, restricted internet, and websites. Please take a look at these methods as we start easing the issue.
Solution 1: Bypass iPhone Restrictions- iTunes
As we start, we shall now see the capability of iTunes, especially in bypassing iPhone restrictions. We all know that iTunes offers flexible features, most likely in the field of entertainment. However, iTunes can also skip the limits within our iPhone devices. This action is possible via restoring your iPhone via factory reset. It will wipe out all of your settings and data, including your restrictions' passcode. We shall now proceed on how to make it work.
1.
Please launch the iTunes software on your Windows or Mac computer as we begin the process.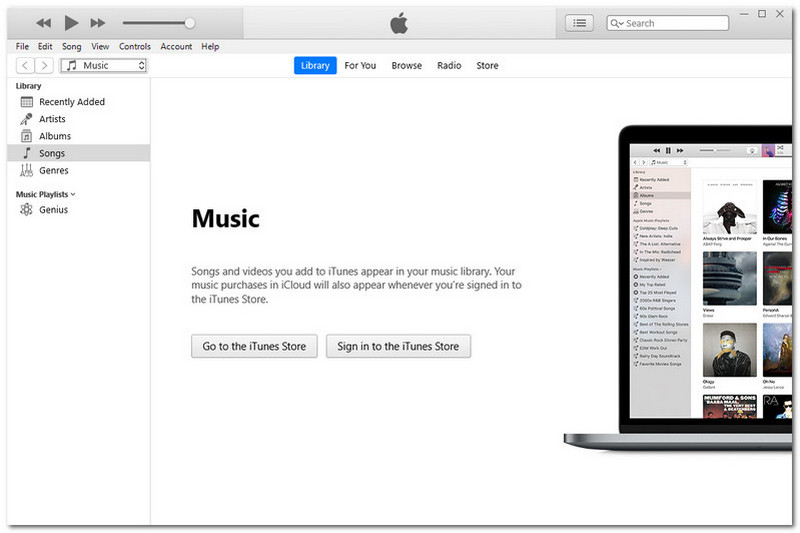 2.
Please connect the iPhone device to your computer using the USB cable. This action will give access to the tool and computer within your iOS.
3.
Please ensure that iTunes recognizes your devices so that we will not experience interruptions in the process. If it is successfully connected, please locate the option for Summary, which we can see on the left corner of the interface.
4.
From the summary, kindly click your device from the list and click the Restore iPhone button. You can see the button under the device information.

5.
After a few seconds, a tab will exist on the screen. You can click the button for Restore again as we confirm the process. Please wait until your iPhone is ready to Set up a new iPhone button.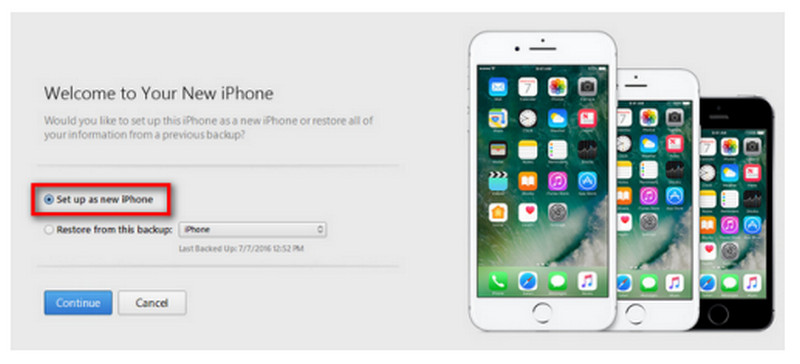 Solution 2: Bypass iPhone Restrictions- iCloud
In the second procedure, we have iCloud as one of the helpful tools that can bypass our passcode for Restriction in the iPhone. Like iTunes, iCloud will help us avoid Restriction passcode by wiping every setting and content off our iPhones. It will become easy to skip your passcode restriction on iPhone for that act. Please proceed to the step below to make it work.
1.
Utilize your web browser, go to iCloud.com and log in using your Apple ID and Password.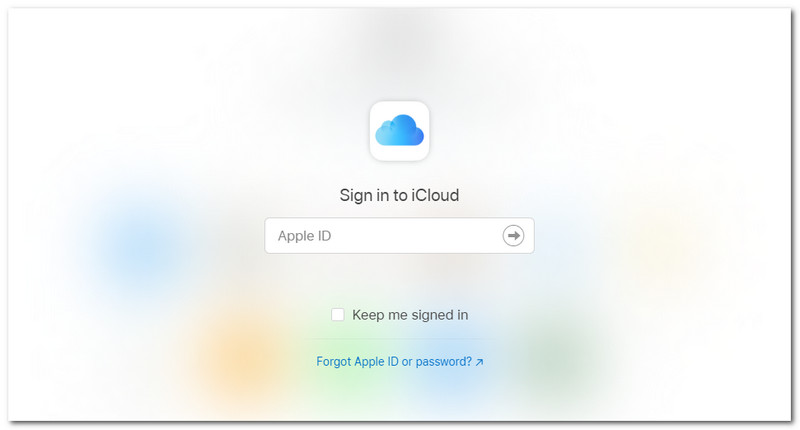 2.
From the website, please find the Find iPhone. Under it, locate the All Device option.
3.
On the list, kindly choose the Erase iPhone button to start wiping the passcode settings within your iPhone. It includes removing the iPhone restrictions passcode.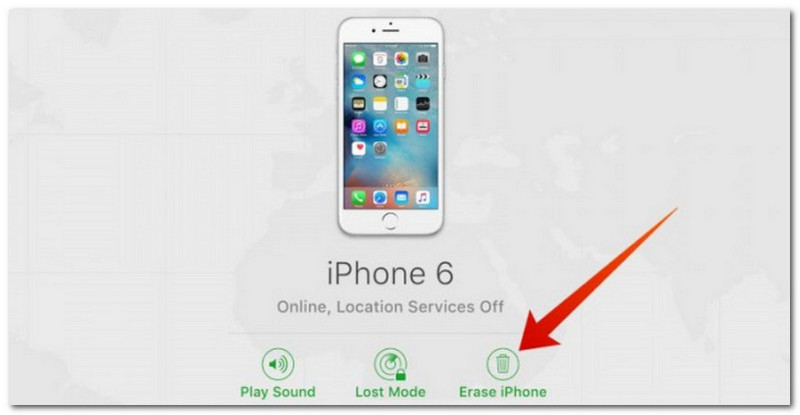 Those are the simple steps to bypass an iPhone restriction passcode without too many complicated steps. We can see how resetting your iPhone to factory reset effectively bypasses your passcode in restricting your iPhone.
Solution 3: Bypass iPhone Restrictions- Aiseesoft iPhone Unlocker
On the third method, we also have a great way to bypass iPhone restrictions passcode even without wiping all of the data and contents within your iPhone. That is possible if we have the Aiseesoft iPhone Unlocker. This fantastic software possesses an ability that can bypass our screen time passcode without sacrificing all of the files within our device. In addition, it also can wipe out your screen lock passcode and your Apple ID password. However, we shall now see how it works with Aiseesoft iPhone Unlocker in this part.
1.
Open the Aiseesoft iPhone Unlocker on your computer. From the interface, please click the feature button for Screen Time. We can see this on the third icon box on the list.
2.
In the second step, please connect your iPhone to the computer. Use a USB cable to make it possible.
3.
The third step will require you to see the notes about the process of bypassing your passcode. After that, please click the Start button under the letters to continue.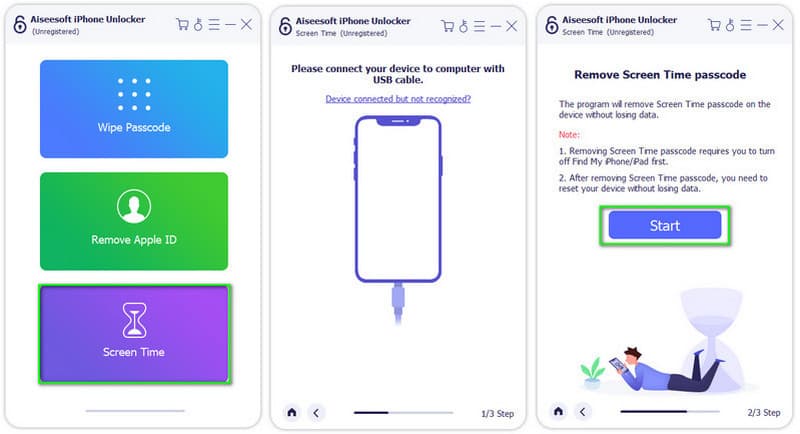 4.
Afterward, you will need to set up your device by following the instructions that we can see on your screen.
5.
A new tab will exist. From there, you may now click the OK button. Please wait and let your device experience a restarting process as we bypass the screen time passcode on your iPhone.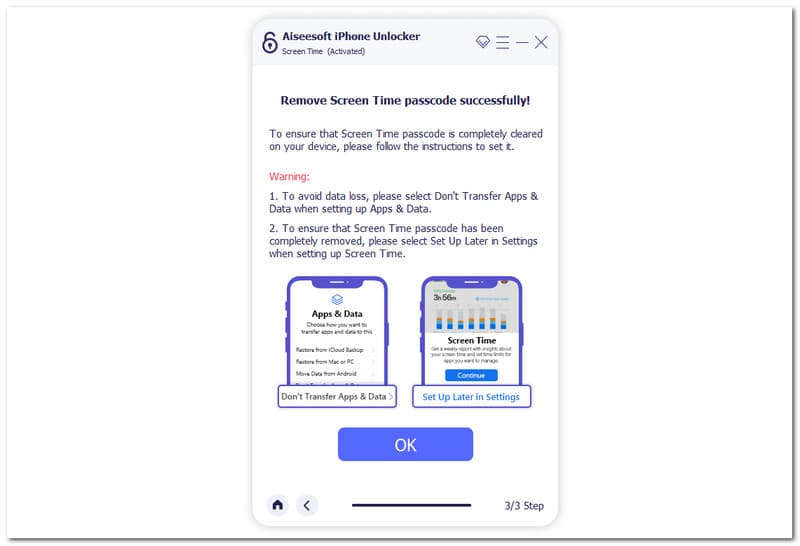 There you go, the easiest way to bypass an iPhone restrictions passcode even without erasing the data within your device. That is possible with Aiseesoft iPhone Unlocker.
3. FAQs about How to Bypass iPhone Restrictions Password
Is it safe to bypass iPhone restrictions using an iPhone unlocker?
If we are going to bypass iPhone restrictions, it is essential to use a legitimate iPhone unlocker. It is safe to bypass iPhone restrictions using great tools like the Aiseesoft iPhone Unlocker and iTunes. These tools are very effective yet simple to use in making the process possible with complete safety and security.
How to bypass internet restrictions on iPhones?
Avoiding internet restrictions requires using a VPN or using a site's IP address. You may get the area IP address and enter it with your browser, and then you may now see the site easily. On the other hand, VPN can provide IP addresses from other places.
How can I turn off the restriction within my iPhone, even with a passcode?
Go to your Setting for the IOS 11 and below, locate the General, and find the Restrictions. For iOS 12 and up, please see the Screen Time. Then click the Disable Restrictions and enter your passcode. More details of disabling restrictions on iPhone are here.
Conclusion
In conclusion, bypassing a restriction passcode with an iPhone is very easy to do as long as we have the help of different tools. These fantastic tools like Aiseesoft iPhone Unlocker, iTunes, and iCloud. Remember, we need to follow every step and make the procedure successful. Then, please share this post with other iOS users so that we can help them.
Did you find this helpful?
211 Votes
YES

Thanks for letting us know!
No

Thanks for letting us know!
Solution to Restriction Password
Aiseesoft iPhone Unlocker
Get into locked iPhone iPad iPod without password or Apple ID.