Review of Storyboard That for Creative Storytelling Process
The correct tool may make all the difference in visual storytelling and creative brainstorming. Storyboard That is a major participant in this market, which provides a strong platform that enables people, schools, and companies to dynamically and interactively storyboard their stories. Storyboard That promises to be a vital ally on your creative path, whether you're a writer, educator, or business professional trying to communicate ideas graphically.
In that case, we'll look at the Storyboard That's features, costs, and user reviews in the sections below. The alternatives will be explored, and their features will be examined and compared to those of Storyboard That. After this review, you'll understand what Storyboard That offers, how it compares to its rivals, and if it's the best option for your storytelling or visual communication needs. Let's get off on this investigation and assessment trip to find the ideal storyboard development tool for your artistic goals.

Part 1. What is Storyboard That
Storyboard That is a flexible and user-friendly web tool that makes it easy to create visual storyboards, making it a priceless resource for educators, marketers, and companies looking to express their ideas effectively. Users of Storyboard may bring their narratives to life using a variety of editable visual scenarios, which can be used to organize ideas, illustrate concepts, coordinate projects, and communicate engrossing stories.
Features
◆ Customizable Scenes: To make eye-catching storyboards, users may drag and drop from the platform's extensive collection of scenes, characters, and items onto the canvas.
◆ Integrate Text and Conversation: Users can integrate text and conversation into scenes, improving the storyboard's storytelling potential. Using this capability to make cartoons, instructional materials, and marketing graphics is advantageous.
◆ Customizable characters: Storyboard That provides a selection of characters with various poses and expressions, allowing users to customize their visual tales by generating characters that resonate with their Stories.
◆ Cooperation Tools: The platform encourages cooperation, which makes it a great option for team tasks. Real-time user collaboration makes it easier for people to collaborate creatively and plan projects.
Pros

User-friendly UI with drag-and-drop capabilities.
Scenes, characters, and items may be customized.
Integration of text and conversation to improve the narrative.
qualities that encourage collaboration in group projects.
There are lesson plans and educational materials accessible.
It is suitable for various uses.
It offers benefits to people, teachers, and companies.
It simplifies the process of producing storyboards.
Cons

Not fully free; premium services sometimes need a monthly fee.
Since it's an online tool, there is internet reliance.
Some more sophisticated customization choices might need a premium plan.
Users looking for more sophisticated design skills might not find it ideal.
Even while it allows for various customizations.
Part 2. Storyboard That Review
Storyboard That Pricing Ease
Storyboard That offers a variety of price options catered to various requirements. These plans include individual subscriptions, teacher and school-specific instructional materials, and team- and organization-specific business strategies.
◆ Beginning at: $5.99 per month
◆ Models of pricing: Free and Subscription
◆ A free trial is offered.
Ease of Use Experience
An essential aspect of any creative tool is its ease of use. We'll explore Storyboard 's user interface, its drag-and-drop functionality, and the intuitiveness of its design tools. By evaluating its accessibility and learning curve, we'll determine if the platform suits both beginners and experienced storytellers, ultimately ensuring that creating storyboards is smooth and enjoyable. That is why, overall rating, this tool met the standard in terms of fast processing aspects.
Storyboard That Login
1.
Go to the official website of Storyboard That.
2.
Then choose the mode of your Log-Ins. You choose from Google, Link, Microsoft, and more.
3.
After that, just accept the Conditions, and you are now ready to create your own at Storyboard That.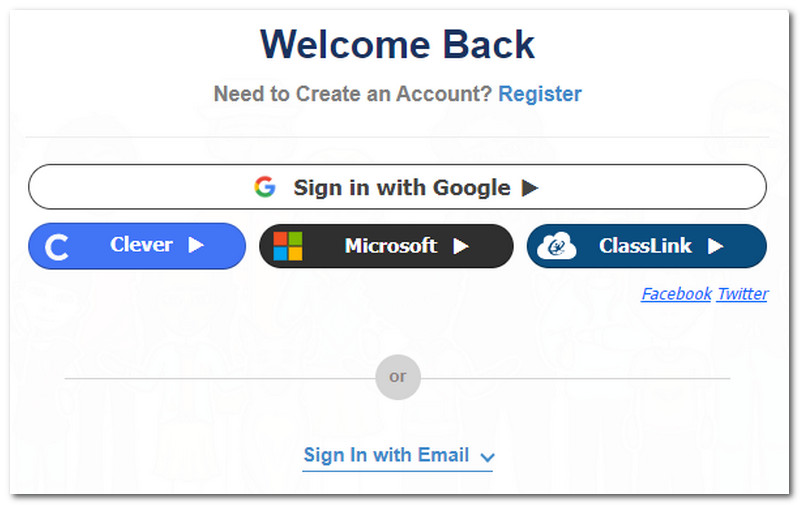 Those are the simple steps to log in with Storyboard. However, we cannot do it if we still do not have an account. That is why it is better if you register first.
A storyboard may have text added in a variety of ways! See the steps here:
1.
Simply select the Speech Bubbles option to get a variety of text boxes and speech bubbles, including blank text.
2.
Drag the one you choose to your Storyboard
3.
Save your work and have an incredible output.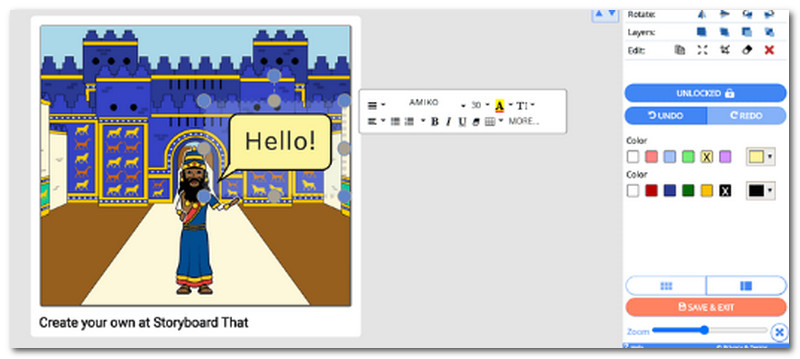 That is the basic way to add text to our Storyboard That. It is very simple, and we can now have visuals with texts.
How to Download Storyboard That
The output on Storyboard That should be downloaded in a PDF format for better quality. Let us see how we can do it.
1.
To download the storyboard, click Download.
2.
Select PDF on the options.
3.
Your computer will download.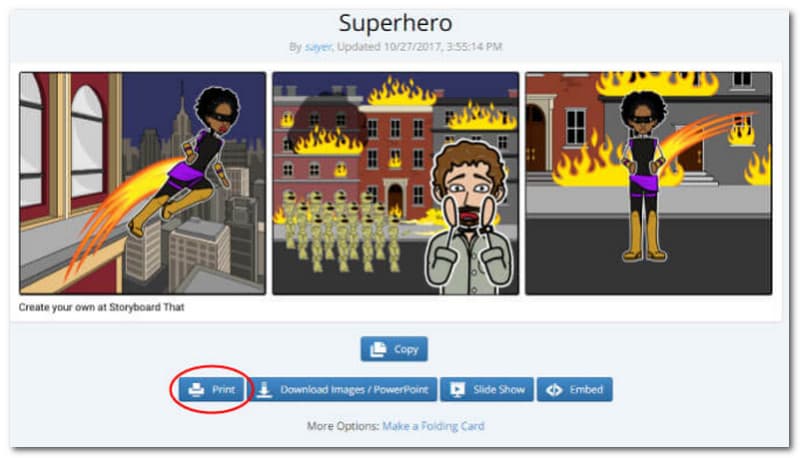 Wherever you save your downloaded files, locate the file there. If you follow the steps, the process will be successful.
How to do Share Storyboard That
1.
To the Storyboard page. Please, click View Details.
2.
Copy the URL and paste it into your browser's address bar.
3.
Paste the URL in the desired location, such as a shared document or an email to a friend.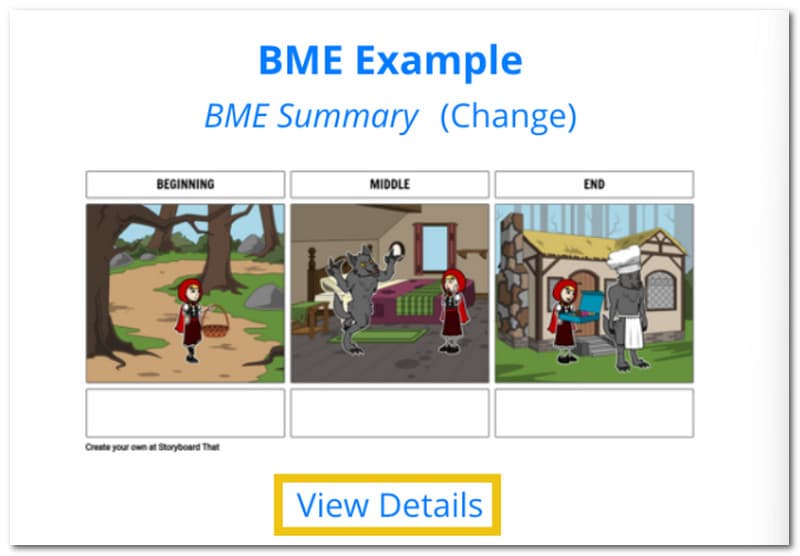 We can see that through the link, sharing Storyboard That can be shared easily now. If the URL is right, everyone with the link can access it.
How to Use Storyboard That
The process of using the amazing Storyboard can be easy. The processes above can be an overview. This portion will give you three important things to consider when using Storyboard That for any task.
◆ Main Concepts. The first step in creating a fantastic storyboard is to write the essential message you want to convey on each slide in large, strong type. You can draw inspiration from Storyboard That Template that already exists.
◆ Supporting Information. Include the accompanying material for each slide as the following step in creating a successful storyboard.
◆ Design Cues, or design elements or indicators, are visual or sensory cues intentionally incorporated into a design to communicate specific information or guide users' behaviors and perceptions. These cues are often subtle, yet they significantly shape how users interact with a product, environment, or communication.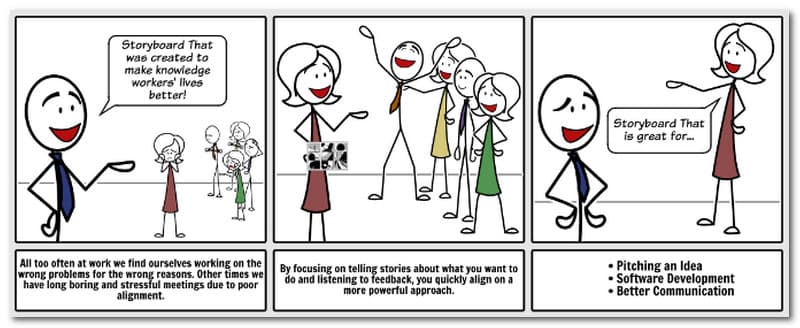 Creative Capabilities and Customization
Storyboard That's strength lies in its ability to enable creative expression. We'll dive into the platform's creative features, such as scene customization, character design, text integration, and dialogue presentation. By assessing the breadth of customization options and their impact on visual storytelling, we'll determine how effectively Storyboard That can bring your ideas to life.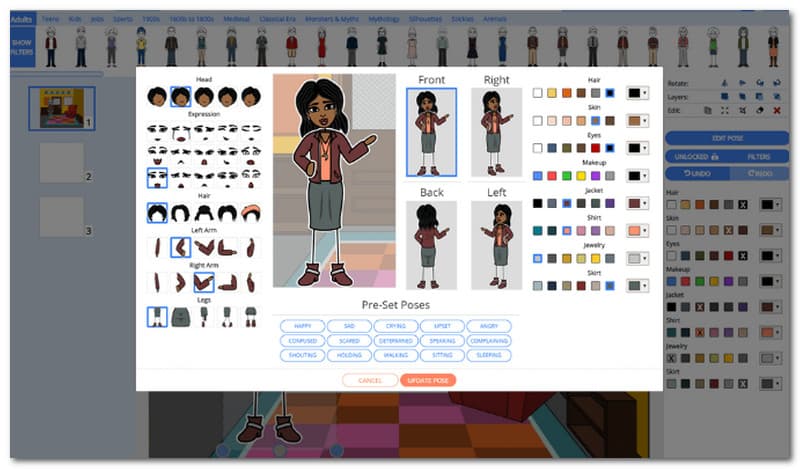 Collaboration Features
In today's collaborative world, working together seamlessly is crucial. Storyboard That offers collaborative features facilitating group projects, brainstorming sessions, and creative collaborations. We'll explore these features, assessing their effectiveness in enhancing team productivity and creativity.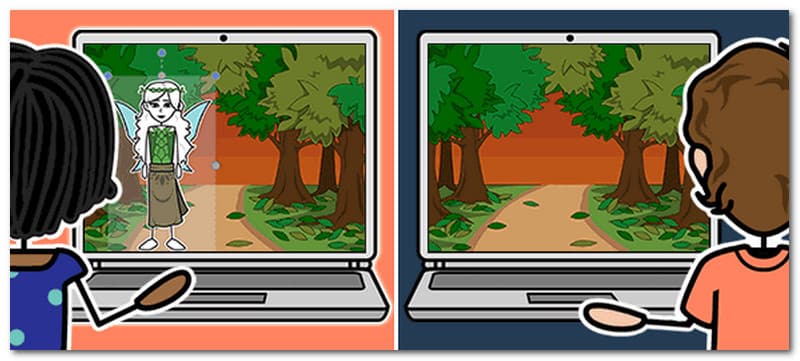 Customer Support and Resources
A robust support system is essential when using any software or online platform. We'll review Storyboard's customer support options, including documentation, tutorials, and user communities. Additionally, we'll assess the responsiveness of their support team to ensure that you have the assistance you need when encountering any challenges.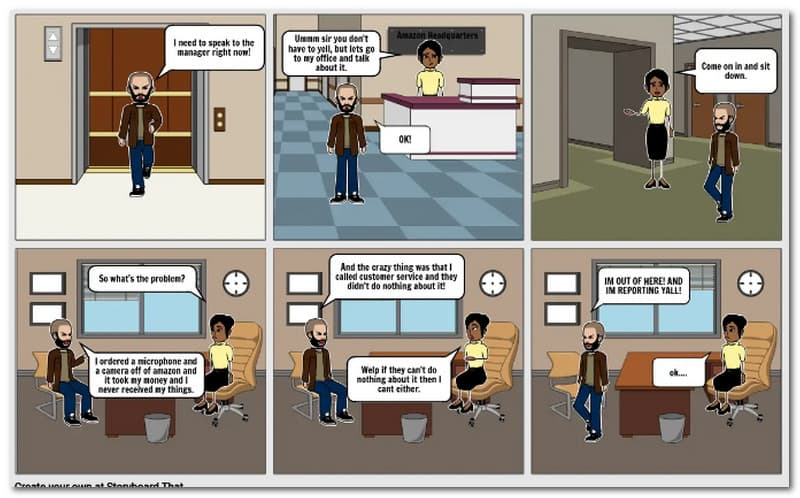 3. Storyboard That Alternatives
AI Dungeon
AI Dungeon allows users to craft stories collaboratively with an AI Dungeon Master. It's perfect for those who seek spontaneous, imaginative storytelling adventures where the AI adapts and evolves based on your choices. While not a traditional storyboard tool, AI Dungeon offers a novel approach to narrative creation that might appeal to storytellers seeking unexpected and creative outcomes. That is why it is a great website like Storyboard That.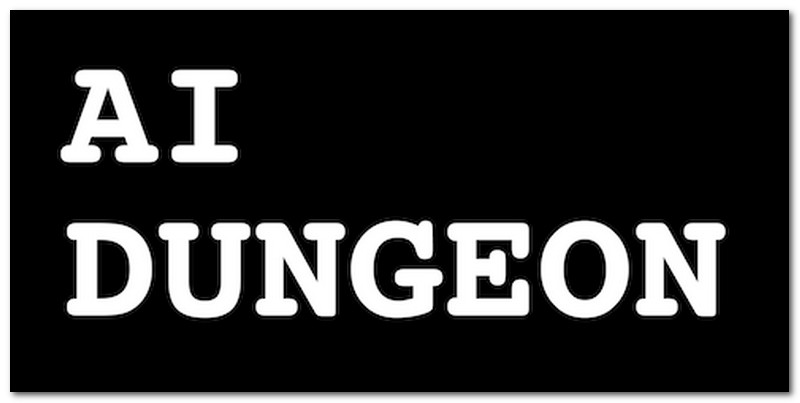 Squibler
Another incredible alternative to Story That is the amazing Squibler. This tool allows writers to outline and structure their stories, fostering creativity and productivity. Its features include character and plot development, timeline creation, and real-time collaboration, making it a valuable tool for writers and authors aiming to create well-structured narratives.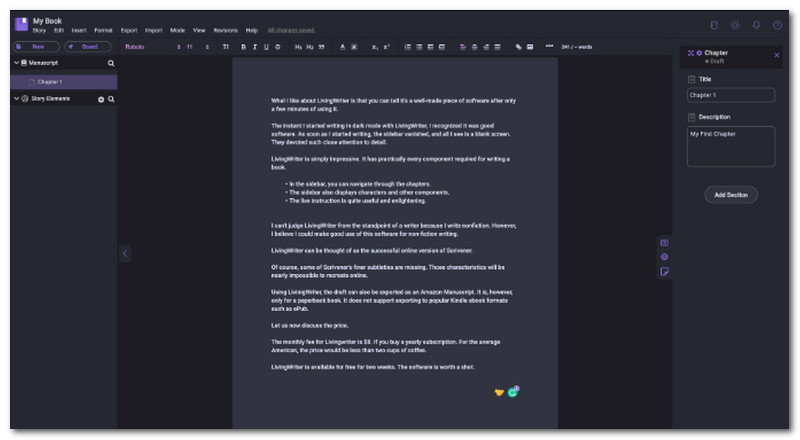 Plot Factory
On the third spot for Story That That Alternative, we have Plot Factory. This plot development platform tool helps writers construct well-organized and engaging plots. It guides story structure, character arcs, and plot twists, making it an essential tool for those who want to ensure their narratives are compelling and coherent.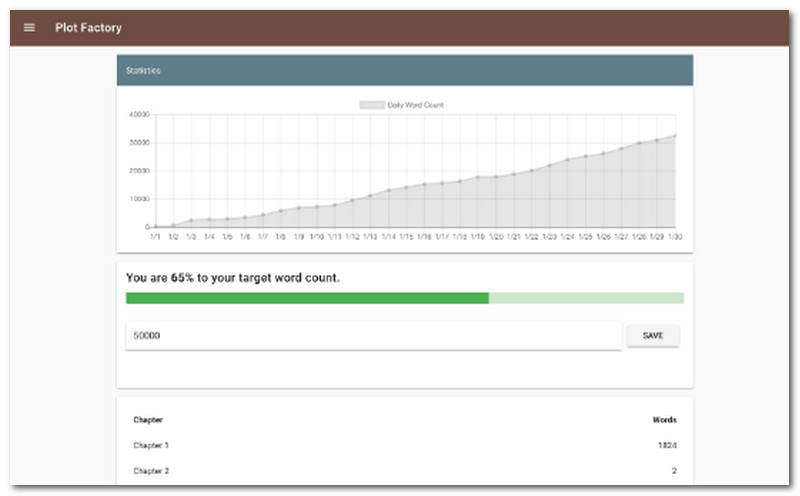 4. FAQs about Storyboard That Review
Is Storyboard That Free?
No, Storyboard is not entirely free. While it does offer a limited free trial that allows you to explore its basic features, more advanced functionalities, and higher-resolution exports are typically available in the paid plans. These paid plans offer greater customization, collaboration, and support options, making them suitable for individuals, educators, and businesses seeking to leverage the platform's full capabilities.
What are the available pricing plans?
Storyboard That provides several pricing plans tailored to different needs. These plans may include individual subscriptions, educational packages for schools and teachers, and business plans for teams and organizations. The pricing tiers often offer varying levels of access to advanced features, the number of users, and the ability to create and export high-resolution storyboards. It's essential to review the specific details of each plan to determine which one aligns best with your requirements and budget.
How easy is it to create storyboards using Storyboard That?
Storyboard That is designed with user-friendliness in mind. Its intuitive interface and drag-and-drop functionality make creating storyboards relatively straightforward, even for individuals with limited design skills or technical expertise. The platform provides various pre-made scenes, characters, and objects, making it easy to piece together visual narratives. Whether you're a beginner or an experienced storyteller, Storyboard aims to make the storyboard creation process accessible and enjoyable.
Can I collaborate with others on a storyboard project?
Storyboard supports collaboration, making it an excellent choice for group projects, brainstorming sessions, and creative teamwork. The platform offers collaborative features that enable users to work together in real-time, even if they are located in different places. This collaboration feature can be especially valuable for educators, team projects, and businesses seeking to create compelling visual narratives collectively.
Does Storyboard offer any educational resources for users?
Yes, Storyboard provides various educational resources, particularly for educators and students. The platform offers lesson plans, educational guides, and teaching materials that educators can use to integrate visual storytelling into their curriculum. This feature makes Storyboard a valuable tool for educators aiming to engage students in creative and visual learning experiences.
Conclusion
Through this review, we've discovered that Storyboard offers many features, allowing users to create visually appealing storyboards, customize scenes and characters, integrate text, and collaborate seamlessly with others. Its versatility makes it suitable for various applications, from educational activities to marketing campaigns and project planning. We also discuss three great alternatives we can use once the tool is not functioning well.
Did you find this helpful?
463 Votes
YES

Thanks for letting us know!
No

Thanks for letting us know!
AnyMP4 Video Converter Ultimate
All-in-one video converter, editor, enhancer upscaled with AI.