Top 7 AI Text Generators for Dynamic Text Generation
The demand for high-quality content has never been greater in today's fast-paced world. To meet this growing need, Artificial Intelligence or AI text generators have emerged as powerful tools that can produce human-like text at scale. Whether you are a content writer, student, or business personnel, the wiring process now will be easy and take less time.
That is why this article will explore the top 7 AI text generators that are revolutionizing content creation. We will delve into their capabilities, discuss the platforms they support, analyze their pricing models, and present the pros and cons of each tool, enabling you to decide which AI text generator is best suited for your needs. As we give you an overview, these tools are the amazing ChatGPT, ShortlyAI, Copy.ai, ShortlyAI, InferKit, OpenAI GPT-3, and DeepAI. Let us now define the deeper line of this post.

Part 1. Top 7 AI Text Generator
ChatGPT
Platforms: Android, iOS, Desktop, and Online
ChatGPT, an impressive AI text generator developed by OpenAI, is a testament to the incredible advancements in natural language processing and understanding. As a part of the renowned GPT or Generative Pre-trained Transformer family, ChatGPT inherits the prowess of its predecessors while introducing new features that make it particularly adept at engaging in interactive and conversational content creation. Those are some of the key points why it is at the top of the list of being an incredible AI writing generator.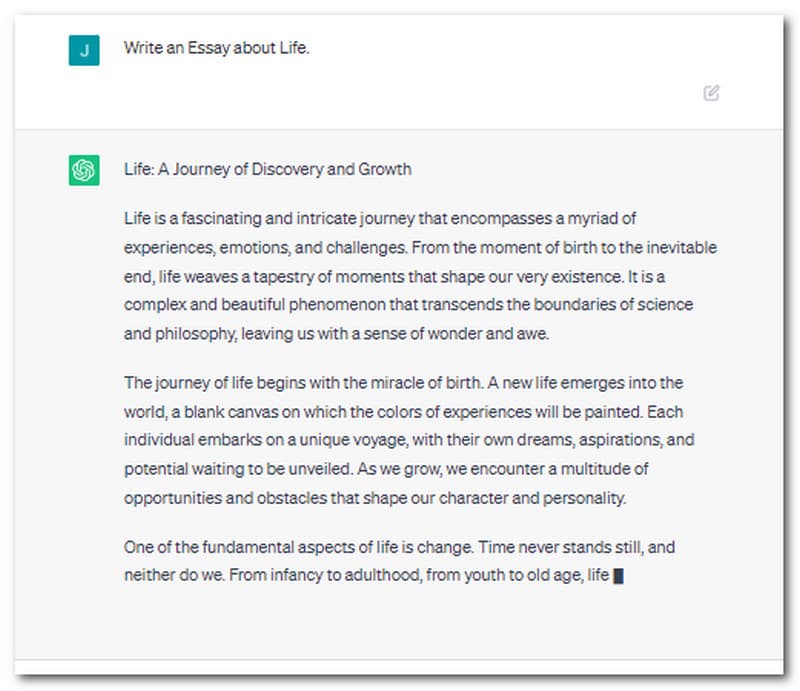 Best for:
With its natural conversational flow and interactive capabilities, ChatGPT shines in applications that demand dynamic text generation. It is exceptionally well-suited for creating chatbots, virtual assistants, customer support systems, and other platforms requiring personalized, human-like interactions.
Pros

It can engage in conversations that mimic human interactions
Its broad knowledge base enables it to handle an extensive range of topics.
The tool displays its versatility by generating relevant responses
Easy-to-use Interface and API Integration.
It gives natural conversational abilities.
Cons

It can lead to truncated answers for more extended conversations.
Occasional inaccuracies.
Limited control over specific responses.
It tends to iterative interactions for comprehensive answers.
ShortlyAI
Platforms: Online, iOS, and Android
ShortlyAI is an innovative AI writing assistant that leverages advanced language models to provide users with a powerful and efficient text-generation experience. Developed to cater to the needs of content creators, writers, and professionals, ShortlyAI streamlines the content creation process by offering concise and structured text generation capabilities. Moreover, Shortly is best for AI writing essay summaries.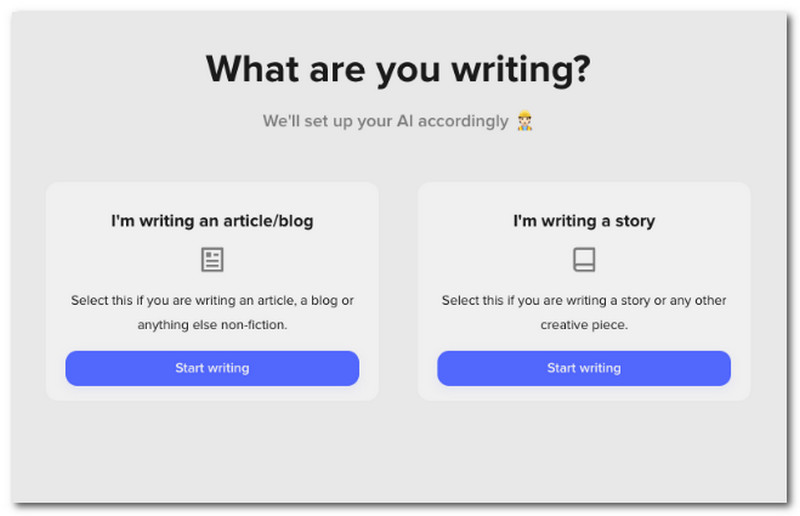 Best for:
ShortlyAI excels in generating summaries, paraphrasing content, creating blog post outlines, and offering time-saving solutions for content creators. This AI blog, content, and article writer can condense lengthy text into succinct summaries, making it an invaluable tool for those seeking to produce informative and easily digestible content.
Pros

Excellent at summarization and paraphrasing.
Assists with blog post outlines and structure.
User-friendly web interface and browser extension.
Time-saving tool for content creators.
Cons

Occasional inaccuracies in paraphrased content:
Mastering all of ShortlyAI's features may require some time.
Limited free usage in some plans.
Copy.AI
Platforms: Browser
The next one is known for its amazing capability as an AI text generator online. Copy.AI is a revolutionary AI-powered copywriting tool that empowers marketers and businesses with persuasive and compelling marketing content. Leveraging advanced language models, Copy.AI enables users to generate engaging and high-converting copy, streamlining the creative process and enhancing marketing campaigns. With all of that details, we can all see that it is a great free AI copywriting. Continue reading for more.
Best for:
Copy.AI specializes in generating marketing and advertising copy, making it an ideal solution for businesses and marketers seeking to create attention-grabbing content for their products and services. From social media posts to email subject lines and ad copies, Copy.AI helps craft persuasive and impactful messages.
Pros

Offers marketing-focused templates.
Assists in Ad Copy creation and A/B testing.
Time-Efficient tool for marketing professionals.
Easy-to-Use interface for generating copy.
Cons

Some templates may lack creativity or originality.
Occasional grammar issues in generated content.
Limited customization options for certain templates
Frase
Platforms: Browser
Every marketer must create content that outranks their competition and performs well in SEO. While it might take days to generate properly optimized material, Frase AI relieves you of the strain! The main difference between Frase and other AI text generation programs on the internet is that it examines top-ranking material rather than scouring the whole internet. This helps you create better content than your top rivals and ensures that your material ranks higher than theirs. Read more and see why it made the list of being one of the best AI paragraph and sentence generators.
Best for:
One of the most beneficial aspects of utilizing Frase is that it automatically discovers keywords and phrases that will help your content rank higher in search engines. You will also receive thorough information on keyword density, search traffic, CPR, and other factors. The tools have sophisticated functions that aid in creating content in minutes.
Pros

Excellent at summarization and paraphrasing contents
It guides us for content blogs and outlines.
The accuracy is pretty good.
Cons

It fails to give us accurate content sometimes.
The book is not easy to master.
Some plans it offers are limited,
InferKit
Platforms: iOS, Android, Browser, and Desktop
InferKit is an innovative AI text generator that stands out for its unique focus on catering to developers and creative writers. With a strong emphasis on code integration, InferKit empowers users to create engaging and dynamic content that seamlessly combines text with code, opening up a world of creative possibilities.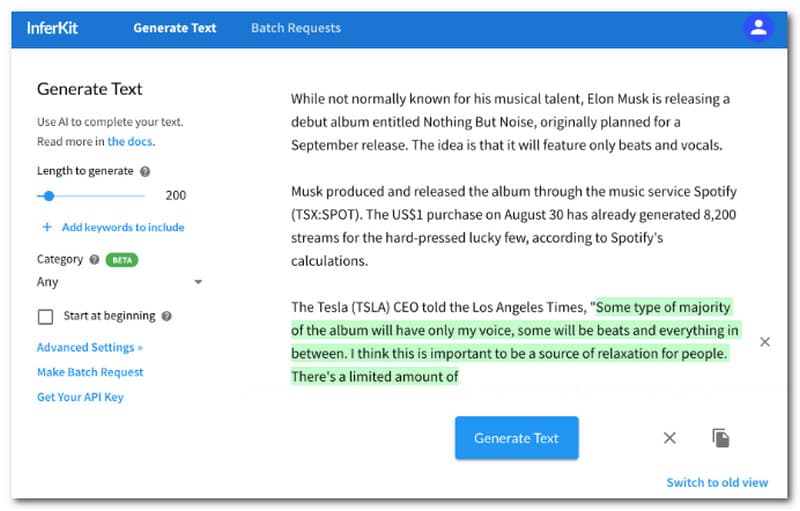 Best for:
InferKit is best suited for developers and creative writers who seek to integrate AI-generated content with code in their projects. It bridges natural language generation and programming, enabling users to craft text that interacts dynamically with code elements. That simply means this tool is great for users who are looking for AI prompt writers.
Pros

Allows for the incorporation of code for creative writing
Helps with storytelling and code completion
Perfect for Developers Looking for Code-Based Content Generation
Pay-as-you-go pricing allows for greater cost flexibility.
Cons

Integration necessitates programming knowledge.
API Implementation Difficulties for Some Users:
Specific code structure generation may be limited.
OpenAI GPT-3
Platforms: Browser, iOS, and Android
OpenAI GPT-3, the third iteration of the Generative Pre-trained Transformer, is a groundbreaking AI text generator developed by OpenAI. Renowned for its vast language capabilities and versatility, GPT-3 has achieved unprecedented advancements in natural language processing, making it one of the most powerful and flexible language models to date. This AI GPT-3 text generator is an amazing AI that writes essays or any content to help you with your papers.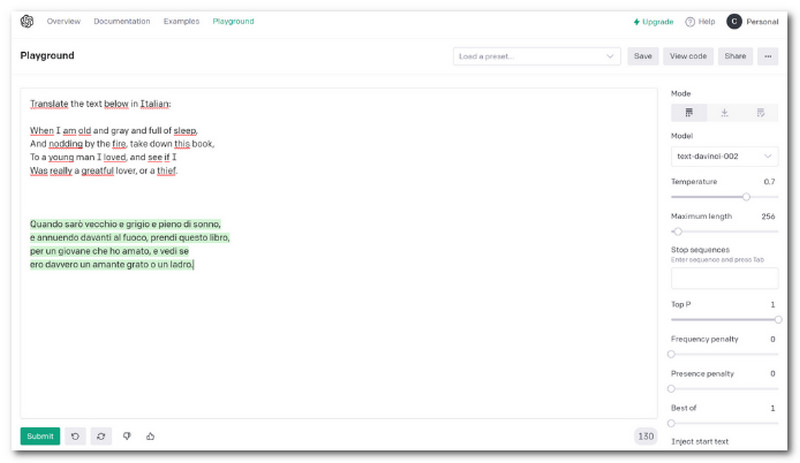 Best for:
OpenAI GPT-3 is best suited for a wide range of applications, making it a versatile choice for numerous tasks. GPT-3 excels in tasks that demand natural language understanding and generation, from language translation and content creation to text-based games and conversational interfaces.
Pros

Versatility and a wide range of language skills.
Suitable for a variety of tasks.
Ideal for developers looking for multilingual support.
Language translation functions are available.
Cons

API implementation difficulties for some users.
Ethical issues regarding AI-generated content.
Expensive for widespread use only.
DeepAI
Platforms: Browser, iOS, and Android
DeepAI is a sophisticated AI text generator that leverages deep learning techniques to produce high-quality, contextually relevant, and human-like text. DeepAI is a cutting-edge solution for a wide range of text generation tasks developed by a team of AI researchers and engineers.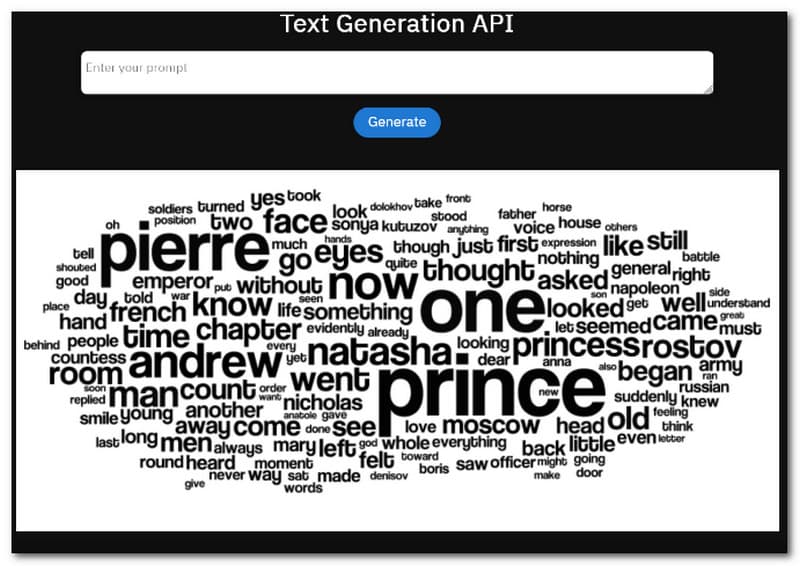 Best for:
DeepAI is well-suited for diverse text generation applications, including content creation, creative writing, translation, and natural language understanding tasks. Its ability to generate accurate and coherent text across various languages and domains makes it a valuable tool for content creators, researchers, and developers. These features are the best offer from this AI writing assistant.
Pros

Deep learning methods are more advanced.
DeepAI's adaptability enables users to apply it to various jobs.
Correct multilingual support
Its API connectivity provides continuous communication.
Cons

Potential bottlenecks in extremely complex tasks
Subscription-based pricing may not be appropriate for all users.
Users may need to explore their inputs to reach the appropriate degree of accuracy.
Part 2. FAQs about the Best AI Text Generator
Is voice.ai safe?
Voice.ai is committed to ensuring the safety and security of its users. The platform employs robust security measures to protect user data and maintain confidentiality. Voice.ai adheres to industry best practices and encryption protocols to safeguard sensitive information from unauthorized access. However, users should exercise caution when sharing personal or sensitive data on any online platform, including voice.ai. Reviewing the platform's privacy policy and terms of service is advisable to understand how user data is handled and stored. While voice.ai ensures safety, users should also employ good cybersecurity practices, such as using strong passwords and regularly updating their account credentials.
Is voice.ai legit?
As of the model's last knowledge update in September 2021, voice.ai was a legitimate AI text-generation platform. However, it's important for users to conduct their research to verify the current status and legitimacy of the platform, as the AI landscape can change rapidly. Users should check for official documentation and reviews from reputable sources to determine legitimacy. They can also explore user experiences and feedback on forums and social media. Verifying the platform's background, developer information, and customer support channels is advisable to ensure legitimacy and credibility.
How accurate are AI text generators?
The accuracy of AI text generators can vary based on several factors, including the specific tool used, the content's complexity, and the language model's training data. While AI text generators have made significant strides in natural language processing and understanding, they are not infallible. Some AI text generators may produce highly accurate and coherent content, while others might occasionally generate errors or inaccuracies. Users should set realistic expectations and review the generated content carefully before publishing or using it in critical applications. Many AI text generators offer options to fine-tune the output or provide feedback to improve performance over time. Regular updates and improvements to the underlying language models contribute to enhancing accuracy.
Can AI text generators replace human writers?
AI text generators can be powerful tools that significantly streamline content creation processes. They can efficiently generate large volumes of text and assist human writers. However, despite their capabilities, AI text generators can only partially replace human writers. Human writers bring creativity, emotional intelligence, critical thinking, and unique perspectives that AI may struggle to replicate. While AI excels at data processing and pattern recognition, it may lack the ability to fully comprehend complex human emotions, cultural nuances, and subjective experiences essential in certain types of content.
Are there any ethical concerns with AI-generated content?
Yes, there are ethical concerns associated with AI-generated content. AI text generators have the potential to be misused for spreading misinformation, creating deceptive content, or generating harmful narratives. Using AI in content creation raises questions about intellectual property rights and proper attribution.
Conclusion
To summarize, removing a Facebook Page necessitates consideration, discretion, and respect for Facebook's restrictions. You may confidently handle the deletion process by following this article's step-by-step directions and best practices. As a result, this post assists us in various ways, particularly with the right procedures in carrying out the process with your personal and corporate Facebook pages.
Did you find this helpful?
443 Votes
YES

Thanks for letting us know!
No

Thanks for letting us know!
AnyMP4 Video Converter Ultimate
All-in-one video converter, editor, enhancer upscaled with AI.