Review of AI Dungeon Alternatives: AI Tool for Storytelling
In creative writing, AI Dungeon has captured the imagination of countless writers, offering a unique and innovative platform that generates interactive narratives. It's a text-based adventure game powered by artificial intelligence, allowing users to create and explore dynamically generated stories. However, you have experienced aggravating glitches, limited customizing possibilities, and bad AI-generated language that detracts from immersion. For the diverse AI Dungeon, exploring alternatives offering different features, catering to specific needs, or providing fresh creative perspectives is always beneficial.
That is why, in this article, we will showcase the important details we need to learn more about and see different AI Dungeon Alternatives that we can use when we encounter problems with it. For that, please read the next portion before starting this review post.

Part 1. What is AI Dungeon
What is AI Dungeon
With AI providing a wide range of potential interactions for your character, take part in every circumstance. Be a military leader fending off an alien invasion or an imaginative detective probing into the attempted murder of the fairy queen. As the DM, design your own Dungeons & Dragons campaign. There are no limitations on what you can accomplish in AI Dungeon. AI has enabled a distinctive experience.
The first ever open-ended, text-based role-playing game, or RPG adventure game, is called AI Dungeon. Every time you play, you'll have a different and dynamic experience thanks to its cutting-edge artificial intelligence engine, which instantly generates endless amounts of material. In addition, AI Dungeon is the first application to create images using the Stable Diffusion in-app feature shared by Midjourney and Dall-e 2, among other AI picture generators.
Here is a summary of what the amazing world of AI Dungeon has to offer. Describe your universe You may roleplay in any situation or environment in AI Dungeon. Choose from the user-created worlds that are already specified, or utilize our fast start method to create your custom world. You may make a random environment to explore using the AI generator using the AI Dungeon prompts. You control what your character says and does since you are the main player in the story. You can chat back to answers the AI generates from other personas or current happenings in the game. Each adventure is distinct and unanticipated.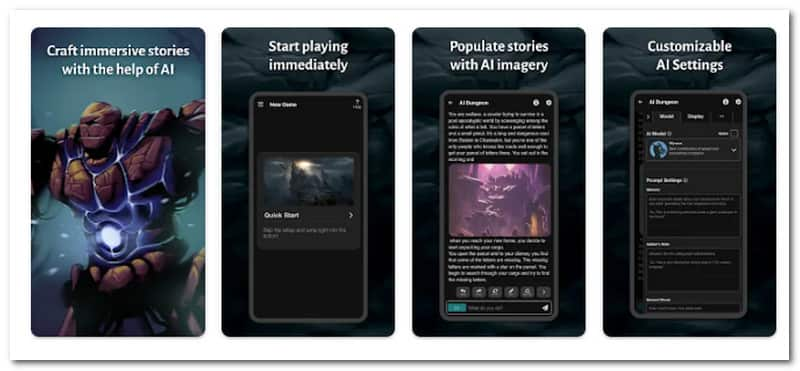 AI Dungeon VS. AI Dungeon 2
The first release of AI Dungeon, version 1, happened in June 2019. Nick Walton created and created the application. Later, this software was updated, and in December 2019, a fresh version of AI Dungeon 2 was published. A limited number of individuals were given access to AI Dungeon 1's beta edition. The latter model, nevertheless, saw a far wider distribution. AI Dungeon Multiplayer gameplay was also enabled by AI Dungeon 2.
As of this moment, the information about AI Dungeon is still limited. However, one thing for sure is that AI Dungeon 2 is much better than the initial version. This version allows us to enjoy playing while making animated stories with our friends. Therefore, collaborative gameplay will now be possible here.
Part 2. Top 7 Alternatives to AI Dungeon
Powtoon
Powtoon is a cutting-edge platform for making animated presentations and films. While it is not a direct competition to AI Dungeon, it does provide a unique means of expressing innovative ideas through compelling animations and narrative. All of these became why it is a great alternative to AI Dangeon for AI creation, especially with storytelling and animating processes.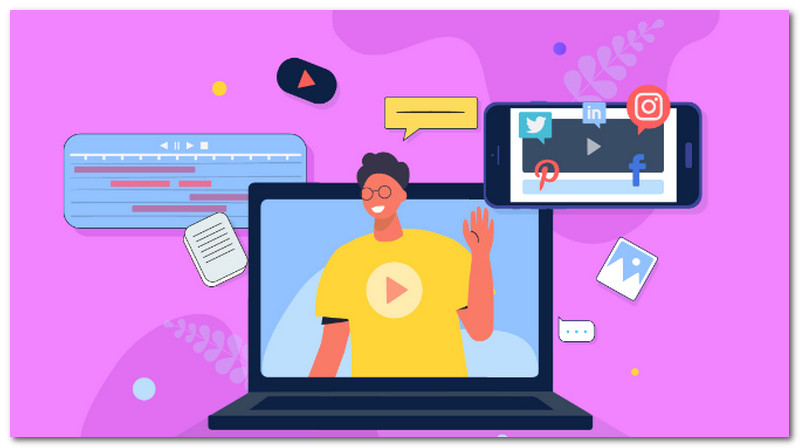 Pros

The animated components can bring your stories to life.
Excellent for instructional and corporate presentations.
A User-friendly interface makes it accessible to everyone.
Cons

This tool does not produce text-based storylines.
Some features may require a membership.
It requires a high-internet speed to process and high-system.
Storyboard That
Another tool we can enjoy other than the AI Dungeon. Storyboard is a versatile online platform that empowers creators to craft visual stories, comic strips, and storyboards easily. While its primary focus is not on text-based narrative generation like AI Dungeon, it provides a valuable tool for planning, visualizing, and sharing narratives in a visually engaging format. The only way to know its capability is by testing it.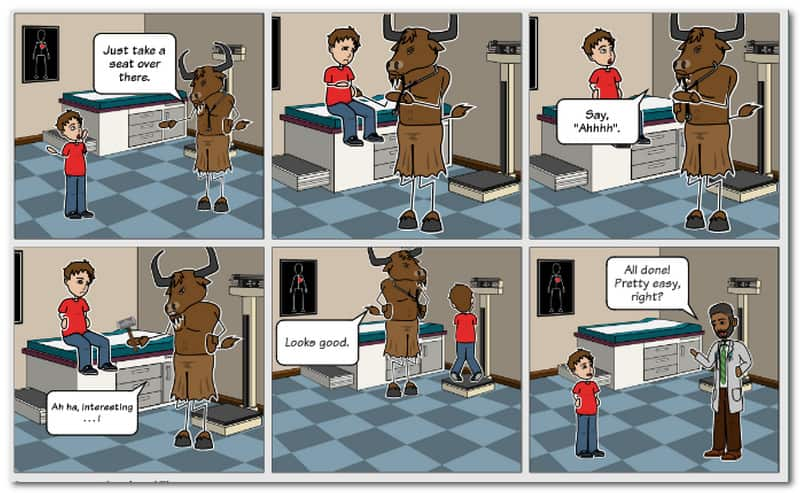 Pros

Ideal for organizing plotlines, scenes, and character development.
Supports collaborative storyboarding with others is superb.
The tool is valuable for educators and students to illustrate concepts.
Cons

It doesn't provide the same level of narrative generation as AI Dungeon.
The focus is visual storytelling, so text-generation capabilities are minimal.
Animoto
Here is the next great alternative for content creation and storytelling, like AI Dungeon. Animoto is a video creation tool specializing in turning photos, video clips, and music into polished videos. While not a storytelling platform like AI Dungeon, it can enhance narratives visually. That is only an overview; you can check it out and see it yourself.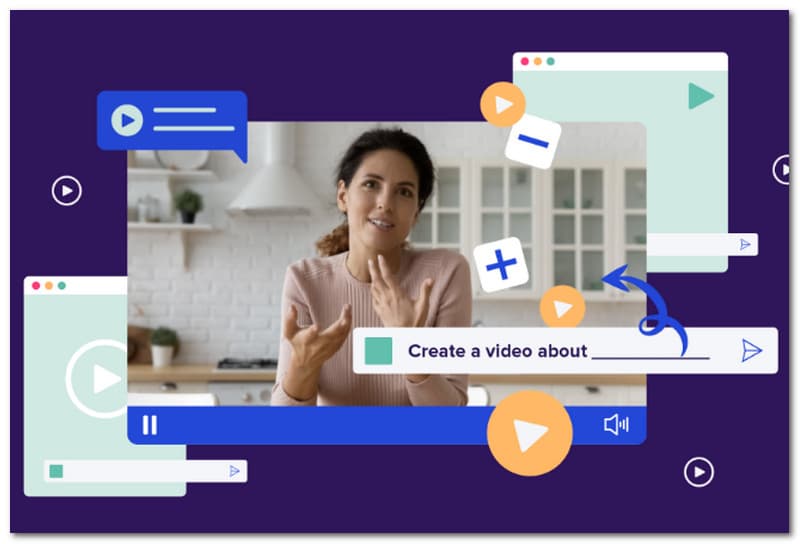 Pros

The templates and customization options lead to visually appealing videos.
Easily incorporate visual elements into storytelling.
Intuitive interface for creating professional-looking videos.
Cons

It doesn't generate text-based narratives like AI Dungeon.
Full access to features may require a subscription.
Crayon AI
On the fourth spot, we have Crayon AI as another great tool to use as an alternative to AI Dungeon. Crayon AI is an emerging AI-powered content creation tool that aims to elevate the quality of written content by assisting with grammar, style, and content refinement. While it doesn't directly generate interactive narratives like AI Dungeon, it can significantly benefit writers seeking advanced AI-powered assistance to enhance their work.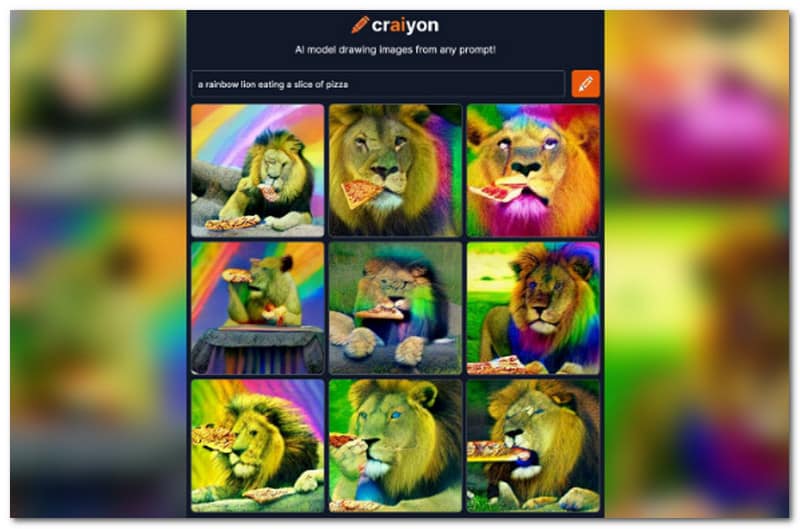 Pros

It helps with grammar, style, and content improvement.
The tool provides content suggestions based on input.
Useful for various writing needs, including business content.
Cons

It doesn't create interactive stories like AI Dungeon.
This may require some time to utilize its capabilities fully.
The tools require high-caliber skills and system requirements.
Quillbot
Quillbot is an intelligent writing tool designed to enhance the quality and clarity of written content. It's a valuable resource for writers seeking to elevate their writing skills and produce more polished and professional work. While it doesn't generate interactive narratives like AI Dungeon, it improves written text's overall readability and coherence. Although, the downside of this tool is the lack of features for generating its texts similar to AI Dungeon Script Generation. That is because this tool is mainly for paraphrasing and not for generating. Overall, using an alternative to AI Dungeon is still great, and we only need to put extra effort into the content creation process.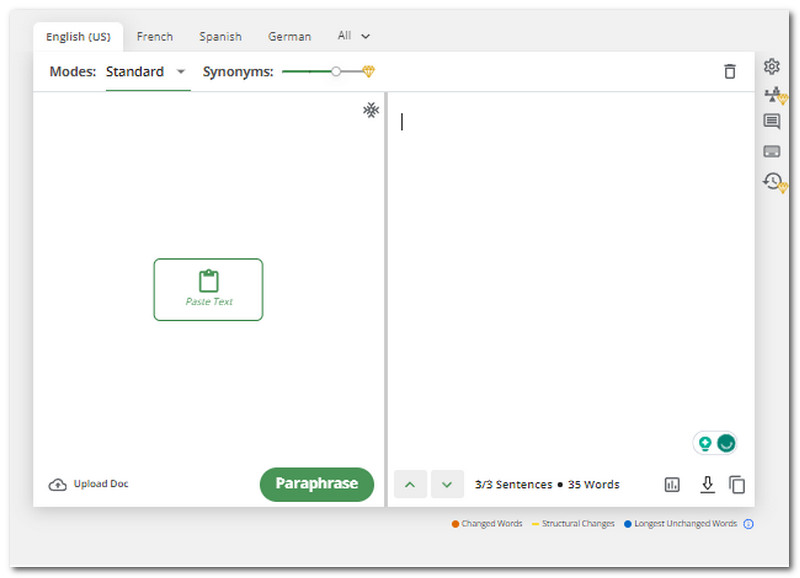 Pros

Improves grammar, readability, and overall writing quality.
Useful for rephrasing sentences and avoiding plagiarism.
Easily integrates with writing platforms.
Cons

It is not designed to create interactive narratives or a storytelling tool.
Advanced features may require a subscription.
MidJourney
On the sixth spot, we have another incredible alternative tool for AI Dungeon. MidJourney is a unique creative platform primarily focusing on generating visual art and design, offering a fascinating resource for artists, writers, and creators seeking fresh inspiration and visual ideas. That means the AI Dungeon Image Generation feature is also a feature that we can get through MidJourney. While it doesn't create text-based narratives like AI Dungeon, it can significantly spark creativity and provide a new perspective on visual storytelling.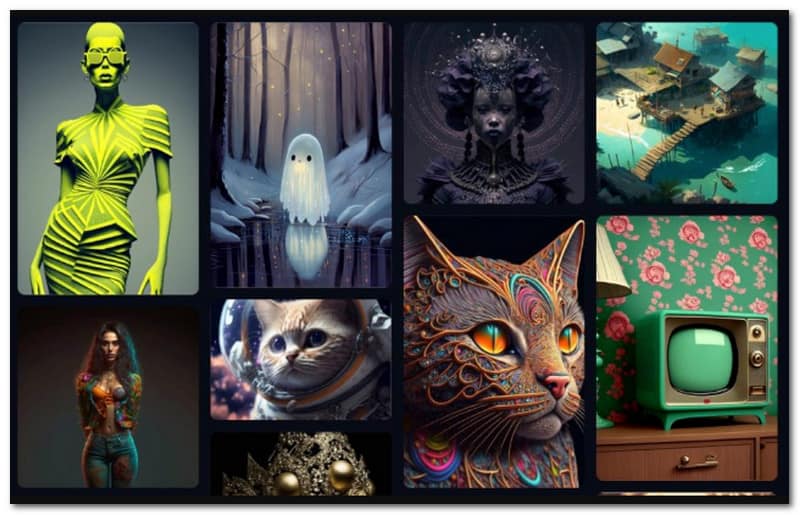 Pros

It offers one-of-a-kind visual art pieces that may be used as tale starters.
Perfect for artists and writers looking for new views.
It includes high-quality pictures that might help with narrative initiatives.
Cons

It is not a text-based narrative tool in the same way as A Dungeon is.
It is mostly intended for aesthetic inspiration and may not meet all narrative objectives.
DALL-E
The last tool but not the least for its top seven reviews of great alternatives of AI Dungeon. DALL-E, developed by OpenAI, is a groundbreaking AI model that generates images from textual descriptions. While not primarily a storytelling platform, DALL-E offers a fascinating tool for visualizing concepts, characters, scenes, and more.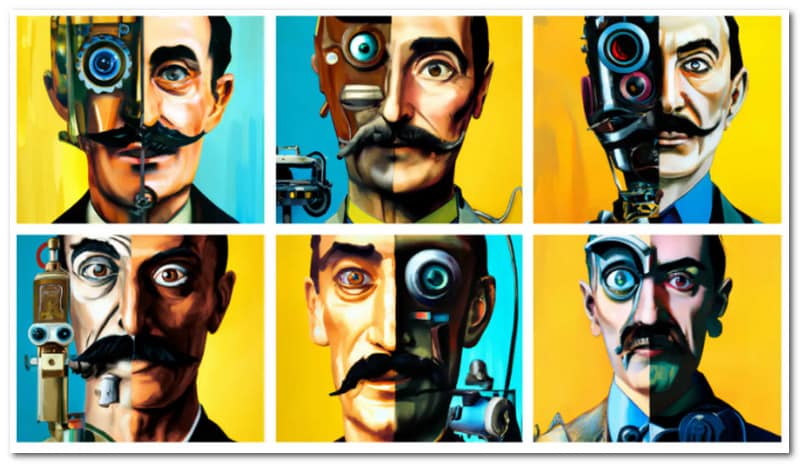 Pros

Creates graphics from text descriptions; excellent for visual storytelling.
Great for helping authors and artists picture their characters and settings.
DALL-E shows how AI may be used in the arts.
Innovative Technology offered.
Cons

It is image-focused rather than text-based storytelling.
The main purpose of the system is to produce images from text inputs.
It is also limited to Image Generation.
Part 3. FAQS about AI Dungeon Alternatives
What makes Powtoon an alternative to AI Dungeon when it does not generate text?
While Powtoon is not a direct narrative generation tool like AI Dungeon, it provides an innovative way to express ideas and stories through animated presentations and videos. Powtoon's dynamic visuals can engage audiences, making it suitable for conveying narratives visually compellingly. It's an alternative for creators who want to share stories using animations and visuals rather than traditional text-based storytelling.
How does Storyboard compare to AI Dungeon?
Storyboard That differs from AI Dungeon's focus on visual storytelling and planning. It excels in helping creators organize and visualize narratives through comic strips, storyboards, and visual scenes. The platform is ideal for collaborative projects, educational use, and visualizing narrative flow. However, Storyboard doesn't provide the extensive text-based narrative generation that AI Dungeon offers.
Is Animoto suitable for creative writing?
Animoto enhances creative projects through visually appealing videos crafted from photos, video clips, and music. While not tailored for text-based creative writing like AI Dungeon, Animoto can complement storytelling by adding a visual dimension. It's an excellent tool for visually presenting narratives, creating mood-setting videos, and enhancing multimedia projects.
What are the unique features of Crayon AI as an alternative?
Crayon AI is an AI-powered writing assistant focused on grammar, style improvement, and content suggestions. Unlike AI Dungeon's narrative generation, Crayon AI assists writers by refining their written content. It's versatile for various writing needs, particularly for business content, professional documents, and other writing endeavors.
Can Quillbot be used for more than just creative writing?
Absolutely. Quillbot is designed to enhance written content by improving grammar, readability, and overall writing quality. It's not limited to creative writing; it's a versatile tool suitable for academic writing, professional communication, and any context where clear and effective writing is crucial. While Quillbot doesn't generate narratives like AI Dungeon, it's a powerful aid for various writing tasks.
Is AI Dungeon an AI game?
A text-based, artificial intelligence-generated fantasy simulation with limitless potential, AI Dungeon. With AI Dungeon, you may instruct the AI to construct places, people, and scenarios for your character to engage with, unlike typical games where you explore worlds designed by game designers.
What is the AI Dungeon's age rating?
Due in part to the continuing nature of AI moderation as a never-ending work in progress and the inherent issues with AI Dungeon's word association-based randomized tale development, the game is classed as 17+ on app stores.
Conclusion
As we can see, AI Dungeon is doing great in generating different kinds of text. This will become effective and can make novel writing more efficient. However, we cannot prevent that. We can experience trouble having it sometimes. For that, it gives us hassle whenever it happens because it will hinder us from creating an effective and efficient story. Good thing we have many alternatives that we can still use, like the seven AI Tools we reviewed above in this article. These seven tools offer incredible features to help us easily manage content creation when AI Dungeon fails to give its best.
Did you find this helpful?
463 Votes
YES

Thanks for letting us know!
No

Thanks for letting us know!
AnyMP4 Video Converter Ultimate
All-in-one video converter, editor, enhancer upscaled with AI.