Unlocking iPhone Forgotten iPhone Passcode with TuneKit iPhone Unlocker Review
Have you heard of the iPhone Unlocker from TunesKit? Most likely, yes, as only iPhone owners can truly understand the agony of forgetting their device's password. Even if you are not tech knowledgeable like me, this helpful tool enables you to unlock your iPhone in only a few clicks!
TunesKit iPhone Unlocker software is a potent iOS unlocking tool that works effectively in most situations, including unlocking iPhones with wrong passwords, broken displays, and used devices. We will discover everything there is to know about the TunesKit iPhone Unlocker in this article, like how to use it to unlock your iPhone. So let's get started right away.

Our Verdict
Pros

The highest industry success rate for unlocking iPhones.
Deleting the password from an iPad, iPhone, or iPod touch.
Without iTunes, unlock a deactivated or locked iPhone.
Remove the 4-digit, 6-digit, Touch ID, and Face ID lock screen passcodes.
Support for iPhone screen damage or a black screen;
Cons

Only the activated gadget can be unlocked.
Wipe all settings and data while erasing the passcode.
Overall Rating
As we judge it first, the tool is very effective in terms of alleviating the problem within our iPhone. With its accelerating hardware and features, the tool will be worth trying.
Features:8.9
Safety:9.0
Complexity:8.8
1. What is TunesKit iPhone Unlocker?
TunesKit iPhone Unlocker
Price: $29.95
Platform: Windows and macOS
When successfully unlocking your iPhone or any other Apple device without a passcode, TunesKit iPhone Unlocker comes to the rescue. It is incredibly effective and designed to make removing screen locks on broken or disabled devices simple. Getting around a 4- or 6-digit passcode, Face ID, Touch ID, etc., takes one click. Additionally, it enables you to reset your iPhone to factory settings without needing iTunes or a passport. Several attractive opening discounts will fit your budget and satisfy your needs. Consider it insurance for when you'll need to unlock your iPhone most. Take advantage of the ongoing giveaways.
Main Feature
◆ There are numerous ways to unlock iPhones.
◆ Both Touch ID and Face ID are compatible with them.
◆ There is no need for a passcode or iTunes.
◆ Reset your iPhone's 4- or 6-digit passcode.
◆ Operate on any iOS device and iOS version.
◆ The iPhone passcode may be removed in three simple steps.
◆ Unlocking any screen lock with a high success rate.
◆ Very easy to use.
◆ Includes free software upgrades for life.
2. TunesKit iPhone Unlocker Review
Unlock iPhone without Password
Was the iPhone password forgotten? Doesn't Face ID or fingerprint recognition function properly? That is not a problem. The TunesKit iPhone Unlocker is available to assist you in removing screen locks in a variety of circumstances. As a powerful iPhone password unlocker, it can swiftly unlock an iPhone passcode even with a broken screen, a disabled screen, an unresponsive screen, etc. As a result, you can use your iPhone, iPad, and iPod Touch as usual.
Support Unlocking Any Security Codes
TunesKit iPhone Passcode Remover can quickly and effortlessly remove and bypass whatever password you're using, including 4-digit and 6-digit passwords, custom numeric or alphanumeric codes, Touch ID, Face ID, and screen time passcodes.
System Requirements
For Windows:
| | |
| --- | --- |
| OS | Windows XP or latest |
| CPU | 1GHz processor like 32-bit to 64-bit and above. |
| Free Space | 200 MB and more |
| iOS Version | From iOS 7 up to iOS 16 |
| RAM | 256 MB and more RAM. Recommended: 1028 MB |
For Mac:
| | |
| --- | --- |
| OS | macOS 10.8 or latest |
| CPU | 1GHz processor and above. |
| Free Space | 200 MB and more |
| iOS Version | From iOS 7 up to iOS 16 |
| RAM | 512 MB and higher |
3. How to Use TunesKit iPhone Unlocker
After knowing all the details about TuneKit iPhone Unlocker above, we shall know if these features are working and worth trying. That means we are now giving you the guideline to make the process of unlocking your iPhone without complication with this tool. Please see the instructions below on how to bypass iPhone passcode.
1.
Installing and starting the TunesKit iPhone Unlocker program on your PC is the first step. Next, use a USB cord to connect your iPhone. After that, once you have started the software and plugged in your iPhone, you are now prepared to go. Push the Start button after that.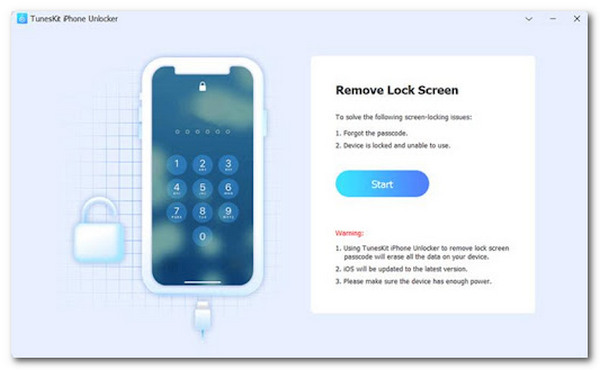 2.
You must manually enter DFU mode or Recovery mode if your iPhone, iPad, or iPod touch does not detect your device. Following the instructions on the TunesKit interface as displayed below, you can boot the iPhone into DFU or Recovery mode.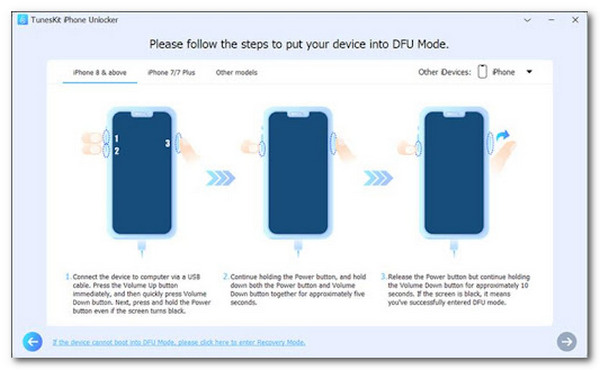 3.
The firmware package must then be downloaded and installed, if necessary.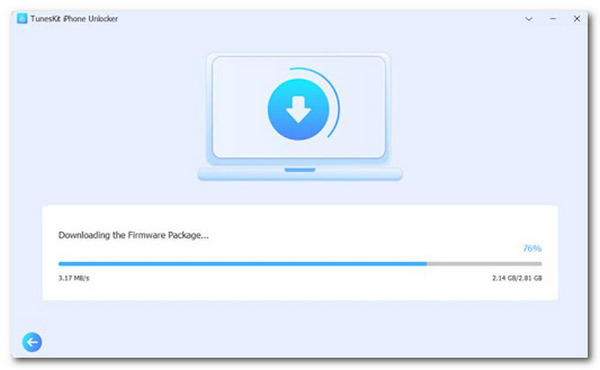 4.
The firmware package's download may take some time. Clicking the Unlock button will now unlock the smartphone. After the screen lock has been disabled, your iOS device can be securely unlocked in minutes.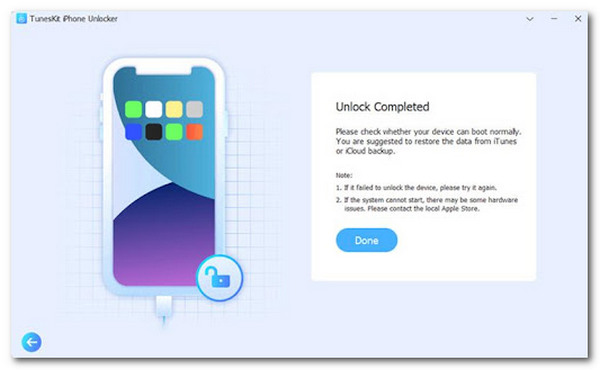 For the detailed tutorial to use this software, you can refer to this video tutorial in YouTube: https://www.youtube.com/watch?v=qbmsOYDhkho
4. FAQ about TunesKit iPhone Unlocker
Is TunesKit iPhone Unlocker Safe to Use?
Because TunesKit is a well-known company and offers several high-end iPhone suites software, using this program is absolutely safe. As a result, you should not be concerned about the software's dependability.
How long do failed passcode attempts last before they stop?
After six unsuccessful password attempts, an iPhone will shut down for one minute. When you enter the wrong passcode seven times, you'll be locked out for five minutes, fifteen minutes, and an hour.
What happens if I lock my iPhone for an hour?
You must force the phone into recovery mode to get around the passcode if it has been set since the last time you synced. You'll have one more chance to enter the right passcode before the hour ends.
How long does it take for TuneKit iPhone Unlocker to unlock my iPhone?
The speed of the process of unlocking your iPhone using TuneKit iPhone Unlocker will depend on the speed of your internet. As we all know, the process involves downloading firm packages; therefore, if you have a slow internet connection, we will download it very slowly. Having a speedy connection will also boost the downloading speed of the software. However, the average speed for it will take 5-8 minutes process.
Conclusion
This tool ensures that everyone can use it without any problems, regardless of their technical expertise, by being simple to use and having a straightforward interface. And it moves quickly. You may also quickly unlock your locked iPhone with a few taps. These factors combine to make this app a handy tool for people who cannot log into their iPhones. We have covered every aspect of the TunesKit iPhone Unlocker, and we sincerely hope that this article has been helpful to you. For more information, please visit our website.
Did you find this helpful?
385 Votes
YES

Thanks for letting us know!
No

Thanks for letting us know!
Aiseesoft iPhone Unlocker
Get into locked iPhone iPad iPod without password or Apple ID.