Tenorshare 4uKey Review: The Superlative and Competitive iPhone Unlocker
Did you enter the wrong passcode, and your iPhone is disabled? Or maybe, your Apple ID has been disabled also? Oh no, you are in big trouble! There's so much hassle when you do not know what software you need to use to fix that problem! Luckily, we share a review with all of you about Tenorshare 4uKey. It can fix all of your issues in a few minutes. It can remove your passcodes and bypass your Apple ID. Not just that, are you curious to learn more? Let us start reading now!

1. Our Verdict
Pros

It has an excellent user interface.
It is manageable to use.
It allows you to download it for free.
It offers a free trial.
It supports numerous languages.
It has a professional technique and provides a 90% success rate.
Cons

After the unlocking process, your iPhone device will be updated to the newest version.
Therefore, you need to back up your files before the unlocking process.
Your iPad or iPhone will not be recognized unless you update your device.
Overall Ratings
Interface:9.0
Features:9.0
Safety:9.0
2. What is Tenorshare 4uKey
Best for: Unlocking your Apple ID, removing the screen time passcode, and bypassing Mobile Device Management on iOS or MDM on iOS devices.
Price: 1-Month License: $35.95, 1-Year License: $39.95, Lifetime License: $49.95
Platform: Windows and Mac
Main Features
Tenorshare 4uKey is classified among the best iPhone Unlockers for your Apple devices such as iPhone, iPad, and iPod touch. The best part about Tenorshare 4uKey is that it has an excellent user interface, which would be good news for every user, especially for beginners.
In addition, suppose that you cannot afford a Macbook and have an Apple device that needs to unlock it, you can use your Windows to download Tenorshare 4uKey. Please take note that it works with Windows and Mac.
Here are the features of Tenorshare 4uKey that you will surely love and enjoy! Please see them one by one below:
◆ It can remove your 4-digit and 6-digit passcode.
◆ It can also remove your Touch ID and Face ID.
◆ It can delete the Screen Time passcode and Mobile Device Management (MDM) profile.
◆ It can bypass Apple ID and Mobile Device Management (MDM).
◆ It can fix your disabled iPhone, iPad, or iPod Touch without using iTunes or iCloud.
◆ It can factory reset your iPhone without a password.
3. Tenorshare 4uKey Review
Interface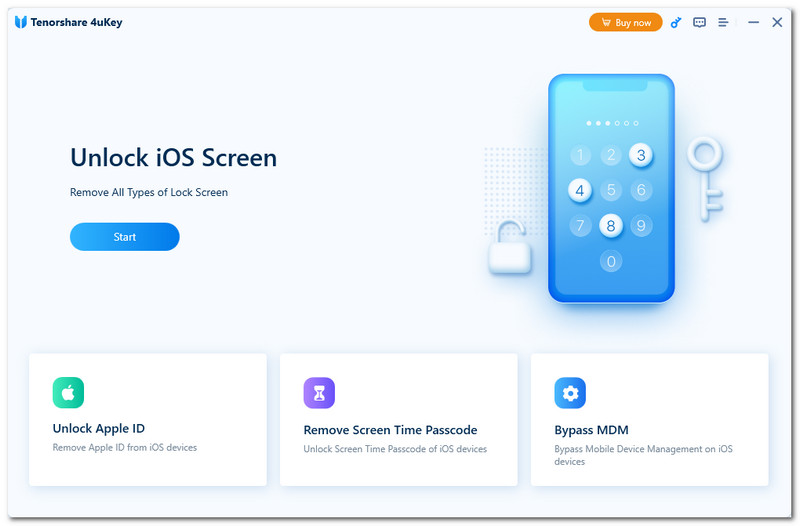 Once again, Tenorshare 4uKey has an excellent user interface. As you can see, it is so clean and aesthetic, and you will enjoy using it. While looking at its color has white, blue, and light blue colors. Then, the icons have a different color, but it does not affect the main interface.
You will immediately see the Unlock iOS Screen and the Start button in the middle part of the interface. Next to it is the vector art of the iPhone, which makes the interface more lively. After that, you can see the three available options from Tenorshare 4uKey: Unlock Apple ID, Remove Screen Time Passcode, and Bypass Mobile Device Management or MDM.
Overall, whether you are a beginner or professional user, you will love using Tenorshare 4uKey. Who would not want a great and easy user interface, right?
Unlocking your iPhone Locked Screen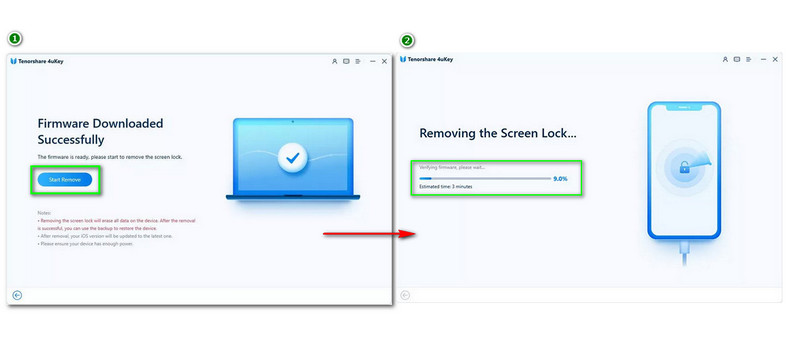 Unlocking your locked screen iPhone is quick when you use Tenorshare 4uKey. Once you downloaded the Firmware successfully, you will proceed to the removing process. Click the Start Remove button. Note that the unlocking process will take several minutes, so you need to ensure that your device has enough battery power.
Moreover, when you tap the Remove button, you will go to the processing panel. In addition, it will show you the estimated time of the process and the percentage. When it is done, you successfully remove your iPhone-locked screen.
Removing your Apple ID without using Password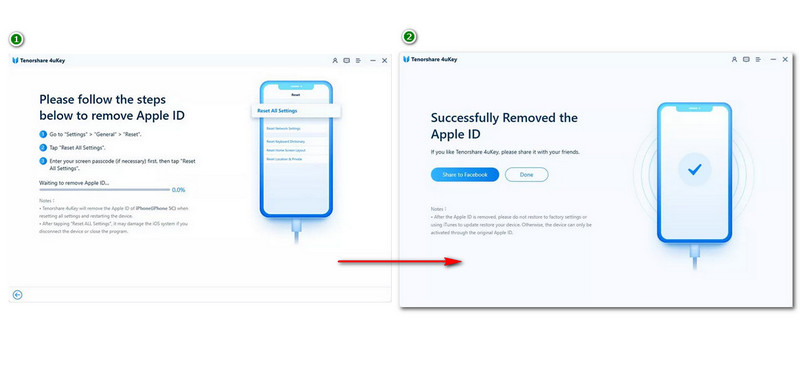 This part is applicable when you find the version of your iOS iPhone is below 11.4. To remove your Apple ID, you need to go to Settings. Then, you will see the General and click it. After that, find the Reset and tap it, and you will see the Reset All Settings.
First, you need to enter your screen passcode, and after that, select the Reset All Settings. Then, a loading process will pop up, and it will start removing Apple ID. Once your Apple ID is successfully removed, you can click Share to Facebook to share with friends or click the Done button.
Bypassing MDM Lock Screen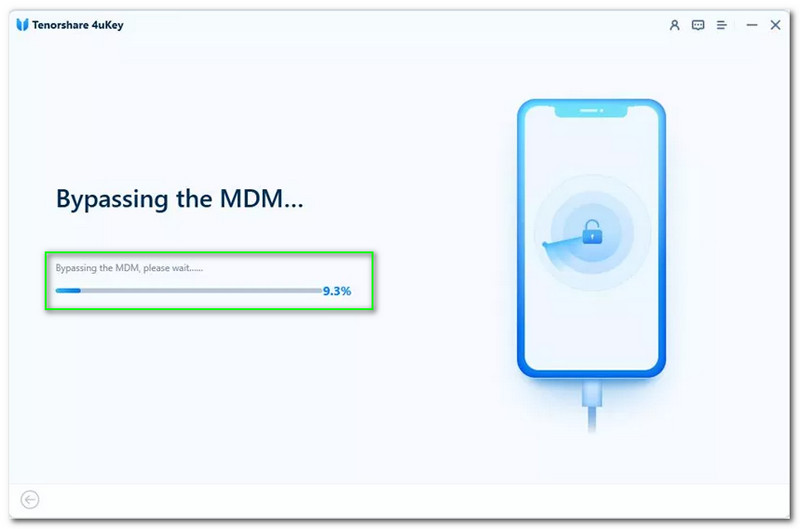 Mobile Device Management is also known as MDM. Supposing that you fail to remember your login information, the tendency is you will be stuck on the Remote Management login screen. This is where you the moment that you can enable to access your password.
Tenorshare 4uKey will help you with that! Before starting the bypassing process, there are some reminders from Tenorshare 4uKey; after bypassing the MDM, the backup password on your device will be changed to a. You can use the password to access the backup file and change the password again. Also, removing MDM will not lose your device data.
Moreover, to start the bypassing process, click the Start button and wait for the process to finish successfully.
Removing Screen Time Passcode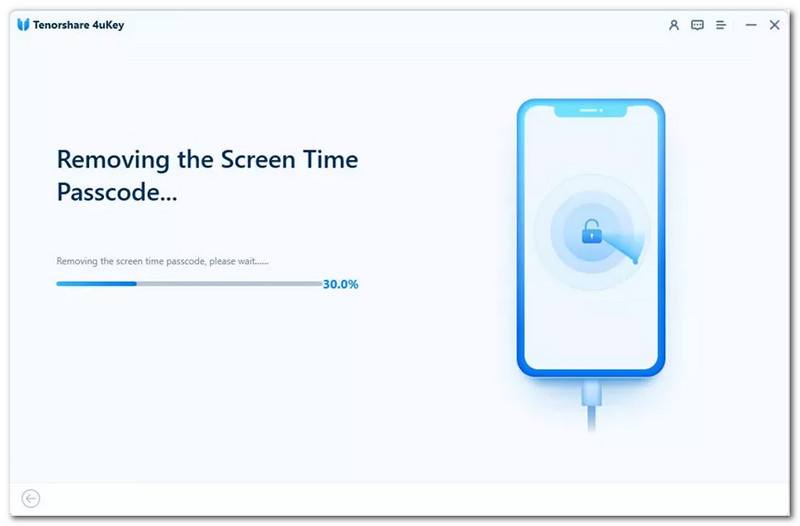 Here are the things you must know upon removing the Screen Time passcode. Tenorshrae 4uKey will not delete your data on your device. Nonetheless, if you will remove a passcode or delete an Apple ID, it will reset your device and erase your data. The good thing you can do is backup files before starting the process.
Now, same with the other process of Tenorshare 4uKey, you need to wait for the loading process until your Screen Time passcode is removed effectively.
4. How to Use Tenorshare 4uKey
1.
To connect your phone to your computer, you need to click the Start button on the main interface. Then, on the next panel, Tenorshare 4uKey has a reminder for every user like the iOS of the user will be updated to the latest version after unlocking the screening process. Lastly, users need to ensure that their device has enough power.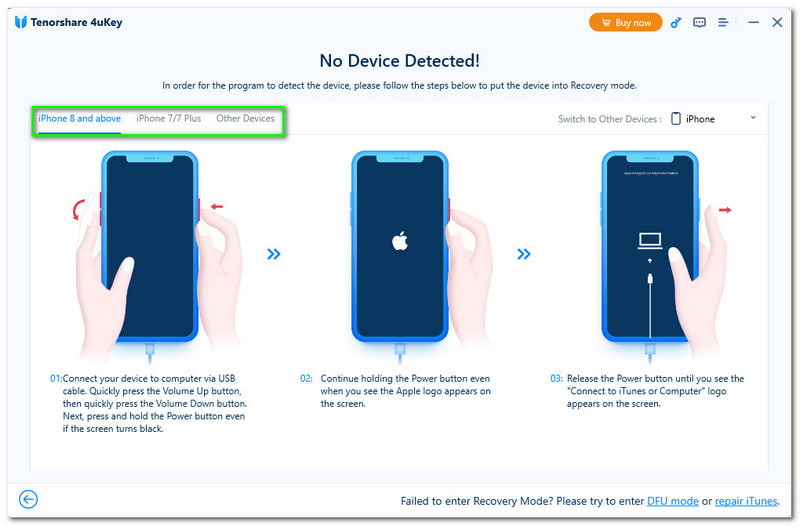 After that, click Next to proceed. Now, on the next panel, you need to choose which devices you have. On the upper part, you will see the choice such as iPhone 8 and above, iPhone 7/7 Plus, and Other Devices.
If your device is iPhone 8, iPhone X, iPhone 11, iPhone 12, or iPhone 13, choose the iPhone 8 and above. If your device is iPhone 7 or iPhone 7 Plus, choose the iPhone 7/7 Plus. Then, if your device is an iPhone 6 and below, you need to select the Other Devices. How about if your device is an iPad or iPod Touch? On the right corner of the panel, you will see the Switch to Other Devices and choose the iPad or iPod.
Once you choose your device, use a USB cable. Every version has different ways to do it. However, in the last part, you need to see the Connect to iTunes or Computer logo, which means you have successfully connected your iPhone to your computer.
2.
efore the unlocking process, Tenorshare 4uKey will ask you to download the latest firmware package. On the window, you will see the Firmware Information, and it shows you the Model, Version of your device, and the Path where the firmware package will be saved.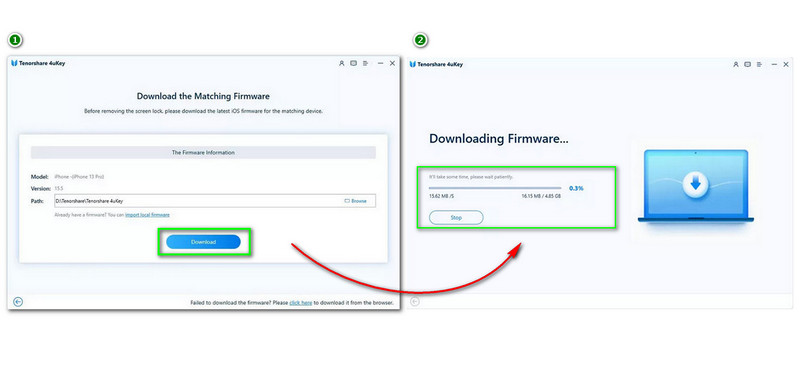 Then, you will see the Download button under the part of Firmware Information and click it. The next thing that will happen is to proceed to the next panel and see the loading process. You will see the Downloading Firmware, and below, you will see the percentage of the process. Please, you need to wait patiently until the process is finished. Nonetheless, click the Stop button if you want to stop the process.
5. FAQs of Tenorshare 4uKey
Is Tenorshare 4uKey safe and free?
Tenorshare 4uKey is 100% safe since it is committed to respecting and securing the privacy of every personal information of the user that they gather. In addition, Tenorshare 4uKey is not free, and it has three different subscriptions. But the good thing about this is it offers a free download and trial. Check it out now!
How can I delete the Screen Time passcode on my iPhone using Tenorshare 4uKey?
The first step is you need to download and launch Tenorshare 4uKey. Then, connect your device using the USB cable, and you need to turn off the Find My iPhone feature of iPhone. After that, click the Remove Screen Time Passcode, wait patiently, and that's it!
Can I get a refund on Tenorshare 4uKey when the product is not working?
Yes, it is possible! Tenorshare 4uKey provides every user a 30-day money-back guarantee for all their products. Once they prove that there is no solution for your problems with their product, you can refund the amount that you pay to them.
6. Alternative - Aiseesoft iPhone Unlocker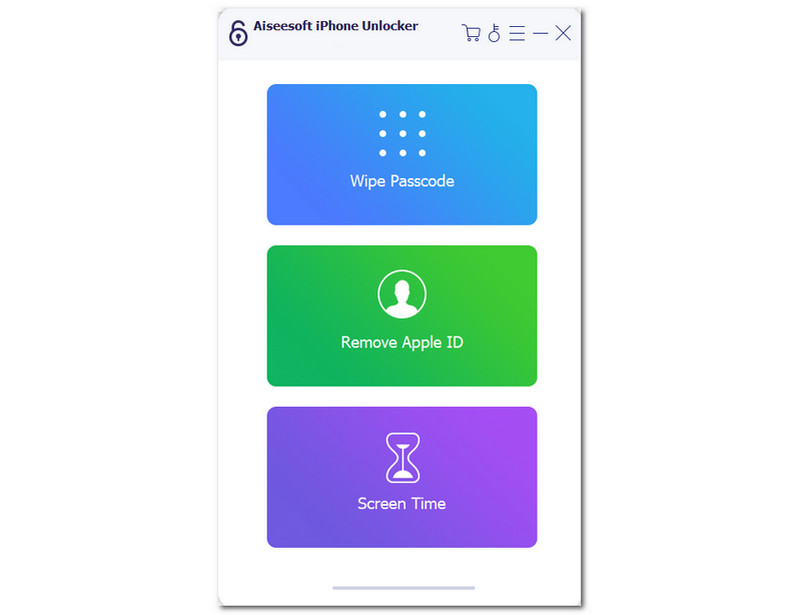 One of the disadvantages of Tenorshare 4uKey is your device will not be recognized unless it is updated to the latest version. One of the many reasons why the Tenorshare 4uKey alternative is the Aiseesoft iPhone Unlocker is because you can use it effectively, and it is more affordable than Tenorshare 4uKey.
Therefore, users will choose the affordable yet full of features iPhone unlocker. Below, we will share the features of the Aiseesoft iPhone Unlocker, and once you become familiar, we are sure that you will use it continuously!
◆ It is 100% safe and clean.
◆ It is compatible with iOS 15.
◆ It works on Windows and Mac.
◆ It can wipe your iPhone passcode.
◆ It can remove your Apple ID.
◆ It can bypass the Screen Time.
◆ It allows you to wipe your 4-digit and 6-digit passcode.
◆ It also allows you to wipe your Touch ID and Face ID.
There's more! What are you waiting for? Check them out by downloading and trying Aiseesoft iPhone Unlocker for free!
Conclusion:
That's it! We are glad that we have an opportunity to share with you the excellency of Tenorshare 4uKey. Hopefully, you learned so much from this review article since we spent an effort reviewing its price, functions, features, etc. We would like to hear your feedback, and please do not forget to share it with us, and we expect your thumbs up for this review. See you again next time!
Did you find this helpful?
219 Votes
YES

Thanks for letting us know!
No

Thanks for letting us know!
Aiseesoft iPhone Unlocker
Get into locked iPhone iPad iPod without password or Apple ID.