[2023] Completed Review of UnlockJunky Service
There are many users who choose to buy second-hand phones as an environmentally friendly option. There are other users who take out their old phones and want to view cherished memories from the past. However, they are confused when encountering the FRP/Google Lock, Account Lock, etc., since they do not know or forget the previous account and password. In addition, some users want to bypass the restrictions of their phone carriers but don't know what to do.
Fortunately, this article will share an unlocking website to help you. UnlockJunky is one of the popular unlocking websites which can unlock various locks on Android phones. Before unlocking your phone, you can read UnlockJunky reviews, including its pros, cons, features, and performances. Then, you can make better decisions. Now, continue reading!

1. Our Verdict
Pros

The unlocking process is easy and fast.
The website interface is easy to navigate.
The customer support team is professional.
Cons

Not compatible with iOS devices.
Not support free trial.
Customer Support:9.0
Features:9.6
Easy to use:9.0
2. What is UnlockJunky
Price: Start from $25
Platforms: Windows and macOS
UnlockJunky is a website providing online unlocking services. It offers two main services, including factory reset protection removal and carrier unlocking. Besides, it can help you to unlock the Samsung Account Lock and PIN Lock. The unlocking process only takes 5 to 15 minutes on average. And the professional team will help you to finish this process remotely. By the way, you can use PayPal to process your payment and create your order quickly.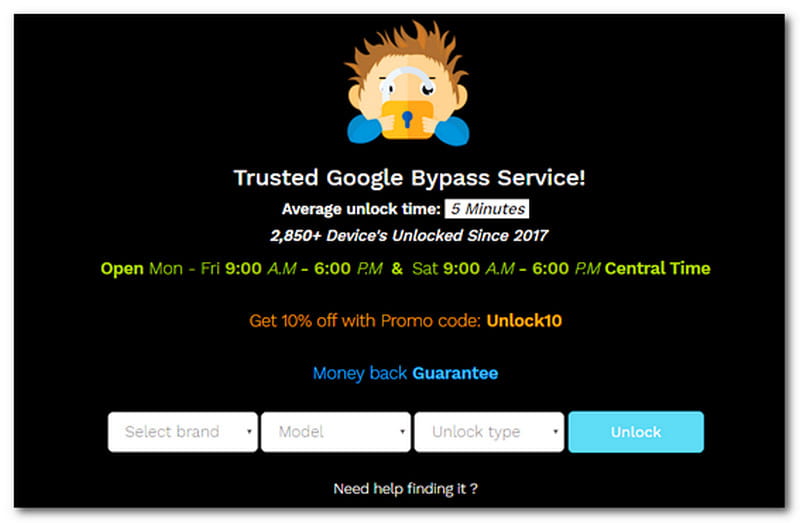 Main Features:
◆ Compatible with most Motorola, Samsung, and ZTE devices.
◆ Take 5 to 15 minutes on average to unlock phones.
◆ Unlock FRP, Samsung Account, Sprint Carrier, etc.
◆ Offer the safest and fastest way to pay for the services.
3. UnlockJunky Review
What is It Best for
UnlockJunky specializes in unlocking Motorola, Samsung, and ZTE devices. As a paid service, its success rate makes it stand out from its competitors. From the user reviews, it has a 98% success rate. It is a very good unlocking service.
Is UnlockJunky Legal
If you are worried about the legitimacy of unlockjunky.com, then you can get the answer to this is yes. UnlockJunky is a reliable and trustworthy website. It aims to provide the best unlocking services for you. It marks the price corresponding to each unlocking service on the homepage of its official website, and there is no secondary payment. More importantly, the online support team can give you instant replay if you encounter unlocking problems.
Price and Service
UnlockJunky charges users different prices based on the types of unlocking services. FRP/Google unlocks are the most sold service, usually charges $25. And the Carrier unlocking service charges for $30. Besides, the price of Samsung Account Unlock also charges $25. In contrast to other unlocking services, the price is not expensive. And you can choose one of the unlocking modes according to your need. Meanwhile, all the work is done by the remote team. So, you can be hassle-free during the process.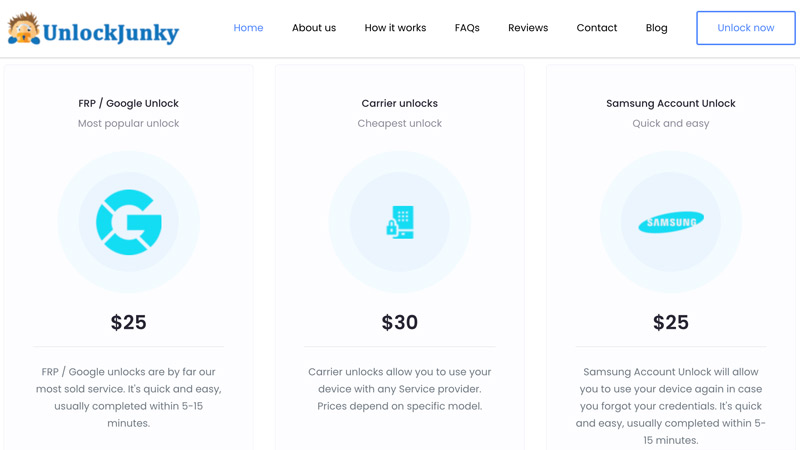 How UnlockJunky Works
The unlocking process is not complex. When you want to unlock FRP, Google Unlock, Samsung Account, or Carrier Unlock, follow here to use the UnlockJunky service.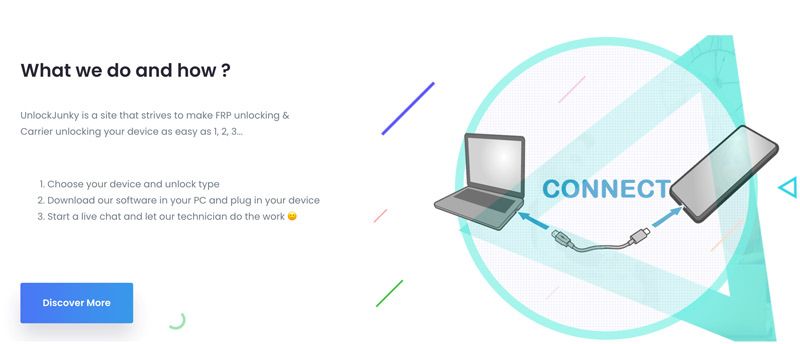 1.
Access the UnlockJunky website and navigate to the homepage. Enter your phone's information, including the brand, model, and unlock type. Then, click Unlock now.
2.
You will go to the secure PayPal payment page. After paying, you can contact the support team to get the remote client program.
3.
Install and run the program on your computer and plug in your device. Find and type the tech address provided in your order email. Then, wait for the technician to finish the unlocking process remotely.
Please keep a stable network connection. And do not disconnect your device from this computer. The whole unlocking process only needs 5 to 15 minutes.
Experience for UnlockJunky
According to Trustpilot, UnlockJunky has been rated 4.9 stars by 446 users by far. Most users are very satisfied with the unlocking service. They reported that the unlocking success rate is very high. And the unlocking speed is super-fast, which saves them valuable time. In addition, they also said that the remote technician is professional. They only need to install the specific program on the computer. Then, all the processes can be operated by the technician.
You can view some details of the unlocking services from various users' reviews. All in all, the user experience is very great.
Best Alternative to UnlockJunky
UnlockJunky is an excellent website providing the program to unlock various Android device, including Motorola, Samsung, and ZTE phones. However, it's worth noting that this site can't provide unlocking services for iOS devices. If you need to unlock your iPhone or iPad, you can try the equally excellent software, Aiseesoft iPhone Unlocker. This unlocking software is available on Windows 11/10/8/7 and macOS. And it can help you wipe passcode, remove Apple ID, MDM, iTunes backup password, etc., on iOS devices. Moreover, the unlocking process is easy and fast. Free download here and have a try!
4. FAQs of UnlockJunky
Is UnlockJunky safe?
Yes. UnlockJunky is a reliable website with many followers. And you can use its unlocking service after paying.
What is FRP Lock?
FRP (Factory Reset Protection) Lock is a security feature on Android devices. It requires you to enter the Google account credentials after a factory reset. This feature prevents unauthorized access to the device and protects the data in case of loss or theft.
Does factory reset remove FRP?
No. A factory reset does not remove FRP (Factory Reset Protection) from an Android device. After factory resetting the device, the FRP Lock will still be active.
Is there any free FRP bypass tool?
Yes. You can try free FRP bypass tools like Pangu FRP Unlocker and SideSync. Besides, you can click here to get more best Google FRP bypass tools.
What is Carrier Lock?
Carrier Lock is also called SIM Lock. It has a specific carrier. And it prevents your phone from being used with SIM cards from other carriers.
Conclusion
By reading this article, you've got a comprehensive understanding of UnlockJunky. It is a popular unlocking website that provides reliable services. If you need to unlock your Android phone, you can try it. Of course, if you have other questions about UnlockJunky, leave your comments below.
Did you find this helpful?
398 Votes
YES

Thanks for letting us know!
No

Thanks for letting us know!
Aiseesoft iPhone Unlocker
Get into locked iPhone iPad iPod without password or Apple ID.