How to Copy Movie from DVD to Mac using these Two Amazing Converting Software
Watching videos through a digital video disc or DVD has a touch of nostalgia for all of us. The immense experience of watching it through a portable DVD player cannot reciprocate the feeling of many media players out there. However, nowadays, the demand for DVDs has become low. Thus, we do not choose to use new ways of playing movies or videos. But, since DVDs have become part of our lives, we want to keep videos from DVDs by saving them with our Mac computer. For that, we will talk about the possibility of copying a DVD on your Mac computer in this post. Also, we will give you a few methods that we can do to import DVDs to Mac. We will introduce two software ways that will help us copy DVDs to Mac Hard Drive. Without further ado, we shall now know the step in making it.

1. Can I Copy a DVD to my Hard Drive?
Yes. Tons of media enthusiasts and users who love saving video files wonder if they can copy a DVD to their Hard Drive. This action is essential for them, especially in backing up their video files. Fortunately, this is possible through the use of software or computer utility. That means, if we can copy DVDs on our Hard drives, we can save our video files to make them safe and secure. In addition, having a soft copy of the video from our DVD is more accessible to play anytime. That is possible because we do not need a DVD player to watch it. All we need is a media player with our Mac.
2. How to Copy DVD to External Hard Drive on Mac with AnyMP4 Video Converter Ultimate
This portion will see a very effective software that we can download to help us copy DVDs to External Hard Drive on your Mac. As we all know, this action is possible. Good thing AnyMP4 Video Converter Ultimate is here to alleviate our problems. This software is an effective tool for copying DVDs to Drive hassle-free. Kindly look at how you can make it by following the steps below.
1.
Get and install AnyMP4 Video Converter Ultimate on your Mac computer. Then go to its Ripper functions.
2.
The next thing we must do is click the Load DVD on the most left corner of the interface. A new window tab will appear to select the video file you want to copy. Click the Select Folder or Select File to make sure that you add the File to the software.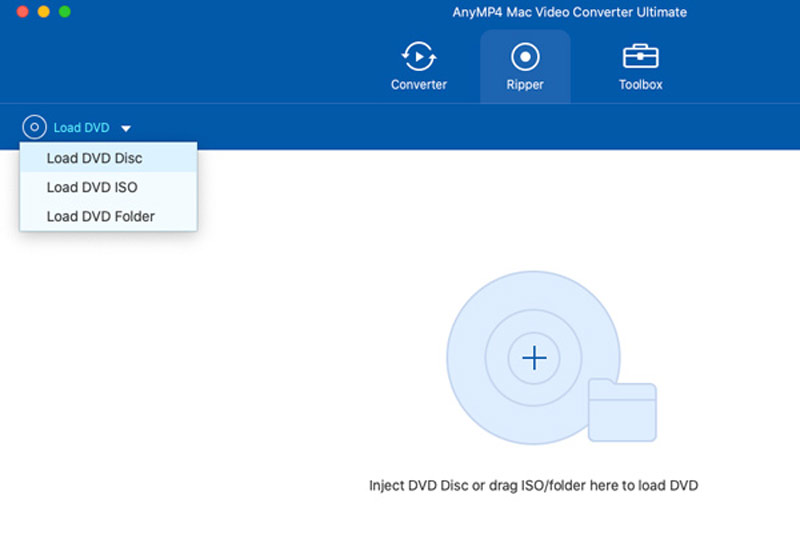 3.
After that, you will now see the video files on the interface. Click the Profile tab. From the tab, you will see different and a lot of formats. Go to the Video Format tab and select the Format following your preference.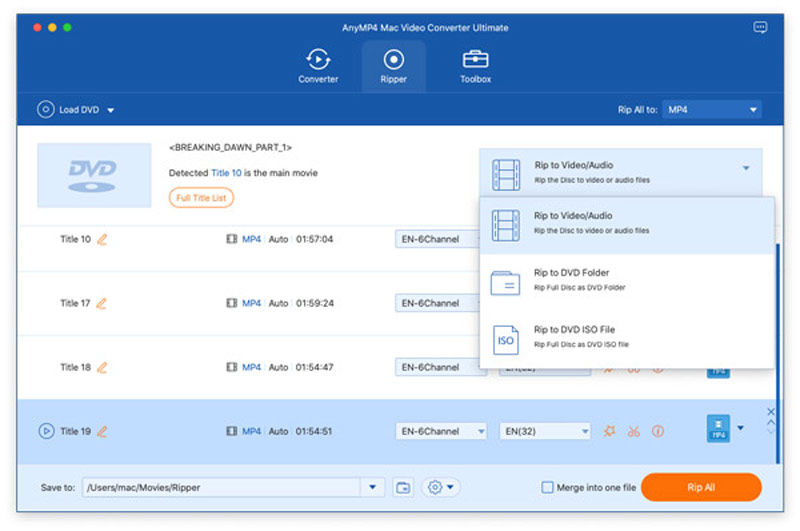 4.
As an additional step, you may also modify the movie or video you are copying to enhance the quality and effects. You may use the built-in editing features of AnyMP4 Video Converter Ultimate to make it possible.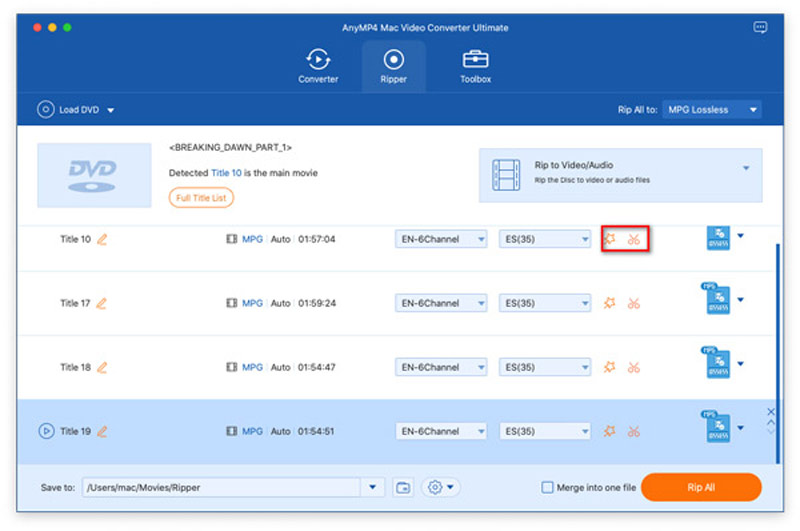 5.
If you are good to go with additional instructions, you may now click the Rip All button to copy and save the changes with your DVD video. You can find this at the bottom-right part of the interface.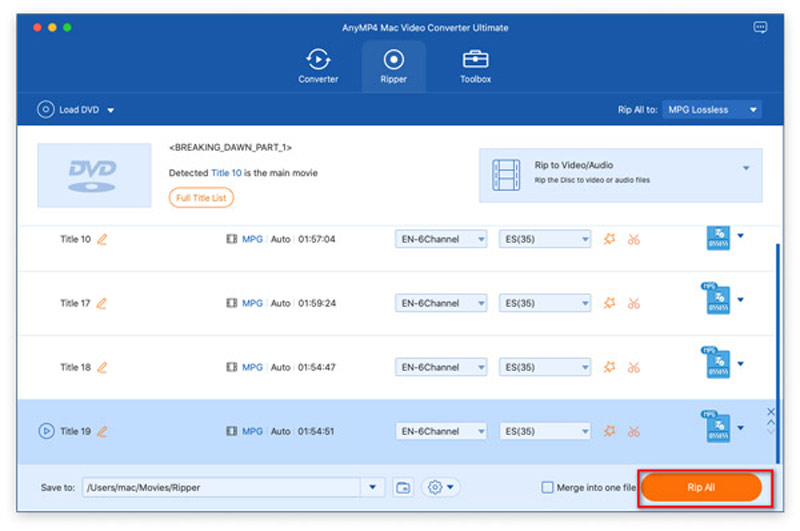 3. Copy DVD on Mac to External Drive using Disk Utility
Another method if you do not want to use any software. With our Mac computer, we have a built-in Disk Utility that can help us copy our DVD movies going to your External Drive with Mac. Now, you only need to know the steps in doing it. In line with that, here is a practical guideline you can follow to make it.
1.
Get your DVD that you wish to copy on your Mac computer. Other Mac versions possess a built-in DVD-ROM drive. However, if your computer does not have one, you may use an external drive.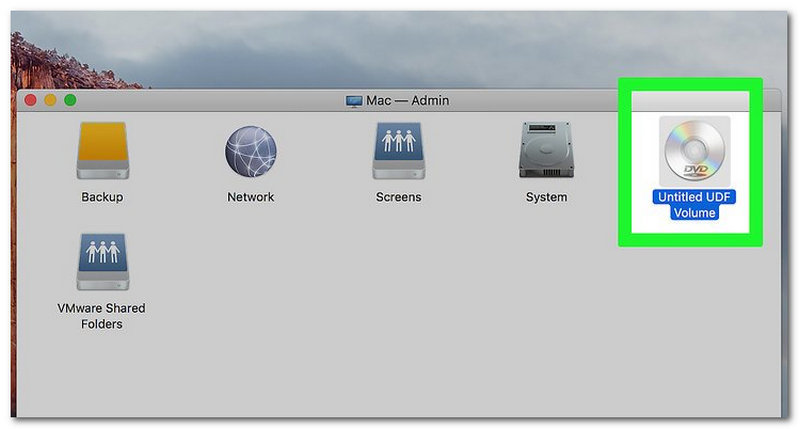 2.
Next, open the Disk Utility on your Mac computer. If you find it hard to see it, you may go to the Magnifying glass icon and type Disk Utility.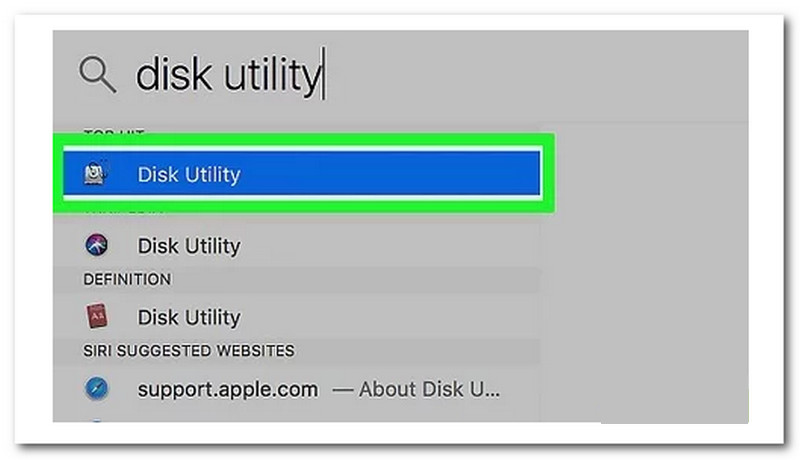 3.
Locate your DVD's Name from the left panel of the utility. Most commonly, it is under the External header.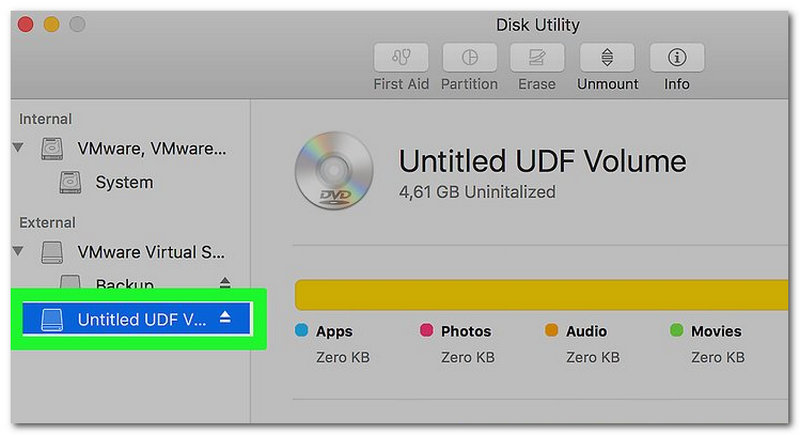 4.
Proceeding to the process. Locate the File menu and click it. After that, you will see a list to press the New Image. Then, visit the Image from the (DVD Name).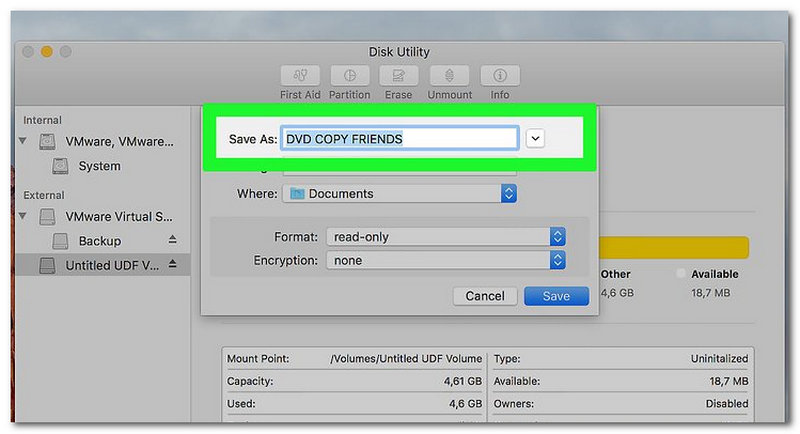 5.
It is not the time to enter the name of your File. You can make it under the Save As menu. Under it, go to the Format and select DVD/CD Master.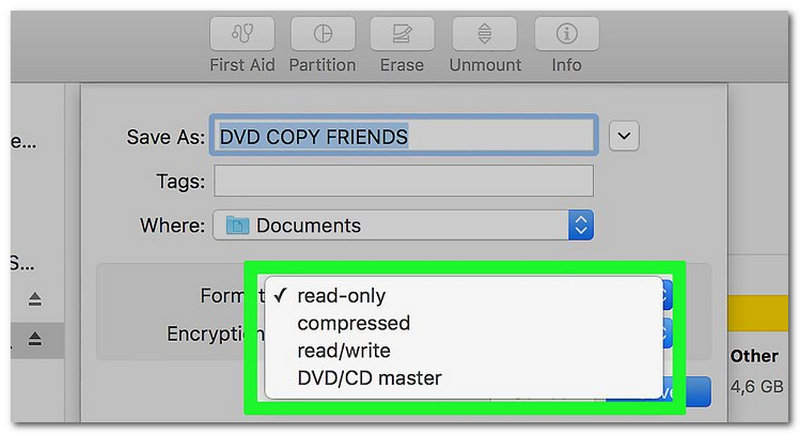 6.
lick the Where menu and select the folder to copy the files for the saving process. Click the Save button to end the process.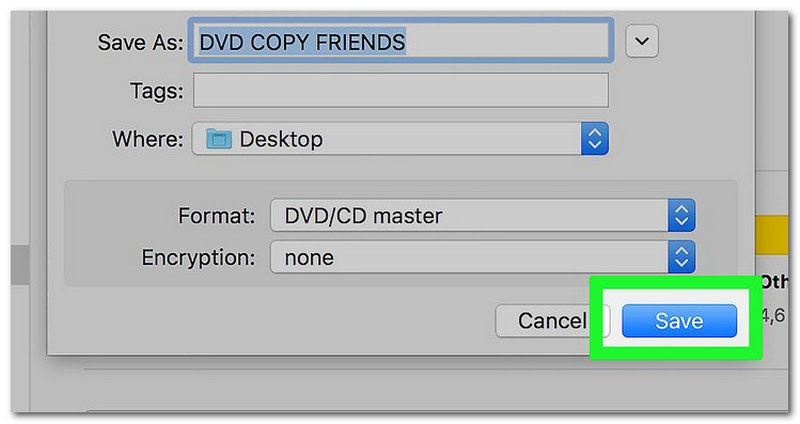 4. FAQs about Copying DVD to Mac Hard Drive
How to save DVDs to Mac in iTunes?
First, open iTunes on your Mac. Click the Add File to Library under the File tab. After that, you may now browse the DVD movie or video then select it to import. You may Drag and drop the video file or folder to iTunes for faster processing.
What are the alternatives to AnyMP4 Video Converter Ultimate for copying DVDs?
One of the great tools that we can use as an alternative to AnyMP4 Video Converter Ultimate for copying a DVD to your External Drive is the excellent HandBrake. This software is an all-in-0one tool that we can use in many aspects of our video files. That means it is also a perfect tool for copying DVD videos to Mac Hard Drive.
May I burn the CD using my Mac computer?
Yes. We can use iTunes and AnyMP4 Video Converter Ultimate to do it. This fantastic software offers excellent features for burning a CD without complications.
Conclusion
In conclusion, using some methods is now possible with backup files with our videos on DVD. We can see software and a built-in utility that can help us make it possible. That is why, at this moment, we hope that your question about copying DVDs to Mac will be now at ease. Thus, if you think this article is helpful, then share this with a friend you might need to.
Did you find this helpful?
225 Votes
YES

Thanks for letting us know!
No

Thanks for letting us know!
AnyMP4 Video Converter Ultimate
All-in-one video converter, editor, enhancer upscaled with AI.