aTube Catcher Review: Be Knowledgeable for Ease Process of Converting and More
An easy process of grinding with our different media files is a massive help in making our sleeves productive and effective with work. This fact can apply to any career, especially for the media enthusiasts or any jobs that include modifying enhancing media file formats. To be more specific, you are looking for excellent media software that you can use in different aspects of your audio files and video files. Such as converting video into audio or vice versa, screen capturing, finding files you need, and more. This article may be suitable for you. This post exists to give us the aTube Catcher Review. Hence, to understand and ease us in utilizing it with your grinds. We all know how hassle it is to use, right? Therefore, we shall start reviewing it.

1. Our Verdict
Pros

It is automatically updating for improvements.
Batch processing is available here.
It excellently supports various media file formats.
It provides high-quality outputs.
It has a comprehensive list of video hosting websites.
Clean and secured interface.
Cons

There is extra software in the installer.
Other features are hard to find because they don't show.
The profile settings are not restoring to default in Windows 8 and 7.
Overall Ratings
A great software such as aTube Catcher offers tons of features and functions that might benefit users. These features are excellent and offer a quality process in our grinds. What makes it more valuable is the ability of its processor to provide an incredible speed with processing our media files or any tasks. On the other hand, these works are safe and secured with aTube Catcher. Thus, a high overall score from its users deserves to be here.
Features:9.3
Speed:9.1
Safety:9.0
2. What is aTube Catcher?
aTube Catcher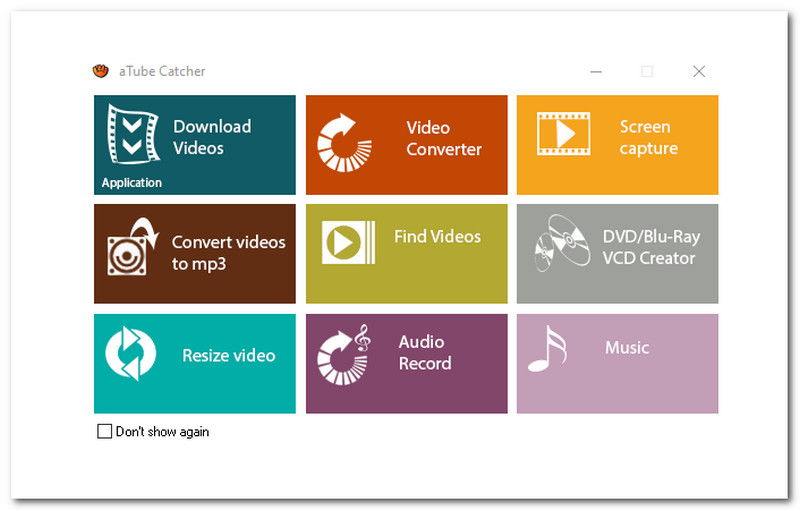 Price: $29.95
Platform: Windows all versions
aTube Catcher is one of the leading media software tools that offer numerous essential features and functions. It provides a high-quality and ultra-fast conversion speed with your media files. That comes with any media file formats you have. In addition, it also supports a comprehensive popular format for compatibility playback of your files with various devices. In terms of output quality, it never fails to provide that one important factor we need with any software.
Main Features
aTube Catcher may look simple, but it offers powerful features. If you think this software is just for a converter. Then suppose you might be wrong. It provides more than a media converter can do. Without further ado, here are the main features we can enjoy with aTube Catcher.
◆ Record the vents directly on your screen.
◆ It captures videos, webinars, and more.
◆ Tool for creating your presentations is available.
◆ User-friendly interface.
◆ Ultra-fast processor.
◆ Create your DVDs and CDs hassle-free.
◆ Record audio with high-quality.
◆ Convert your audio and videos into numerous formats.
3. aTube Catcher Review
User Experience
As we know, there are tons of free media software in the market. Thus, we need to be careful in installing these for security purposes. Fortunately, aTube is a great software that offers safe and secured features. The interface is appealing and can give a simple process to the users. In addition, its extra features, such as the free screen recorder, make the software more efficient. Overall, its users are fortunate to have aTube Catcher as their companion with their grind regarding their different media files.
Supported Input and Output Formats
aTube Catcher supports plenty of popular file formats such as 3GP, 3G2, AVI, XVID, MP4, MP3, MP2, WMA, WMV, GIF, FLAC, WAV, PSP, MPG, VOB, OGG, MOV, AVI, and more.
DVD/VCD Burning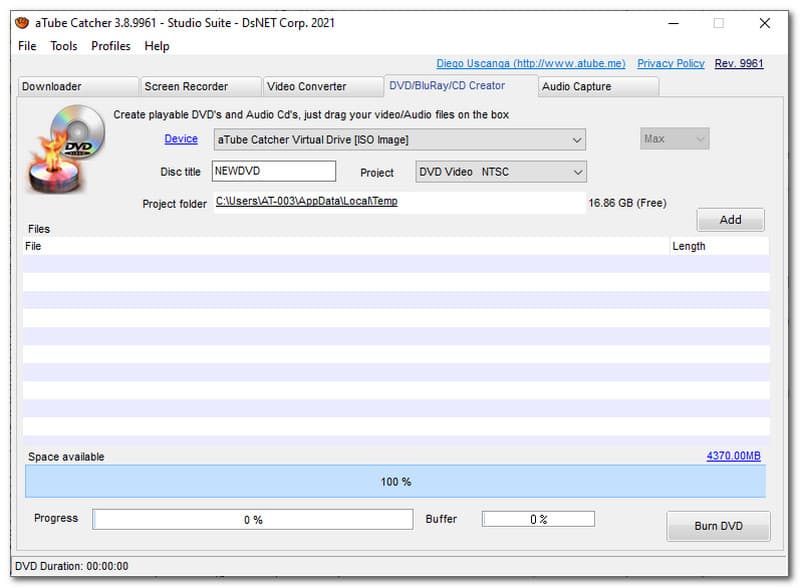 aTube Catcher also integrates its video burner. Thus, a third-party tool in burning is unnecessary in this media software. The feature of DVD and VCD burners is to build a DVD movie (NTSC or PAL) or CD (audio, MP3 music, NTSC, or PAL VCD video). Also, a Blu-ray video (480p, 720p, or 1080p). In addition, in the burning process, you can also add and edit the title of your disc hassle-free. You may also notice the settings for modifying the project type in just one click. It is a helpful feature that can prevent your burning process from experiencing unexpected errors.
aTube Catcher Error
aTube Catcher error 204 and 403 is a common problem that users may experience in utilizing aTube Catcher software. The error 204 can hinder you in the process of saving the files that you will be needing. On the other hand, it is a sign of a wrong configuration and incomplete configuration of the outlook express program of the software. These errors may also happen due to the app that was accidentally vanished. All of these can hinder us from doing fantastic work. To ease this, make sure to check a post that tackles how to solve such problems. You can visit the aTube Catcher website for more information on other options.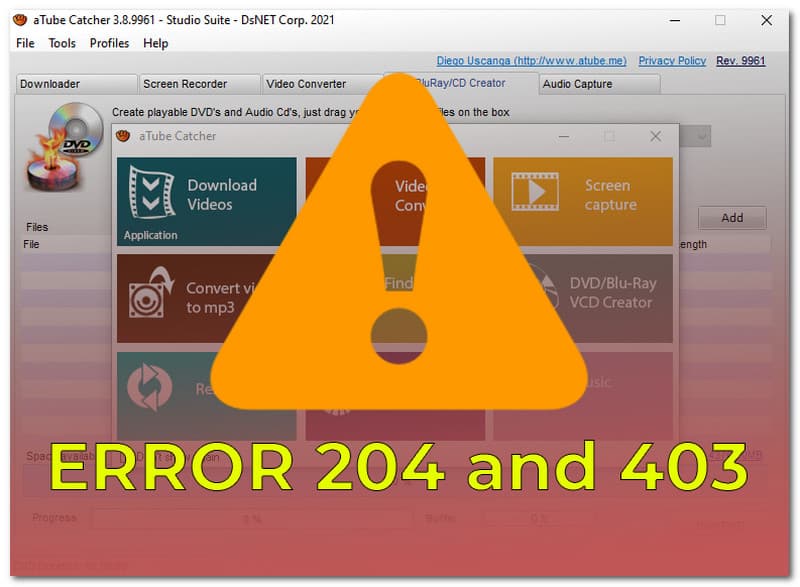 Other Cool Features
In terms of the other features, let us highlight some functions that might be beneficial for all of us. In aTube Catcher, live monitoring is activated, helping the utility catch links from other spaces. In this software, cropping audio and video files are possible. Together with brewing media files is also possible here. Another one, the very helpful batch mode processor, is also one of the best functions it offers for everyone. All of these cool features are for free. That is the exact definition of cool.
What is Best For You?
If we are talking about where aTube Catcher is best for., we shall mention it in regards to it. To narrow down, aTube Catcher provides numerous features and functions for all users. These include the fast and effective media converter. Plus, the smooth media screen recorder is suitable for all the lecturers. On the other hand, the DVD and VCD burner is an excellent tool for users who love to save their media files with physical storage like DVD, CD, and Blu-ray discs.
In the other aspects, aTube Catcher is the best for all the users. It is necessary if you are a new user or already a professional one. This software is media software for everyone. Overall, we can go back to our statements above that aTube Catcher is the best for many aspects, in features, functions, and user experience.
4. aTube Catcher Error 403
While reviewing aTube Catcher, aTube Catcher error 403 is one of the most common problems that many users meet. aTube Catcher error 403 occurs when the users try to access the page not authorized or prohibited.
When launching aTube Catcher, this error will happen, and this tool will stop working suddenly.
To fix this error, you can follow the steps as below: 1. Run the cPanel and signup using the credentials. 2. Launch File Manager and access Public_html. 3. Check the option of File Permission. Then try aTube Catcher and you will see this error fixed.
5. aTube Catcher Download
aTube Catcher, as a video downloader and screen recorder, is free to download for Windows all version computers (XP, Vista, Windows 7, Windows 8, Windows 10). From its official page, you can download aTube Catcher directly: https://www.atube.me/
This software is a desktop program, and its does not support mobile phone version or any Chrome extension. If you need an aTube Catcher for Mac alternative, you can try AnyMP4 Video Converter Ultimate.
6. FAQ
Is aTube Catcher safe?
aTube Catcher is a security software to utilize. However, we still need to be careful because it comes with a different installer as the installation is ongoing.
What are the common errors users complain about with aTube Catcher?
Other than the 204 and error 403 caused by incomplete setup and configurations. Sometimes, the aTube Catcher stops working while you are at the moment of converting your files.
What are the best Linux and Mac aTube Catcher alternatives?
There are few alternatives to aTube Catcher with your Linux operating system. These are the TubeMaster++, ClipGrab, and HTTP Ripper. All of these are free and open-source software that you can utilize.
Is aTube Catcher virus free?
Yes. Although this software is free to use, it contains no ad or virus.
7. Best Alternative- AnyMP4 Video Converter Ultimate
AnyMP4 Video Converter Ultimate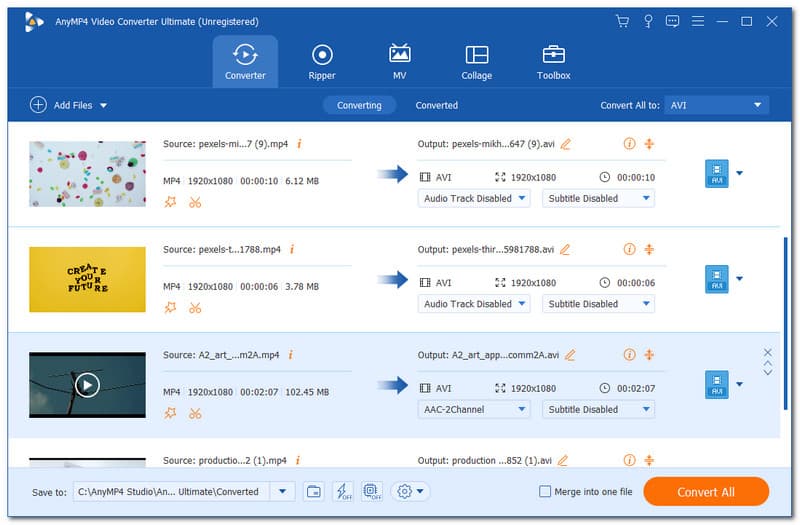 Platforms: Windows and macOS
Price: $33.75
aTube Catcher may not be perfect in all aspects of giving the best process. If you think that is not enough, well, we will now introduce you to the most outstanding alternatives to aTube Catcher. This media software is the AnyMP4 Video Converter Ultimate and exceptional media converting software for all of us. It supports high-resolution media files like 8K, 5K, and 4K videos. Its fast processor makes it more efficient and effective as a tool. One of the biggest flexes about this tool is its toolbox. These functions possess different tools that we can use with our media files in any format. Overall, this is a fantastic alternative that is suitable for everyone.
Pros

Ultra-fast conversion speed.
It offers a practical DVD ripper.
It possesses an MV creator.
It provides a Toolbox that is rich in functions.
Cons

The full version is subscription-based.
Conclusion
An aTube Catcher is a great software that can offer more features and functions for us users. It is also an effective and efficient software because of its speed in processing different media files. However, a few errors occur sometimes. Thus, AnyMP4 Video Converter Ultimate is here to the rescue. It can offer you excellent features for all of us. Therefore, we hope this post imparts some knowledge to you. Do not forget to share this with other users, too, to help. Share it now. Hence, many users will know more.
Did you find this helpful?
363 Votes
YES

Thanks for letting us know!
No

Thanks for letting us know!
Best Free Video Converter Windows
AnyMP4 Video Converter Ultimate
All-in-one video converter, editor, enhancer upscaled with AI.