Format Factory Review: It is a Wide-Ranging Converter For Windows Users
Everyone wants to have a comprehensive media converter that has many features to offer. So, if you are searching for an all-inclusive media converter, search no more because we have something special for you! In this article review, you will no longer waste your time digging for converter software because we already do it for you. For that reason, this article review allows us to introduce to you the Format Factory. This media converter supports a vast number of file formats. Not just that, it is also proficient in ripping DVDs and CDs to different file formats. Moreover, let us dig more about Format Factory, its advanced features, and more. Let us read now.

1. Our Verdict
Pros

It is free to use.
It is free to use.
It provides you with a fast-speed conversion process.
It offers a disc-ripping option.
It is supported by hardware acceleration.
It has a built-in screen recorder feature.
It has a Watermark and Logo remover feature.
It has a fantastic skin option.
Cons

It is applicable for Windows only.
Upon installing, it offers to install unwanted software.
Overall Ratings
8.3 Overall
Easy to use:8.5
Conversion speed:8.5
User-friendly:8.0
2. What is a Format Factory?
Price: Free
Platforms: Window and Mac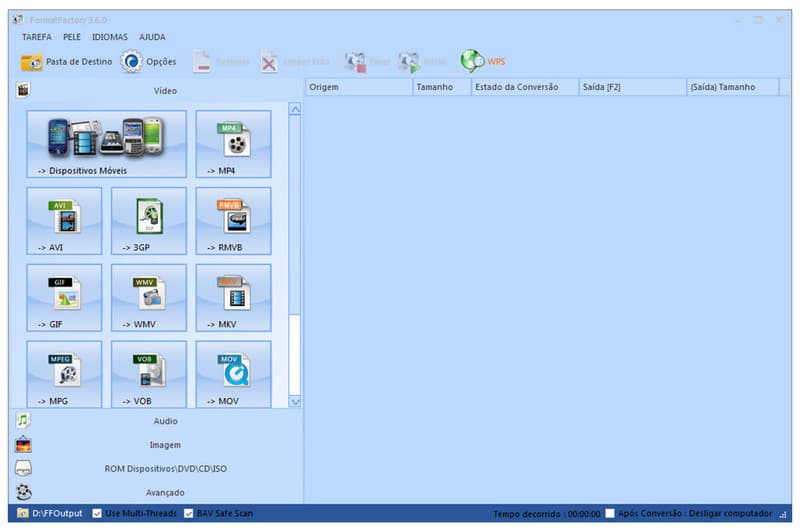 Format Factory is amazingly useful, especially for Windows users. It supports numerous file formats, so it is possible to convert any file to another file format. Furthermore, it is free and capable of performing many functions such as converting, editing, compressing your files, and more.
Main Features
Features are one of the preferences of the users upon installing the software. It is also one of the reasons why users will use the software, because of the amazingness of a converter. That is why we will present to you the Format Factory features. Please see them below:
◆ It supports most multimedia formats.
◆ It can repair the damaged video files.
◆ It can compress the size of your files.
◆ It can specify the format conversion.
◆ It supports editing features.
◆ It provides an easy backup.
◆ It enables you to convert your PDF file.
◆ It supports multi-language up to 62 languages.
3. Format Factory Review
Interface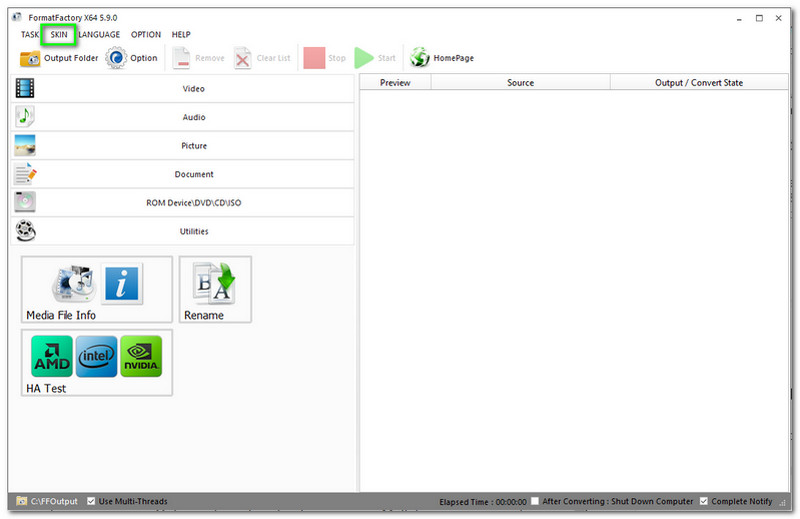 Format Factory has a simple interface. What is attractive with this media converter is its SKIN. With this, you can change the color of your interface with your favorite color. To do that, launch the software. Then, you can option above. Click the SKIN and select the color that you prefer. Available colors are White, Pink, Yellow, Green, Blue, Purple, Black. Also, you can quickly see the available output formats. Therefore, you will no longer search for them because all formats are quick to find. Moreover, Format Factory provides you with manageable software to convert your files easily.
Supported Input and Output Formats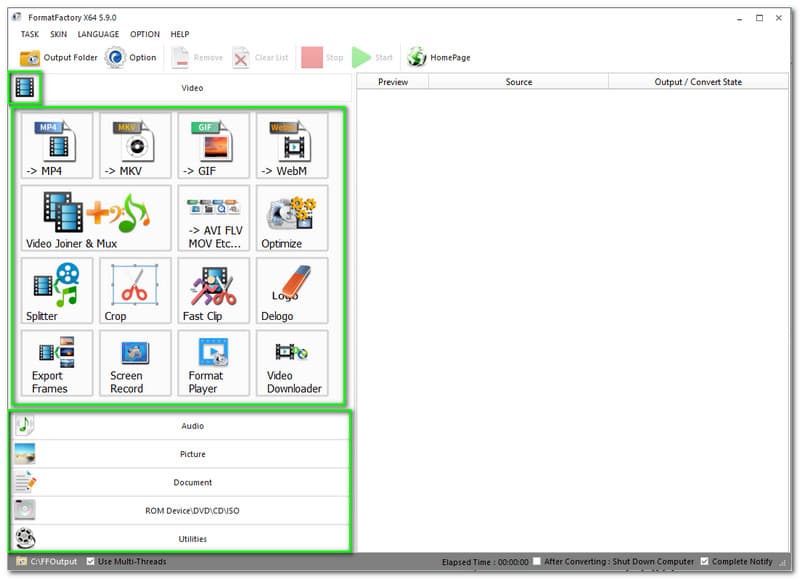 Video Formats:
MOV, QuickTime, VOB, RMVB, WMV, AVI, MPEG-4, SWF, FLV, MKV, MPG, 3GP, MP4, MKV, GIF, WebM, and even more.
Audio Formats:
MID, AAC, WMA, AMR, WAV, OGG, MP3, M4A, FLAC, APE, WAV, WavPack, DTS, AC3, MMF, M4R, MP2, and more.
Picture Formats:
TGA, TIF, GIF, BMP, ICO, PNG, JPG, WebP, and more.
Documents Formats:
PDF, Mobi, EPub, AZW3.
ROM DeviceDVDCDISO Formats: Bluray Disc, DVD, Music CD, Video File, CD, ISO, CSO.
CD, DVD Support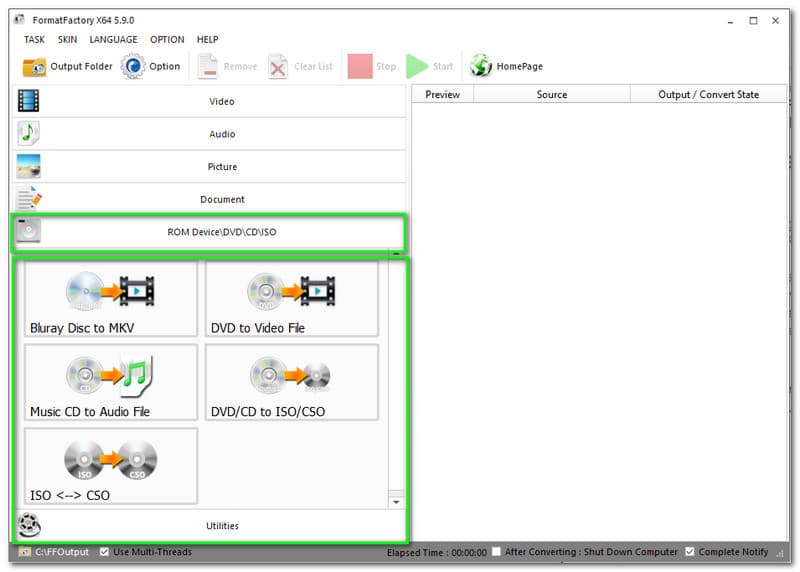 Physical CDs and DVDs are too sensitive. If, by accident, you accidentally scratch it, it will be useless. The good thing about Format Factory is it supports CDs, DVDs, and Blu-rays. What does it mean? You can store them on your computer and use them whenever you want. To show you an illustration, launch the software, and you will see all the options on the left panel of the software and select ROM DeviceDVDCDISO. Upon clicking, you will know what you need, like Bluray Disc to MKV, DVD to Video File, Music CD to Audio File, and more. The benefit you can get here is if you do not have to use the physical CD or DVD anymore since you convert the file into another file. Great, right?
PDF Joiner and Converter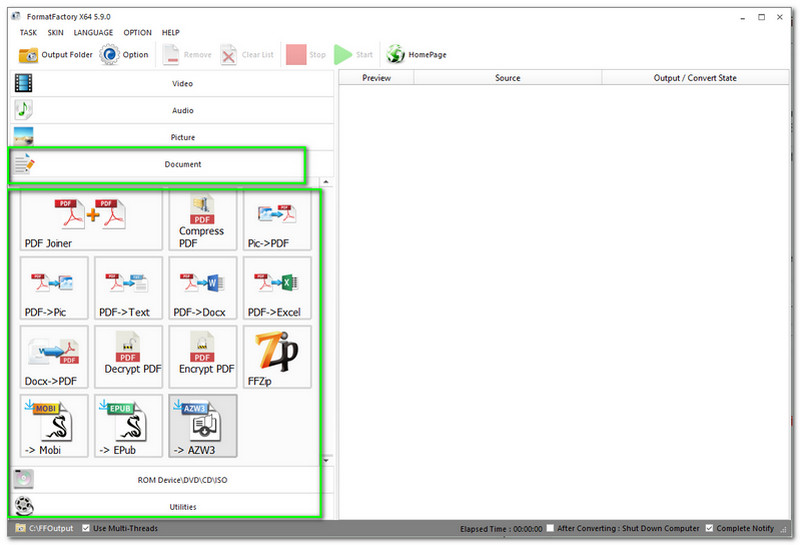 Format Factory has excellent features like a PDF joiner and converter. And this will help you to manage your documents. In short, you can join, convert PDF files. Encrypt and Decrypt also. Format Factory allows you to convert your PDF to Pic, Text, Docx, Excel, and more. To do that, launch the software. After launching the software, select the Document. You will see that in the left panel. Then you will see all the options such as PFD Joiner, Compress PDF, Decrypt PDF, Encrypt PDF, Epub, and much more.
Screen Recorder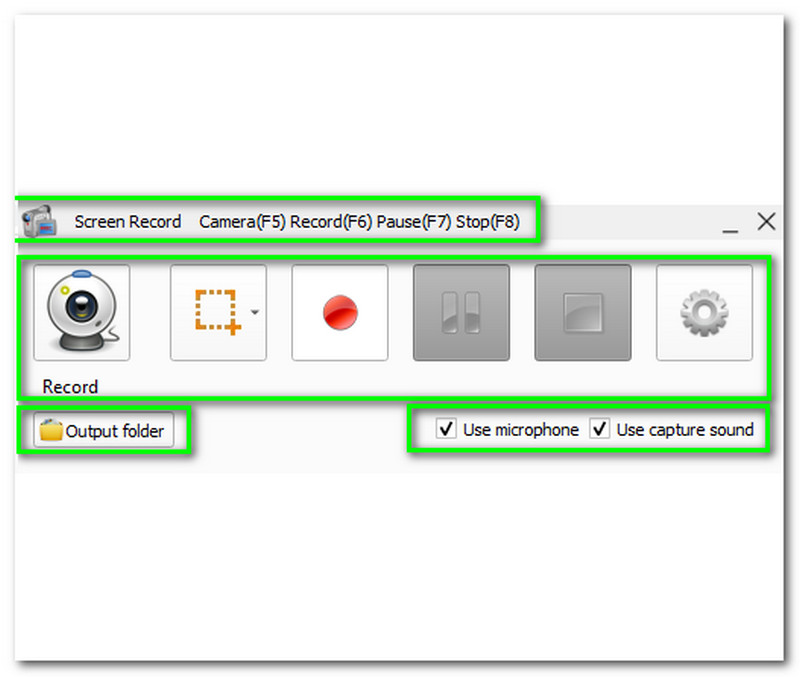 A screen recorder is helpful for everyone, especially studying or working. Moreover, Format Factory enables you to use its screen recording tool. It allows you to screen capture a video from your entire screen and more. Launch the software if you want to try the screen recording that Format Factory offers. After launching the software, you can see the Video on the left panel and the output video formats. Find the Screen Recorder, then tap it. After that, a new rectangular window panel will pop up. You can see the Camera Icon to turn your camera off or on. Next is the Width; you can choose Region Screen, Window, and Full Screen. Following this, the red circle, upon tapping that, will start to Record. Then the following are the player controls like Pause, Stop, and Settings. Below, you have an option to use a microphone or Use capture sound. Suppose that you are done recording; see the Output folder below. The purpose is to see where your output recorded file is saved.
Extended Features
Format Player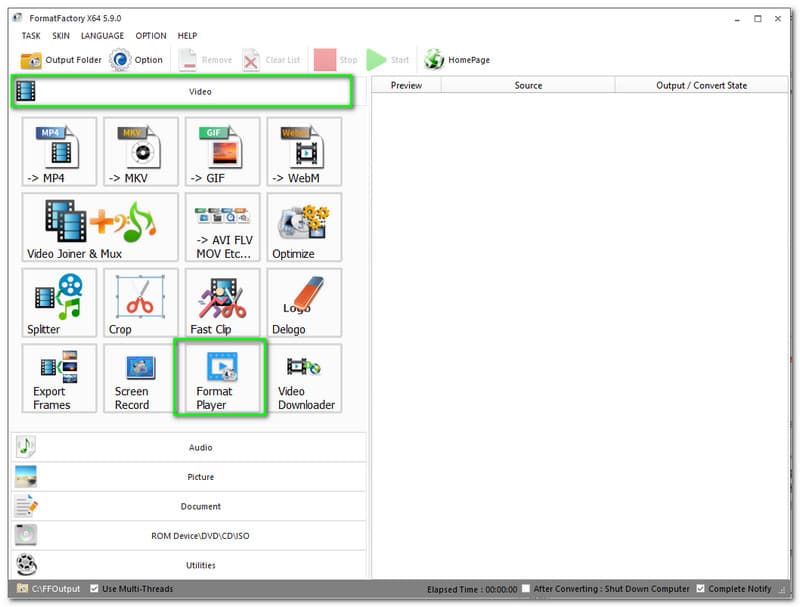 Do you know that Format Factory has its own player that enables you to watch your videos and favorite movies? Yes, you read it right. In order to do that, open the software first. After launching the software. Then, click the Video and you will see that in the left panel of the software and click the Format Player. Upon clicking it, the player will pop up. Then, drag the video you want from your computer. After that, start watching your videos. Easy, right?
Edit Videos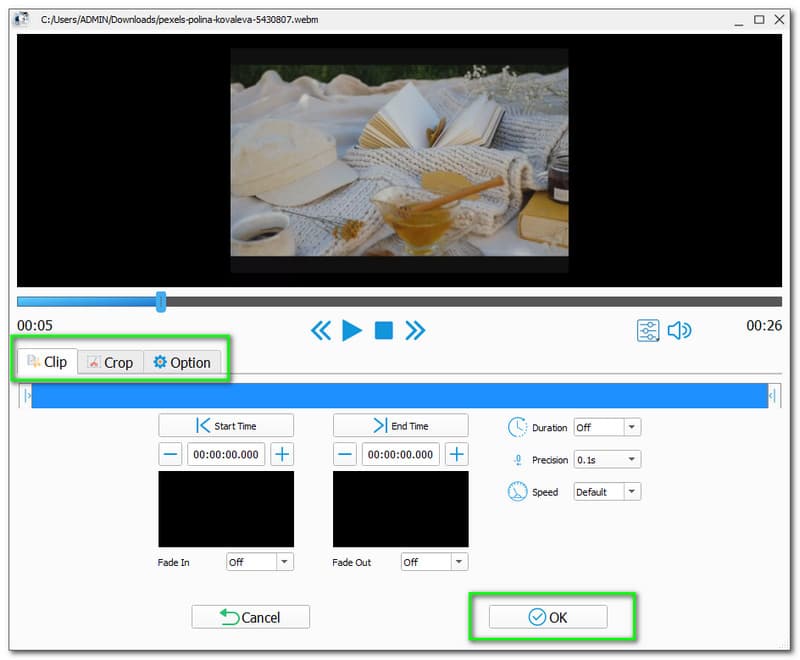 Do you want to make your videos more unique? Edit your file by using Format Factory editing tools. To do that, launch the software and click the Video, and select the output file format you want. Then, after choosing an output file format, a window panel will pop up. Next, add your files. On the right panel of the software, you will see the Divide and Option. Choose the Option. Upon clicking, another window box will appear. Below the Preview, you will see the Clip, Crop, and Option. If you meet your desire, tap OK. Then, start converting.
4. FAQ
Is Format Factory safe?
Yes, Format Factory does not contain viruses. It has anti-virus and anti-malware services. For that reason, this media converter is clean and safe to use.
Does the Format Factory support the batch conversion process?
Yes, Format Factory enables you to convert your files all together simultaneously. To show you some illustrations, here are some steps. If you have already launched the software, choose your output file formats. Then, add your files as much as you want. Following that, hit OK. Then, start converting.
How can I convert the VOB file to MP4 file format in Format Factory?
First, launch the software. On the left panel, you will see the available formats. Then, select Video. After that, click the MP4 file format, and a new window panel will appear. Now, add your files and tap OK. Above the Preview, hit the Start to start to convert your VOB file to MP4 file format.
5. Best Alternative- Vidmore Video Converter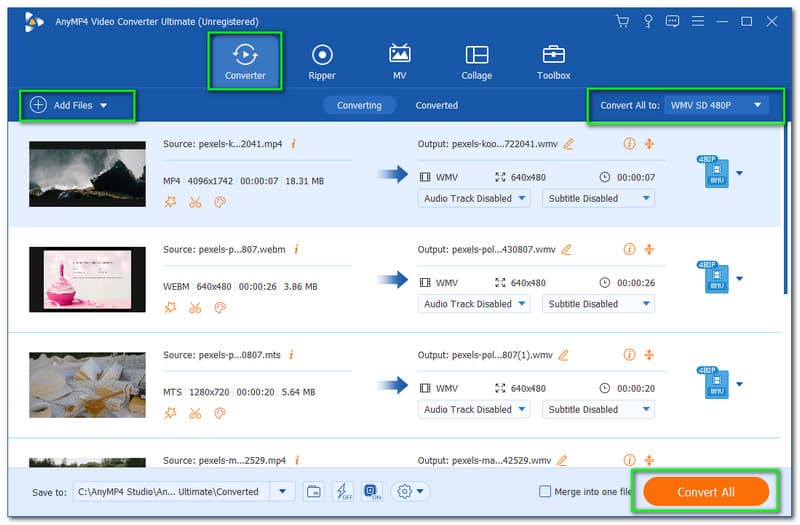 Format Factory is not manageable in some ways, and it does not apply to Mac. However, AnyMP4 Video Converter Ultimate is compatible with Windows and Mac. Not surprisingly, this media converter is the best alternative to Format Factory. Furthermore, AnyMP4 Video Converter is an all-in-one video converter for all. It supports different devices that the Format Factory is lacking. Moreover, it is also faster than Format Factory since AnyMP4 Video Converter Ultimate provides up to 70X faster speed conversion. Enough about that; visit their website if you want to know more about AnyMP4 Video Converter Ultimate.
Conclusion
To wind up, we tackled Format Factory, features it offers, and how it works in many ways. We hope you obtain so much idea about this article review about Format Factory. With that, we are expecting to see you again in our next article!
Did you find this helpful?
383 Votes
YESThanks for letting us know!
NoThanks for letting us know!
Best Free Video Converter Windows