Review of What Prism Video Converter Can Offer: Features, Functions, and Effectiveness
Are you not wondering how it feels to have software with the most stable multi-format video converter? Well, that sounds fascinating to hear. Indeed, having excellent media software nowadays is a significant factor that makes our work easier. Frequently, media enthusiasts choose the greatest despite its price to ensure a great experience in grinding our different media files. In regards to that, one of the software we can conclude here is the Prism Video Converter. This media converting tool indeed offers impressive features. For that, we should review it and discover if it is legit or not. Let us go and explore the fantastic world of Prism in this review. The Prism Video Converter examines its ability and capability without further ado.

1. What is a Prism Video Converter?
Prism Video Converter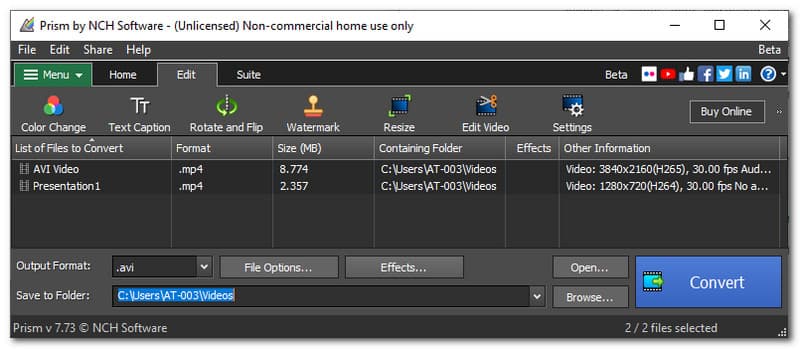 Prism Video Converter is one of the fantastic and stable multiple-purpose media converters. This converter offers excellent converting tools for the instant conversion process. In fact, It equips a super high advanced technology processor. Thus, it supports all large and high-quality resolution media files. In addition, an instant and hassle-free conversion experience is also possible here. Wait, there is more. Prism Video Converter also offers extra features that can beneficiaL for us. These features are the built-in compressor and adjuster settings. It is a great feature to help us adjust our video for different uses. Also, these features make this software known and fantastic. Not to mention its extra features like the preview, add effects, and more.
Pros

It does support multiple media formats.
The batch conversion feature is available.
It offers a free download version.
Adding video effects is available.
It comes with preview features.
The DVD converter is present.
The software provides essential editing tools.
It supports large and high-quality media files.
Cons

The free version is problematic.
This software is subscription-based.
Bugs sometimes occur.
Overall Rating
Prism Video Converter is one of the fascinating media software in the market. The different features it offers make it more colorful. Also, the responsible and always availing customer service is a massive help with customer's concerns. Thus, it is safe too in giving the services to its users.
Functionality:9.3
Customer Service:9.0
Safety:9.1
2. Prism Video Converter Review
Interface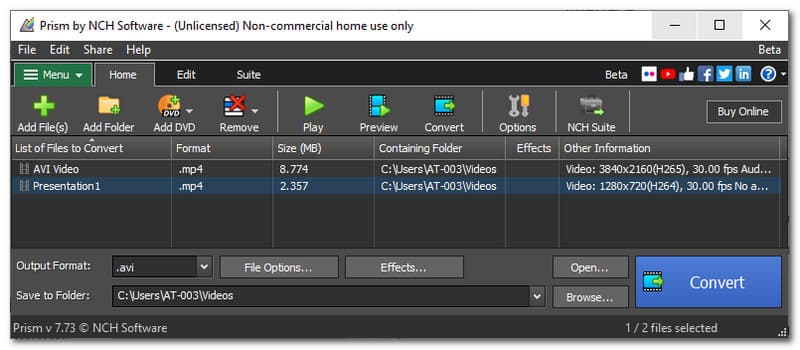 Reviewing its interface, we can say the design of it is elegant. As we launch the software, we will see a fantastic color palette of black with a touch of blue and green. In addition, we can also notice the simple arrangements of the icon and function buttons on the surface. This factor is an excellent element that brings a simple process for us users. We will also see a perfect choice of fonts of text. It makes it readable.
Supported Input and Output Formats
We all know that Prism Video file Converter offers numerous features. However, aside from that, it can also provide more. Prism Video Converter also performs excellently in supporting different input and output formats. It helps a vast range of media files formats. Here is the list of the input and output formats it supports to know what these media file formats are.
Input and Output Formats: AVI, MOV, WMV, FLV, MKV, MOD, ASF, MPEG1, MPEG2, MP4, 3GP, APMG, XviD, DivX, WMV, WEBP, VOB, SWF, RM, OGV, MTS, M2TS, MPG, M4V, M2V, M1V, MP3, WAV, and more.
Edit Videos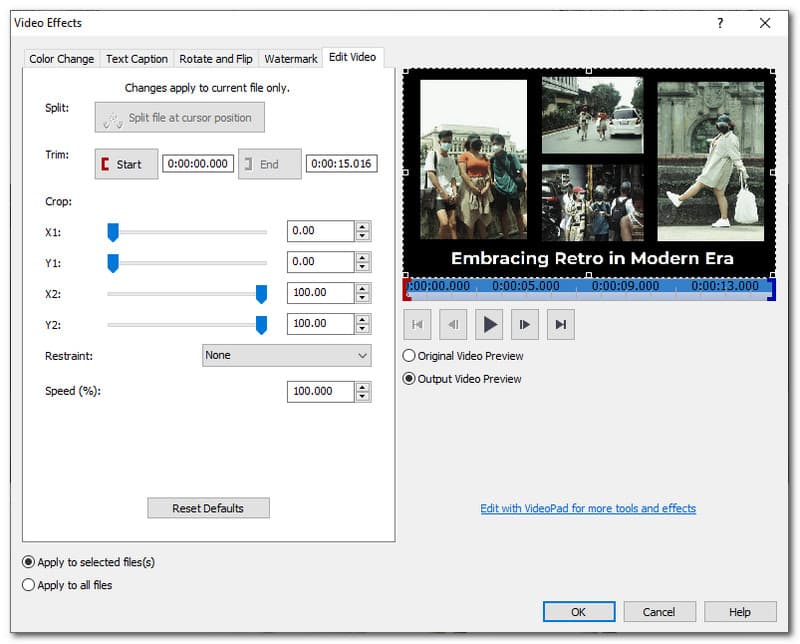 We know so much about its ability to offer a fantastic converting experience for us. However, there is more. Prism Video Converter also provides editing features where you can modify your videos. These features include split, trim, crop features. In addition, you can also adjust the speed easily using these functions. Changing the restrain is also available here. It is straightforward to use as a verdict about its video editing tools. Thus, beneficial to users.
DVD Support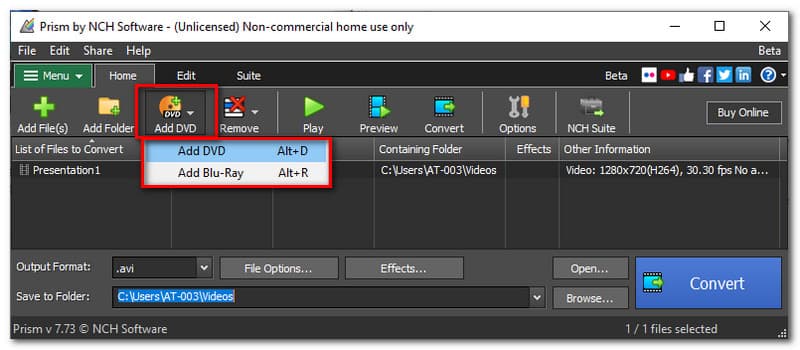 In terms of its ability to support DVDs, Prism Video Converter gives us a smooth process of converting our DVD files and turning them into digital files. Many users use this feature with unique experiences because of its smooth and easy conversion process of DVD files. These features can be beneficial for those users who have a lot of files with DVDs. Instant conversion of a traditional drive into a digital file is available here.
Extended Features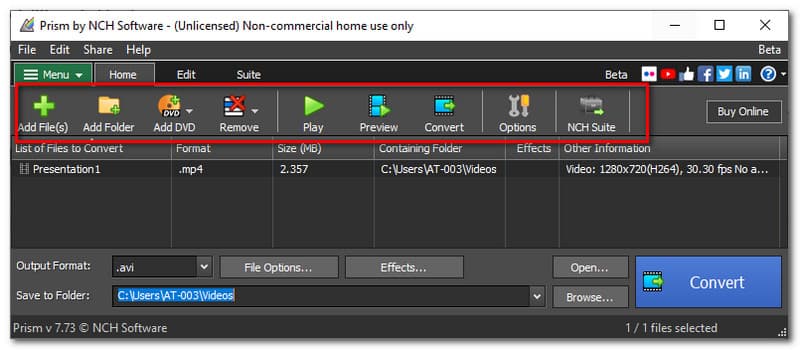 There are more features and functions we should talk about in terms of Prism Video Converter. In connection with its extended features, Prism Video converter offers other features, like adding effects and watermarks to your video files. It is one of the fantastic features for enhancing and ownership of our media files. Another feature is the built-in preview of your videos before and after converting your files. The third features are the instant adjustment settings and compressor. By using these features, you can now take control and decide the location of your output. You can compress the media files for compatibility sake without losing the quality. There are more to mention, but it is now up to you to find it out. Try Prism Video Converter now to learn more.
What is Best for You?
Prism is the best for many things; first of all, converting, compressing, and adjusting the setting of our media files and previewing our media before the conversion process is also helpful. To sum it all up, Prism Video Converter offers the most beneficial features and functions for all the users. On the other hand, Prism Video Converter is an excellent tool even for novice users. In conclusion, Prism Video Converter is best for everyone.
3. FAQ
Is Prism Video Converter safe?
Prism Video Converter is software that has fantastic customer service. It is also safe to use. However, bugs occur sometimes, significantly if your venison is updated.
What occurrence can trigger the Prism Video Converter malware?
Following the user's experience, the malware triggers as we use the editing features in the free version of the software. However, the most significant factor that triggers malicious malware is when our software is outdated. Therefore, updating it is a huge help to ease malware.
Is the DVD converter of Prism Video Converter effective?
Yes, through these features, you can now convert your DVD files into a digital format like MP4, MOV, and more.
4. Best Alternative - Aiseesoft Video Converter Ultimate
Prism Video Converter may not satisfy you because of its malicious malware. However, we also have the best alternative to it. The Aiseesoft Video Converter Ultimate is one of the leading software nowadays. A few of the best things we can get here are features, speed, and safety. Aiseesoft Video Converter provides numerous features for your grind. With an impressive rate because of its advanced technology and fast process.

Aiseesoft Video Converter Ultimate
It is a media software rich in features and functions for various media files.
It supports a broad range of media file formats.
It possesses an advanced technology processor.
You can modify your videos with the use of basic editing features.
Adding filters and primary effects are available.
DVD support is super effective.
Some elements like subtitles, 3D effects, and audio tracks are widely open.
Conclusion
This review is a blast. We can get fantastic features with Prism Video Convert that are continuously outstanding. However, the software may not be perfect but let us not disregard its ability to give us many features. In addition, we also have the best alternative, which is the Aiseesoft Video Converter Ultimate. It is a great software that we should try because it can offer more than Prism. Try it now.
Did you find this helpful?
356 Votes
YES

Thanks for letting us know!
No

Thanks for letting us know!
Best Free Video Converter Windows
Aiseesoft Video Converter Ultimate
All-in-one video converter, editor, enhancer upscaled with AI.