Is it Fun to Convert with iFun Video Converter?: A Thorough Review of its Features
Utilizing a free media converter provides comprehensive effectiveness for our users. It includes cost-efficient grinding with our different media files. Thus, accomplishing our work for free is now possible. Therefore, join us to talk about a free video and audio converter in today's digital market. This post will give us the essential details about iFun Video Converter. As a prior knowledge, we all know this is a free media software with extraordinary features and abilities. For that, reviewing all of those elements is essential. Let us find out if it is fun to convert with an iFun Video Converter.

1. Our Verdict
iFun Video Converter possesses a remarkable ability in supporting a wide media file format. These formats include audio, video, 2D, 3D, and more. Aside from that, it can also offer a great variety of features to help us do our work possible. This media software can meet the users' standards for a converter.
Pros

Free to download and use.
The services are safe and secured.
It offers a smooth conversion process.
It is straightforward to use.
Batch conversion feature.
Cons

It has no built-in media player.
There are no editing tools available.
Some extra features are missing.The extra features are minimal.
The VR-3D video converter is not working correctly.
Overall Ratings
iFun Video Converter is one of the media converters that give what is essential for the user. Even Though some features are missing and some users think these features are not enough. Still, do not disregard the practical features it offers. Its speed in conversion is a fantastic feature it possesses. Overall, it is free to use is enough reason many people choose this over any media converting software.
Features:8.9
Speed:8.9
Cost-efficient:9.2
2. What is an iFun Video Converter?
iFun Video Converter
Price: Free
Platform: Windows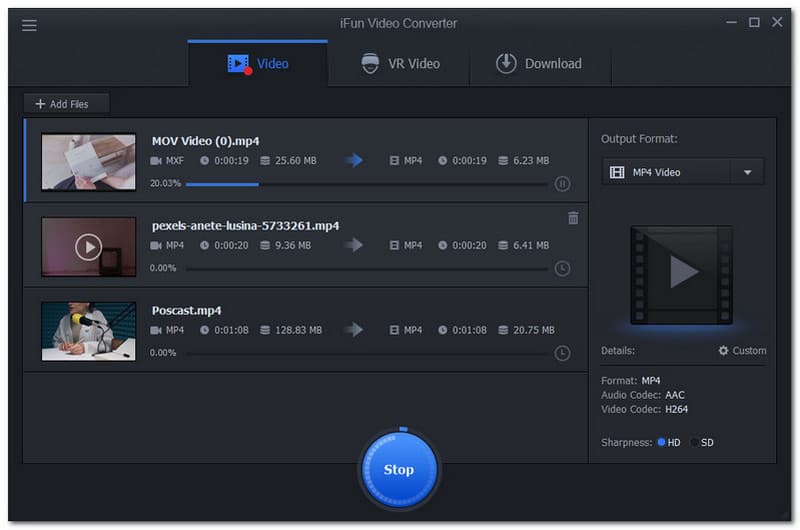 IOTransfer Studio is the developer of iFun Video Converter. Regarding the definition of its developer, iFun Converter is a handy media converter for free. That means everyone can use it without even paying. Even Though it is free, it does not limit the users in doing what they need and want. Another fascinating thing it possesses is the HEVC/H.265 technology. Thus, converting super high-quality resolutions to media files. Overall, this Converter is suitable for giving you a cost-efficient and quality conversion experience. To know more about its features, kindly proceed with the next portion of this article.
Main Features
We all know that software features decide why users choose a particular converter. Hence, here is the list of the fantastic features that we can enjoy with iFun Video Converter.
◆ Converter for more than 150 media file formats.
◆ 2D and VR-3D video support.
◆ HEVC/H.265 and XVID support.
◆ 4K and HD support.
◆ Batch conversion feature.
◆ Ads-free.
◆ No watermark.
◆ Subtitle support.
◆ Intuitive interface.
◆ User-friendly parameter settings.
◆ DVD ripper.
3. iFun Video Converter Review
Interface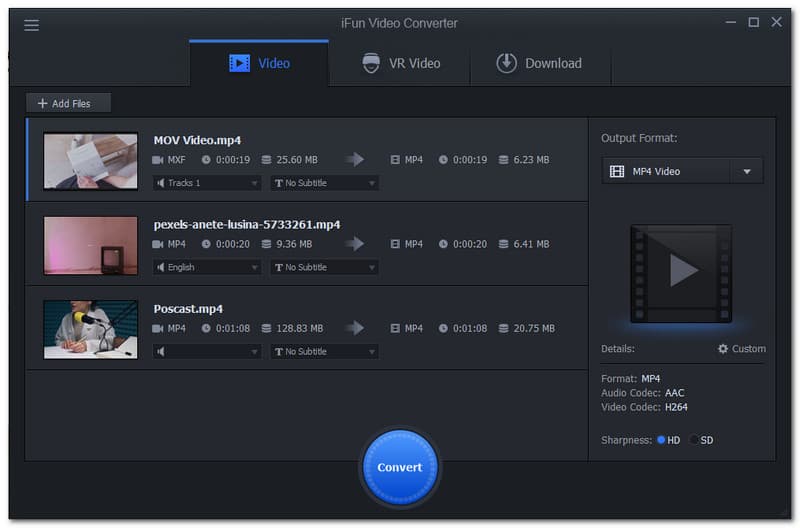 iFun Video Converter possesses one of the most intuitive interfaces among other converters. We can see an elegant vibe of black and minimal blue colors from its design. Thus, the color palette is enough to symbolize the totality of the media converter. In addition, all the keys, buttons, and icons have their position. The proper choice of fonts is also a great help in removing a complicated conversion process.
Supported Input and Output Formats
It has excellent support regarding its ability to support different media files. As we know, it does not only help essential media files, but it can also manage to grind with high-resolution formats. See below all of the input and output files it supports.
Supported Input and Output Formats:
MP3, ACC, OGG, WAV, VMA, M4A, AC3, FLAC, MKA, MXF, MP4, MOV, AVI, FLV, WEBM, MKV, and more.
Advanced Export Presets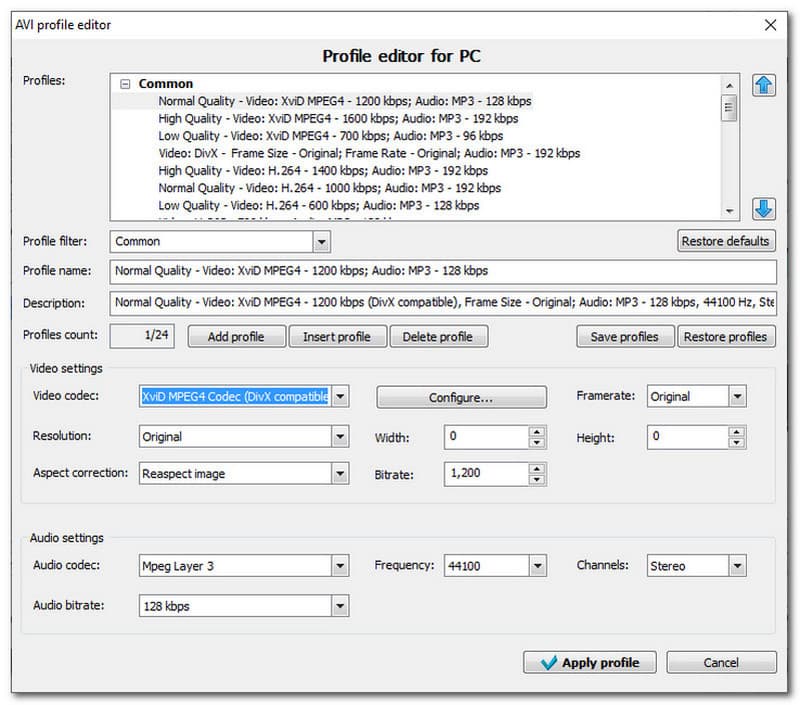 In addition to the fantastic features of VSDC Free Video Converter, the software's default advanced export is preset. This feature will enable us to modify the quality and format we want. Thus, this function is a great help in simplifying changing our media files. In short, VSDC Free Video Converter is doing great in covering all the file formats and even multimedia devices.
VR-3D Videos Converter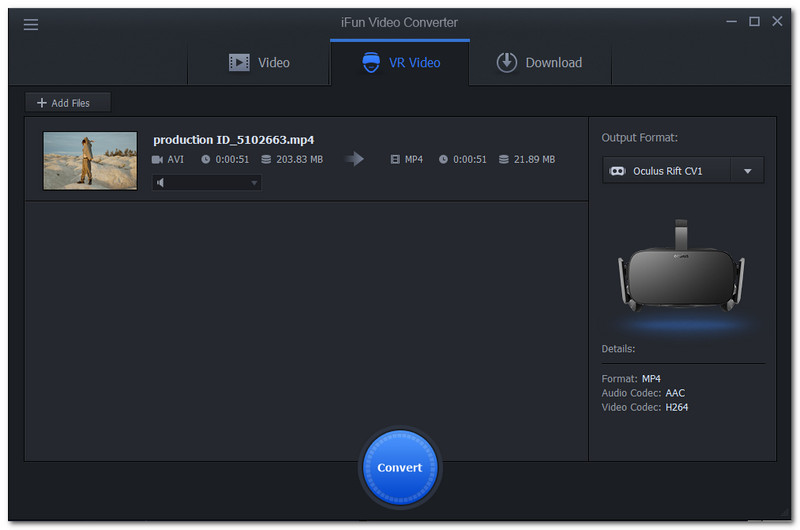 We are on the same page if we say the VR-3D Video Converter is the most exciting feature of iFun Video Converter. This feature is something unique that other converters do not possess. This feature will allow you to convert a standard video into a VR video in terms of its ability. Thus, playing the video with Oculus, Gear VR, OS VR, and more is now possible. In addition, the converting process is also easy. You need to add the files, select the output formats, and click the Convert button. See how simple the process is with the iFun Video Converter.
DVD Backup
The DVD backup feature is another valuable feature of iFun Video Converter. Fortunately, this media converter is capable of backing up your DVD files to 90 percent of your media files. This feature will enable you to prevent losing your essential DVD files.
Extended Features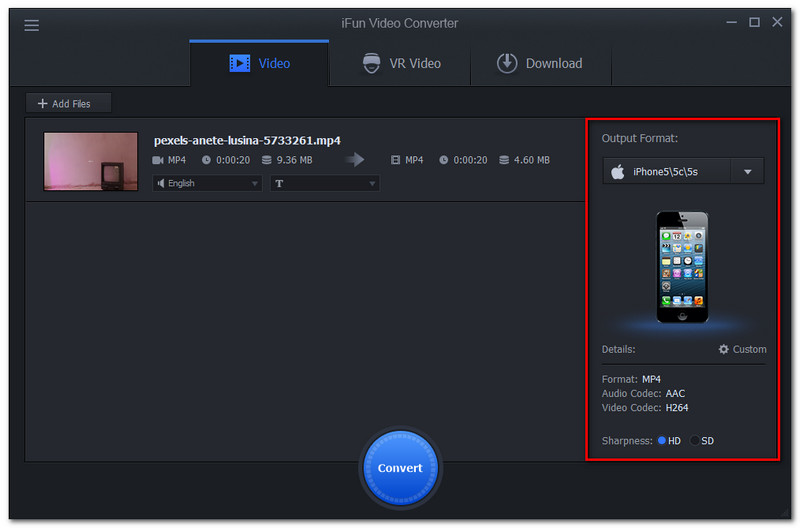 We can also include the unique extended features here as we talk about its features. Under these, we can consider the supported output for your mobile devices such as iPhone. It is a great feature to help iOS users plate their videos smoothly. The converting process is just as easy as the average conversion. You will need to add your video or audio files. Look at the Output Formats on the right side. Locate Devices and choose format.
4. FAQ
Why does iFun no longer convert videos?
This problem is one of the common issues that we may encounter while using the iFun Video Converter. The issue may occur for different reasons, depending on how it uses the program. However, one of the main reasons behind it is the improper installation of the software. An upgrade is a must too. Therefore, we need to ensure the installation process and updates of your tool before utilizing it.
Is the iFun Video Converter free?
Yes, it is not for purchasing. Thus utilizing its full features is free.
May I modify the Bit Rate of my Video through iFun Converter?
Yes. Go to the Costume icon below. Then, under the video, click the Bit Rate to modify.
5. Best Alternative- Vidmore Video Converter
We all know your frustrations with the limitations of iFun Video Converter features. That is why we are giving you great alternatives to it. Vidmore Video Converter is an excellent converter that enables unlimited conversion. This software can also provide unique extra features aside from the converter. Thus, Vidmore Video Player is more efficient and effective than iFun Video Converter.
Vidmore Video Converter
This media converter can offer more than what you need. It has a complete box of tools.
Smooth Converter.
Batch Conversion.
Create professional movies.
Edit videos.
High-quality video processor.
Conclusion
Finally, we can all now see the fantastic features of iFun Video Converter. We can say that it is an affordable tool for everyone. However, it might be limited with features but still valid. On the other hand, we can also use Vidmore Video Player as the best alternative. That is because it has a great offer in terms of features. At last, may this post help you with what you need. You share this with your friend to help them too.
Did you find this helpful?
388 Votes
YES

Thanks for letting us know!
No

Thanks for letting us know!
Best Free Video Converter Windows
Vidmore Converter
Your complete video toolbox to convert, edit and enhance video.