7 Fantastic Voice Recording Software Reviews: Quality Sound Check with the Tools
If you are a singer, podcast maker, or influencer, you know how vital a great audio recorder is for you. It plays a massive role in doing an excellent output. On the other hand, the quality of young people is one factor that can attract more listeners for your production. The more quality sound, the more listeners you can get. That is why it is crucial to get the best audio recorder. In line with that, the Top Seven Review is here to help look for the best voice recording tool you can use. We will present you with seven of the leading recording tools for your grind. We will know them one by one through their features, price, supported platforms, pros, and cons. In addition, we will also suggest our best picks that we think are suitable for all of us.
Furthermore, as an overview of the article, the seven recorders that will be reviewed are AnyMP4 Audio Recorder, Smart Recorder, Vidmore Screen Recorder, Avid Pro Tools | First, SoundTap, Ardour, and Audacity. These seven tools are the leading among the others in the market. Thus, we shall now begin knowing the best among the bests.

Our Top Picks
AnyMP4 Audio Recorder: Easy Recorder for Beginners

It is the most hassle-free and straightforward recording you can use for any aspect of the audio recording process.

Vidmore Screen Recorder: Flexible Wise Recorder

Suitable for modifying recording outputs without complication. We can record more with the Vidmore Screen Recorder.

Audacity: Musician Choice in Recording

Let us produce your music using the great Audacity Audio Recorder. Do not forget we can refine your audio recordings with plenty of editing tools.
Part 1. Best 7 Audio Recorder Review
AnyMP4 Audio Recorder
Platforms: Windows and macOS
Price: $18.75

AnyMP4 Audio Recorder is an excellent audio recorder that we can use with our desktops. It focuses on the ability to record and capture our internal and external audio with high-quality audio bitrate. For that, we can say why AnyMP4 Audio Recorder is one of the best recording tools for audio. As an extra feature, it possesses a tool that can set your task schedule and the length of your recording output. That means through AnyMP4 Audio Recorder, you may now multi-task without worrying about your performance. Overall, be productive in doing your task with AnyMP4 Audio Recorder.
Pros

No complication to use.
It has good customer service.
Powerful user interface.
Cons

It does not have editing features.
Smart Recorder
Platforms: Android
Price: Free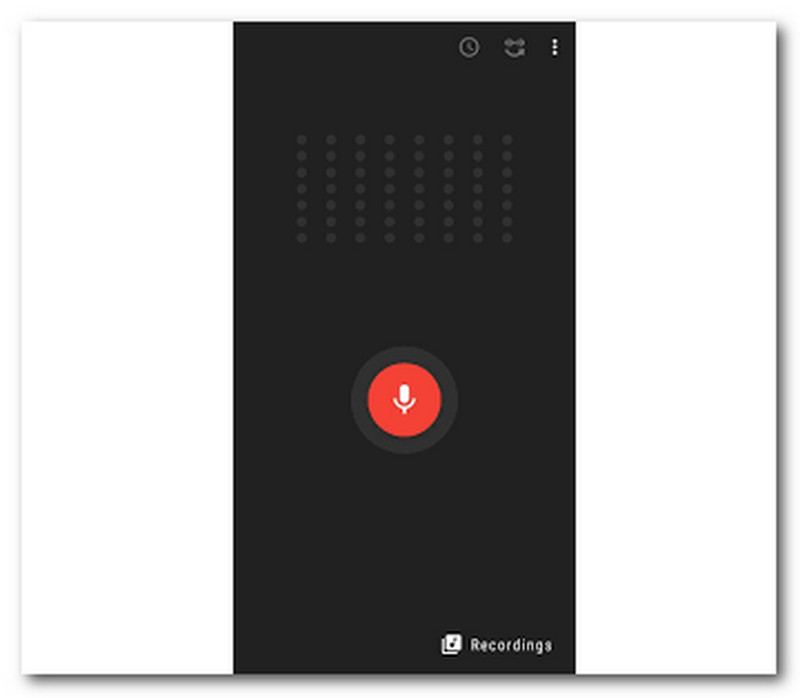 Smart Recorder is a free Android voice recording application that we can use anytime. It offers super cool quality recordings. You may now record an overview of its features while opening another application like the notes. That means background recording is straightforward using this application. Another fantastic thing about this application is its automatic and manual sensitivity control that can skip silence mode.
Pros

Free recording application.
It can skip silence on the recording.
It does require too much battery life.
Cons

There are no editing tools.
There are no available format settings.
Vidmore Screen Recorder
Platforms: Windows and macOS
Price: $29.95

Vidmore Screen Recorder is third on the list of being the best tool that can help us in capturing our audio. Many users consider Vidmore Screen Recorder the most suitable voice recorder for Mac and Windows 10. Because of its ability to give all of the best features beneficial for us. As an overview, it is a great screen recorder yet can record our external and internal sound with high-quality outputs. That means your crystal transparent audio file is now attainable due to its technology. Overall, Vidmore Screen Recorder is the best because it has an excellent quality output and practical tools for grinding.
Pros

It can handle large and long recorders.
The software offers a clean and minimalist user interface.
Super high-quality recording audio.
Cons

Limited free version.
Avid Pro Tools | First
Platforms: Windows and macOS
Price: 199.00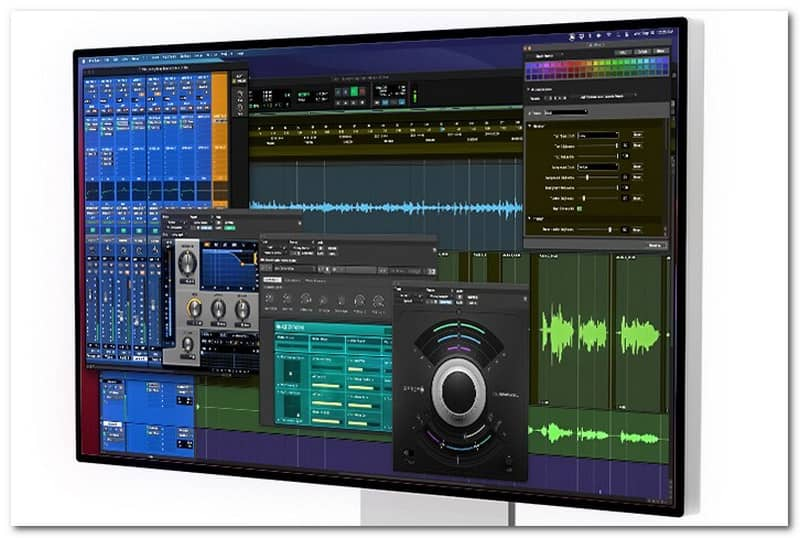 Avid Pro Tools is an amazing and one of the most professional recording software of all time. This software is the most suitable recording software for all musicians. It can help you record and create your music with many aspiring musicians out there, no wonder why Avid Pro Tools is one of the leading clothes.
Pros

Professional recording tools.
It offers clean sound libraries.
Cons

The premium version is expensive.
It demands many system requirements.
The tool is overwhelming to use.
SoundTap
Platforms: Online
Price: Free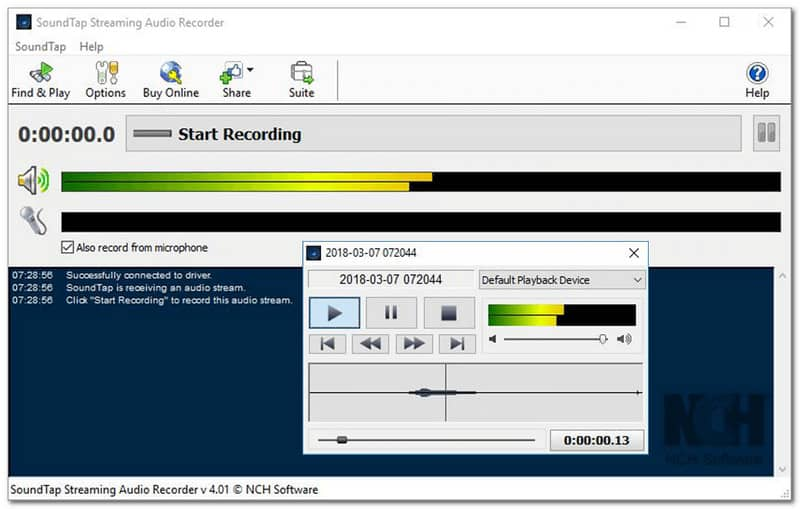 SoundTap is the next on the list. This Recorder is a tremendous online voice recorder. Even though it is just an online tool, the Recorder still possesses a flexible and incredible tool that is beneficial, like the mic recorder for producing our music. SounTrap is from Spotify. That is why we can expect a great experience of recording with it.
Pros

It is a free and effective tool.
A flexible tool is available.
It is very safe to use.
Cons

It is overwhelming to use at first.
Ardour
Platforms: Windows, macOS, and Linux
Price: Free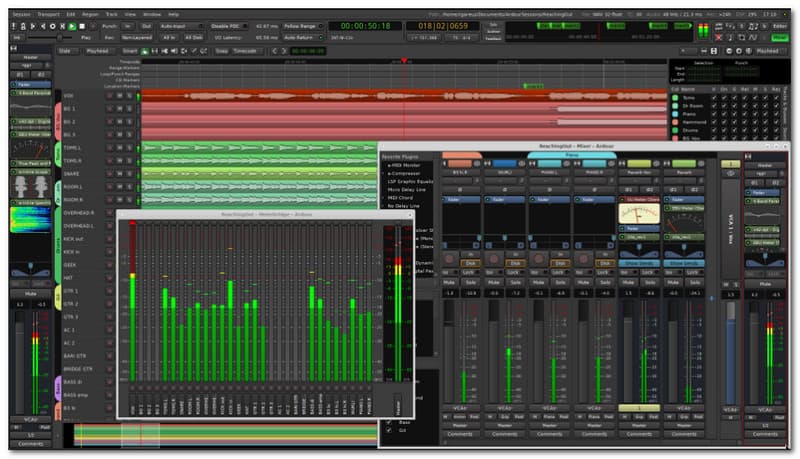 Ardour is a tremendous digital audio working station that we can utilize in recording our voice. It possesses high-quality technology that provides high-quality outputs. Through this software, we can now register and edit recordings easily.
Pros

The recording process is simple and easy.
It possesses a mixer for enhancing recording outputs.
Cons

It requires signing up for an account.
Audacity
Platforms: Windows, macOS, and Linux
Price: Free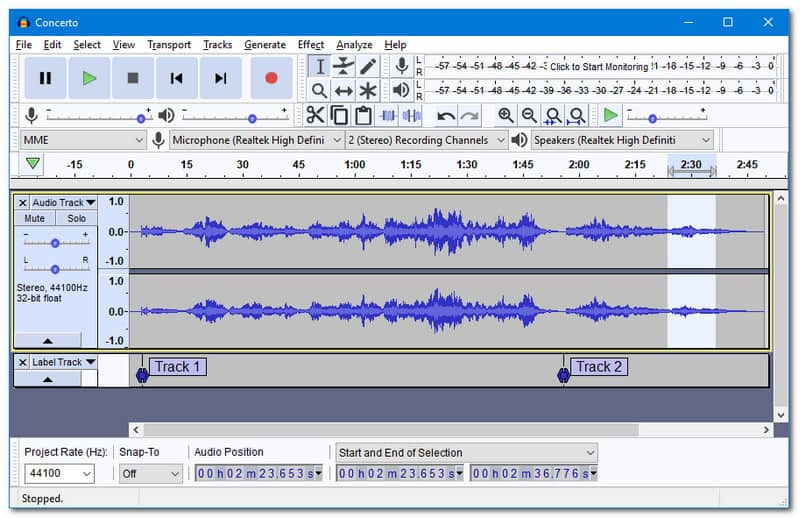 Audacity is the last but not the list. This infamous recording software indeed possesses excellent features to help us achieve a quality recording output. Many users love its ability to offer beneficial features for all of us. Some of these are supported plug-ins, adding effects, and accessibility.
Pros

Flexible recording software.
It offers super-advanced features for free.
Cons

The recording tools are overwhelming.
Part 2. Comparison of Audio Recorder
Best Audio Recorders

AnyMP4 Audio Recorder

Smart Recorder

Vidmore Screen Recorder

Avid Pro Tools | First

SoundTap

Ardour

Audacity
| | | | | | | | | | | |
| --- | --- | --- | --- | --- | --- | --- | --- | --- | --- | --- |
| Platforms | Price | MoneyBack-Guarantee | Customer Support | Easy-to-Use | Interface | Features | Noise Reduction | External and Internal Capture | Editing Tools | Other Features |
| Windows and macOS | $26.15 | 30-day Money Back Guarantee | 9.4 | 9.4 | 9.3 | 9.7 | | External and Internal | Trim | Set task schedule, set the length of recording |
| Android | Free | Not Applicable | 9.0 | 9.2 | 9.0 | 9.1 | | External | None | Spectrum Analyzer, background recording |
| Windows and macOS | $29.95 | 30-day Money Back Guarantee | 9.5 | 9.4 | 9.4 | 9.7 | | External and Internal | Trim | Set task schedule set the length of recording, History list |
| Windows and macOS | $199.00 | 30-day Money Back Guarantee | 9.2 | 9.2 | 9.0 | 9.4 | | External and Internal | Trim, split, merge | Equalizer, Reshaper, mixer |
| Online | Free | Not Applicable | 9.2 | 9.3 | 9.3 | 9.2 | | External and Internal | Trim, split, merge | Add sound effect, produce music, equalizer, Auto-tune |
| Windows, macOS, and Linux | Free | Not Applicable | 9.3 | 9.3 | 9.0 | 9.3 | | External and Internal | Trim, split, merge | Mixer, compress, signal flow |
| Windows, macOS, and Linux | Free | Not Applicable | 9.2 | 9.2 | 9.4 | 9.2 | | External and Internal | Trim, split, merge | Mixer, Mic, plugins, effects, analysis |
Part 3. How to Choose Audio Recorder
Choosing the best audio recording software is one of the essential things we need, especially if we are doing it for our work. It needs seriousness not to waste time and money on nonsense software. For that, here are the main criteria you may use for choosing the best recording tool for your grind.
Sound Quality
Be mindful of what outputs you can get with your software. We need software that can give us the best quality output we need. If a specific recorder does not show you the best quality output, find another tool to provide you with that. It is a hassle if we choose a device that is not suitable for us. The sound quality that software can offer is a tremendous deciding tool for us. Thus, what among the seven recording tools above can give you that?
Features
Another deciding factor that can help us with choosing a specific software is the features it can offer. We need software that will give us beneficial software. It can make our work more productive and effective. A recording tool that offers extra features must be on the top of the list. However, it is not enough to provide many features, but we need to ensure it is effective. These two are another crucial element we need to consider in choosing the best audio recorder for all of us. In addition, if you are planning to purchase the best audio recording for you, then do not waste your money. Choose the cost-effective one.
User's Experience
The third criterion we can consider when choosing a recorder for our voice is to research the user's experience. Assuming the user's experience will help us know if all of the information about the feature is legit. We can see if the elements are operational. In addition, checking the experience coming from the actual user of a particular tool is one of the most legit and exact information we can use to know if the software is effective for all of us.
Part 4. FAQs of Audio Recorder
What are the reasons my Recorder does not record my internal audio on the computer?
Yes. There are different reasons why your recording tool does not capture your internal audio. However, the most common causes and problems coming from the users are our software's improper adjustments and customization. As a solution, it is essential to make sure that you enable the capturing internal audio button of specific audio recording tools. Another problem is the third-party software on your computer like the Nahimic. It is an element that can block you from recording your audio with your computer. Lastly, you may check if the volume of your computer is not on mute.
Can the built-in audio recorder of my Android record internal audio?
Most of the built-in tools for recording audio on our Android devices only capture external audio. It is by the use of our microphone. However, do not worry because we have a lot of amazing Android and iPhone voice recorders digital stores. Numerous applications can offer recording features in capturing internal sounds with high-quality outputs. Examples include the iVoice, Alice, Easy Voice Recorder Pro, and Otter Voice Notes.
Is there any audio recorder that can allow us to modify the sound effect of our recording?
Yes. Tons of audio recorders that come with built-in editing tools. If you are asking for an example, Aiseesoft Screen Recorder, Vidmore Screen Recorder, Audio Recorder, and Editor from Google Play Store are great tools that we can use to modify our audio recording outputs without complications.
Conclusion
As we conclude, we can see tons of audio recorders that can help us make our recording jobs possible. With the help of this review, we hope by now you already know the suitable recording tool for you. You may use their features and the criteria above to help you choose the best for you. In addition, we hope this review helps you, and please help other people by sharing this information with other users. Please visit our website for more information to help you with your other tasks.
Did you find this helpful?
268 Votes
YES

Thanks for letting us know!
No

Thanks for letting us know!
Best Voice Call Recorder Review
Vidmore Screen Recorder
Make screen recording easier than before on computer.