Hassle-free Vidmore Screen Recorder Review: For Professional Way of Recording
A super-easy way to record your screen is now possible. That is because of the great audio and video recorder we can use to make that possible. Therefore, you are on the right website if you are media personnel or a student who needs a screen recorder for your grinds. These screen recorders are beneficial for everyone regardless of our social status. Thus, a great and convenient writer is a must.
In connection with that, this article will review one of the rising screen recorders in the market nowadays. We want to present to you the Vidmore Screen Recorder. Many users consider this the most flexible and adaptable recorder because of its features. Hence, let us now discover its fantastic world by knowing its features and capabilities.

1. Our Verdict
As we all know, Vidmore Screen Recorder possesses practical tools in recording and other stuff. Indeed, Vidmore Screen Recorder is the most smooth and easy-to-use screen recorder in the market. This software is the go-to solution for the different users to do their work. Overall, it is an excellent recorder for everyone. Take a look below at all the pros and cons of this video converter. These elements will balance the reviews and will prevent biases.
Pros

It possesses tons of beneficial features.
It can offer a recording process.
A high-quality recording output is one thing for users.
There are no complications even for the new users.
The full version is very worth it and cost-efficient software.
The tech support is very responsive.
It gives a money-back guarantee.
Cons

There is no version for mobile devices.
Overall Ratings
Vidmore Screen Recorder is one of the most smooth video and audio recorders in the market. That is possible because of the features it offers for the users. Indeed, these features are very beneficial and user-friendly. In addition, the quality it can provide is another thing we need to flex. Overall, Vidmore Screen Recorder is a great recording tool in all aspects and events.
Smooth:9.4
Features:9.7
Quality:9.5
2. What is Vidmore Screen Recorder?
Price: $29.95
Platform: Windows and macOS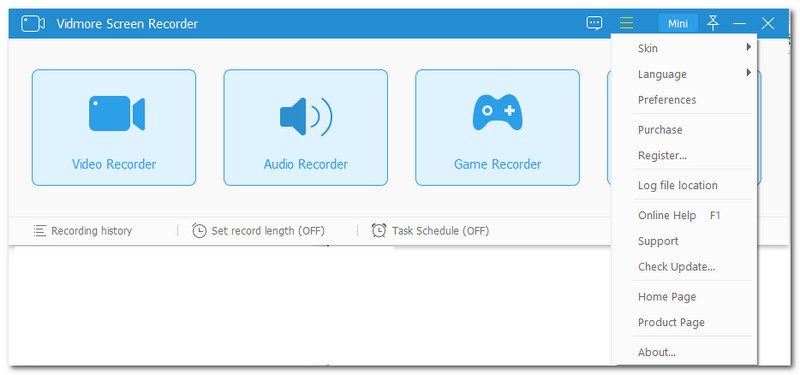 Vidmore Screen Recorder offers the most flexible features for its users. This powerful screen recorder developer cares about the immense experience of recording our screen or audio. It also provides various extra features to help us with our recording files. In addition, all of the features it possesses have support with great processing technology. These technologies provide the smooth recording of our screen or audios in high-resolutions. For that, let us now see all of the features we can enjoy with Vidmore Screen Recorder.
Main Features
We all know Vidmore Screen Recorder offers tons of features, more than just a recorder. These functions are one of the enormous reasons why millions of users continuously trust Vidmore Screen Recorder. To prove that, this portion of the article will show the great features of this recorder. Take a look at the bullet type below to learn more. Without further ado, here are the main functions that we can enjoy with Vidmore Screen Recorder.
◆ Desktop recorder.
◆ Gameplay recorder.
◆ Virtual meetings recorder.
◆ Record using WebCam.
◆ Audio recorder.
◆ Screenshots.
◆ Scheduled recorder.
◆ Customizable recording files.
◆ Add text, shapes, and more.
3. Vidmore Screen Recorder Review
Interface

The interface of Vidmore Screen Recorder is one of the most intuitive interfaces even compared with others. As we can see, the interface of Vidmore Screen Recorder possesses a super appealing color palette. The light blue and white color fusses very well. Another thing we can see is the proper arrangements of all the icons and buttons we are using. For that reason, many users say it is beneficial in providing a hassle-free recording process. Overall, the interface is excellent and one of the assets of Vidmore Screen Recorder.
Record Desktop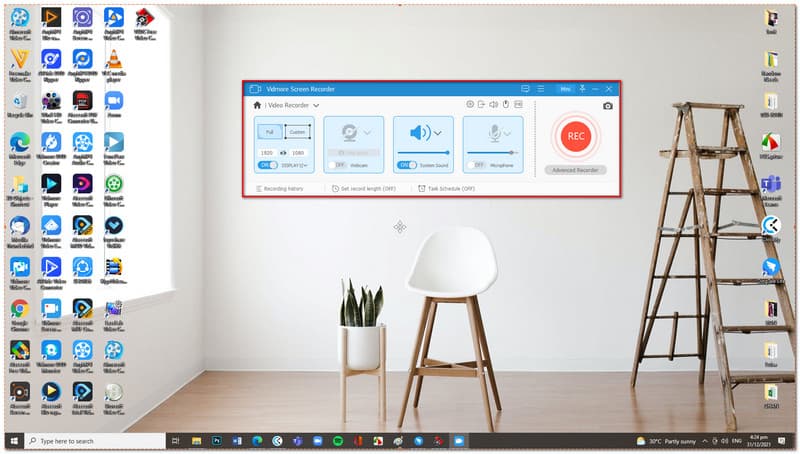 Proceeding with its ability to record, let us start with the features that allow recording your desktop. This feature is awe-inspiring. We can see different tools that help make our recording more professional. These are the modes you can choose to record full screen or customize it. As we put it in context, this feature is essential and valuable for tutorial videos with your desktop screen. It can also capture the audio on your desktop or from your microphone. Not only that, but you also may now include yourself in the video tutorial using your built-in or external WebCam you have.
Record Gameplay

Vidmore Screen Recorder also offers a Gameplay recorder. It is also one of the best features we can enjoy with this recording software, especially gamers. Thus, Vidmore Screen Recorder can help you guys. Using these features, you may now record your gaming journey for instant sharing with different gaming communities like Facebook, YouTube, or Discord. With this feature, you do not need to worry about a hassle recording experience because these features equip the fastest accelerating processors that bring a smooth process for all the gamers.
Record Meeting
You are moving forward with the feature it offers for professionals. This media recording tool can enable you to record your virtual meetings via video call applications. This feature is essential, especially in saving the most critical information in your sessions. By registering for your virtual seminars, you do not need a paper and pen to write down the details you need. In addition, it also proposes to document the sessions so that you can watch them all over again for better comprehension.
WebCam Support

There are more unique features that we need to discover. As we continue with the great features of Vidmore Screen Recorder, join us unveiling more of it. The following features will be great functions for vloggers or influencers. This feature is its ability to support Webcam recording for more massive demonstrations of your tutorial videos. Likewise, it will also capture your desktop and external audios with the features.
Audio Recorder

Vidmore Screen Recorder also can record your audio from the device or from the microphone you are using. Aside from recording your screen, gameplay, or meetings, the audio recorder also provides super high-quality outputs. Therefore, any issues with the sound quality of your products are not welcome here. However, it would help to turn on the microphone first to capture our audio.
Extra Features
We already know the enormous features that the Vidmore Screen Recorder possesses. However, that is not all we can get. Indeed, the Vidmore Screen Recorder is more than just a recorder. It offers features like editing tools, snapshots, and more. If you do not know, Vidmore Screen Recorder can take a shot of your screen. This feature helps save information, too, whether it is from your meeting or virtual class. In addition, you can also schedule your recording process for multi-tasking activities. There are more features that we can see below.
◆ Multiple recording modes.
◆ Customizable recording area.
◆ Schedule recording.
◆ Set video quality.
◆ Record GIFs with ease.
◆ Draw real-time.
4. FAQ
Does Vidmore Screen Recorder trim our recordings?
Using Vidmore Screen Recorder, you can now use extra features such as the trimmer after the recording. You can now remove unnecessary parts of your video or audio through this feature. The trimming tool will also allow you to choose the start of your recorder.
Can we set the quality of our video recordings with Vidmore Screen Recorder?
Yes. It has a feature where you can set the quality of your video with ease. Under this, you can select your output formats, codecs, and the quality we need.
Is the Vidmore Screen Recorder safe to use?
Vidmore Screen Recorder is secured and safe to use. The developer behind it is to provide the best technology for all of us. That means all of the privacy and security of your devices are all secured with Vidmore Screen Recorder.
5. Best Alternative- AnyMP4 Screen Recorder
We can all admit that VSDC Free Video Converter cannot offer a complete ability for its users. It possesses flaws that become a reason for some users to look for an alternative. In line with that, we would like to introduce you to the AnyMP4 Screen Recorder. One of the most professional converters in the market.
AnyMP4 Screen Recorder
Platforms: Windows and macOS
Price: $26.25

If you think Vidmore Screen Recorder is not suitable for you. The AnyMP4 Screen Recorder is an excellent alternative to it. This media recorder offers various features that will help us with our work. It also provides a desktop, gameplay, and audio recorder like the Vidmore Screen Recorder. One of the biggest flexes about it is the smooth process in any features we will use.
Conclusion
There you go, immersing yourself in the excellent Vidmore Screen Recorder. We can see tons of unique features that we can use with our works. We also have the AnyMP4 Screen Recorder as the best alternatives. We hope that this review helps you with your journey. Please share it with others so that we can help them too.
Did you find this helpful?
393 Votes
YES

Thanks for letting us know!
No

Thanks for letting us know!
Best Screen Capture Software
AnyMP4 Screen Recorder
Capture every moment in desktop, browsers, programs and webcam.