The Best Photo Restoration Software to Improve Image Quality
Keeping the old photos from your family and childhood is one of the best memories you can have. But, we cannot prevent some old pictures from being severely damaged because of time-lapse. Moreover, you can use these best 7 photo restoration software to save your old photos! Despite all the rips, spills, and stains, you can make your old photos like new again! This is the aim of this article. You can start reading now!

Editor's Top Picks
AnyMP4 Free Image Upscaler Online

It is the best photo restoration online that can restore old photos effortlessly. Plus, it is AI-powered and magnifies your photos after restoration up to 8x!

It is an advanced old photo restoration app. It also has a software version that you can download to your computer. It is pricey, but it is all worth the price!

It is a restoration tool that can be used online and on computers. In addition, it is user-friendly, and it offers many editing tools.
Part 1: Best 7 Best Photo Restoration
AnyMP4 Free Image Upscaler Online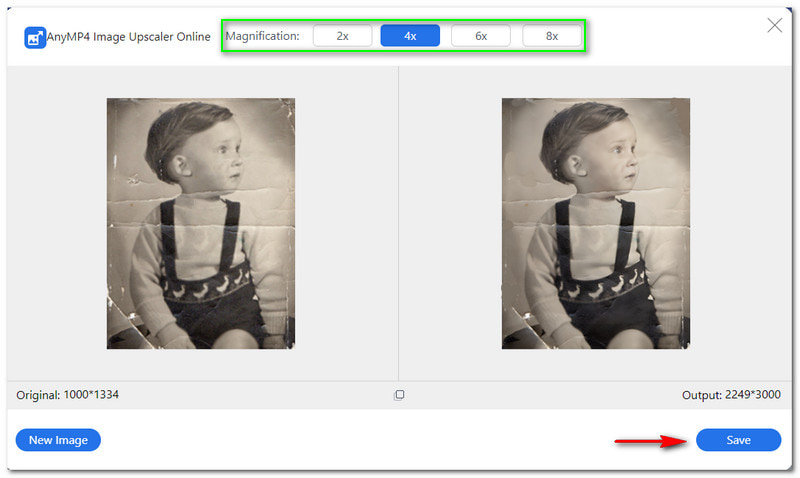 Price: Free
Platform: Online
Pros

It is free and accessible online.
It can upscale and restore old images effortlessly.
It has no watermark on the output image.
Cons

It is limited in features.
AnyMP4 Free Image Upscaler Online has an AI photo restoration. You can upload your photo and start restoring it free online with its picture restoration services. Again, it is AI-powered, which means you can restore and improve your photos with such fantastic output!
Furthermore, AnyMP4 Free Images Upscaler Online is not just about upscaling images. But, it can fix the old photo and turn like it is new again! Also, it has a Magnification feature from 2x up to 6x! Start trying it now and make your older photos like new ones again!
Photoshop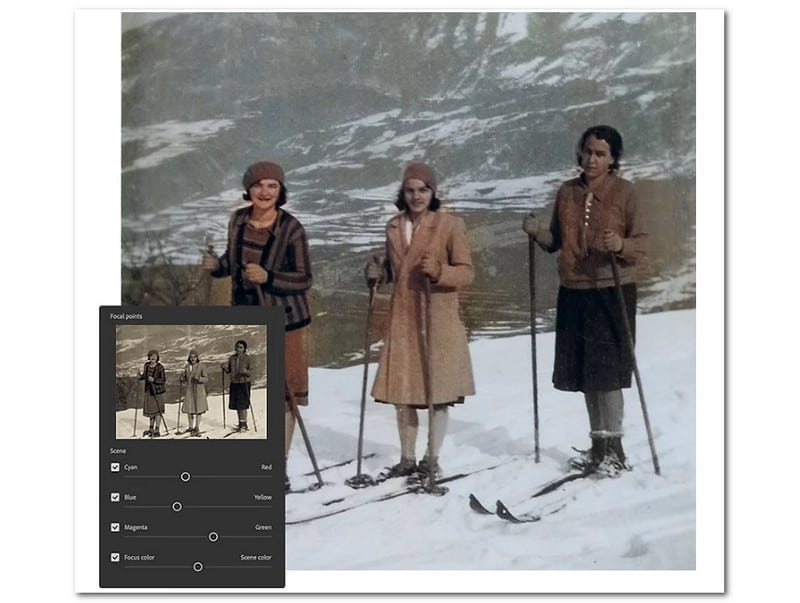 Price: $20.99
Platform: Windows, Mac, Linux
Pros

It can manually add color to a grayscale photo.
It can recover ripped images.
It can erase stains, splotches, etc.
It can remove the color cast on your pictures.
It supports custom plugins.
Cons

It has no built-in filters and effects.
It has a steep learning curve.
It does not provide an automatic coloring option.
Photoshop is another advanced image upscale software that has photo restoration services. It has an old photo restoration feature and provides different tools. However, the disadvantage of Photoshop is it is not user-friendly and costly.
Furthermore, you can create various layers upon restoring photos and use the Spot Healing Brush. Using that tool, you will eliminate the creases and restore the tears in your photo. You can also reduce and eliminate the blemishes of your images if any. Overall, even if it is expensive, its price is worth it because of all its features and many professional editing tools.
Lightroom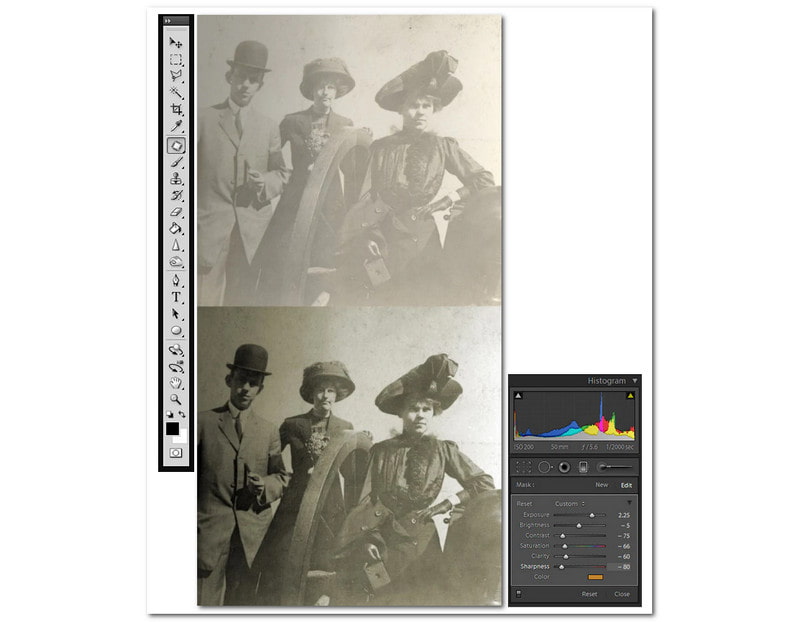 Price: Starts at $9.99 up to $19.99
Platform: Windows, Mac, Linux
Pros

It has tagging and face detection.
It can be connected to Mobile apps.
It has optimal photo organization and management.
It also has a gradient brush for adjustment.
It offers a customizable slider.
Cons

It requires a subscription service.
It is expensive.
Lightroom can restore original photos, and it is suitable for your computers. In addition, it is a photo restore app that you can use on your mobile devices. Lightroom is part of Adobe with different features. You need to access Adobe Lightroom's horizontal tabs to edit your images with Lightroom. With that, you will have access to advanced features and photo editing tools, especially if you are a subscriber.
Furthermore, Lightroom provides a History where you can see all your edited images. You can quickly track images and remove or add effects to them. Again, it is a professional tool that amateur users will not appreciate. However, you can still practice using it.
GIMP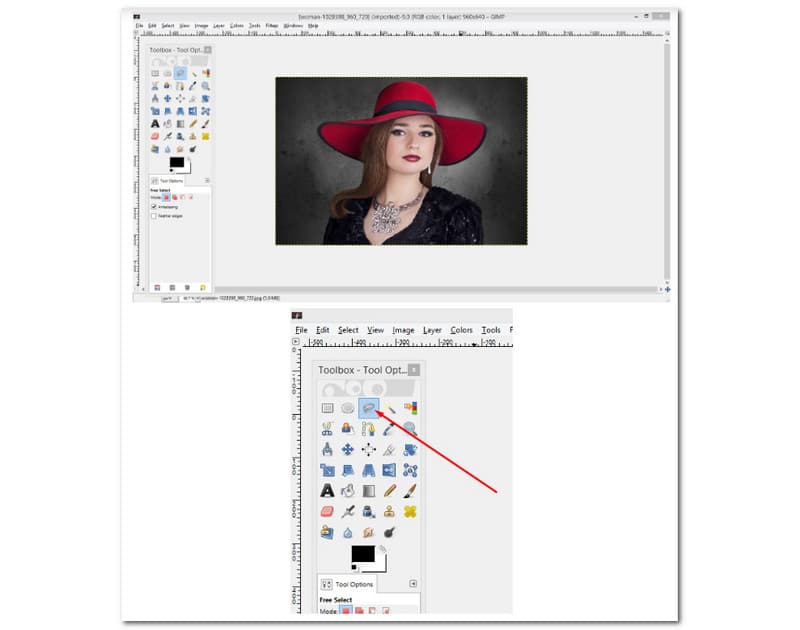 Price: Free
Platform: Windows, Linux, Mac, Sun OpenSolaris, Free BSD
Pros

It has a customizable toolkit and UI panels.
It can boost the faded colors.
It can recover severely damaged images.
It lets you color photos with numerous convenient brushes.
Cons

Its loading or processing time consumes too much time.
It has no automatic picture coloring.
It is not fit for new users.
GIMP is a professional photo restoration software that lets you restore old photos quickly. Moreover, you can use this free software, which is compatible with almost every platform. Is restoring photos using GIMP also? Yes, use the exclusive features of GIMP for free. But, if you want to donate to them, you can do so. GIMP will not require you to donate, though.
Again, it can recover old photos just like any other software on the internet. In addition, it provides many advanced and content-aware brushes you can use to fix the damaged image. You can also use layers, and you can find that on the Color Mode and colorize your black and white picture and bring life to your photos!
Luminar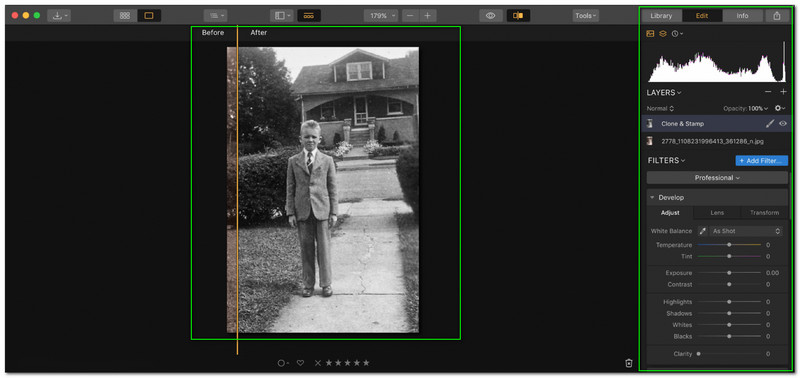 Price: Luminar Pro Monthly costs $14.95, Luminar Pro Yearly costs $8.25, and Luminar Lifetime costs $109.00
Platform: Windows, Mac
Pros

It provides masks for editing specific areas.
It can reduce heavy grain.
It is convenient, especially for professional users.
It has many features aside from restoring damaged images.
Cons

It is not affordable.
It has no automatic coloring.
Luminar is another advanced software you can use as a photo restoration software for PC and Mac. It has a feature like a picture restoration, which you can use upon purchasing their products. Its disadvantage is it's too high in price and amateur users are not fit to use this software.
Moreover, advanced users can fully enjoy this software. Moreover, restoring photos using Luminar has many options you can use. For example, you can revive simple damages by cropping and straightening. Or, you can adjust the tone and contrast. Or, when you want to restore an image with severe damage from different arrears, you can use its many tools like Clone and Stamp, etc.
Inpaint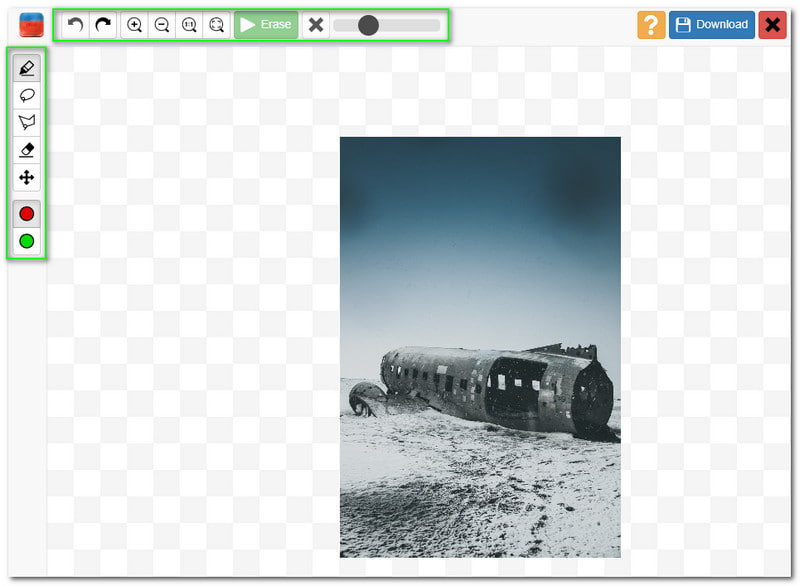 Price: Starts at $19.99
Platform: Online, Windows, Mac
Pros

It can get rid of the damage to the picture in one click.
It has essential editing tools and is easy to use.
Cons

It has no limited toolkit
It also has no picture coloring tools.
Your private upload can be linked to the Internet.
You can try photo restoration online using Inpaint. It is also downloadable on Windows and Mac computers. It is a photo editor that has an image or photo restoration. The advantage of Inpaint Online is you do not need to download and install it. Thus, you can save a lot of space on your computer.
On the other hand, the advantage of downloading it on your computer is you can enjoy all its editing features. Once you add your impaired picture, you can now remove its scratches or unwanted objects. However, it does not have coloring tools.
Photoscape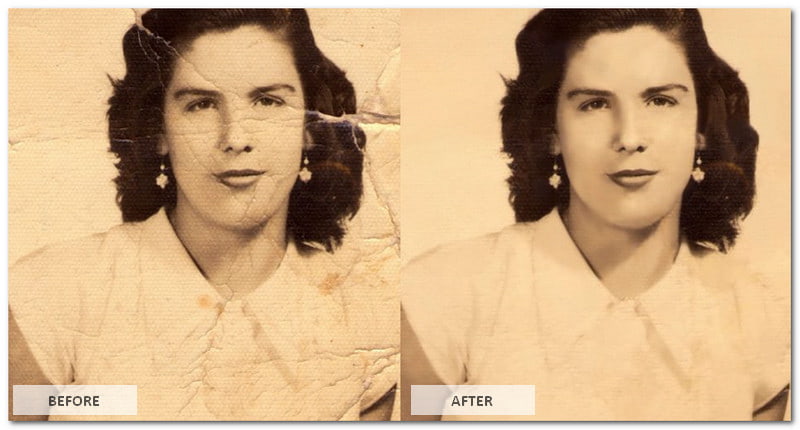 Price: Free
Platform: Windows, Mac
Pros

It can fix faded colors using its built-in effects.
It can also fix severely damaged photos.
Cons

Its UI is already outdated.
It cannot colorize images.
It has no image retouching tools.
Photoscape has an image restoring feature you can enjoy for free! Yes, you read it right. It is software; it is a picture restorer whether the picture is old or new. Again, you can improve your images using Photoscape, which has different ways to fix them.
You can use the Digital Restoration feature. This can change the photo to black and white color to see and trace all the stains of your images, if any. Moreover, it provides other editing tools to restore your photos, like blooming, paint brush, clone stamp, and effect brush.
Part 2: Which is the Best - Comparison Chart
Best Photo Restoration Software

AnyMP4 Free Image Upscaler Online

Photoshop

Lightroom

GIMP

Luminar

Inpaint

Photoscape
| | | | | | | | | | |
| --- | --- | --- | --- | --- | --- | --- | --- | --- | --- |
| Platform | Price | Customer Support | Editing Tools | Easy-to-use | Interface | Sign up or not | Restoration Speed | Safety | Best For |
| Online | Free | | 9.0 | 9.8 | 9.8 | | 9.7 | 9.8 | New users |
| Windows, Linux | $20.99 | | 8.9 | 8.8 | 8.8 | | 8.8 | 8.7 | Professional users |
| Windows, Mac, Linux | Starts at $9.99 | | 8.8 | 8.7 | 8.8 | Sign up | 8.7 | 8.8 | Professional users |
| Windows, Linux, Mac, Sun OpenSolaris, Free BSD | Free | | 8.6 | 8.5 | 8.7 | Sign up | 8.7 | 8.6 | Professional users |
| Windows, Mac | Starts at $14.95 | | 8.7 | 8.6 | 8.8 | Sign up | 8.6 | 8.7 | Professional users |
| Web-based, Windows, Mac | Starts at $19.99 | | 8.7 | 8.5 | 8.6 | | 8.7 | 8.6 | New users |
| Windows, Mac | Free | | 8.7 | 8.6 | 8.7 | | 8.7 | 8.6 | New users |
Part 3: FAQs of Best 7 Best Photo Restoration
Can you restore corrupted pictures?
Some photos are corrupted because of viruses like malware. To answer the question, corrupt images can be restored using reliable software. Therefore, you will no longer be mournful because you can still recover your corrupted images.
Which is better? Scan or Photograph old images to restore them?
We highly recommend scanning the old photo. After scanning the images, you can save them to your computer and start uploading them to software or online tool where you can fix the damage of an old photo. The reason why we do not suggest photographing it is that the lightning will become worst.
Can you restore old photos using an app instead of software?
Of course. You can install many apps on your devices to have an old photo restoration. As mentioned above, Lightroom is one of the apps you can use to restore and recover imperfect images.
Conclusion
To sum up, you know that restoring old images is possible, especially if you will use the tools and software stated above. AnyMP4 Free Image Upscaler Online, Photoshop, Lightroom, GIMP, Luminar, Inpaint, and Photoscape can help you bring back to life your old photos! Moreover, most of them are downloadable to your computer. Now, you can choose which tool you prefer for your picture. Till next time!
Did you find this helpful?
369 Votes
YES

Thanks for letting us know!
No

Thanks for letting us know!
Related Articles
AnyMP4 Video Converter Ultimate
All-in-one video converter, editor, enhancer upscaled with AI.