Best 7 Photo Enlarger to Upscale Image Size
With software for photo enlargement, you may quickly and without sacrificing quality expand the size of images or photos. On the internet, there is a ton of software (both free and paid) that allows users to change the scale of images. These photo editing tools are one of the important tools that media personnel need as they improve the output they need to produce.
In line with that, through this article, we will discuss the top seven photo enlargement tools that do not significantly reduce the quality of the images when they are enlarged. Also, we will dig deep into the features and capabilities they offer for all the users. Without further discussion, let us review each tool for your information.
Editor's Top Picks
AnyMP4 Image Upscaler Online: Easiest Way to Enlarge Photo

With this tool, we do not need to worry about a complicated process. This tool will enlarge your photo a few steps away.

Photoshop: Most Professional Editing Tools

Having the most professional editing tools that come with most of the notable features. It is infamous with most professional editors around the world.

Canva: Creative Features for Editing
Part 1. Best 7 Photo Enlarger Software
AnyMP4 Image Upscaler Online
We are now down to the special tool for sharpening the hazy image. Images and photos are enhanced to the precise pixel size using an internet tool called Image AnyMP4 Image Upscaler. To increase the sharpness and clarity of photographs in JPG and other formats, artificial intelligence is used. Its output is of excellent quality and is simple to use. We can enlarge our photo from 300% to 800% with high-quality output with only a few clicks.
Moreover, this tool can enhance image quality without loss, and the high resolution it supports is 3000px.
Canvas
Canva is a top-notch online tool for graphic design. Everything from doing simple picture changes to designing graphics for social media to creating flyers and documents can be done with it. It includes many features and costs only $12.95 monthly, a great deal. Also, there is a fairly generous free plan, and the customer assistance is excellent. For business owners and marketers, it provides an excellent design experience. With all of that, we can now easily enlarge our images as long as we have this tool.
Photoshop
One of the most well-known photo enlargement programs is Adobe Photoshop. Professionals typically utilize it for digital drawing or image post-production. The software promises good image enlargement with the least amount of quality loss. Photoshop users can carry out any manipulation related to more detailed and comprehensive image altering to resize images. In terms of its pros, advanced photographer features include: possessing expert color grading skills, helpful Plug-Ins, Filters, Textures, Overlays, and Actions available. Plus, enlarging and merging images requires a high level of expertise and more.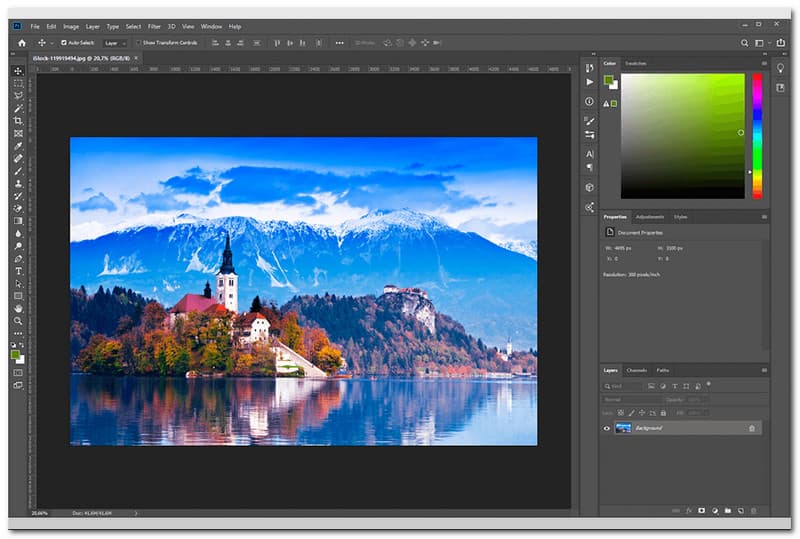 AI Image Enlarger
AI Picture Enlarger is a helpful tool that you can use to quickly and easily repair unclear images and correct other flaws. It is made to meet users' Windows, Mac, iOS, and Android gadget requirements. The tool's best feature is how simple it is to use. There are only three steps in the entire process of enlarging an image. You may quickly enlarge your image whether you choose to use a desktop program or an online platform.
Furthermore, the versions for offline use and online use are both free. There are some restrictions, nevertheless, that you will have to live with. You must purchase the Premium or Pro edition to access the entire feature set. Choose the most appropriate option from the monthly or yearly options. Sending a corresponding email is how to end the subscription if you wish.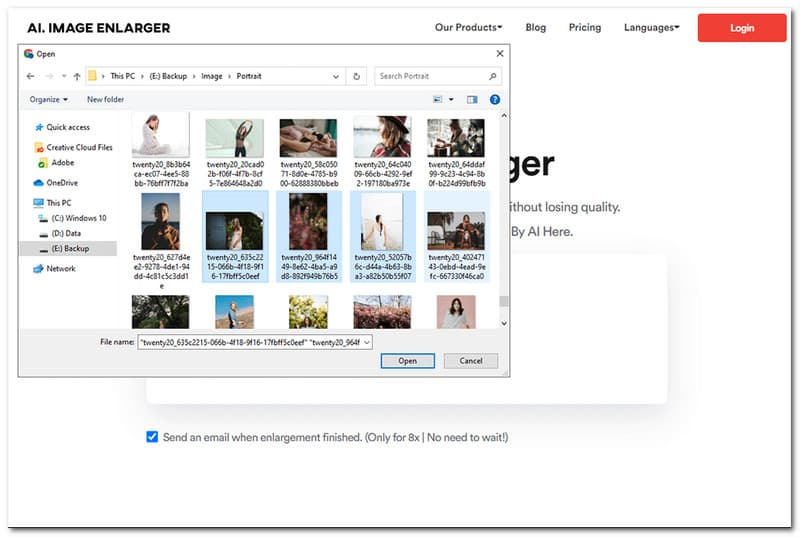 Reshade Image Enlarger
An intriguing piece of software called Reshade Picture Enlarger allows users to enlarge digital photos freely. Alongside this process, you can alter the image's resolution, apply blur and highlights, work with color border transitions, and modify the texture quality. The software significantly minimizes quality loss when enlarging images, which is crucial for photographers. Certain third-party applications cannot make that claim.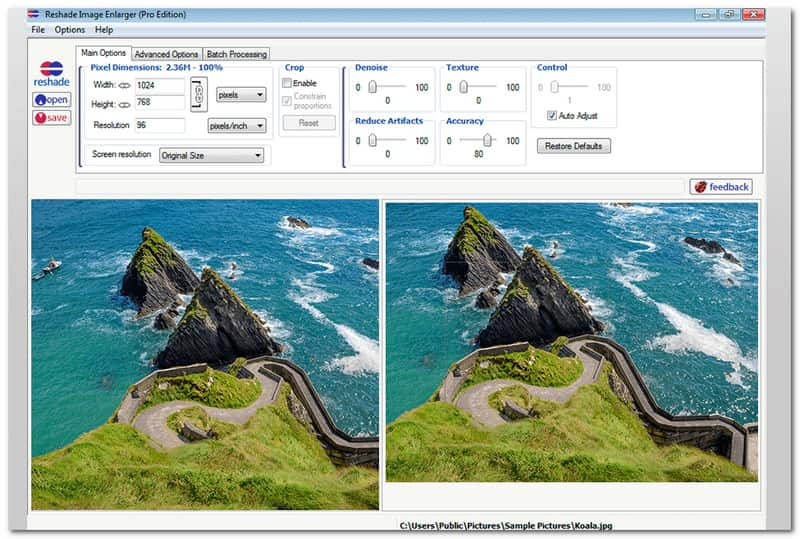 VanceAI Image Enlarger
Upscale your photographs using VanceAI Image Enlarger up to 800% (8x) without losing quality. The built-in AI tools will improve any image's quality. With the help of the Vance AI photo enhancer, you can quickly turn any crappy shot into a sizable, higher-resolution image. The final graphics can be used for presentations, eCommerce, and banner printing.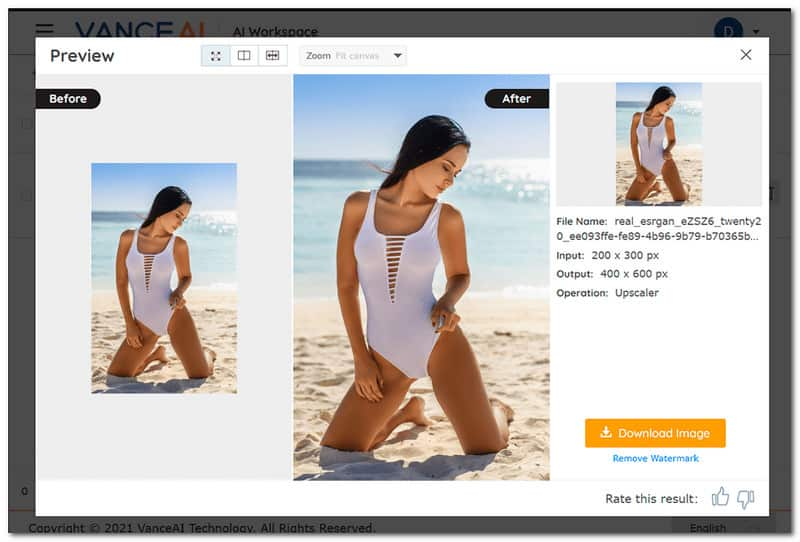 SimillaEnlarger
SmillaEnlarger is a simple, free program for shrinking the size of images. Algorithms are used to process altered images to sharpen, remove noise, and correct distortion. Because of its limited capability, this image-resizing software will appeal to beginners. JPEG, PNG, BMP, TIFF, and PPM image file formats are supported.
Also, the selection of the optimization algorithm is the most crucial stage. The software gives four predetermined configuration sets and the option to change visual characteristics like sharpness and sensitivity reduction manually.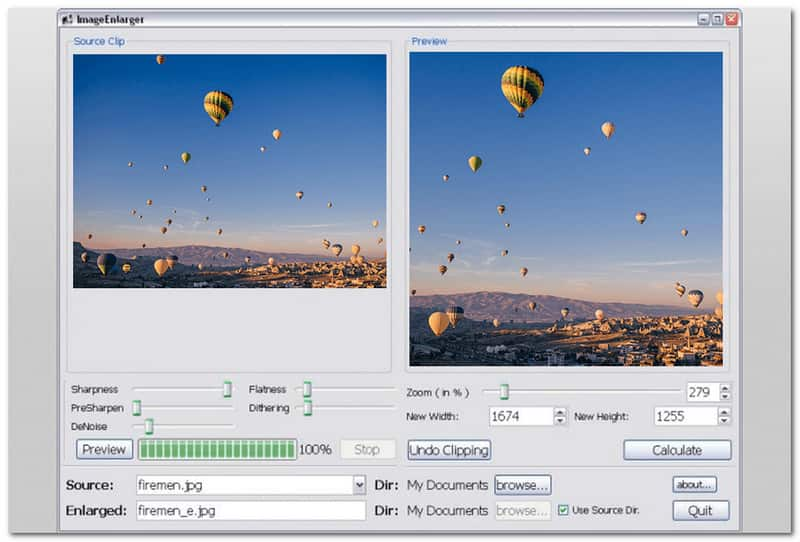 Part 2. Which One is the Best One?
| | | | | | | | |
| --- | --- | --- | --- | --- | --- | --- | --- |
| Platform | Price | Moneyback Guarantee | Customer Support | Ease-to-use | Interface | Features | Smooth and Quality |
| Online | Free | Not Applicable | 9.8 | 9.9 | 9.8 | 9.5 | 9.7 |
| Online | $12.95 per month | 30-days Money Back Guarantee | 9.7 | 9.6 | 9.7 | 9.7 | 9.5 |
| Windows and macOS | $19.97 per month | 30-days Money Back Guarantee | 9.8 | 9.0 | 9.8 | 9.5 | 9.7 |
| Windowsand macOS | Free | Not Applicable | 9.1 | 9.2 | 9.1 | 9.4 | 9.2 |
| Online | Free | Not Applicable | 9.0 | 9.4 | 9.0 | 9.0 | 9.1 |
| Online | Free | Not Applicable | 9.0 | 9.0 | 9.1 | 9.0 | 9.5 |
| Online | Free | Not Applicable | 9.1 | 9.2 | 9.1 | 9.4 | 9.2 |
Part 3. FAQs about the Best Photo Enlarger
How to enlarge an image without losing quality?
As we have a great process of enlarging our photo, we can use AnyMP4 Image Upscaler Online to have an output that will not lose its quality. To make it, we need to follow these few steps. Selecting the Upload Your Picture button or dragging it into the drop zone allows you to upload an image you want to edit. Maximum magnifications for the image are 200%, 400%, 600%, and 800%. You will get a crisper vision the higher the percentage you receive. From that, please click the Save button to save the enhanced version of your photograph after viewing the cleaner version.
How to enlarge an image in Photoshop?
You can use Photoshop to make the process of enlarging your image possible. For that, we need to launch Photoshop and open your image. Then, check to resample in the Image Size dialog and choose Preserve Details from the appropriate dropdown option. Please ensure that 300 pixels per inch are selected as the Resolution. To enlarge your image, set the Width and Height to inches and make adjustments.
Which method is a high-quality scaling algorithm for enlarging images?
Photo editors and software experts discuss the high-quality scaling algorithm for enlarging our photo. After a huge discourse and discussion, they concluded that Techniques for Scaling Pixel Art (hqx) possesses a high-quality scaling algorithm compared with other tools. They result in razor-sharp edges and great levels of detail. With that =, we can now ensure a great and high-quality image with this media algorithm.
Conclusion
With this article, we can see seven amazing photo editing tools that we can use to enlarge our images easily. We can also notice that this tool possesses different features to help us achieve the process. For that, at this junction, it is our responsibility to choose whatever editing tools suit you. You can review the comparison chart again to help you decide to draw inspiration from the editor's choice above this article.
Did you find this helpful?
445 Votes
YES

Thanks for letting us know!
No

Thanks for letting us know!
AnyMP4 Video Converter Ultimate
All-in-one video converter, editor, enhancer upscaled with AI.