Professional-Wise EaseFab Video Converter Review: Ultimate Guide for the Users
Easefab Video Converter is jam-packed with features and offers. That is why numerous users find it fascinating. Indeed, this fantastic media file converter will enable you to experience an immense conversion process. However, many users still find it overwhelming to use. Thus, a review might help us understand some features that can benefit us. That is why this article will review EaseFab Video Converter. We will talk about its features, price, and more details. Hopefully, this review will help many users out there.

1. Our Verdict
If you are looking for a jam-packed media files converter, EaseFab Video Converter is the most suitable for you. This media software is doing great in offering the best user experience. Thus, it is a great converting tool for everyone. Learn more about it as we continue this review.
Pros

Smooth installing process.
A free trial is available.
It is worth every dollar.
It possesses an excellent program.
Simple, yet fast.
It produces quality outputs.
It equips extra features.
This software is a flexible tool.
Cons

The interface is a bit classy.
It may be a complicated converter for the new users.
There are some interruptions within the converting process.
Overall Ratings
EaseFab Video Converter offers a tremendous amount of features. All of these are indeed beneficial as we work with our media files. Thus, its features reflect how flexible it is for the users. In addition, it's fantastic speed in the process is a huge factor why many users love EaseFab Video Converter.
Features:9.3
Flexibility:9.1
Fast:9.2
2. What is an EaseFab Video Converter?
EaseFab Video Converter
Price: $22.95
Platforms: Windows and macOS
EaseFab Video Converter is one of the leading media file converters nowadays. This software is capable of providing different features. These features are here to help the user make their work more productive. In addition, many users also consider this as one of the most effective tools. On the other hand, it also offers an editing tool that is very easy to use yet powerful. For that, in this portion, we will talk more about the main features of the EaseFab Video Converter. There is more information to learn as we continue reading this review.
Main Features
Many users consider these media converting tools as one of the best. That is because of its features. This software will not be loved by many users without reason. More than 50 million users continuously trust and use this software without hesitations. In this portion, we will see the reasoning behind it by reviewing the main features of the EaseFab Video Converter. Take a look at the bullet forms below.
◆ Converter for 90X ultra-fast process.
◆ It supports multiple devices and platforms.
◆ Encoder with smooth edits.
◆ High-quality outputs.
◆ Video compressor.
◆ Resize videos.
◆ Customizable settings.
◆ Video or movie editor.
3. EaseFab Video Converter Review
Interface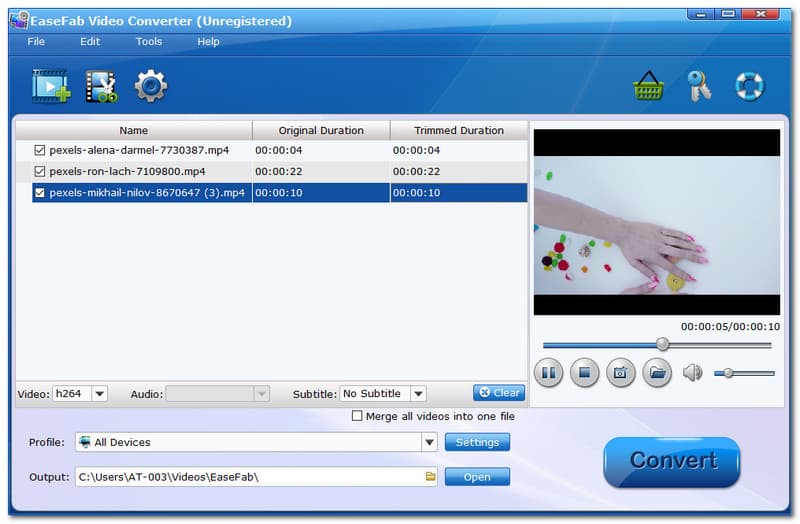 As we review its interface, we can see a classic vibe. The dominant blue color symbolizes the calm and straightforward process it can give. We can notice one more of the arrangements of the icons and buttons. Everything is nice. However, the user's reviews suggest a more modern style interface soon.
Supported Input and Output Formats
EaseFab Video Converter also supports huge media file formats. It is other than the fantastic features it offers. There are many reasons why people consider this one of the best ones. This portion will review its ability to provide massive support with the different media file formats. Please look at the list of the media file formats it supports.
Supported Input Formats:
MMV, MOD, MOV, 3G2, 3GP, 3GP2, 3GPP, AMV, ASF, AV1, AVCHD, AVI, AVS, BIK, DIV, DAT, DAV, DivX, DV, DVR-MS, EVO, ICod, M1V, M2P, F4V, FLV, G2M4, H.264/MPEG-4 AVC, H.265/HEVC, H1V, M2TS, M2V, MKV, OGV, PSS, PVA, QT, RM, RMVB, RPM, RT, SWF, M4A, M4B, M4P, M4R, MP3, M4A, MP2, MPA, WMA, AAC, AC3, MKA, OGG, AIFF, RA, RAM, WAV, APE, FLAC, AA, AAX TIVO, TOD, TP, TPR, TS, VOB, VP6, VP8, VP9, VPX, VRO, WebM, WM, WMP, WMV, WTV, XAVC-S, Xvid, WMV, YUV411, 3D, 360° VR videos, MP2V, MP4, MPE, MPEG, MPEG2, MPEG4, MPG, MPG4, MTS, MTV, MXF, NSV, OGM, and more.
Supported Output Formats:
MOV, MP4, WMV, AVI, M4V, MPEG-2, MPEG-2 NTSC, MPEG-2 PAL, MPEG-2 SECAM, DVD-Video NTSC, DVD-Video PAL, DVD-Video SECAM, DivX, MKV, DV, MPEG-1, VOB, 3GP, 3G2, ASF, MXF, MPEG-1 NTSC, MPEG-1 PAL, MPEG-1 SECAM, HD MKV, MOV (4K), HD MOV, HD WMV, HD MPEG2, HD AVI, HD TS, HD M2TS, HD MKV, MOV (4K), HD MOV, HD WMV, HD MPEG2, HD AVI, HD TS, HD M2TS, OGG, APE, MKA, AU, AIFF, FLAC, M4B, OGG, APE, MKA, AU, AIFF, FLAC, M4B, and more.
ProRes/DNxHD Support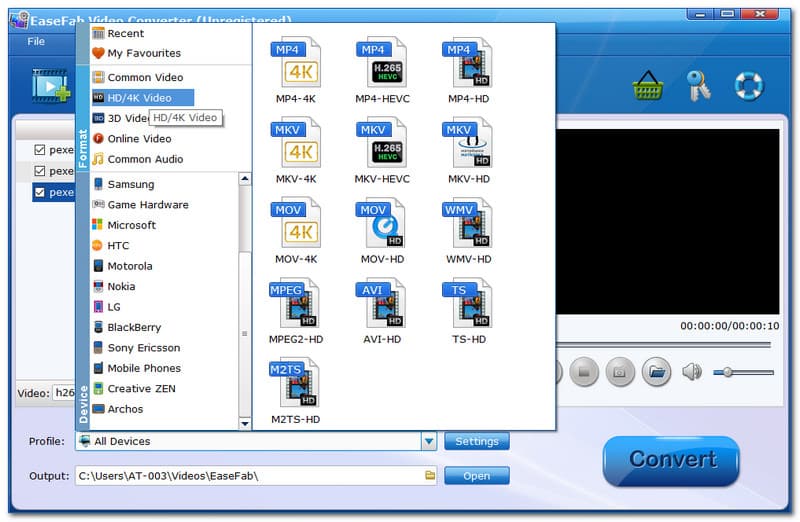 As we know, Aimersoft Video Converter has considerable compatibility with different devices. For that, converting your media files to any device is now possible with ease. That case will also alleviate the hindrances with the compatibility of your media files. Overall, this feature is an excellent help for immense video playback of our files.
Video Editor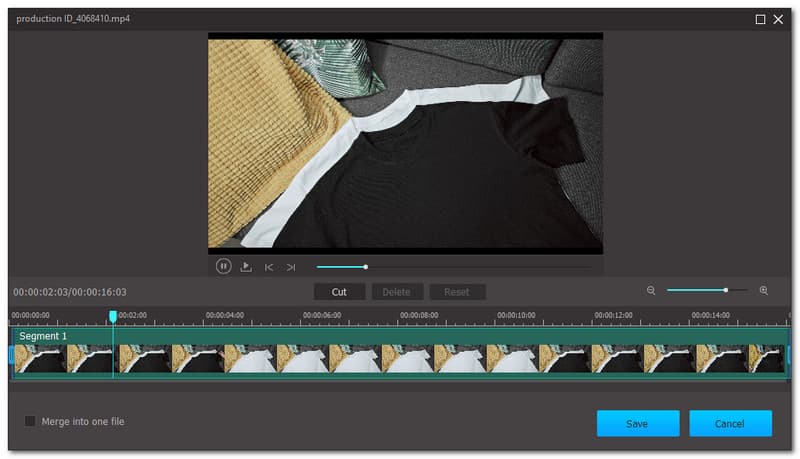 The support for ProRes/DNxHD of Easefab is a massive help in making the editing process simpler. These high-quality codecs will guarantee a quality and efficient process, especially with non-linear editing systems.
Edit Your Videos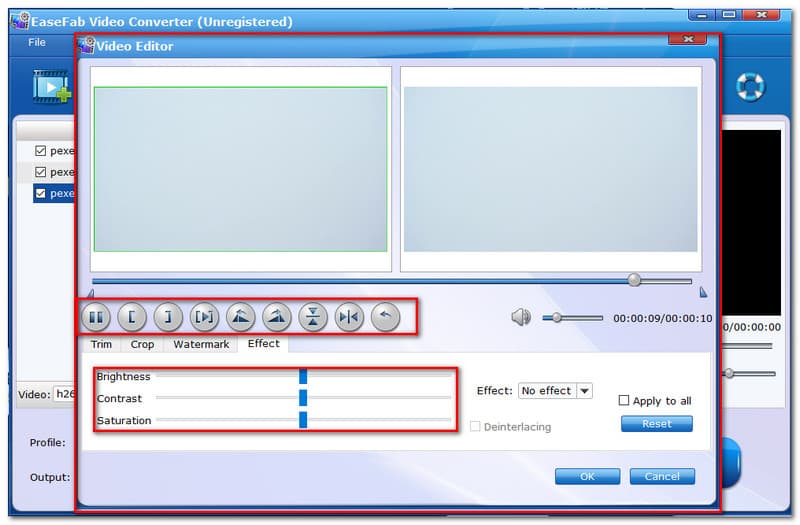 An editing feature is also available in addition to the beneficial components of EaseFab Video Converter. This feature will allow you to modify your video files without complications. That includes trim, crop, adjusting volume, and more.
Extended Features
We can now read tons of features of EaseFab above. But wait, there are more. Easefab also offers extended features that are still essential. These include the following:
Batch conversion: For an instant transformation of any media files concurrently.
Take a snapshot: For the crucial details on your screen.
Volume adjuster: For modifying the volume of your videos.
4. FAQ
Is EaseFab Video Converter safe with converting files?
Yes. The developer respects your privacy and safety. That is why all of your files and devices are secured. Indeed, an EaseFab Video Converter virus is not welcome here.
Does EaseFab Video Converter work correctly with Windows 10?
EaseFab Video Converter supports all the versions of Windows operating systems. That is why it will indeed work with your Windows 10 operating system.
Does EaseFab Video Converter support subtitles?
Fortunately, EaseFab Video Converter supports subtitles. These features will be a great help in making the speech understandable.
5. Best Alternative- Vidmore Video Converter
The best EaseFab Video Converter Alternative is here. This converter is a Vidmore Video Converter capable of offering fantastic features. It can convert and edit your media files without complications. For that, you can now grind more with Vidmore Video Converter.
Vidmore Video Converter
The most adaptable video converter with a simple process of conversion and editing.
It provides quick conversion of various media files.
The high-quality conversion process.
The broad compatibility of devices.
Edit video and audio files.
Batch conversion.
Compress and resize the video.
Conclusion
To end this review with a blast, we shall now say that EaseFab Video Converter for Mac and Windows is an excellent converter. The features it offers are proof of that. However, many users might find it overwhelming sometimes. That is why Vidmore Video Player is a savior, for it can also offer excellent functions. Overall, we can see different information about the converters. We hope it will help you with your itinerary. Would you please share this post to help those in need too?
Did you find this helpful?
378 Votes
YES

Thanks for letting us know!
No

Thanks for letting us know!
Top Video Audio Converter Review
Vidmore Converter
Your complete video toolbox to convert, edit and enhance video.