Incredible Leawo Video Converter Ultimate Review: Is it Worth to Invest
Various existing media converters offer tons of features nowadays. Hence, it is confusing for the users what software they will use. For that, we will review one of the excellent media converters in the market this time. We will review Leawo Video Converter Ultimate to know why it is the best. Let us discover why many users consider it efficient and effective software for everyone. This review will unveil different information, including its feature, function, pricing plan, and more. This post may be beneficial to understand what Leowo Video Converter Ultimate can do and offer for everyone. Let us read and discover the world of Leawo Video Converter Ultimate.
1. Our Verdict
The Leawo Video Converter Ultimate offers more than just a converter. It is rich in features and functions. Indeed, it is software that can help with media file work. It is practical and functional software for everyone.
Pros

User-friendly media software.
It has a clean interface.
Support for DVD and Blu-ray disc is available.
It supports various media file formats with over 180 files.
The software equips fast processing speed.
This software is compatible with tons of devices.
It allows you to edit your video files.
It also offers built-in preview features for any media files.
There are many choices for the version.
Cons

There is no support for a fantastic format like SWF and FLV.
The software lacks support files.
It is a bit confusing with supported formats.
The file size is not helpful.
Sometimes, it provides a slow process.
Overall Rating
Leawo Video Converter is a great software that will give you a smooth work process. That factor is excellent in making the software more efficient. Therefore, this software can now work effectively without complications. However, these are possible because Leawo Video Converter Ultimate offers various features to make our work instant.
Speed:9.0
Efficiency:9.1
Features:9.2
2. What is Leawo Video Converter Ultimate?
Leawo Video Converter Ultimate
Price: $119.95
Platform: Windows and macOS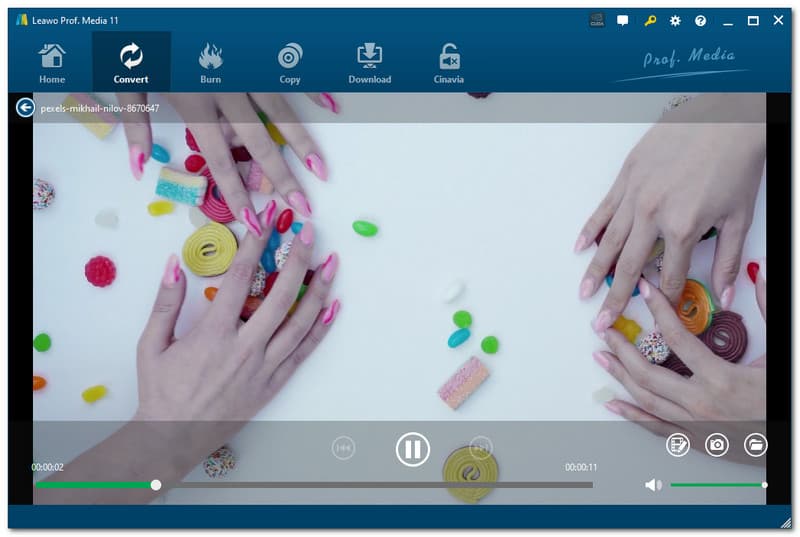 Leawo Video Converter Ultimate offers super easy steps to utilize. Many users consider this as one of the most hassle-free software. Through this tool, you can grind your media files professionally. Thus, it offers incredible features to make all of these possible. Some parts are the ripper, converter, burner, and more. In addition, its intuitive interface is a massive provider of smooth processes coming from this software. We will talk about all of this information in the later parts of this article. Just continue discovering.
Main Features
The Leawo Video Converter Ultimate offers various features that we can take advantage of at any time. We all know that it is one of the user's favorites. Thus, in this portion, we will see the reasons behind it. Here are the main features that the Leawo Video Converter Ultimate offers.
◆ Convert any media files in any format.
◆ It has a preview feature for watching movies.
◆ This software provides support for Blu-ray/DVD files.
◆ You can burn video/ISO into Blu-ray discs.
◆ It offers templates and menus for the process.
◆ It has a movie backup for high-quality DVD files.
◆ There are extra features like a slideshow for presentation.
◆ It supports 2D and 3D movie making.
◆ Easy customizations profiles parameters.
3. Leawo Video Converter Ultimate Review
Interface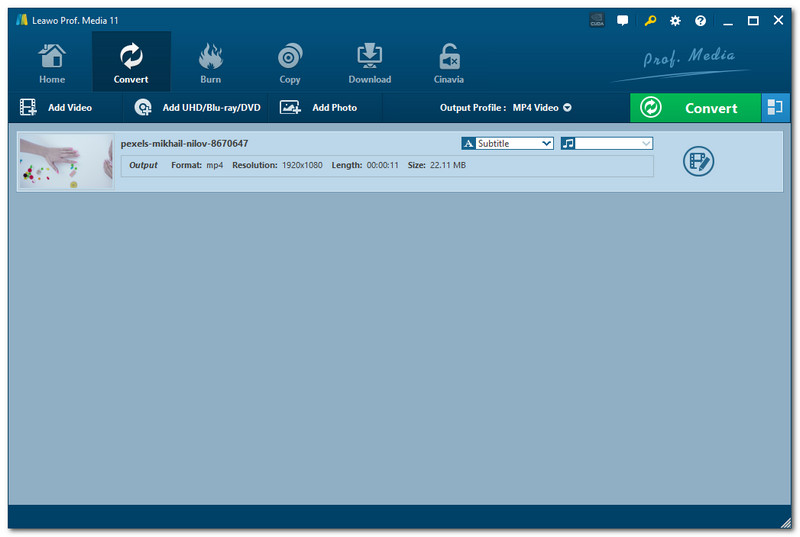 When using the Leawo Video Converter, we can see a straightforward and intuitive interface. All of the buttons and functions are in the right place. Thus, utilizing this software is easy even for new users. The fonts are readable, emphasizing some crucial keys of the media software. Overall, seeing the interface gives us a professional vibe.
Supported Input and Output Formats
The supported file formats of a media converter are necessary. It is one of the huge factors for software to make it effective and efficient. Fortunately, Leawo Video Converter Ultimate offers broad support in file formats. Hence, here is the list of the few supported input and output.
Supported Input and Output Files:
AVI, MP3, MP4, AAC, OGG, MPEG, M4A, WMV, FLV, 3GP, MKV, WMV, WAV, JPEG, PNG, DVD, Blu-ray, and more.
Slideshow Creator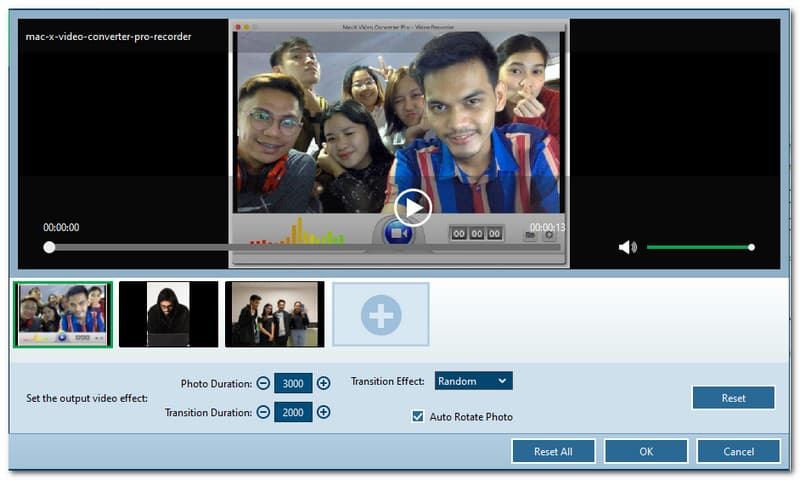 The slideshow creator offers different tools that will allow us to create our slideshow presentations. It is straightforward to use. Therefore, we can all expect no complications in utilizing it. In addition, this feature offers three main tools. These tools are a photo slideshow maker, burner, and editor. Thus, it is a feature that provides more features for us.
DVD Support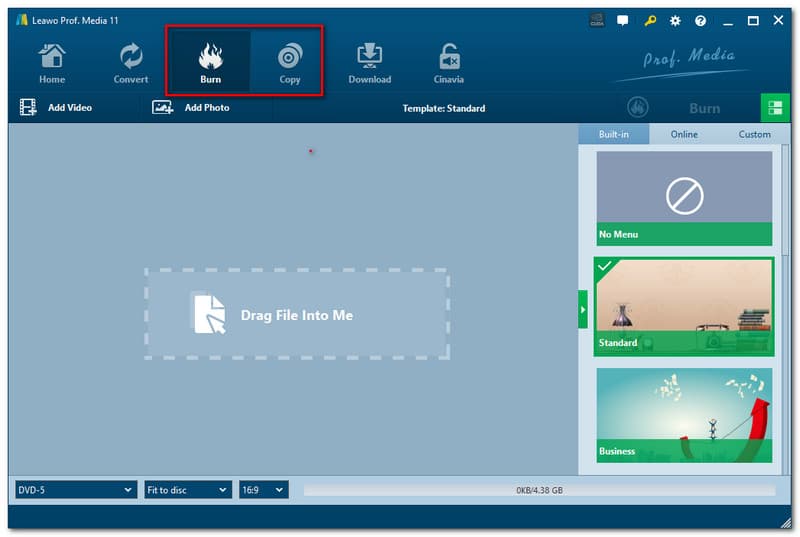 We all know Leawo Video Converter Ultimate is one of the professional media converters. For that, this software also has incredible DVD support. You may now convert DVDs into different video file formats through this software.
Extended Features
We all know how fantastic Leawo Video Converter ultimate offers. However, there are more features it can offer. That is why we will review more about its extended features in this part.
2D to 3D Movie Maker
These exciting features will allow you to get an immense experience of watching your video. That is possible via turning your 2D video into a 3D video. Luckily, this software offers 2D to 3D video converters. In addition, all of the settings to adjust your video effects are just easy.
Customization Media Files
The easy customization of media files is just hassle-free. This feature also offers practical basic editing features for your video files. It includes trim, crop, resize, adjusts effect, adds an image, and watermark. In addition, setting up your parameter setting is also easy to utilize as we provide high-quality output.
Movie Backups
This impressive Leawo Video Converter Ultimate feature enables users to save a copy and backup of your DVD videos quickly. Through this feature, losing your important video files will never occur. Furthermore, this tool under the Custom Mode includes subtitles and audio tracks. Also, it supports 1:1 disc to disc copy.
4. FAQ
Is Leawo Video Converter Ultimate safe?
Yes. Leawo Video Converter Ultimate offers excellent features and safe and secure services. That is also why users have trusted this software for a long time now.
Is Leawo Video Converter Ultimate best for new users?
Leawo Video Converter Ultimate belongs to the most friendly and simple-to-use software. For that reason, many users of this software suggest it even for the new users. We can say that this software is the best even for unskilled persons.
Is the Leawo Video Converter Ultimate Premium worth it?
As we know, Leawo Video Converter Ultimate for Mac and Windows offers different features. Thus, the premium version of this software is worth it. The premium version of this software allows us to fully control the elements and the setting of our media files.
5. Best Alternative- Vidmore Video Converter
Vidmore Video Converter is one of the great alternatives to Leawo Video Converter Ultimate. This media software offers impressive processing speed in converting and editing our files. Unlike Leawo, Vidmore player is one of the fastest and hassle-free media software we can utilize. Try to believe it.
Vidmore Video Player
Let us express a fantastic conversion process and enjoy many features with Vidmore Video Converter.
Fast conversion speed.
The batch conversion process.
Editing features.
You can compress large files.
Burn and rip DVD files.
Conclusion
The best media software comes with great features. Thus, Leawo Video Converter Ultimate belongs to that matter. What a blast is reviewing all of these converters fanatics' features and functions. Including the Vidmore Video Converter. Also, share this post to reach more users about the information of Leawo Video Converter Ultimate.
Did you find this helpful?
337 Votes
YES

Thanks for letting us know!
No

Thanks for letting us know!
Top Video Audio Converter Review
Vidmore Converter
Your complete video toolbox to convert, edit and enhance video.