Comprehensive Joyoshare Review: Know and Maximize its Features and Abilities
We have excellent media software to help you convert your media files fast and without quality. One of the fantastic pieces of software is the Joyoshare VidiKit. Its ability to offer the best features is one of the reasons why it remains impressive software. Thus, we need to know these fantastic offers through this review. In line with that, this post will expose the details about its ability to convert. In addition, we will also discover those extra features it possesses. For that, we shall now start the review of one of the best all-in-one media software.

1. Our Verdict
This software is the most powerful media software that fusses various features for the users. Joyoshare VidiKit is an all-in-one go-to solution for different aspects of our work. It has flexible functions that include a converter, video editor, compressor, and more. Moreover, it is a great media software for everyone.
Pros

It offers 60x faster conversion speed.
We can enjoy the built-in editor with ease.
You can convert many files simultaneously.
It provides DVD rippers.
It has broad support with high-resolution files.
Award-winning media software.
It is a professional tool.
Cons

It does not offer mobile versions.
The full version is expensive.
There may be lag that occurs sometimes.
Overall Ratings
Joyoshare is one of the popular software that offers flexible tools. Thus, doing a lot of work in this software is available with features that you can use at its full speed. In addition, all of the processes in this software are safe and can guarantee 100% security.
Flexibility:9.2
Speed:9.1
Safety:9.0
2. What is Joyoshare VidiKit?
Price: $19. 95
Platforms: Windows and macOS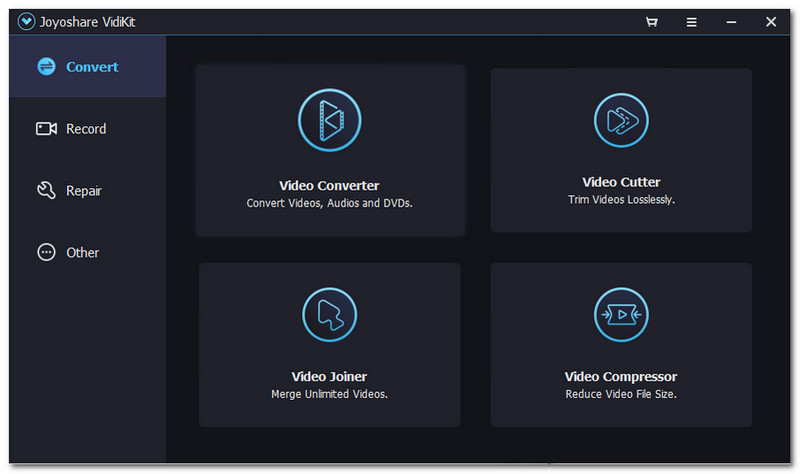 Joyoshare VidiKit is an extraordinary audio and video converter that offers various features. It is not just a converter but an all-in-one tool that can make our life work with ease. We will see how flexible it is in many aspects through its functions. For instance, cutting and merging your video files is now possible. This act will help you enhance your media files without complications.On the other hand, a powerful editor that includes repairing, adding watermarks, and support for subtitles is available. All of these are just an overview of this media software. There are still a lot of functions we should know. Dig deep as we continue this review.
Main Features
We all know that there are still features behind Joyoshare VidiKit. Hence, we will unveil these fantastic features that we can enjoy in this portion. These tools will undoubtedly help us do our work in a smooth process. To make it short, here are the main features of Joyoshere VidiKit that we deserve to utilize.
◆ Convert any media files.
◆ Video cutter.
◆ Video Joiner.
◆ Video Compressor.
◆ Audio and Video recorder.
◆ Video repair.
◆ Watermark wizard.
3. Joyoshare VidiKit Review
We shall now elaborate on this software's small and essential details. In this portion, we will see various definitions of the features of Joyoshare. To be specific, let us dig deep about its interface, supported file formats, and a few features like the screen recorder and video editor.
Interface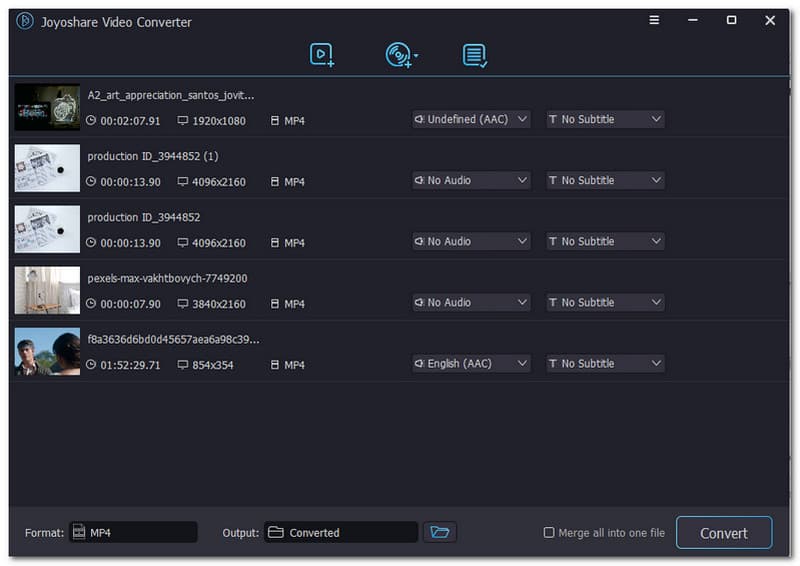 Elegance is one of the main highlights of the interface of Joyoshare VidiKit. As we can notice, the dark color with a bit of neon blue color brings a fantastic vibe, especially with users who love the aesthetic of their work. The interface of this software reflects how it is impressive in giving a professional process for the users. In addition, we would like to give credit for the font that provides good highlights of the information. Overall, the interface is excellent in many aspects.
Supported Input and Output Formats
In regards to Joyosahre VidiKit to support file formats, Joyoshare supports a broad media file format. That means we will not be having a problem in terms of compatibility. To be more specific, here are the supported media file format that we can include with your work.
Supported Input and Output Formats: M4V, MP4, AVI, MOV MPG, MPEG, MKV, WMV, RMVB, ASF, H.264, M4B, M4A, MP3, ISO, and more.
Record Screen and Audio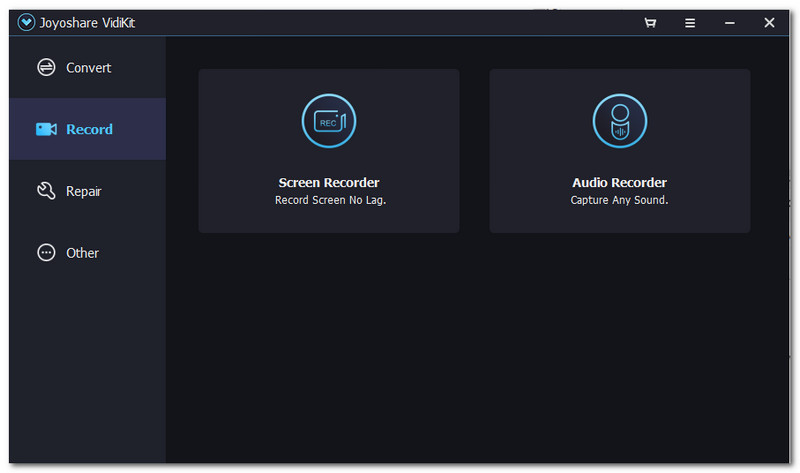 One of the unique features that Joyoshare VidiKit offers is the fantastic audio and video recorder. This feature quips the no lags process. Thus, recording your screen is now possible with sound included. It is one of the beneficial tools for us users. This feature brings the easy saving of essential information with our virtual meetings. In addition, this tool offers different modes of recording. The first one is the full-screen mode that includes entirely the visual on your desktop. However, customizing a partial is also available with the Customize mode. That is essential, especially for our privacy or for removing unnecessary stuff on the recording.
HEIC Converter
As we all know, HEIC is the High-Efficiency Images Format that enables users to compress items. This file is a compressed image, most commonly with Apple Devices. To put it in context, Joyoshare VidKit offers a converter that will allow you to convert HEIC into new formats like JPG and PNG.
Edit Videos
In addition, the editing tools of JoyoShare are also one of the best. Through the use of the editor, you may now adjust the size of your video. In addition, adding effects like brightness, contrast, saturation, and hue is easy to adjust. Furthermore, we can now add different frame styles for aesthetic purposes under the effect portion. On the other hand, your ownership matters too. This tool also allows you to customize your watermark. There are more tools that we can use.
Extended Features
Regarding the extended features, it also offers more than an ability. This software has a lot to offer in terms of advantages. To share these benefits we can enjoy, look at the list below.
◆ Easy process of conversion.
◆ Upgrade all you want free for a lifetime.
◆ 100% Secure.
◆ Multiple compatibility.
◆ Free tech support.
4. FAQ
What are the tools under its video editor of Joyoshare VidiKit?
To summarize, here are the tools under the editing tools of Joyoshare Video Converter: Trim, Rotation, Crop area size, Brightness, Contrast, Saturation, Video Effects, Frame, Watermark, Subtitle, Sound effects, and more.
Is Joyoshare VidiKit recommended for the new users?
Yes. It may be powerful software but still simple to use. Even the new users can enjoy it. As we all know, this software is user-friendly and easy to use.
Does Joyoshare VidiKit have its own media player?
Yes. You can locate it on the Others, and then you will have various functions where you can see the Media Player. This feature is a great help playing all the multiple files with smooth playback.
5. Best Alternative- Aiseesoft Video Converter Ultimate
If you think that Joyoshare VidiKit is too much of a hassle to use, we have the Aiseesoft Video Converter Ultimate to save you. This software is a great software that offers the most significant features that can exceed other software.

Aiseesoft Video Converter Ultimate
It is a rising software that can bring immense progress for the users. It is an all-in-one tool for an effective process for our media files.
Converter for any media files.
Invincible hardware accelerating technology.
Fastest conversion speed.
Smooth playback of media files.
Powerful editing functions.
Conclusion
Knowing all of the features and functions of Joyoshare, we can see how effective it can bring for us. However, many users may see that it is a hassle due to many parts. Thus, we have a fantastic alternative to it. The Aiseesoft Video Converter Ultimate offers a lot of features. In the end, we hope this post will help you with some aspects of your work. Share this so that we can help others too.
Did you find this helpful?
326 Votes
YES

Thanks for letting us know!
No

Thanks for letting us know!
Top Video Audio Converter Review
Aiseesoft Video Converter Ultimate
All-in-one video converter, editor, enhancer upscaled with AI.