Elcomsoft iOS Forensic Toolkit Review [2023]
Elcomsoft iOS Forensic Toolkit is one of the most popular forensic tools in the market. Excellent forensic software is important for government and law enforcement. How to securely access and extract the data in the iOS device without data loss is important to find important evidence. Today, this article will share a review of Elcomsoft iOS Forensic Toolkit. Read its details, and you will learn more about forensic software. Meanwhile, you will know why it is so popular. Now, keep exploring more from here.

1. Our Verdict
Pros

Support all iOS versions.
Quick access to the file system in 40 minutes.
The extracted data is under protection.
Cons

The price is a little high.
The operation process is complex.
Only be used by the government or law enforcement.
Customer Support:9.0
Features:9.6
Easy to use:9.0
2. What is Elcomsoft iOS Forensic Toolkit
Price: $1995/year
System Requirements: macOS 10.13 High Sierra or later, Windows 7/8/8.1/10/11
Compatible Devices: iPhone, iPad, iPod Touch, Apple TV, Apple Watch
Elcomsoft iOS Forensic Toolkit is a professional software. It can perform full file system and logical acquisition of Apple devices, including iPhone, iPad, and iPod Touch. It also can access the image device file system, extract device information (encryption keys, passwords, and protected files), and decrypt the file system image. Moreover, it can instantly access most information provided by devices.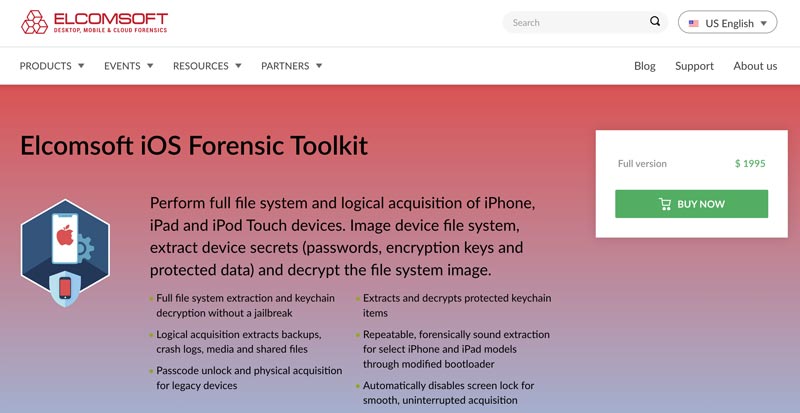 Main Features:
◆ Extract and decrypt protected keychain without a jailbreak.
◆ Extract backups, crash logs, and media files from iOS devices.
◆ Disables the screen lock for uninterrupted acquisition.
◆ Keep the devices' contents during the operation process.
3. Elcomsoft iOS Forensic Toolkit Review
What is Best for
Elcomsoft iOS Forensic Toolkit is one of the most professional computer forensic tools. It is well suited for criminal investigations and computer forensics. The most praised thing is its data extraction speed. Due to the stability and reliability of the software, it can extract data quickly and decrypt it efficiently.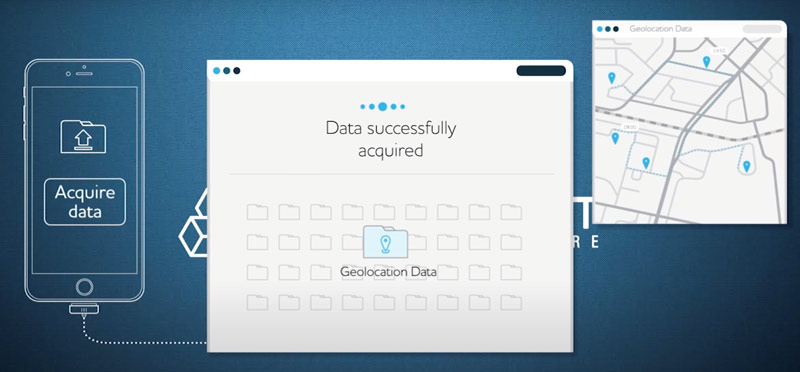 Legality of Use
Elcomsoft iOS Forensic Toolkit can be used by government and law enforcement. Moreover, the user must follow local laws and regulations and not use them arbitrarily. Meanwhile, general users' use of this tool may involve illegal forensics and invasion of privacy. Therefore, it should not be used by non-professional users.
Is It Easy to Use
The user interface of Elcomsoft iOS Forensic Toolkit is intuitive and easy to use. But it can be slightly complicated for non-expert users. And using it effectively requires technical knowledge of iOS device forensics. The toolkit offers extensive features for data extraction, decryption, and analysis. And it will ask users to stay updated with the latest iOS versions for compatibility.
How Does It Work
The operation process is complex for beginners. Please confirm that you have the right to use it. Here are some simple operating processes you can learn.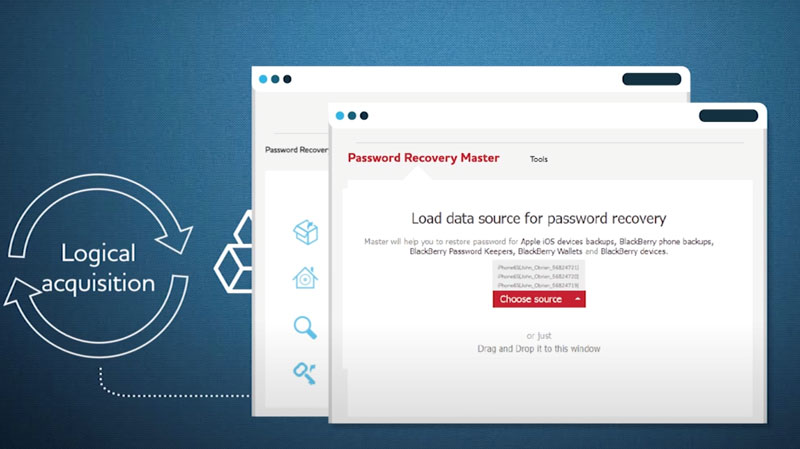 1.
Download Elcomsoft iOS Forensic Toolkit on your computer. Install and run it.
2.
Connect the iOS device you want to analyze to the computer using a USB cable.
3.
Unlock the iOS device to allow the forensic tool to access its data lawfully. It involves entering the device passcode or using other authorized methods.
4.
After unlocking, you can use the program to select the types of data you want to extract from the device. It can include messages, call logs, contacts, photos, videos, app data, and more.
5.
Initiate the data extraction process. Then, the program will extract the selected data from the iOS device. If the extracted data is encrypted, the program will assist in decrypting the data.
6.
Finally, you can analyze the extracted data for potential evidence. And you can prepare a comprehensive report detailing the actions taken and the data extracted.
It's essential to note that Elcomsoft iOS Forensic Toolkit is a specialized tool for professionals and law enforcement. And improper use can have legal and ethical consequences. Ensure you have the authorization and expertise before using such forensic tools.
Best Alternative for Home Use
If you simply need to unlock your iOS device, then Elcomsoft iOS Forensic Toolkit is not suitable for you. What you need to look for is a home-unlocking tool. Aiseesoft iPhone Unlocker is the best unlocking software for personal use. It is available on macOS and Windows 11/10/8/7. This software can help you to wipe the 4/6-digit passcode, Touch ID, and Face ID on an iOS device. It also can remove your MDM, Apple ID, and Screen Time.
Moreover, it can bypass the iCloud Activation Lock and iTunes backup password. Besides, the user-friendly interface is easy to use for beginners. If you need to unlock your iPhone, iPad, or iPod Touch, free download the tool now!
4. FAQs of Elcomsoft iOS Forensic Toolkit
Is Elcomsoft iOS Forensic Toolkit free?
No. The full Elcomsoft iOS Forensic Toolkit version is $1995 for one year. And it does not provide a free trial.
Can I use Elcomsoft iOS Forensic Toolkit to bypass the Activation Lock?
No. Elcomsoft iOS Forensic Toolkit is only available to Government and Law enforcement. If you want to unlock Activation Lock on your phone, try some best Activation Lock tools.
Will Elcomsoft iOS Forensic Toolkit delete data on iOS devices?
No. Elcomsoft iOS Forensic Toolkit only can extract and decrypt iOS data instead of deleting data.
Can you unlock an iPhone without a passcode?
Yes. If you forget the passcode, you can use some third-party tools to unlock your iPhone. And you can click here to learn how to unlock iPhone without passcode.
What is the iPhone Lock?
It mainly refers to the Screen Lock (Passcode or Touch ID/Face ID Lock) and SIM Lock (Carrier Lock or Network Lock).
Conclusion
Elcomsoft iOS Forensic Toolkit is a powerful and professional tool. After reading the article, you can know its features, advantages, disadvantages, and various performances. Certainly, the most important point is that it cannot be used for personal use to unlock iOS devices. If you have other questions about Elcomsoft iOS Forensic Toolkit, comment here now!
Did you find this helpful?
416 Votes
YES

Thanks for letting us know!
No

Thanks for letting us know!
Aiseesoft iPhone Unlocker
Get into locked iPhone iPad iPod without password or Apple ID.