Ultimate Review of iCloudin Tool [Free Download]
As we all know, iCloud activation lock is a safety feature designed by Apple. And it can protect your data when the iOS device is theft or lost. When you purchase a second-hand iOS device, what to do if you encounter the iCloud Activation Lock? When you take an old iOS device but forget the previous iCloud account or password, what to do if you want to use it again? Usually, a common way is to use an iCloud removal tool. And iCloudin is one of the effective iCloud bypass tools to unlock your iOS device.
Today, you will get a full review of the iCloudin tool. Keep reading this review. You will get its advantages, disadvantages, features, functionality, safety, and performance. Therefore, you can better decide if it is worth trying.

1. Our Verdict
Pros

It is 100% free to unlock iCloud.
It is safe and reliable to use.
It is easy to use with a few clicks.
Cons

It only runs on iOS 9 or earlier versions.
It is hard to find the download link.
The updates are very slow.
Interface:8.5
Features:9.0
Easy to use:8.6
2. What is iCloudin Tool
Price: Free
Platforms: Windows
iCloudin removal tool is a software designed to bypass the iCloud Activation Lock or delete the previous iCloud account on iOS devices. iCloudin Tool can allow you to regain access to your locked iOS devices again without the iCloud limitation. More importantly, the tool is designed to work with various iOS models running on a Windows computer.
Main Features:
◆ Bypass an iCloud Activation Lock.
◆ The interface is simple enough to make it one of the easiest tools.
◆ It is free, so you don't have to pay for this program.
3. iCloudin Tool Review
Interface and Design
iCloudin is a free and popular iCloud bypass tool. It attracts multiple users to use it to unlock iCloud Activation Lock.
However, when you access its official website, you will find that the main page has many annoying ads. And the design is not very intuitive. It is a little complex to find its download links for beginners. Moreover, the iClodin website mixes two languages that are hard to understand. More importantly, the software does not upgrade since 2019, so the interface is not user-friendly.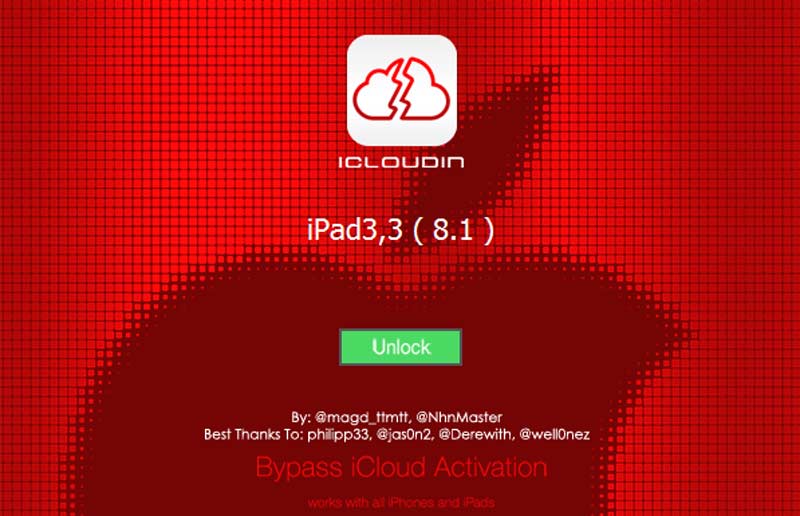 Easy to Use
You will find it easy to use if you have a free download iCloudin. The process of unlocking iCloud is very simple, in a few clicks. Since this software has a single function, users can quickly unlock iCloud without switching too many pages or looking for buttons. However, you need to wait for a moment until finished. And it may sometimes occur bugs or glitches.
Is iCloudin Real or Fake
Some users have reported that they are unable to use iCloudin to bypass iCloud Activation Lock, so they question whether the software is available. In fact, the answer is yes. It's just that many of the iCloudin online versions are obsolete. And the software cannot be compatible with the latest iOS version. Therefore, if you are using an iOS version that is not compatible, you can consider using another professional bypass tool. For example, you can try Aiseesoft iPhone Unlocker to bypass iCloud lock on various iOS versions, including the latest one.
Tips
iCloudin is only compatible with the iOS device running iOS 9 or earlier.
iCloud Experience
Some users have reported that they can use iCloudin software to unlock iCloud even if they have forgotten the iCloud account and password. However, some users have reported that they cannot unlock iOS devices with Activation Lock. For example, iCLouin cannot bypass the Activation Lock on iPhone X with the old iOS version. Excluding the iOS version incompatibility issue, iCLoudin has some unknown factors of being unable to unlock the device. It greatly reduces the user experience. If iCloudin can continue to update and resolve compatibility issues in the future, it must be the preferred option for most users to bypass iCloud.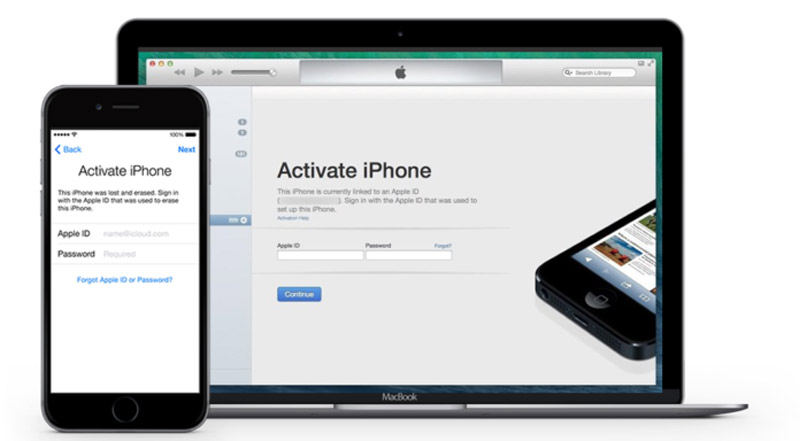 Is iCloudin Tool Safe
As one of the free iCloud bypass tools, iCloudin is safe to use. It does not cause your data breaches while bypassing iCloud Activation Lock. But you should download iCloudin for Windows from a reliable resource. Be cautious of downloading software from unfamiliar or untrustworthy websites. It can minimize the risk of a software virus. In addition, unlocking iCloud should be compliant with legal requirements.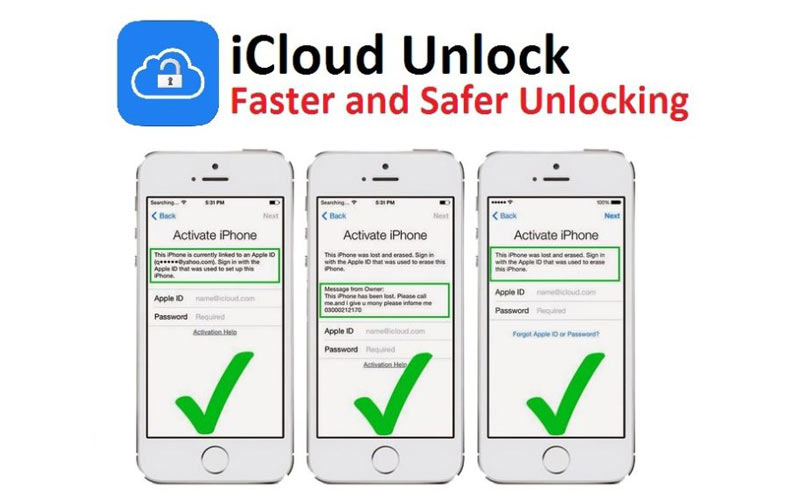 What is Best For
There are many very professional iCloud bypass tools on the market. But usually, you need to pay to use them. However,iCloudin is a free but reliable solution. It can unlock iCloud limitations on your old iOS device without any fees.
4. FAQs of iCloudin Tool
How to use iCloudin?
First, run iCloudin on Windows. Connect your iOS device to the computer. Second, run iTunes with the latest version. Third, follow the on-screen steps to unlock it. Finally, you can recess the device.
What is unlock Apple?
Unlock Apple means you can access the iOS device without limitations after unlocking. And it can remove the Apple ID (iCloud) account and password in a few minutes.
How to turn off Activation Lock?
To turn off Activation Lock, you should enter the Apple ID (iCloud) account and password. If you forget the Apple ID (iCloud) password, try a third-party tool to remove it.
Will a factory reset remove iCloud lock?
No. Performing a factory reset can erase all content and settings. But it cannot remove the iCloud Activation Lock on iPhone or iPad. After a factory reset, the iOS device will still prompt for the previous Apple ID and password.
Is it safe to bypass iCloud DNS?
No. DNS (Domain Name System) bypass involves redirecting device network traffic through alternate DNS servers to bypass the iCloud Activation Lock. However, it may expose your device's network traffic to potential interception, monitoring, or manipulation by unauthorized third parties.
Conclusion
In conclusion, this review presents an unbiased analysis of the iCloudin tool. We have examined its features and various performances. If you are using an older version of iOS on your device, then you can try this one of the best Activation Lock bypass tools. If you use an iOS device with the latest version, you had better find other bypass tools. Any questions about the iCloudin tool? Leave your comments below!
Did you find this helpful?
391 Votes
YES

Thanks for letting us know!
No

Thanks for letting us know!
Aiseesoft iPhone Unlocker
Get into locked iPhone iPad iPod without password or Apple ID.