iTunes Player Review: Discover One of The Popular Media Players
Anyone wants a perfect media player. Right? For that reason, do you want to find a media player that is perfect for audio and video playback? That is great! iTunes will provide it for you. Sounds good! As we review iTunes Player, we will grab an opportunity and let us find out what are the features and functions that iTunes Player can offer. Plus, let us know if it is user-friendly and easy to use. In addition to this, let us also know how much we need to spend and what plan it offers. Go on and take time to read this article.

1. Our Verdict
Pros

It has a music subscription service.
Provides smooth design.
It has a wide catalog of music and video.
Free download and easy to use.
It has a clean and simple interface.
High-quality music and videos download.
Outstanding iTunes Mini Player interface.
Internet radio with a large selection of genres.
It has iCloud integration.
Cons

Does not have a Web version of Apple Music.
Does not play WMA file formats.
Requires a large disk-space for media players.
The authorization limit can be a problem for people with many devices.
Overall Ratings
The interface is so good for the users because of its being simple and clean. For that reason, it is manageable and users will not put real effort into using it simply because it is so user-friendly. Plus, it is free! When it comes to playing music, it has a good quality that you will appreciate.
Easy to use:8.5
User-friendly:9.0
Smooth playback:9.0
2. What is iTunes Player?
It is a type of software that allows you to organize, add to, play your digital media collection on your computer, and sync it into a portable device. It is good and has the capability to connect on your smart TV, and for playing movies, podcasts, especially for playing songs. iTunes is almost complete with tools for media consumption.
Price
You can download iTunes for free and use it without a monthly fee. Yet users must purchase the music from the store so they will be able to listen to them. Nevertheless, the iTunes store has a free iTunes section for those people who are looking for free music or audio. In addition to this, you can also import music from CDs.
Platform
This software is suitable for Windows and especially for Apple users like Mac.
Main Features
| | |
| --- | --- |
| | iCloud Family Sharing. |
| | Streaming music. |
| | File-type conversion. |
| | Graphics. |
| | Burning and ripping CD's. |
| | Downloading files to a portable player. |
| | Auto Syncing. |
| | Smart Playlist. |
| | Internet radio. |
| | Audio-file playback. |
3. iTunes Player Review
The Interface (Ease to Use)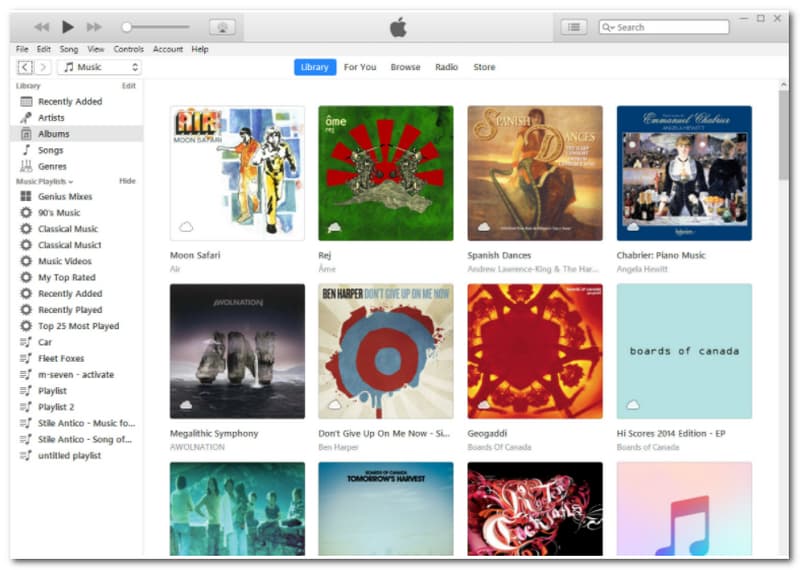 The best thing about iTunes is that regardless of a lot of changes with its update, its interface never stray much from its original design. The tools manage their white-colored interface. Also, it is pure and manageable when it comes to its functions. Repeatedly, it is user-friendly and anyone can use and work this software without delay. If you already make your purchase, it will instantly be added to your library by then, you can now organize by genre, artist, or album.
Price and Subscription Service
To fully access over 70 million ad-free songs, 100,000 TV shows, and above 5,000 audiobooks, purchase them separately or subscribe to the Music Store and download all in high-quality AAC files. The benefit you will get is your library is yours forever. Plus, you can access it to a maximum of 3 different computers, you can also transfer it to other devices, and burn files on your DVD unlimited times, too.
iTunes Podcasts Features
When it comes to Apple Podcasts, iTunes allows you to be able to listen to them on your iPad or iPhone. You also follow and unfollow Podcasts shows you like. Moreover, you can download Podcasts episodes, too. Plus it allows you to save Podcasts episodes. In addition to this, you also have an option to delete Podcasts episodes.
iTunes Sync Features
In terms of syncing, iTunes will recognize not only an iPod, iPad, or iPhone, but also, it will automatically download all content that you added to iTunes since the last sync. Take note, set it to manual mode if you don't want iTunes to sync everything. In addition to this, your iPod will upload to iTunes some new song ratings or playlists you created. However, if there's a song that is not in your iTunes library, it will disappear when you sync. Sadly, auto-sync "syncs" uncontrollably. If you do not want this to happen, just turn off the auto-sync.
Format Support
iTunes audio formats
AAC, AIFF, Apple Lossless, MP3, and WAV sound file formats and more.
iTunes video formats
MPEG-4, M4V, MOV, and MP4.
4. FAQ
Can I use iTunes for my MP33 player?
Well, iTunes serves as an audio player for your computer. Moreover, iTunes allows you to transfer files to your MP3 player. How? Using your USB cable comes mostly with MP3 players.
Can iTunes play videos?
Yes definitely, since it is also a media player. It means it can play both audio and video files. iTunes can also play movies, TV shows, and more.
How can I convert my music to MP3 in iTunes?
First, the import settings must be changed to use MP3 Encoder. After it was changed, you can now right-click on your selected song and click on Create MP3 version to convert it. Do not worry, it will only take a few seconds.
5. Best Alternative - AnyMP4 Blu-ray Player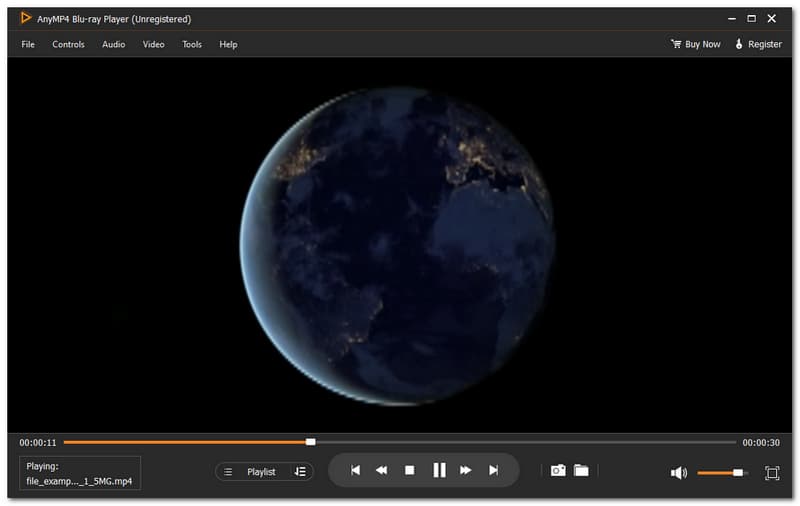 The best alternative for iTunes Player is AnyMP4 Blu-ray Player. What do you think is the reason? Well, this software plays 4K UHD, 1080p HD videos and music effortlessly. You can enjoy a clear and sharp playback of the audio files, and it brings you the best quality UHD and HD videos that iTunes does not mention. Aside from that, it is easy to control Blu-ray/DVD/Video playback, you have an option to select subtitles and audio track. Also, you can switch to full-screen mode, adjust the volume and more.
Conclusion
Therefore, we conclude that iTunes can provide great features and we become familiar with its functions. We also get the idea about iTunes subscription and on how to purchase it. To end, at the end of the day we will still choose what suits us and what is the best audio player for us. iTunes is a good choice, but if you don't want to use it. You may try AnyMP4 Blu-ray Player instead.
Did you find this helpful?
369 Votes
YES

Thanks for letting us know!
No

Thanks for letting us know!
AnyMP4 Blu-ray Player
Make Blu-ray, DVD, and video playback easier on computer.