Powerful PassFab Wifi Key Review: Find and Recover WiFi Password Instantly
Having troubles with our WiFi internet information can bring so many hindrances for us. It can affect our work that requires a fast internet connection. The worst scenario can take away our right to connect with our internet connection. What? Is that even possible? That is possible if issues like we tend to forget the passcode of our network. Maybe another problem, like someone is trying to access your network and change your network's password without your consent. Now, that is a big problem. However, it is not a problem because we have the most excellent software to protect and modify our WiFi network. It is exciting to introduce you to the PassFab WiFi Key. It is a great WiFi network analyzer and monitoring tool for a more safe and secured network. Let us know more about it by reviewing PassFab WiFi Key through this post. Learn how to find, recover, and view our WiFi password against devoid complications with PassFab WiFi Key.

1. Our Verdict
Pros

It possesses beneficial features.
The process is very safe.
It does demand so many system requirements.
It offers a free trial.
The software is malware-free.
Cons

There is not enough information about the pricing list.
Availability of ads exists.
Overall Rating
Features:9.5
Safety:9.6
User Experience:9.4
2. What is a PassFab WiFi Key?
PassFab WiFi Key
Price: Free
Platform: Windows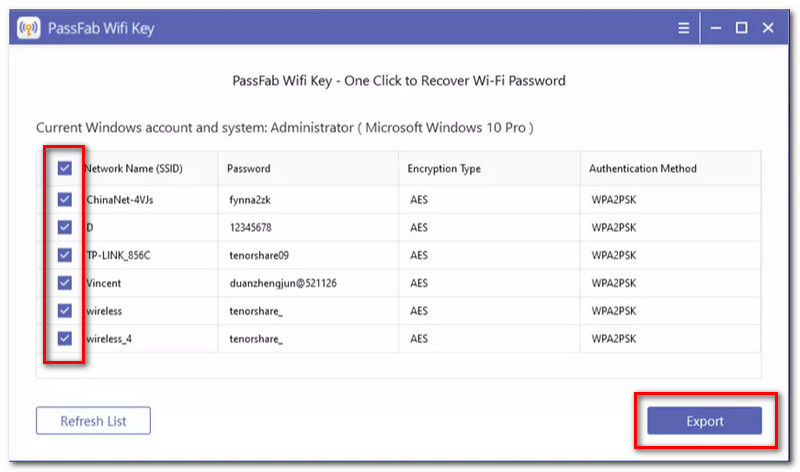 The most suitable software for easy monitoring and modifying all of the information of our WiFi network is nowhere. This software is the PassFab WiFi Key. It is new software from the great developer of the PassFab company. Their software has been existing and serving different users for one decade now. That means, within ten years, their services have improved and are still developing. That is why one of its tools is popular in the digital market nowadays. PassFab WiFi Key possesses many users due to its effectiveness in making our WiFi network safe and secured.
Furthermore, the software offers only basic features and the essential functions that most users need. Let us discover these features as we continue to review the software WiFi analyzer. We will have their definition and description to help us understand the very essence of every function of it.
Main Features
We all know that PassFab WiFi Key is a great WiFi Analyzer tool equipped with simple features. However, these simple features offer essential roles in making our WiFi network safe and secure. Kindly take a look at the main features it possesses to see where PassFab WiFi Key can bring you. In addition, we will thoroughly review all of these functions plus other information we need to bear in mind. We only need to proceed with the next part of this review.
◆ WiFi network password recovery
◆ Wireless network finder.
◆ Exporter of saved WiFi password.
◆ Wireless network security detector.
3. PassFab Wifi Key Review
Interface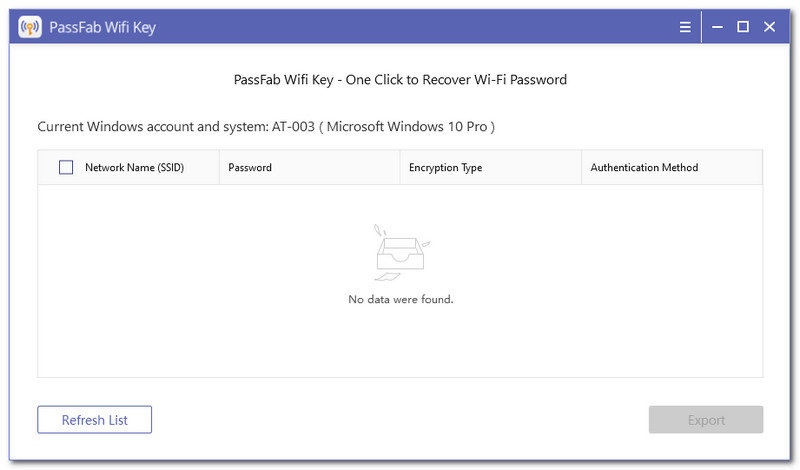 Let us start reviewing its interface to know more about PassFab WiFi Key. This software is one of the unique WiFi analyzers in the market. That is because it possesses graphic elements in its interface. We all know that primarily, WiFi analyzers are in codes and command style, which can be overwhelming with other people. Therefore, this fantastic interface of PassFab WiFi Key is a massive factor in why many users constantly have to choose PassFab WiFi Key among other software. Overall, we can say this element is also one of the reasons why it is famous as one of the rising and leading software for our WiFi networks.
Recovering WiFi Password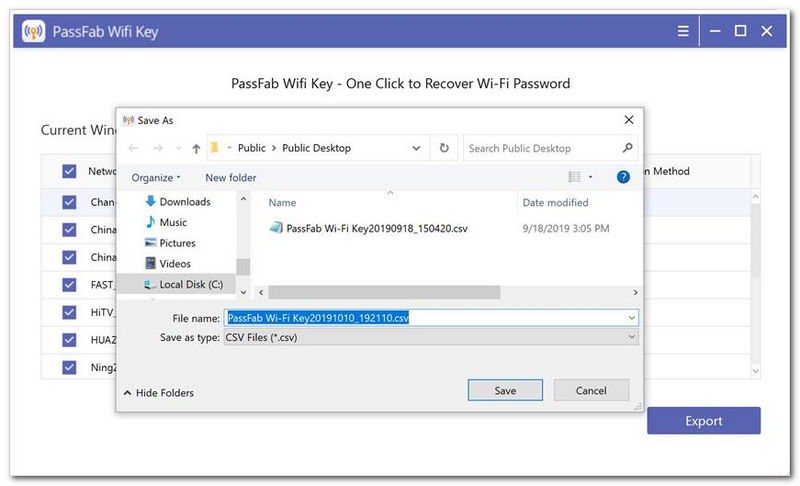 In terms of its main features, one of the reasons that users want this software. As we know, losing our WiFi password is a hassle to experience. This problem may occur when we forget our password due to the complications with characters and upper and lower case combinations. In line with that, PassFab WiFi Key's main feature is to help us in recovering the WiFi password we messed up. Therefore, many users have an instant process of recovering their WiFi password because of the WiFi Key.
Finding WiFi Networks and Passwords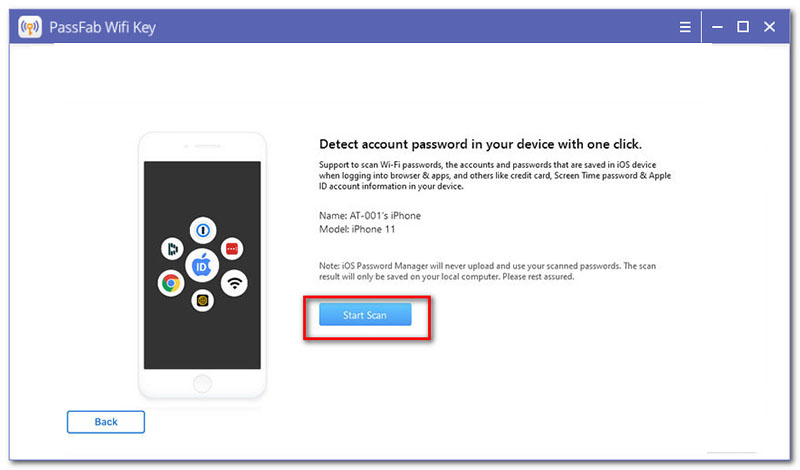 On the other hand, the PassFab WiFI Key can also serve as the best WiFi finder. It is a great tool that we can use to find different networks and passwords. It is applicable and beneficial, especially when our WiFi network is accidentally hidden. Through the use of the PassFab WiFi Key, we can now easily find our lost WiFi internet connection without complications. Finding our networks also comes with finding the password of your network. This process could be possible if we click the scan button on the interface. After that, we only need to wait for a few minutes then your networks will now appear.
Viewing WiFi Information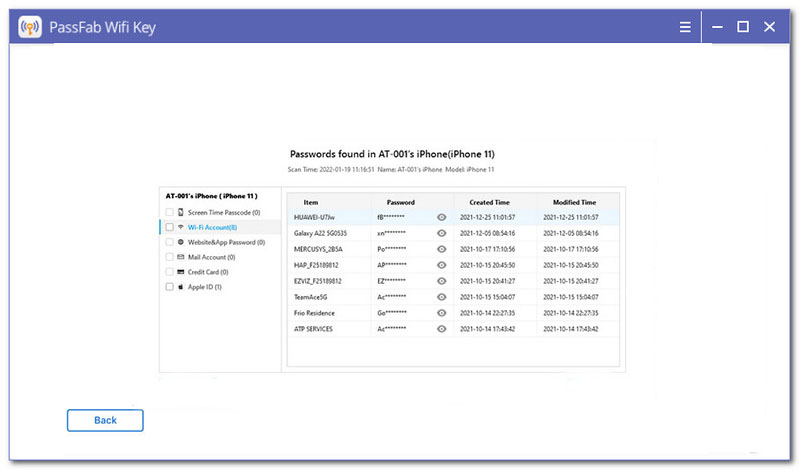 Another beneficial feature we can enjoy with PassFab WiFi Key is its ability to find and view the information of our WiFi network. That includes the SSID, IP address, Mac address, and even its password. This feature would be beneficial, especially for the user who lost access to the administrator of their WiFi network. Therefore, the PassFab WiFi Key is one of the most flexible tools we can use in monitoring and analyzing our WiFi information even without accessing the Admin login. We may now say no to the time-consuming process with the unique PassFab WiFi Key.
Safety
We shall now proceed to talk to its safety. We already know that the PassFab WiFi Key uses graphical elements in its interface. That means it is safer to use than the software that uses more codecs and commands components to carry different bugs and malicious malware. Also, the developers of PassFab company's goal is to give excellent service to its users. That is why we can guarantee a safe analysis and monitoring of our WiFi network with PassFab WiFi Key.
What is Best for you?
There is numerous WiFi analyzing software in the market. These tools possess different characteristics. However, the PassFab WiFi key is still leading due to its offering concise and comprehensive processes for its users. That is why many users define this software as unique and leading compared with other tools.
4. FAQ about PassFab WiFi Key Review
Does PassFab Wifi Key support the Mac operating system?
PassFab WiFi Key does not support macOS. It only supports Windows operating systems. However, we can use PassFab iOS Password Manager as the great alternative to it with our Mac operating system devices or iPhone devices.
May I export my WiFi Network information with PassFab WiFi Key?
Yes. Exporting our data from the WiFi network is possible with PassFab WiFi Key. That is one of the main features of PassFab that we can enjoy. We only need to find WiFi networks, and an Export button will appear on the interface.
Is PassFab WiFi Key applicable for Android?
It is kind of applicable for Android devices. However, we need to connect the Android device to our computer to scan all of the information we need via Android devices.
Conclusion
We are glad to meet PassFab WiFi Key, one of the excellent software for fixing the problem with our WiFi networks. Now, we know how viewing our forgotten or stolen WiFi passcode is possible. With PassFab WiFi Key, analyzing and monitoring our WiFi network information becomes more accessible and better. Does this post help? Please share it now so that many users know how incredibly ten software works without an internet connection. You can also visit our website for more learning and information.
Did you find this helpful?
175 Votes
YES

Thanks for letting us know!
No

Thanks for letting us know!
Best WiFi Password Finder