Most Detailed InSSIDer Review for Analyzing a Slow Internet WiFi Network
A prolonged internet connection can bring numerous problems. An internet connection is an essential element that we need in making our work productive. However, having a lot of users who are connected with your network. The distribution of the Megabytes is less due to the many users of your internet. Therefore, we need to do something about it if that is the case. Now, the great question is, how can we make it possible? Do not worry because we have great software for that problem. In this post, we will review the great InSSIDer. This article includes reviewing its ability to alleviate a slow internet connection. In addition, we will also see how it is an effective tool that we can use for analyzing our WiFi network. Thus, we shall now review all of the features we can enjoy with this slow WiFi defeater without further discussion.

1. Our Verdict
Let us start this review by having a verdict coming from the experience of different users of InSSIDer. Please take a look at the pros, cons, and overall rating based on the experiences. This part may define our generalization in terms of InSSIDer software.
Pros

All the programs are high-performance.
Possess a tremendous signal rate.
It provides legit information about your WiFi Network.
The updates occur often.
Cons

Some bugs occur with the latest version.
The Metageek InSSIDer plus is not free.
It lacks advanced features.
Overall Rating
InSSIDer possesses nervous features that are beneficial for all of us. Although it does not include super-advanced features like other software, all of the features it offers are effective and easy to use. On the other hand, all of these features come with a very safe program to get malware-free processes. Thus, these features and details are a huge factor in having a great user experience. Overall, the software is impressive in giving services to all the users.
Features:9.2
Safety:9.1
User Experience:9.3
2. What is InSSIDer?
InSSIDer
Price: Free
Platform: Windows, macOS, Android, and iOS.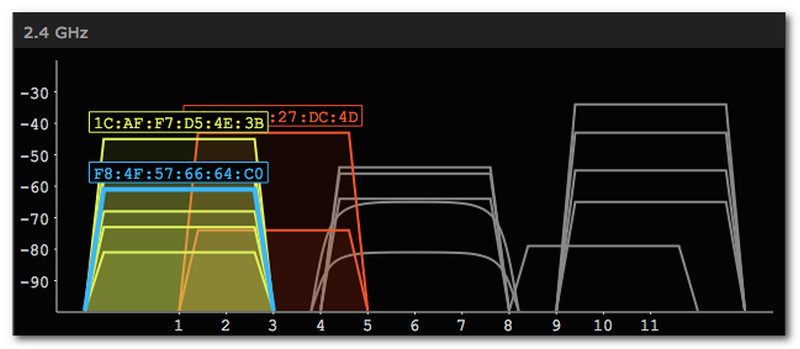 InSSIDer is a great tool that can eradicate all of the issues with WiFi networks. It is software that is an essential tool that we can use in understanding every detail of our WiFi network. We can use InSSSIDer with Mac, Android, and iOS. That means monitoring and analyzing our internet network is now possible with different devices you are currently using. As an overview, InSSIDer poses very simple yet powerful features that even novice users can use without complications. In this part, we provide a list of its main features that we can enjoy with this software.
Main Features
Here is the list of the main features of InSSIDer. These features come with straightforward steps yet are practical with our work. In addition, we will elaborate what the essence of each component for all the users is. We will get to know more of their details and descriptions.
◆ WiFi Network Visualization.
◆ Analyze WiFi Network.
◆ InSSIDer Filters.
◆ InSSIDer Color.
◆ ImprovingWiFi Network Security and Speed.
3. InSSIDer Review
WiFi Network Visualization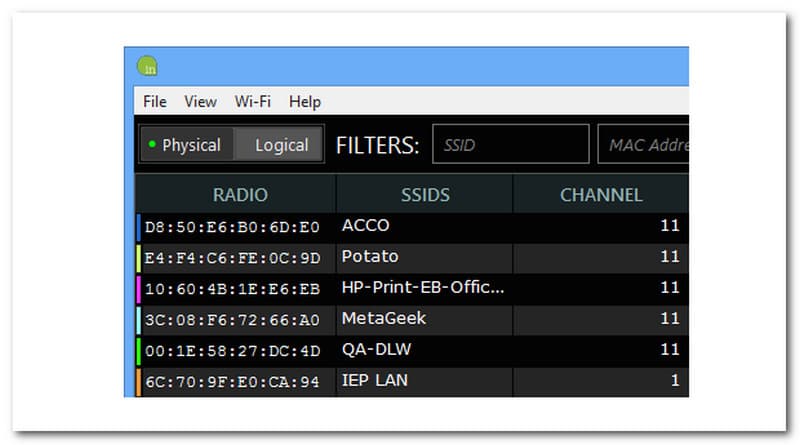 InSSIDer is famous as one of the best visualizing WiFi tools. This software will enable you to comprehend how internet networks are working efficiently. In addition, it can also help you see and visualize how the other's WiFi network interacts with your network. On the other hand, one of the primary purposes of InSSIDer is to give us the ability to visualize our WiFi network information. That is why we can now see details such as channel and signal strength of the network through the use of this software.
Analyze WiFi Network
Another detail we need to know about InSSIDer is that it is not only for viewing all of the information but also for analyzing all of it. This software is suitable for analyzing every detail of the configuration of our WiFi network. This feature includes modifying channel settings, signal strength, and the effect of your neighboring WiFi connection.
InSSIDer Filters

InSSIDer filters are one of the fantastic elements that this software possesses. Using this function, we can filter what the SSID, MAC Address, Channel settings, and Network strength is. These details are essential that we should know about our WiFi network. On the other side, customization of this information is also possible by clicking the X beside the filter text.
InSSIDer Colors

Symbols, particularly colors, are a fantastic element that we can use to represent something. InSSIDer color-codes every network. This color scheme is consistent. To understand these different colors, here are the meanings of each one of them.
Rainbow: Unselected networks without grouping applied.
White: Radio selected within an ESSID group.
Blue: Radio group or ESSID group selected.
Gray: Unselected network.
Yellow: Sharing of the channel from the other network.
ImprovingWiFi Network Security and Speed
The great thing about InSSiDer is its ability to develop the settings of your WiFi Network. Through this software, you can make some changes in improving our WiFi network. It is an essential feature because our network requires configuration and modification for security purposes.
Extra Features
We can now see outstanding features from InSSIDer. However, there are more functions that we can enjoy with this fantastic software. Here are the top three extra features we can enjoy besides the functions above.
◆ InSSIDer adapter detectors.
◆ Local Network Scanner.
◆ Seeing WiFi network information.
Is InSSIDer Safe to Use?
Many users do not have any reports about unwanted malicious malware coming from the software. That is because the developers make sure that all of the programs and hardware they provide are safe and effective. For that, we guarantee you that InSSIDer is safe to use.
What is Best For You?
There might be a lot of software that can help us manage, troubleshoot, and visualize our WiFi network. However, InSSIDer is still the best due to its effectiveness. If we have InSSIDer vs. NetSpot, we will see how they are a bit similar, yet in terms of performance, InSSIDer may win.
4. FAQ about InSSIDer Review
What does it mean by InSSIDer EXE mean?
InSSIDer EXE is just the same as InSSIDer. It is software that shows all the details and information we need to know with our WiFi Internet access points. This feature includes showing the channel width, InSSIDer signal strength, and generation of the WiFi. Maximum rate, and the WiFi network security too.
What can a WiFi network channel be detected by inSSIDer?
One of the fantastic features of InSSIDer is its ability to color-code every network and group of networks. Thus, InSSIDer can detect even the Channels 1-14, usually with a 2.4 GHz frequency range. Also, Channel 36-165 has a 5GHz frequency range.
What is the Max rate in InSSIDer?
The max rate of InSSIDer is 802.11b network. That is equivalent to 2 or 11 Mbps. It is essential to bear in mind this information because we experience troubles when we exceed the max rate of the software.
What is the vendor's access point in InSSIDer?
InSSIDer, as a free Wi-Fi scanner that can track the SSID, security, and other settings of nearby access points. It can display the hardware vendor of access. But it does not indicate the data rate of your connection.
How to download InSSIDer?
To download InSSIDer, you just need to visit this page: https://www.metageek.com/downloads/, then click the download button to download and install this tool on your Windows or Mac computer. After that, you will need to create a free MetaGeek account to log in to all MetaGeek services, including insider.
5. Best Alternative- PassFab WiFi Key
PassFab WiFi Key
Price: Free
Platform: Windows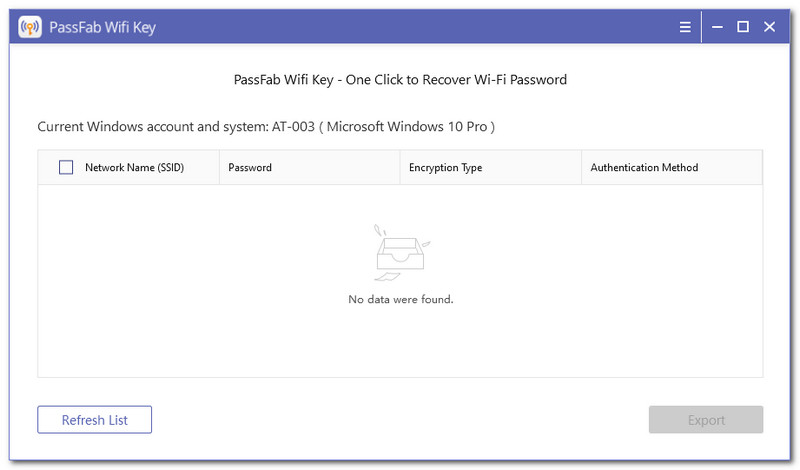 InSSIDer possesses some of the most fascinating and useful features that we can use with our WiFi network. However, a software alternative is still necessary due to the few reasons we may encounter while using it. In connection with that, we will introduce you to the PassFab WiFi Key. This great software offers numerous features for modifying and monitoring our WiFi network with ease. It is a great tool that we can use for alleviating a slow internet connection by monitoring who is using your internet.
Furthermore, one of the valuable features we can enjoy is its ability to recover a lost or forgotten WiFi password without any complications. That is a fantastic feature that can be beneficial for all of us. Moreover, there are more features we can get from PassFab WiFi Key. Please look below for more features we can get with this software.
Main Features
◆ WiFi Passcode recovery.
◆ WiFi network finder.
◆ Easy exporting WiFi passwords and details.
◆ The detector of Wireless Network security.
Conclusion
As we can see, all of these features from InSSIDer have a tremendous impact on all users. We hope this article helps us in preventing a prolonged internet connection. That is just possible using great software like InSSIDer. This post unveils how InSSIDer can help with a lot of aspects. It includes analyzing and improving our WiFi security, and it can even affect the internet connection speed. We hope all of the details can help you understand why InSSIDer is such outstanding software. Please see our website for more beneficial articles.
Did you find this helpful?
267 Votes
YES

Thanks for letting us know!
No

Thanks for letting us know!
Best WiFi Password Finder