TopSevenReviews Recommends a Reliable Blu-ray Creator - A Review with Steps
We thought Blu-ray discs were out of the line because of modern technology. However, Blu-ray discs are still popular; many people use them and play them on their Blu-ray player. If you are a millennial or a modern generation, you can still try to use the Blu-ray disc. In this article, we will guide how you can turn your video into a Blu-ray disc to play it on your Blu-ray player using a Blu-ray Creator. Not only that, there is a lot more. Continue reading this review and HowTo article now.
Part 1: How to Choose a Blu-ray Creator
Before using or purchasing software, we need to consider things. This part will share some points to help you choose the best Blu-ray Creator. Please see the suggestions below:
Burning Speed
When choosing a Blu-ray Creator, burning speed is one must consider. Every Blu-ray Creator has a burning speed, but it depends on how slow or fast the burning speed of the software is. That is why we are here to explain to you how important it is to consider the burning speed.
The Blu-ray Creator has a fast burning speed. The best part of having a fast-burning speed is even if you are burning multiple videos at all once, there will be no problem because of the fast-burning speed. Again, we remind you to choose a Blu-ray Creator with a fast burning speed.
Supported File Formats
Is it a must to consider the supported file formats of a Blu-ray Creator? The answer is yes. Upon choosing a Blu-ray Creator, you need to know its supported file formats. The more it offers numerous file formats, the better.
The Blu-ray Creator that we use supports countless file formats such as TS, M2TS, MPG, MPEG, TP, TRP, M4V, MP4, VOB, WMV, MXF, and so on. With almost all the file formats, Blu-ray Creator is a significant advantage for every user.
Moreover, it is also essential to read an article about Blu-ray Creator before purchasing it and find all its file formats.
Price
Sometimes users want to use a free Blu-ray Creator, and there is nothing wrong with that. However, you must ensure that a free product's quality is good. Based on our experience as a user, most free software does not spend so much quality on it. You are lucky enough if you can find free Blu-ray burning software with fully packed features.
Therefore, do not settle for less. When you want to buy a Blu-ray Creator, invest in good quality yet affordable software. We are using a Blu-ray Creator, which costs $20.00 for a monthly license, $31.96 for a lifetime license, and $47.20 for a Pro version with a lifetime license. Your money is worth it because it will give you many offers that exceed your expectations.
Furthermore, be wise enough to spend your money on excellent software. Another tip, if you will use software for the long term, choose affordable software, yet it will still be reliable for a lifetime.
Part 2: TopSevenReviews Recommended Blu-ray Creator Review
Blu-ray Creator lets you create a Blu-ray disc, Blu-ray Folder, and ISO Folder using any video. On the bottom part, we will review Blu-ray Creator and be knowledgeable about its details.
Pros

It has an excellent user interface.
It is easy to use.
It is 100% clean, safe, and bug-free.
It is affordable.
It has a 30-day money-back guarantee.
It lets you try it for free.
It offers a free lifetime upgrade.
It also provides customer support.
It offers a free lifetime upgrade.
Cons

It has limitations in the free version.
Interface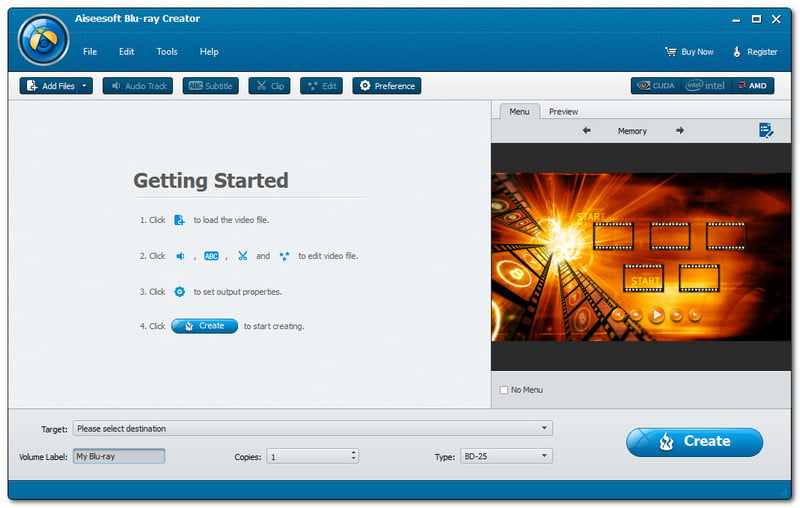 The interface is what you see on the software when you launch it. On the screenshot we provide, you can see the interface of Blu-ray Creator. It may look not easy to use, but it is not. It has blue and light gray color.
In addition, it looks like vintage software, which is why Blu-ray Creator is unique. You can see the File, Edit, Tools, and Help on the upper left. Below it, you will also see the Add Files, Audio Track, Subtitle, Clip, Edit, and Preference.
In the right middle part, Blu-ray Creator provides a Menu and Preview where you can change the Template and view your file. Then, on the bottom, you will notice the Target, Volume Label, Copies, Type, and Create button.
Overall, anyone can use the Blu-ray Creator, which is not difficult. You can use this Blu-ray Creator effectively if you are a beginner or professional user.
Main Features
This part will show you all the features you can enjoy, especially if you purchase the Blu-ray Creator. Please see the features below:
◆ It can create a Blu-ray disc using your video.
◆ It can burn video to a Blu-ray folder and ISO file.
◆ It lets you edit your video and add audio and subtitles.
◆ It supports many file formats.
◆ It can customize audio tracks, subtitles, and menus.
◆ It also lets you touch up your video with your desire.
◆ It has a batch conversion.
◆ It has Preview.
◆ It can take snapshots.
◆ It can add a personal menu.
◆ It can customize your profile settings.
Part 3: How to Use Blu-ray Creator
Blu-ray Creator is the best Blu-ray burning software, and it is a perfect software that can help you create a Blu-ray disc, Blu-ray folder, and ISO folder. Please extend your patience because we will show you instructions on how to use Blu-ray Creator and more.
1.
After downloading and installing Blu-ray Creator on your PC, open the software, and the interface will automatically appear.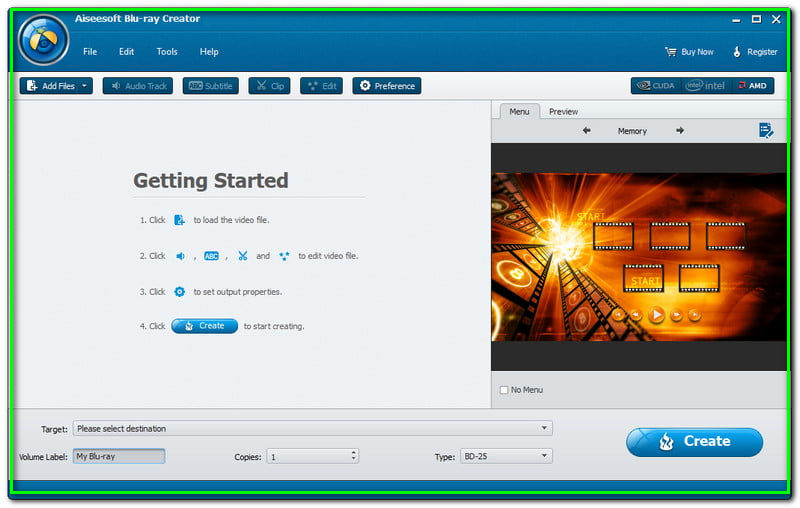 2.
On the upper right, you will see these options; Add Files, Audio Track, Subtitle, Clip, Edt, and Preference. Choose the Add Files and click it.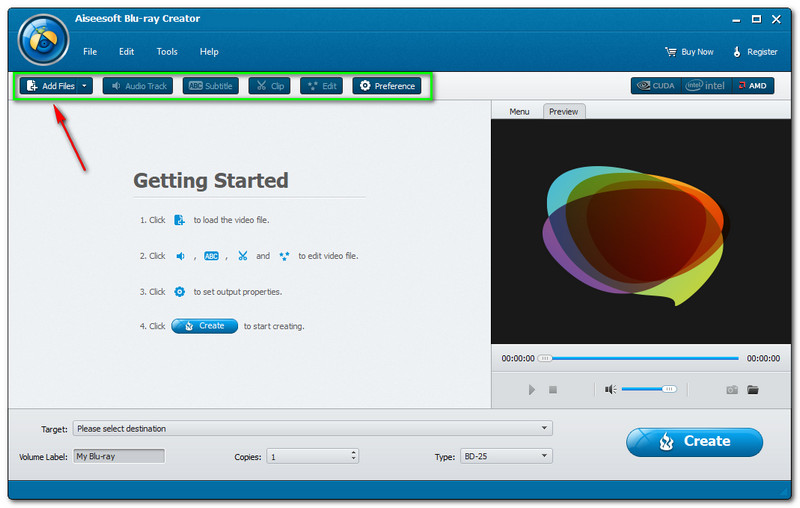 3.
A folder from File Explorer will appear once you click the Add Files. You must select the video you want to create a Blu-ray disc. After that, you will see your video on the main interface.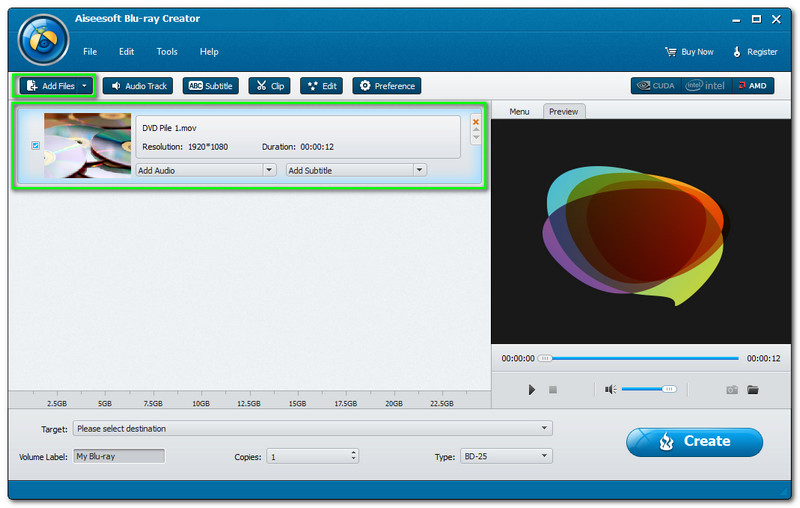 4.
On the right side, there is an available Preview, click the Play icon, and you will start viewing your video. It also provides player control such as Play, Stop, and Mute. Next to them are Snapshot of the original file and Open Snapshot Folder.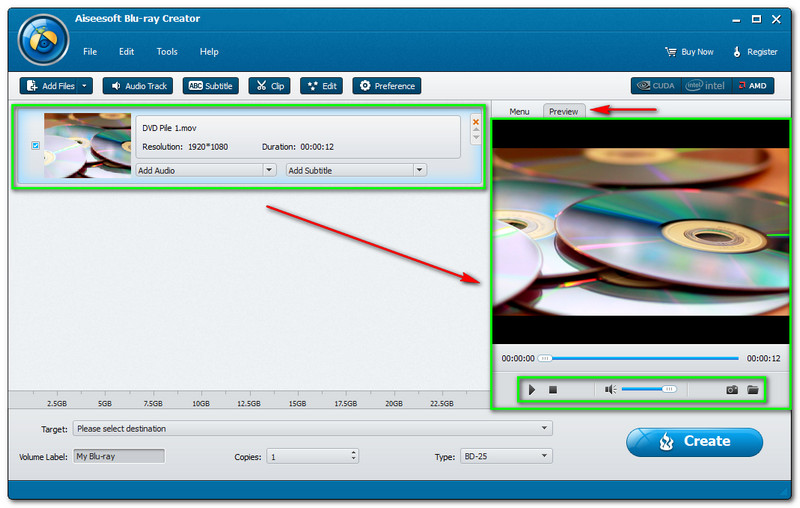 5.
On the bottom left corner, look for the Target and select a destination of your output file. Have two options; Save as Blu-ray Folder and Save as ISO Folder.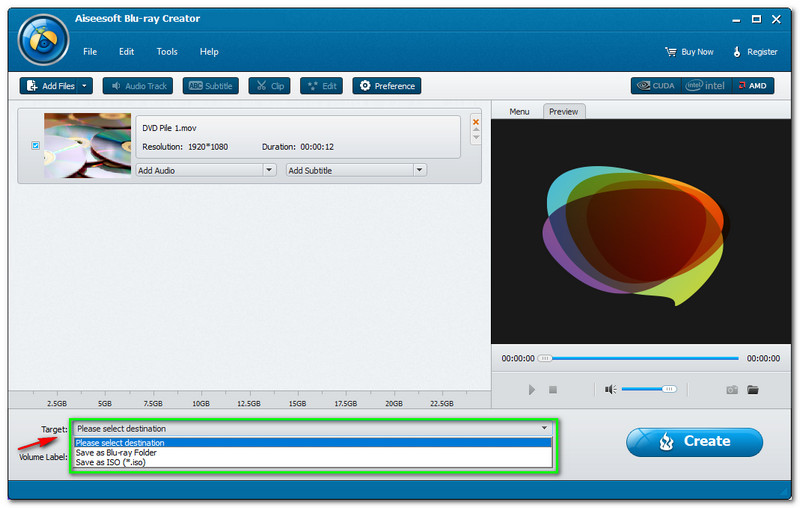 6.
You can also change the Volume Label, make Multiples Copies and change the Type to BD-25 or BD-50.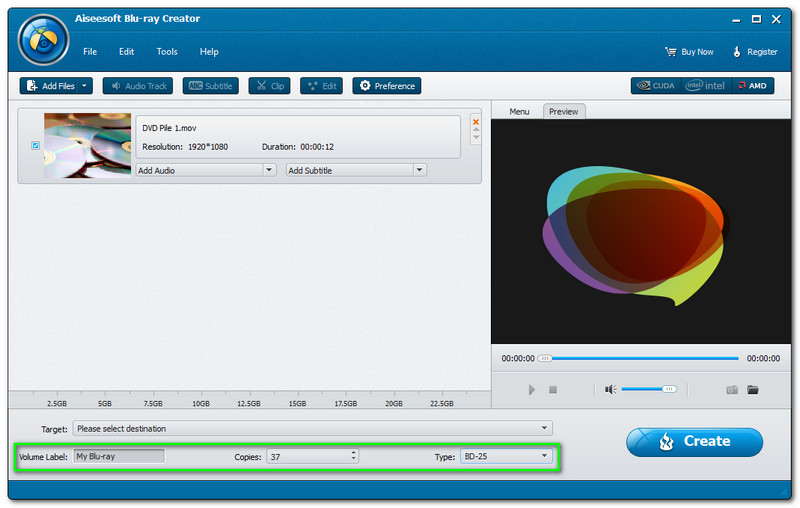 7.
On the bottom part of the Preview, you will see the Create button and tap it.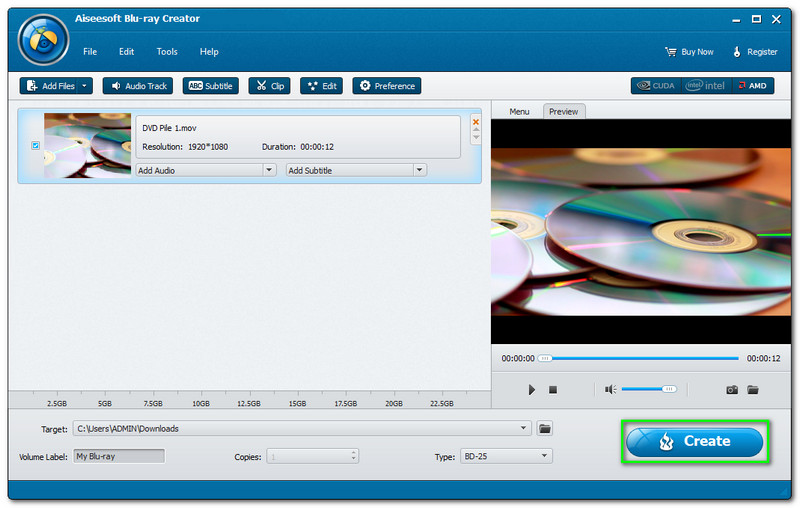 8.
Next to that, a new window from Blu-ray Creator will appear. It will show you the Steps like Applying Settings, Creating Title and Creating Menu. Then, on the progress, please wait until it becomes 100%. After that, click the Finished button in the lower right corner.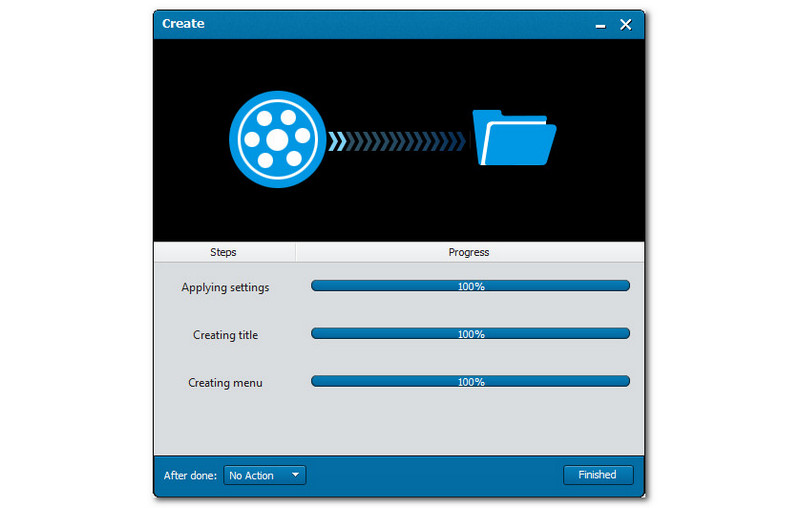 Part 4: FAQs of Blu-ray Creator
What is the difference between the free version and registered/paid versions of Blu-ray Creator?
When using a trial version, it will always have limitations. The Blu-ray Creator trial version does not support the downloaded menu templates, you can use it for 30 days, and it will add a watermark on your created Blu-ray. On the other hand, the benefits you can get on a paid version are the online menu templates are always available to download, there is no limitation on using days, it will not add a watermark on your created Blu-ray, and it has free upgrades and technical support.
How can I customize the Menu of the output Blu-ray movie or DVD?
Go to the Menu on the right corner of the interface and click the Edit button on the Menu panel. After that, you can change the template. In addition, you can also add background, music, picture, title, and opening film.
I want to know the exact output size before proceeding with the creating process. How can I do that?
Once you load all the files, Blu-ray Creator will immediately calculate your output file size, which will show on the Capacity icon at the bottom of the interface. After that, you need to choose the BD Type in the lower right corner depending on the color lump of the Capacity icon.
Conclusion:
We have finished sharing a review of Blu-ray Creator and a guide. With the study, we show you its pros, cons, and its main features. In addition, we detailed steps on how to use a Blu-ray Creator. To end, we will see you again at our next one!
Did you find this helpful?
228 Votes
YES

Thanks for letting us know!
No

Thanks for letting us know!
Aiseesoft Burnova
Create MP4 MP3 into Blu-ray and DVD disc, folder and ISO file.