Aiseesoft Burnova Review: The Leading DVD/Blu-ray Creator and Blu-ray Converter Worldwide
Do you desire to give your loved ones a gift? Why don't you try to turn all your impressive videos into a DVD and Blu-ray disc? With that, you can watch it every time you want to reminisce. The good news is you do not need to be professional to burn your video. You have to search for a reliable and convenient burning tool. Aiseesoft Burnova is the exact tool that can help you with your desire. Aiseesoft Burnova is a professional DVD and Blu-ray burner tool yet manageable to use. Let us start reading this article review so you can start working on the perfect gift for your loved ones.

1. Our Verdict
Pros

It is a handy DVD/Blu-ray-burning software.
It is perfect for beginner users.
You can experience fast conversion.
It has a user-friendly interface.
It supports DVD and Blu-ray as well.
You can enjoy tons of features.
You can customize chapters.
It has fantastic power tools.
It supports tons of formats.
Cons

The free version is limited in features.
Overall Rating
Interface:9.0
User-friendly:9.0
Features:9.0
2. What is Aiseesoft Burnova?
Price: For 1 Month License: $23.20, for Lifetime License: $47.20, and for Business License: $109.00
Platforms: Windows
Main Features
Aiseesoft Burnova has the power to convert your file into Blu-ray and DVD in just basic clicks. In addition to this, Aiseesoft Burnova offers you great features. Let us see them below:
◆ It allows you to burn video into DVD and Blu-ray.
◆ It lets you customize your output files.
◆ It enables you to add audio tracks and subtitles.
◆ It provides editing tools such as video, audio, and subtitle editing.
◆ It lets you clip, crop, adjust, add effects, and add a watermark to your videos.
◆ It lets you merge two or more videos.
◆ It has split chapters.
◆ It has a thumbnail setting that you can customize.
◆ It provides various DVD and Blu-ray menu templates.
3. Aiseesoft Burnova Review
Interface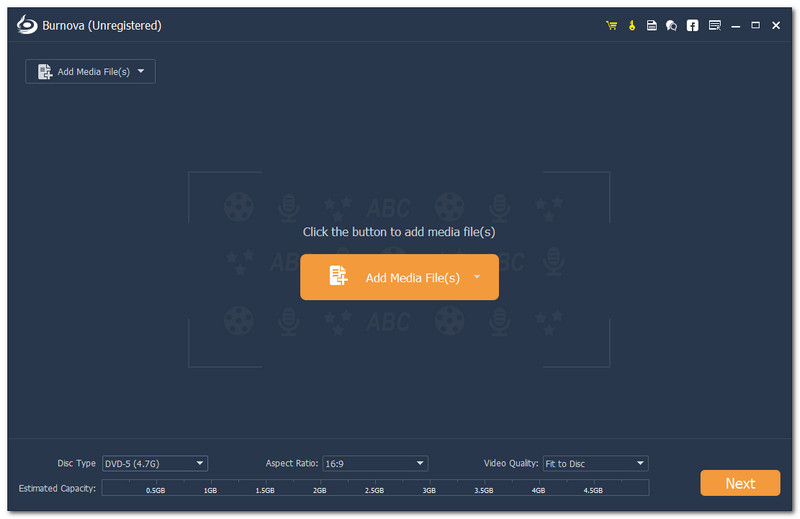 Aiseesoft Burnova has a fantastic interface. As you look at it closely, you will confirm that Aiseesoft Burnova is easy to manage and very simple. On the upper right of the interface, you can see all the options. For example, you can click the Purchase Key button to purchase and register the product. Next are the other options like Save, Send Feedback, Find us on Facebook, etc. Furthermore, you can click Add Media Files or Folder on the left side of the interface or drag your files or folder to the middle part of the panel. Moreover, under part of the interface, you will see the Disc Type, Aspect Ratio, Video Quality, and the Estimated Capacity from 0.5 GB to 4.5 GB.
Power Tools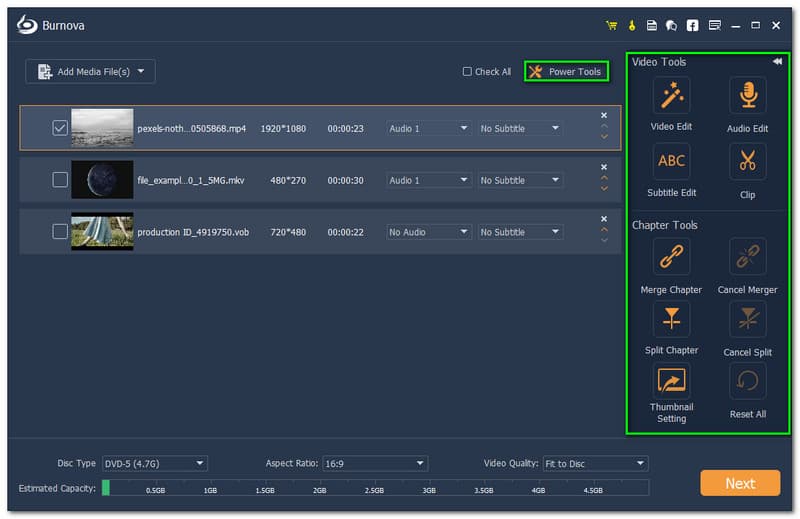 As you focus on the Power Tools of Aiseesoft Burnova, you will realize that Aiseesoft Burnova has many features: Video Edit, Audio Edit, Subtitle Edit, Clip, Merge Chapter, Cancel Merger, Split Chapter, Cancel Split, and Thumbnailing Setting. Nevertheless, we will focus on Video Tools. But, you can try other Power Tools by downloading Aiseesoft Burnova for free. So much with that, please see the Video Tools below:
Edit Videos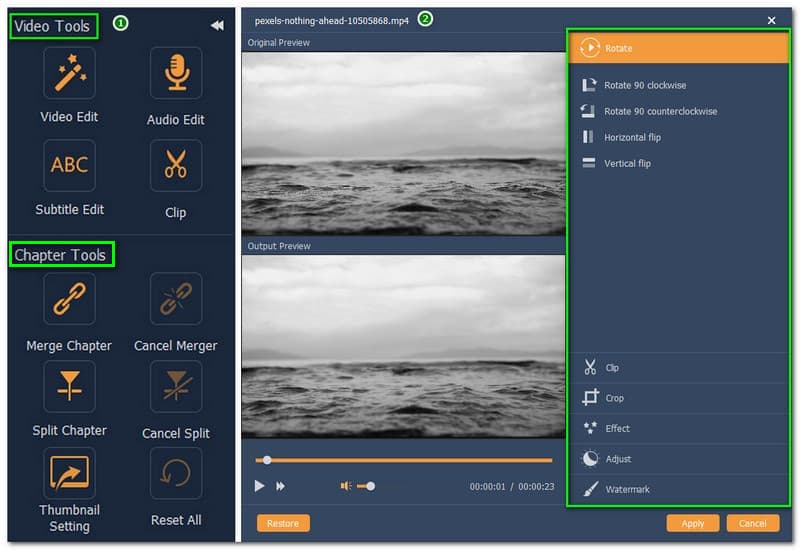 Video Edit provides two previews, the Original Preview and Output Preview. Moreover, rotate your video clockwise, counterclockwise, horizontal, and vertical flip to the right side of the window. On the lower right, it allows you to Clip your video and set the start time to end time. Plus, if you want to Crop your video, you can do so.
What's more? You can add Effects that Aiseesoft Burnova provides, and it allows you to adjust volume, brightness, contrast, saturation, and hue. Lastly, it also provides Watermark. It is up to you if you want your watermark image or text. Plus, you can adjust its Position from top to bottom and left to right and Transparency from 1% to 100%.
Edit Audio and Subtitles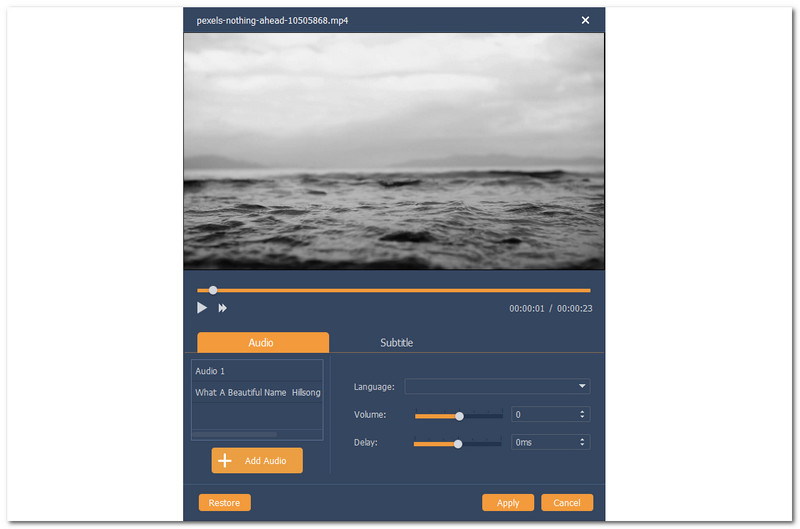 After adding your files, tap Add and Edit Audio to make some changes. On the new window, it provides a media player to play, stop and forward your file. And, going to the lower part of the window, you can now add your preferred audio. As you can see on the screenshot that we provide, we added sample audio. Take note: you can add more than one audio.
Furthermore, you can add a Subtitle and adjust its position to Top or Bottom. Plus, you can adjust the transparency from 0% to 100%. Of course, it is advisable to set the transparency to 100% to see it. Going back to the audio, you can change the Volume from -200 to 200. Also, you can adjust the Delay from -2000ms to 2000ms. After all the adjustments, click Apply if you are satisfied and click Cancel to redo everything.
Offer Various Menu TemplatesCustomize Your Disc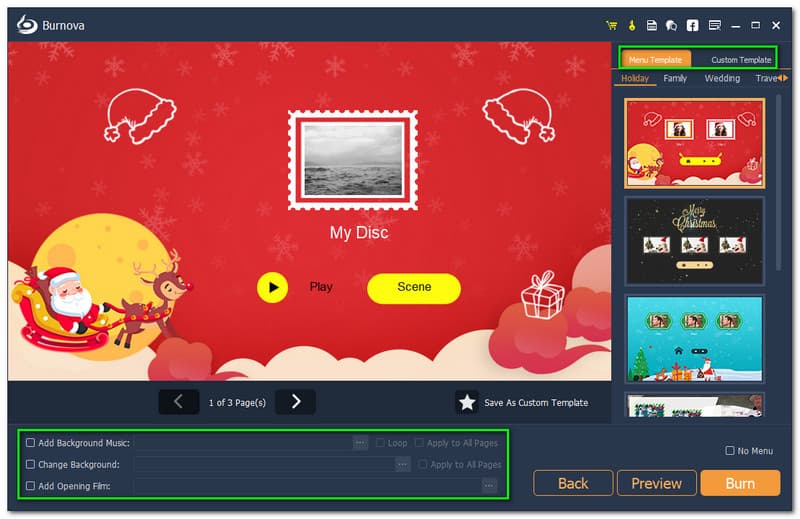 When you click Next, you will proceed to another panel, and you have the chance to customize your Disc. Aiseesoft Burnova allows you to select the Menu Template, or you can make your version of the template. You can see on the Menu Template the available designs such as Holiday, Family, Wedding, Travel, and Others.
Below, Aiseesoft Burnova shows you how many pages you have in your disc. And, it will depend on the design that you choose. What's more? As you look at the screenshot that we provide, you can enable Add Background Music and click the ellipses to select a background on your computer on the lower part of the second photo. You can Loop it or Apply it to all Pages.
Moreover, you can enable Change Background, and again, click the ellipses to choose a background from your computer and tap Apply to All Pages. Lastly, enable Add Opening Film and same with the previous mentioned, select from your computer. Hereafter all the changes and additions, Aiseesoft Burnova allows you to see the result before the burning process by tapping the Preview. After previewing it, your file is now ready to burn.
Support Various DVD/Blu-ray Disc and TV Standard

Please bear with us in this part because it will take a while to review burning files to convert them into a Blu-ray. To start, Aiseesoft Burnover provides a fast conversion of your files into Blu-ray. In addition to this, they will not compromise the quality of your files. They will make your file much better.
After adding the files that you want, you can change the information below, such as Disc Type, which has five options; DVD-5 (4.7 G), DVD-9 (8.5G), BD-25 (25GB), and BD-50 (50GB). Also, you can change the Aspect Ratio to 16:9 or 4:3. When it comes to Video Quality, you can set it to Fit Disc or choose from Low to High quality. When choosing High Quality, you must remember that they will also increase the file size.
While all the settings are made well, click the Burn, and you will continue to the next part of the process:
1.
You have to select a destination for your file. Select a folder where you want to save your file. In addition to this, you have an option to keep it as ISO.
2.
Burn Engine has three choices; VSO, CDrTool, and IMAPI. When it comes to the Burn Settings, you can choose the TV Standard, NTSC or PAL. Plus, the playback mode can be Start From Menu or Start from the First Title.
3.
You can enable loop play of all titles.
4.
Click Start to proceed to the burning process.
4. FAQs of Aiseesoft Burnova
Is Aiseesoft Burnova safe to use?
Yes. Aiseesoft is bug-free software, and it is 100% secure.
Can Aiseesoft Burnova convert video to any format?
No. Aiseesoft Burnova focuses on converting your videos to DVD or Blu-ray. However, if you are looking for a video converter, try the other product of Aiseesoft, the Aiseesoft Video Converter Ultimate. With this converter software, you can convert your videos in just a few clicks.
What is the difference between Blu-ray and DVD?
The Blu-ray is much sharper and more realistic than the DVD. Blu-ray supports tons of resolutions, and the majority of movies are in Blu-ray full HD or 1920x1080 resolution. It is six times higher than the resolution of the DVD.
5. Alternative - AnyMP4 DVD Creator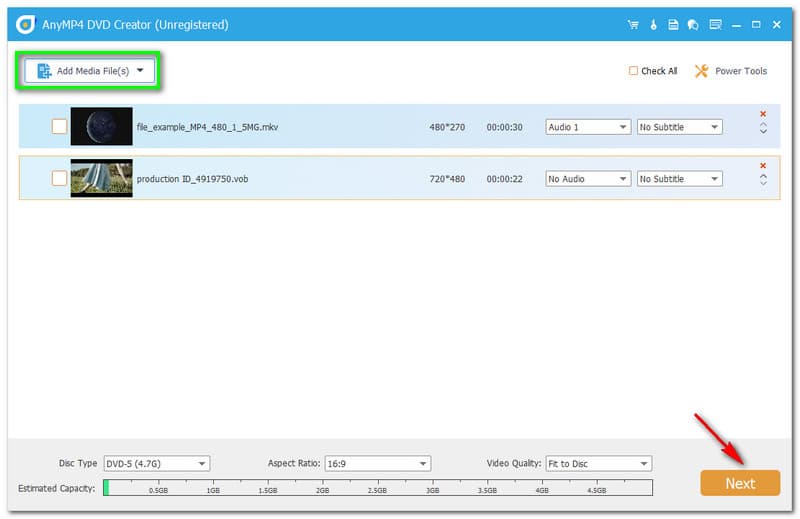 Is there any reason that you do not want to use Aiseesoft Burnova? If there is, we recommend you AnyMP4 DVD Creator. You can also burn your videos using this software. It provides numerous features and offers editing tools. Both software is simple, convenient, and exceeds your expectations.
Conclusion:
We figured out that DVD and Blu-ray discs can be a terrific gift! So, to end this review, we are happy that we share every detail of Aiseesoft Burnova, such as its pros, cons, ratings, features, and more! We are expecting you to read our next article!
Did you find this helpful?
174 Votes
YES

Thanks for letting us know!
No

Thanks for letting us know!
Aiseesoft Burnova
Create MP4 MP3 into Blu-ray and DVD disc, folder and ISO file.