How to Hide Friends on Facebook: Protecting Their Identity
Facebook is one of the flagship social media platforms ever to exist, making it number one for its appeal and creating a significant, solid user base. There's no stopping Facebook from revolutionizing the game of connecting with people from one end to another. Sharing one's life with the world or your selected few is one of Facebook's features that creates a sense of closeness even when apart. Sharing it with the world or with a selected few may always seem not a good thing for you and your friends, as different forms of suspicious and privacy concern activity are prevalent among some of its users, such as using your information to their advantage or in this case put your friends in the risk of being attacked by such act. One way to lessen the possibility of your friends experiencing it is to hide their identity from strangers.
How do you hide your friends on Facebook? In this article, you learn how to prevent such acts from happening to you and your loved ones and why it is necessary, especially today. The need to do it is no longer a choice but a must-do as technology and digital platforms keep developing, and so are people with malicious intent. Continue reading this article to understand better and learn the easiest ways of doing it. Learn how to safeguard them from prying eyes by hiding your friends list. Get started today!

1. Why You Hide Friends Lists on Facebook
How to hide a friend list on Facebook? In the digital connection era, protecting your privacy on social networking sites like Facebook is crucial. While part of the Facebook experience is sharing your life with friends and family, you might not want to make your whole network publicly visible. Here is where Facebook's option to conceal your friends is useful. In this part of the article, we'll first dig into the benefits of hiding your friend list and why you wish to do so.
Privacy Concerns. Your list of Facebook pals is a wonderful resource that not everyone needs to be aware of. You may preserve your friends' identity and keep them safe from unwanted attention or unsolicited friend requests by concealing your friend list.
Avoid Unwanted Contact. You may avoid unwanted friend requests from acquaintances and strangers by hiding your friends. You can keep up a more regulated and exclusive social group.
Prevent Data Mining. Marketers and data miners could use your friend list for data mining or targeted advertising. You may lessen the chance that your friends' information will be used without their agreement by hiding your friends list.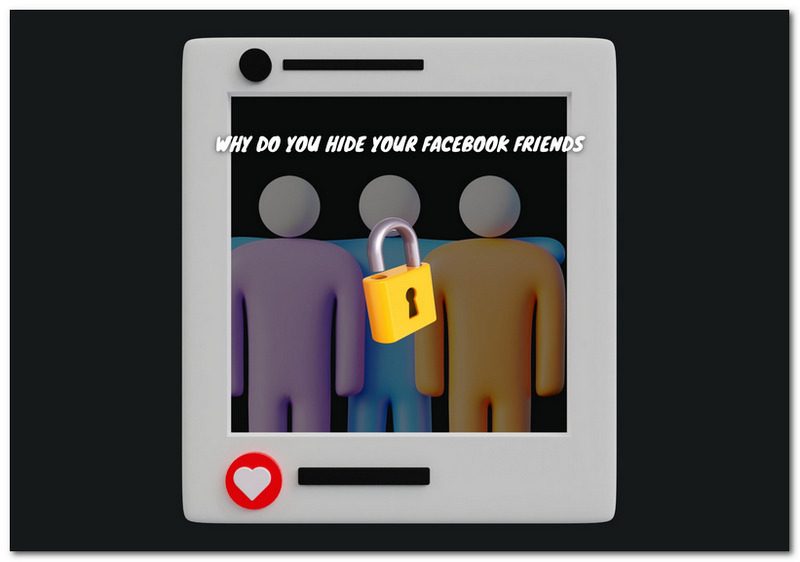 Part 2. How to Hide Friends on Facebook
Can you hide certain friends on Facebook? It's crucial to keep your friends' identities safe from unwanted harm. Let's move on to the detailed instructions for concealing your friends on Facebook. We'll walk you through the steps in this section to ensure your friends list is safe and secure.
1.
Go to your profile settings.
2.
Click how people find and contact you under audience visibility.
3.
Set the audience to only me and click save to apply changes.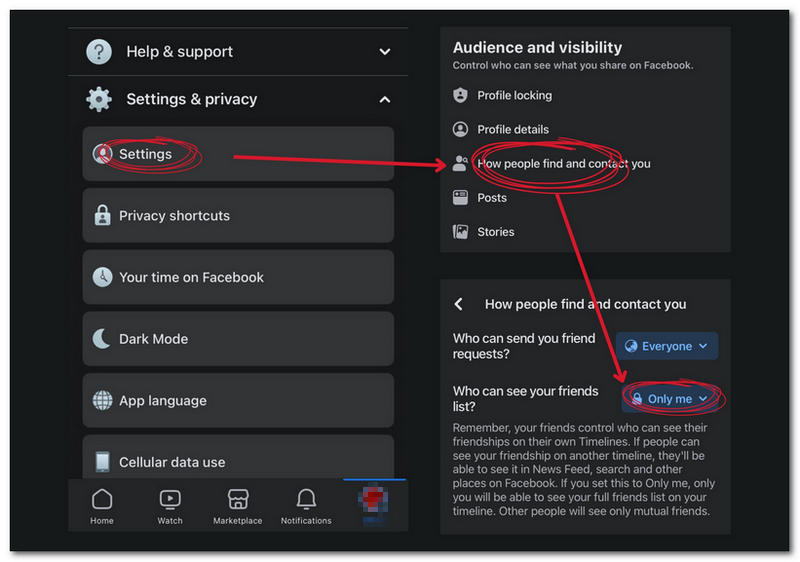 Congratulations! Your friend list has been successfully hidden on Facebook, giving your profile anonymity. This works on any device as this was a feature that is in the Facebook app itself. You don't need to rely on third-party tools or apps for this.
Part 3. How to See Hidden Friends on Facebook
It's vital to remember that while concealing your friends list increases your privacy, you may still see your friends. Others won't be able to view all of your pals, though. This part briefly reviews how to access your secret friends list.
1.
Go to your profile and scroll down.
2.
Click the see all friends tab to view your list.
3.
You can see your friends list, but others can't.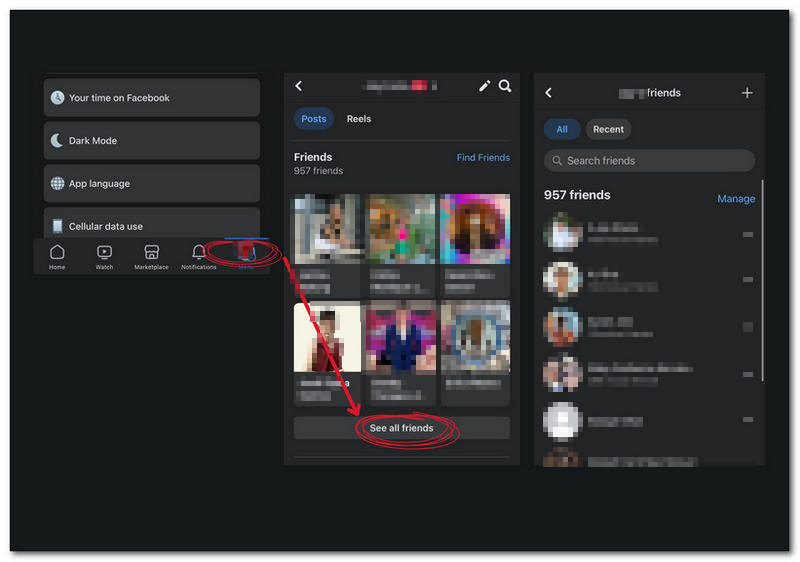 By following these steps, you can maintain your privacy on Facebook while keeping track of your friends. Thus, it not only helps you hide your friend's information but also prevents suspicious users from attempting such acts.
Part 4. FAQs About the How to Hide Friends on Facebook
How to hide a friend on Facebook without unfriending them?
To hide a friend on Facebook without unfriending them, you can just unfollow them on their profile page, where the follow/unfollow button is alongside their name. This action will hide their posts from your News Feed, but you will remain friends. You can check their profile directly if you want to see their posts.
Can you hide mutual friends on Facebook?
No, you cannot conceal your shared friends from others on Facebook. Anyone who checks your profile may see any mutual friends you have, and you cannot choose who can see this information.
How to hide mentions on Facebook from friends?
Facebook does not directly provide a way to block certain friends' mentions or tags. Your friends can normally see when someone mentions or tags you in a post according to their privacy settings. Your privacy settings allow you to select who may view posts you tagged, but this applies to all your friends rather than just certain people.
How to hide my activity on Facebook from friends in 2021?
You cannot choose a year of friends to hide your activity with, but you can hide your activity on Facebook from specific friends or customize your privacy settings. You can go to your activity settings in your settings, and in there, you can customize who can see your future posts, send you friend requests, and look you up using your email address or phone number. Finally, adjust these settings to your desired level of privacy. Please note that Facebook's interface and privacy settings may have changed since my last update, so it's a good idea to check the latest settings on the platform.
How to hide a number of friends on Facebook?
There isn't a built-in feature on Facebook that allows you to conceal the total number of friends on your profile. Your friends and followers can usually see how many friends you have. You might wish to review the most recent privacy settings for Facebook to see if there have been any changes from the last time you checked.
How to hide photos on Facebook from friends?
To hide photos on Facebook from specific friends, access your Facebook profile, click on the desired album, then click the three dots in the album's upper-right corner. Select edit privacy, opt for custom, input the names of friends you want to hide the album from in the don't share with section, and click save changes. This restricts access to the album and its photos for selected friends while remaining visible to others.
Conclusion
In conclusion, using Facebook's friend-hiding feature is an easy and effective way to protect your friends' identities and increase online privacy. It reduces the possibility of unwanted contact or data misuse by adding another layer of protection that allows you to control who has access to your network.
You can also hide multiple friends by visiting your news feed and clicking on the friends tab. Then, select the friends you want to hide and click the hide from news feed button. Facebook's friend-hiding feature is a great way to protect your privacy and keep your friends safe. We encourage you to use this feature if you're concerned about online privacy.
Did you find this helpful?
461 Votes
YES

Thanks for letting us know!
No

Thanks for letting us know!
AnyMP4 Video Converter Ultimate
All-in-one video converter, editor, enhancer upscaled with AI.