TikTok Watermark Removal: Share Watermark-Free Videos Today!
TikTok's existence is a game changer for all content creators, businesses, and users. It becomes the place to express yourself freely and help transition and elevate digital marketing to become considered one of the best platforms to promote products or services. Short, original videos on TikTok may now be shared with the entire globe. However, the noticeable TikTok watermark automatically applied to every video is the one drawback for some users. While the watermark serves as a platform promotion, it can be a hindrance or an aesthetic mismatch for those trying to establish a distinctive artistic or brand identity.
How to remove the TikTok watermark? Users get help from a third-party tool in achieving the total aesthetic of sharing their favorite videos on other platforms without a watermark. This article explores four ways to eliminate the TikTok watermark so you may share your videos online unbranded. We can help you, whether you're a producer of content, a company owner, or just someone who wants to share videos outside the platform. Don't let the TikTok watermark hold you back. Read the article methods we made and enjoy watermark-free videos on TikTok.

Part 1. 4 Easy Ways to Remove TikTok Watermark
TikTok has established itself as a center for artistic expression and entertainment. Millions of users make and distribute witty, talented, original short clips worldwide. The TikTok watermark, however, is something that frequently irritates content producers. Although it is a part of TikTok's branding, some users want to remove it to preserve the quality of their movies. We'll look at four simple ways to achieve it, listed below.
Desktop Software
How to get rid of TikTok watermark? In removing the watermark, its main goal is to establish brand consistency. Sometimes, the watermark of TikTok is not aligned with your brand, or it might cover some details that are part of your videos, making your video less professional. On the user's side of the coin, it may hinder them from using the video in their outputs or sharing the content in general. With AnyMP4 Video Converter Ultimate, a desktop software, you can use any video on the platform without a watermark, making it endless possibilities to download and share videos to your heart's content.
1.
Go to AnyMP4 Video Converter Ultimate Website to Download the software.
2.
Click the download button and launch the software on your computer.
3.
Click the toolbox on the main page, and in there, click Video Watermark Remover.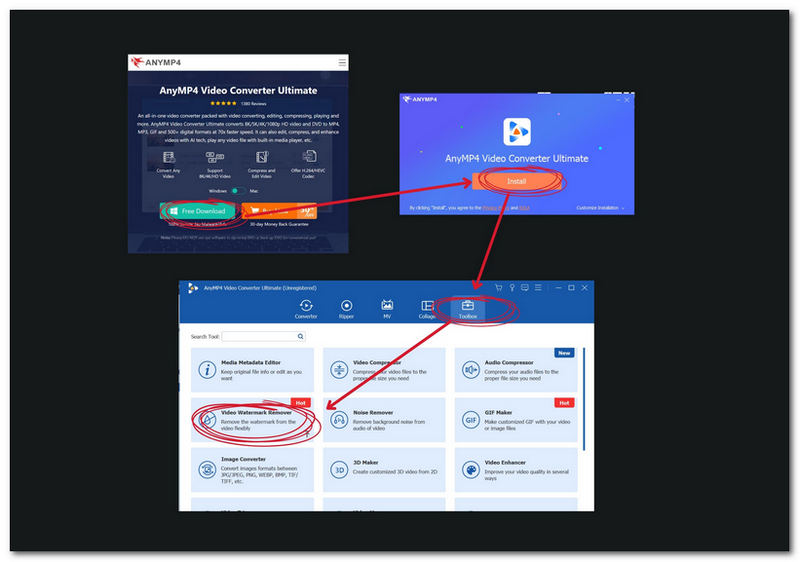 4.
Click the plus sign in the middle of the page to add the TikTok Video with a watermark.
5.
Select the watermark area.
6.
Start putting and arranging the watermark remover region where the watermark appears.
7.
After adjusting and being satisfied with each region, click Export to download your TikTok video without the watermark.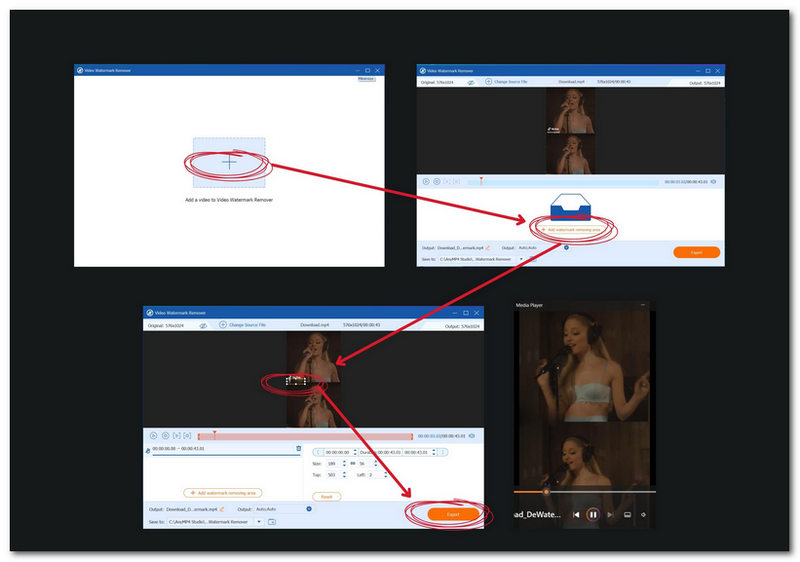 The mentioned software is an all-in-one video converter packed with many features, not just removing a watermark. It is a paid software, but you can try its free feature and get the same output compared to other software. You can get all the features, such as high-quality-converting or removing watermarks, with ease at a lower price.
Web-Based Tools
When you are in a hurry and do not have time to download and install software, online web-based tools can help you remove unnecessary watermarks. That's when Remove Logo & Watermark from Videos becomes handy.
1.
Go to the Remove Logo & Watermark from Videos website.
2.
Click the open file and choose your downloaded TikTok videos with a watermark
3.
Arrange the watermark remover region where the watermark of the video is.
4.
When done arranging, click save to download your now watermark-free video.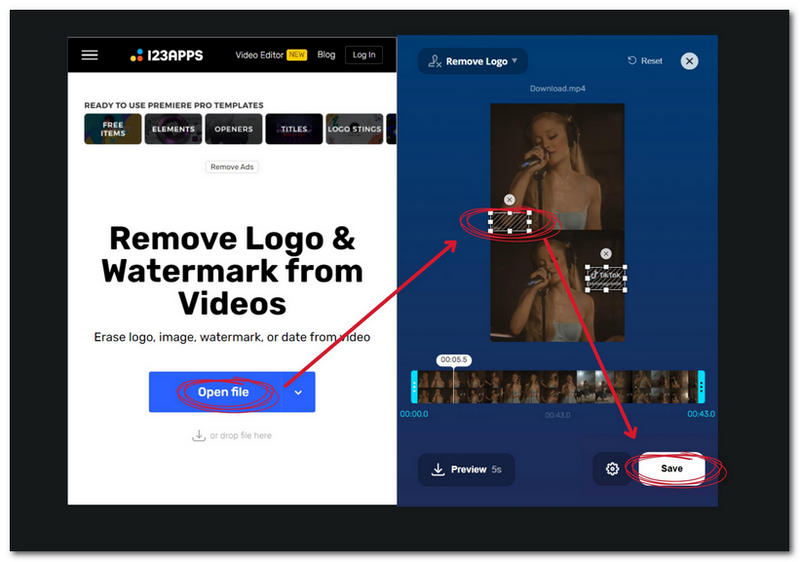 This web-based tool is convenient and straightforward to use. The web-based tool is one way of removing the watermark in your videos. Hence, there are a lot of them out there. Always check the website and read through reviews to see if it's safe for you to use.
Mobile Application
TikTok allows you to save videos directly to your gallery. However, these videos will have a watermark on them. You can use a third-party app or edit the video on your phone to remove the watermark. Looking for a TikTok watermark remover app? Watermark Remover- Retouch is a mobile app that lets you remove watermarks in the comfort of your phone. It has the same functionality as those two methods above.
1.
Download Watermark Remover- Retouch in your app store.
2.
Lunch the app and select the video button.
3.
Click on the video you wish to remove the watermark.
4.
Arrange the watermark remover region to where the watermark is located.
5.
Click remove, and it will automatically download and save on your phone.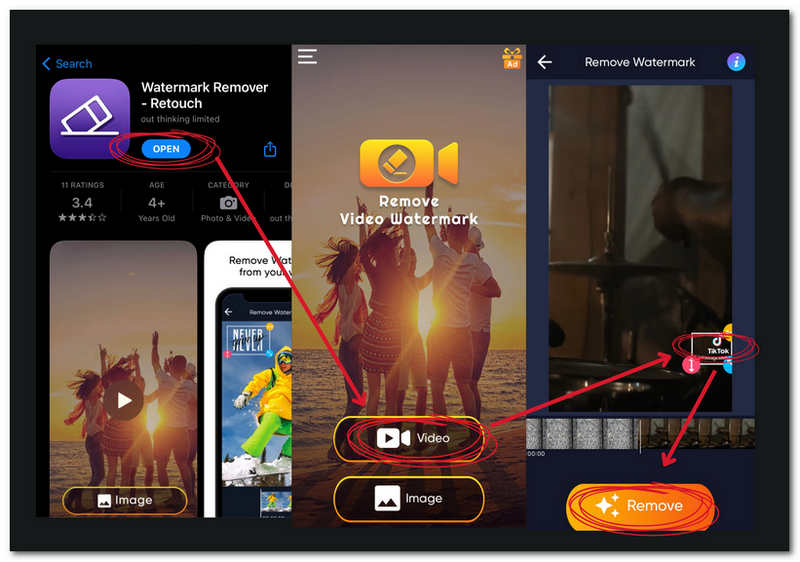 There are many apps available that perform the same function as Watermark Remover-Retouch. It is only a matter of experimenting and exploring the apps available for your phone to find the one that works best for you.
Crop It Out
This final method is free and can be easily done on your phone. It does not require downloading apps or subscribing to a premium service. For iOS, you have your screen recording features in your control panel, and on Android, you can download DU Recorder - Screen Recorder on your app store.
1.
In your gallery, click the saved TikTok video you wish to crop the watermark out.
3.
Start cropping your video's aspect ratio, ensuring the watermark will get cut out.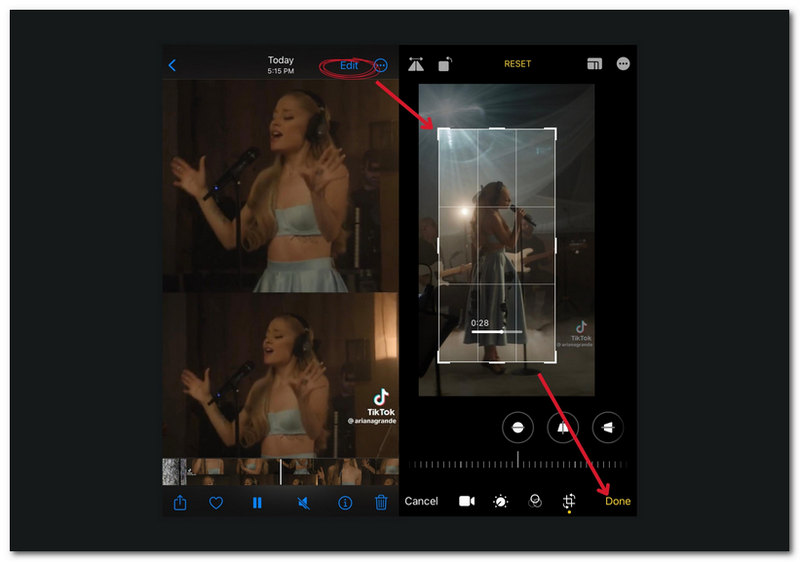 Cropping out your video to remove the watermark is less hassle and the easiest way among the listed methods. The only drawback of doing it is that it will also cut the other part of the video, making your video a little bit blurry.
Part 2. FAQs About How to Remove TikTok Watermark
Is removing watermarks illegal?
Removing watermarks may be against the law since it frequently violates copyright and intellectual property rights. Watermarks are used to safeguard the work of its original creators; removing them without permission is considered unethical and may have legal repercussions. Always abide by the terms of service of the site where the information is placed and copyright laws.
Is watermark remover safe?
Tools and software for removing watermarks might range in terms of safety. Although some trustworthy web or video editing applications may provide watermark removal options, employing third-party or unidentified solutions might increase your risk of virus or data theft. Use reputable and well-known products or services only, and use caution when installing or using any software from unknown or untrusted sources.
What are the rules for TikTok watermarks?
Removing the platform's built-in watermark is prohibited when sharing TikTok movies outside the app. The terms of service for TikTok set out its rules, and breaking them can have negative effects, like having your material or even your account deleted. To comply with TikTok's policies, always study their stated regulations.
Can you remove the TikTok watermark for free?
Since the TikTok platform is set up to automatically apply the watermark to videos, removing it for free is difficult. Although some third-party programs or software could make the promise to remove it, they frequently have restrictions, pose hazards, or may not function properly. A purchase or subscription to video editing software may be necessary for legitimate watermark removal techniques.
What is the best TikTok saver without a watermark?
The best TikTok saver without a watermark is the one that works on your device. You can choose from the listed methods above or explore apps compatible with your needs. Always use caution when deciding whether to use third-party applications or websites that promise to store TikTok films without watermarks since they might not follow TikTok's rules and might provide unidentified security hazards. Use the built-in TikTok capabilities for video downloading and sharing within the app to be secure and compliant.
Conclusion
How you remove the TikTok watermark from your videos ultimately hinges on your preferences and technical know-how. Whether you opt for the simplicity of cropping or the convenience of specialized software, the choice is yours. Each method offers a pathway to reclaiming your content's originality and ensuring your videos align with your creative vision.
However, always exercise caution when using third-party apps and respect TikTok's guidelines to maintain a positive and responsible presence on the platform. As the social media landscape evolves, TikTok's features and rules may change, so staying informed and adapting your watermark removal strategies is essential. Embrace the newfound freedom of watermark-free videos and showcase your creativity without distractions.
Did you find this helpful?
457 Votes
YES

Thanks for letting us know!
No

Thanks for letting us know!
AnyMP4 Video Converter Ultimate
All-in-one video converter, editor, enhancer upscaled with AI.