Full Guide to Get Verified on Instagram
We cannot deny that in the vast realm of social media, Instagram is one of its faces, and in a platform with tons of users, fake accounts are scattered all around the app. Instagram's blue verification badge has become a symbol of authenticity and credibility. Whether you're a celebrity, an influencer, or a company trying to build trust with your audience, having that coveted blue check next to your profile name may make all the difference in the world.
People usually associate having a blue checkmark on your account only with those with hundreds of followers; in reality, you don't even need thousands of followers to get one. Instagram lets its users apply for a badge if they check all the criteria in this article. This article will explain what it means to get your Instagram account verified and provide a step-by-step tutorial on how to do so. Stop asking how to be verified on Instagram instead. Read this article to take the first step and apply for verification today!

Part 1. What Does it Mean to be Verified on Instagram
Being verified on Instagram means the platform has confirmed your account is genuine and legitimate. This blue badge confirms that you are who you say you are and distinguishes you from impersonators and fake accounts. When your account is verified, users can be confident that they are interacting with the real you, which can be critical in today's age of online impersonation.
People always search for how many followers on instagram to get verified, as before, only those who are influential and have a big reputation on the platforms have the right to get verified. But now, even people with less than thousands of followers can request verification as Instagram launched a paid verification method jammed pack with features for its users.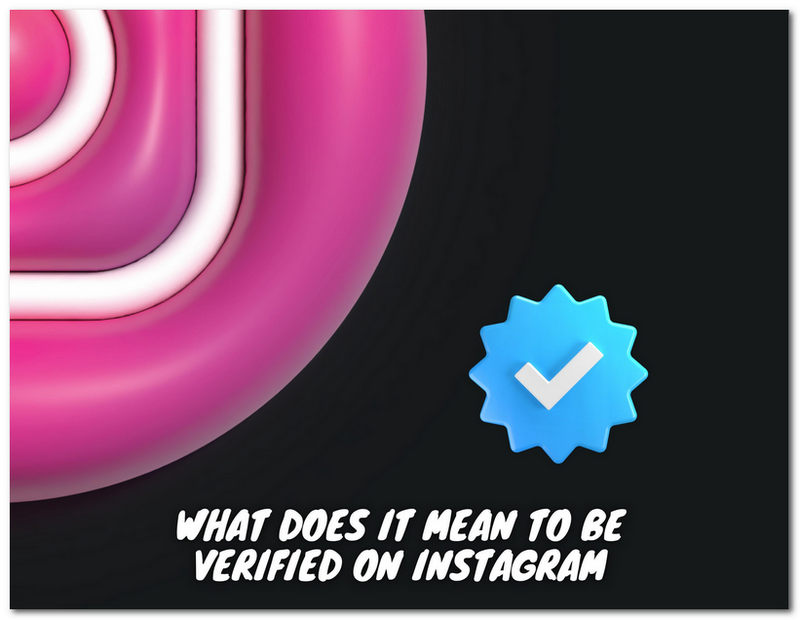 Here are some of the benefits of being verified on Instagram:
◆ Increased credibility: A verified badge shows that your account is genuine and legitimate, which can help to increase your credibility and trustworthiness.
◆ More followers: A verified badge can help you attract more followers, as people are more likely to follow an account that they know is real.
◆ Better engagement: Verified accounts tend to have higher engagement rates, as people are likelier to like, comment, and share content from verified accounts.
◆ Access to exclusive features: Instagram offers exclusive features to verified accounts, such as running ads and accessing analytics data.
If you think your account has a shot for verification, you can apply through the Instagram website. The following content will be the steps to get verified on Instagram.
Part 2. How to Get Verified on Instagram
How do you get verified on Instagram? Like any other process, you'll need verification to get that blue checkmark on your profile. It's a must, and there's no shortcut to doing it. Now that you understand its significance let's explore and join the ranks of verified Instagram users.
To begin with, make sure that you are abiding by Instagram's Community Guidelines and Terms of Use. Along with that, your account must also:
◆ Build a Strong Presence: Verify your Instagram profile is full and appealing before considering verification. Create a captivating bio, use a recognized profile photo, and ensure your material reflects your brand or identity.
◆ Be Authentic: Instagram respects honesty. Make sure your postings accurately represent your brand and actual personality. Regularly interact with your audience to build a community around your profile.
◆ Be Notable: Instagram usually confirms accounts already well-known in their industry. This comprises well-known corporations, public personalities, celebrities, and influencers with sizable fan bases. It takes time and constant work to establish an influential presence. No number of followers is required, but this is a plus point for faster approval.
◆ Comply with Instagram's Guidelines: Get familiar with Instagram's rules and regulations. These guidelines, which prohibit participating in spammy or fraudulent behavior, must be followed by your account.
Traditional Verification Method
This is the method that many of us know and are familiar with. Instagram's traditional verification is a way to confirm the authenticity of well-known accounts. Instagram grants it to people who meet certain criteria, such as being a public figure, celebrity, or global brand. Below are the steps on how to undergo the traditional verification.
1.
Go to your Instagram settings. Then, we need to click on settings and privacy, then click the account type and tools.
2.
Click on request verification. After that, please fill in your name, submit your ID, category, and country, add links to your social media accounts, and finally, click submit.
3.
Wait Patiently. Instagram will reply to your request within a few days, maybe up to a month.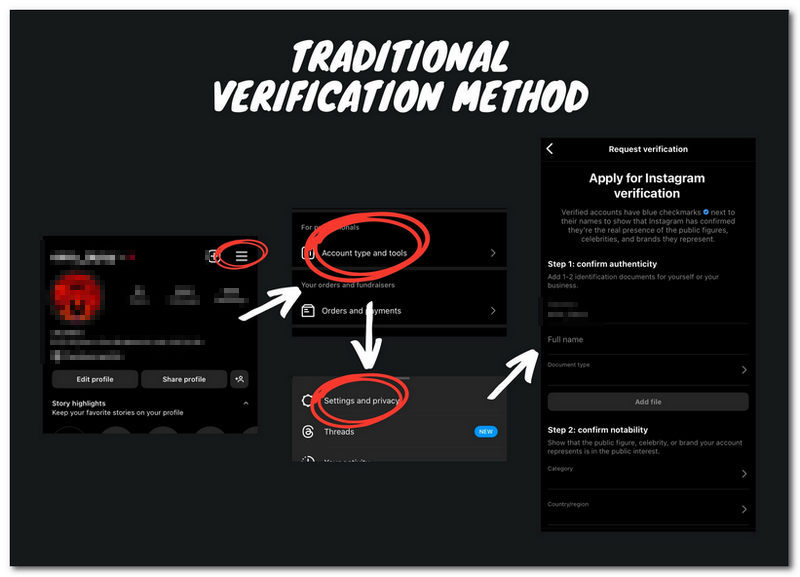 Although the recommended actions may improve your chances of getting verified, there is no certainty. Instagram prioritizes accounts with a real need for verification throughout its selective verification process.
Meta Verified Method
Introduced on February 19, 2023, the parent company of Instagram and Facebook, Meta, a pay to get verified on instagram costing around $11.99 to $14.99 per month on verification service under Meta Verified. A blue tick verification badge can be applied to users' accounts for a monthly fee.
1.
Go to your Instagram settings.
2.
Click on settings and privacy, then click the Meta Verified.
3.
Click on sign up and proceed with your payment process.
4.
Submit your ID. Remember that your name and image must match your ID (Business accounts are not eligible for this method).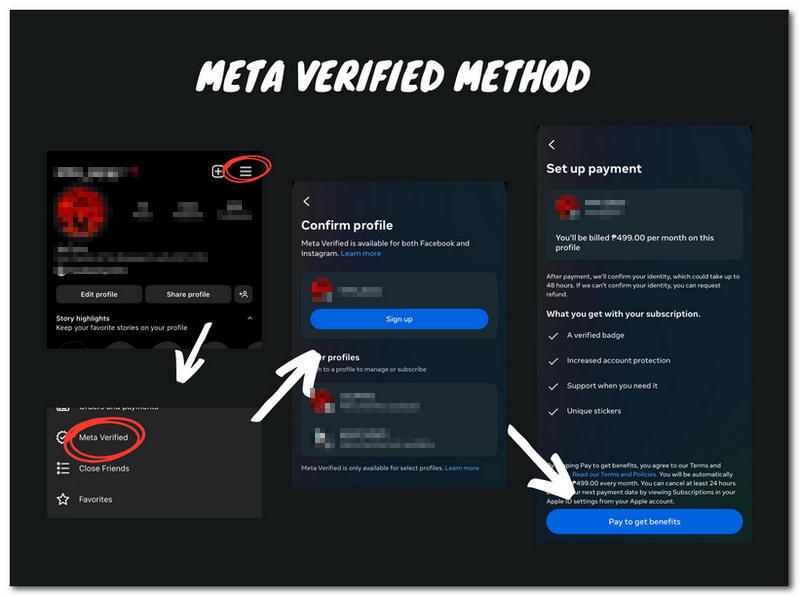 Meta Verified might look like it is just getting money from its users, but it offers features that are promising to its users. Some of its features are improved platform visibility, customer support was prioritized, and extra impersonation protection was put in place to prevent accounts pretending to be the user.
Both methods are doable; they depend only on one's user's needs and preferences. The only difference is the features they offer and their target users. Traditional is more on validity by establishing your reputation by complying with Instagram Guidelines. While Meta is more focused on the user experience, enhanced visibility, security, customer service, and more.
Part 3. FAQs About How to Get Verified on Instagram
How many followers on instagram to get verified?
The following count does not always guarantee Instagram verification. While having a sizable following can be beneficial, Instagram prioritizes profiles that are well-known, genuine, and susceptible to impersonation. There is no minimum required number of followers.
How long does it take to get verified on instagram?
Instagram's verification procedure might take some time. Instagram routinely reviews and responds to verification requests between weeks and months. The quantity of verification requests they get and the quality of their review procedure, among other things, might affect the precise timetable.
Can anyone get verified on instagram?
On Instagram, everyone can become verified. Notable people, celebrities, public personalities, well-known businesses, and accounts in danger of imitation are often the only ones who require verification. To be considered for verification, your account must satisfy certain requirements for popularity and validity.
How much does it cost to get verified on instagram?
On traditional verifications, you do not need to pay and should only apply through the official Instagram app or website. Meta verified will cost you $11.99 to $14.99 per month, depending on which device or platform you're using.
Who was the first person verified on instagram?
According to popular belief, @emmy, the dog of Instagram co-founder Kevin Systrom, was the first account to be verified on the social media platform. During the beta testing phase of Instagram, this account was utilized.
Is it hard to get verified on instagram?
On Instagram, requesting to become verified is easy, but becoming verified might take your patience. Only accounts that pass the platform's high verification requirements for legitimacy and notoriety are given the blue badge. It must create a significant and trustworthy presence on the platform before requesting verification through the official channel. Many users might not meet these requirements, making verification a difficult objective for most accounts.
Conclusion
Two ways of verification are available to you: the Traditional Verification Method, which entails providing your information and waiting for a response from Instagram, and the Meta Verified Method, a paid service provided by Meta, the corporation that owns Instagram. While doing these actions might increase your chances of getting an Instagram verification, you must realize there are no certainties. Instagram prioritizes accounts that must be verified and use a selective verification procedure.
As a result, Instagram verification is an effective technique for building credibility and trust on the network. You may improve your chances of getting that desired blue badge by developing a powerful, noticeable, genuine presence. Wishing you luck as you work for Instagram legitimacy!
Did you find this helpful?
475 Votes
YES

Thanks for letting us know!
No

Thanks for letting us know!
AnyMP4 Video Converter Ultimate
All-in-one video converter, editor, enhancer upscaled with AI.