Instant 5 Methods to Fix an iPhone is Unable to Activate:
Having a new iPhone device requires an activation process as we make it accessible for the network we will use. That is crucial because it permits us to utilize every Apple service that can benefit our daily life, such as iCloud, Apple ID, Apple Music, iMessage, and more. On the other hand, there will be a significant problem if your iPhone is not activated. Due to that, if you are experiencing this kind of problem, we have prepared a great solution to alleviate your problem quickly. In this write-up, we will present you five different answers that are effective and easy to follow. These methods will include two of the most incredible software that effectively eases the problem. These tools are the Aiseesoft iPhone Unlocker and PassFab Activation Unlocker. Let us see how they can perform.

Part 1. Why is the iPhone not Activated?
◆ The activation server is unavailable. This message means that the server necessary to authenticate that your iPhone is activated is most likely down or overloaded, especially after a new iPhone's release.
◆ Unable to finish activation. This error message is most likely because of a problem with your internet connection.
◆ When you attempt to use a SIM card that the iPhone does not support, the message SIM Card not supported can appear.
◆ The activation steps are not correct. When you follow the wrong steps to activate a new iPhone, that may lead to a iPhone activation failure.
◆ iPhone is locked by the previous owner. When you bought a second-hand device, the iCloud activation may be loced by its last owner.
In most straightforward words, the message iPhone Is Not Activated appears when your iPhone cannot access your carrier's activation servers. A minor software issue might cause this error, a connection problem with your page, or a hardware failure. If that is the situation, we will need the methods below as we alleviate your problem. In line with that, please see the ways to fix your problem. We prepared a few yet effective solutions for you.
Part 2. Solutions to Fix iPhone not Activated
Solution 1: Utilizing Aiseesoft iPhone Unlocker
Aiseesoft iPhone Unlocker is an iPhone unlock tool that lets you restore your iPhone to factory settings and use it as if it were brand new. That means it can quickly ease the problem of our iPhone not activating.
Let us say that you are experiencing this problem on your new iPhone and that you are not able to utilize the device in total capacity because the error message is hindering you. Good thing, this software equips impressive features that can alleviate this problem. It has a feature called Bypass Activation lock that we can use to fix our problem. Here are the complete steps below as we begin the process. Please check out and follow them carefully for the success of the procedure.
1.
As we begin, install and run Aiseesoft iPhone Unlocker on your PC. Then, choose the UI's Bypass iCloud Activation Lock feature icon to access the main interface. Then, using a USB cord, connect your phone to your computer.
2.
Then, on your iphone display, a pop-up window will appear, and you must select the Trust option. Return to your computer screen and click the Done icon on the software's new tab.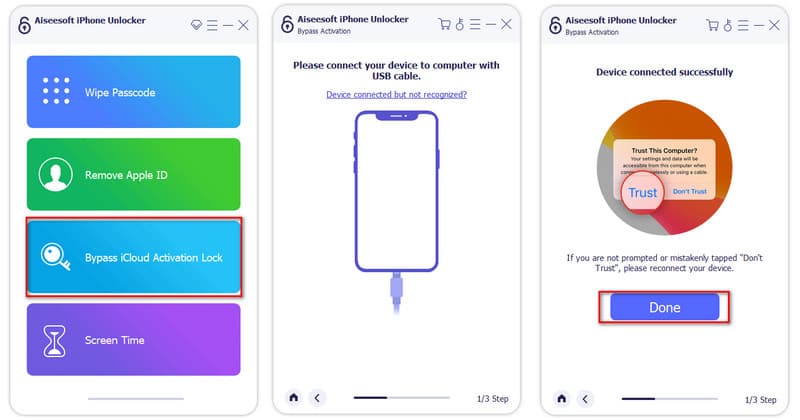 3.
The unlocker would then attempt to determine your iOS settings. Following the method, a new tab will be printed on which we may check that I have read the icon, usage statements, and warnings boxes, and click Start to start bypassing. A new tab will appear to proceed, and you must click the Next option.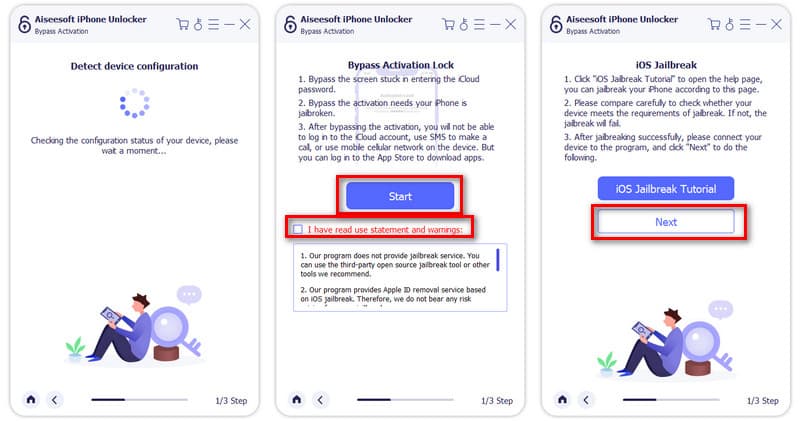 4.
Let us now go on to the next phase. On the new tab, we may view the authentication of our unique device's information. Then click the Start Bypassing Activation button.
5.
Allow Aiseesoft iPhone Unlocker software to manage the activate lock by processing for a second in the fifth stage. As a result, until the procedure is done, patience will be necessary.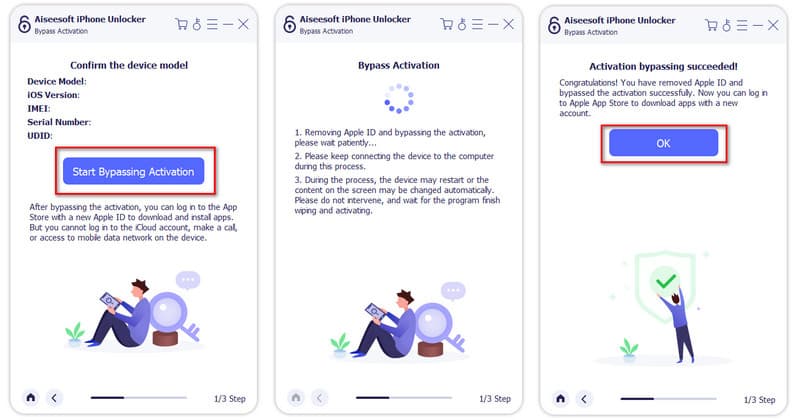 Solution 2: Using PassFab Activation Unlocker
PassFab Activation Unlocker is another helpful tool that we can utilize as a solution to making the problem go away. This amazing software offers mainly three features that we can use instantly. These are the following:
◆ If you do not have any information regarding the login with which the device should be authorized, skip the identification of the iPhone using the iCloud account.
◆ Disconnect the iPhone from the iCloud account if the iPhone has been operational, but you have forgotten the current account details.
◆ If the iPhone is already operating, but you have forgotten the passcode for the current account, disable Find My iPhone.
Let us sight how we can use these features to give solutions with your iPhone that is not activating. Please see the procedures and steps below.
1.
Install the PassFab Activation Unlocker program on your computer. After that, please run the software to view the clean interface. Then, select the Start to Remove option from the interface to begin the removal process.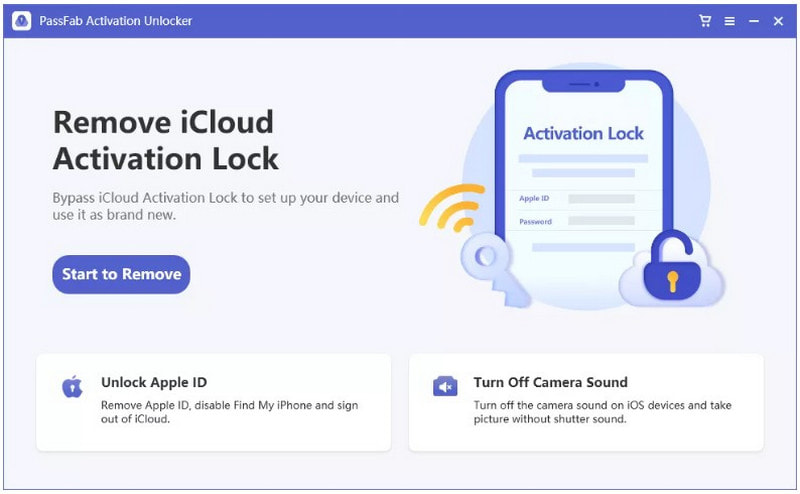 2.
Following that, you will see a new page with certain precautions you should read and remember before using the software. Then, in the bottom-right corner, hit the Start button to proceed to the third stage.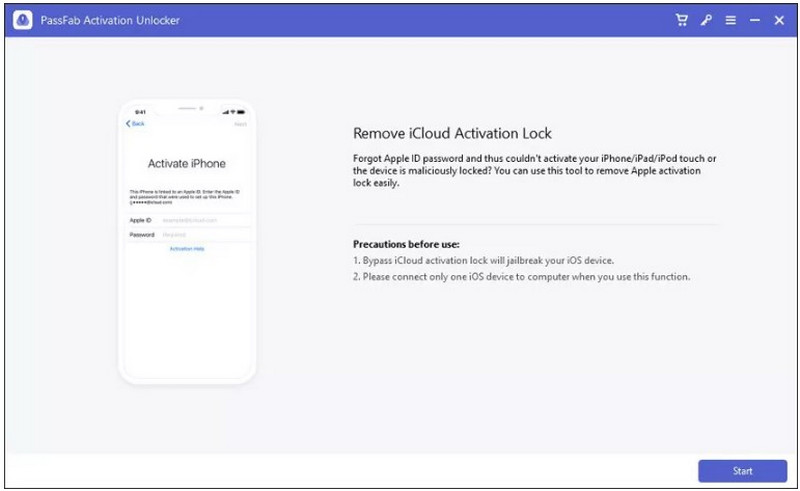 3.
The agreement must be confirmed in the third step. Please read the terms you must adhere to and the likely outcomes of the procedure. Check the box to says that you have read and agreed to the agreement as an act of approval. Then, select Next and connect your iOS device to your computer using a USB cord.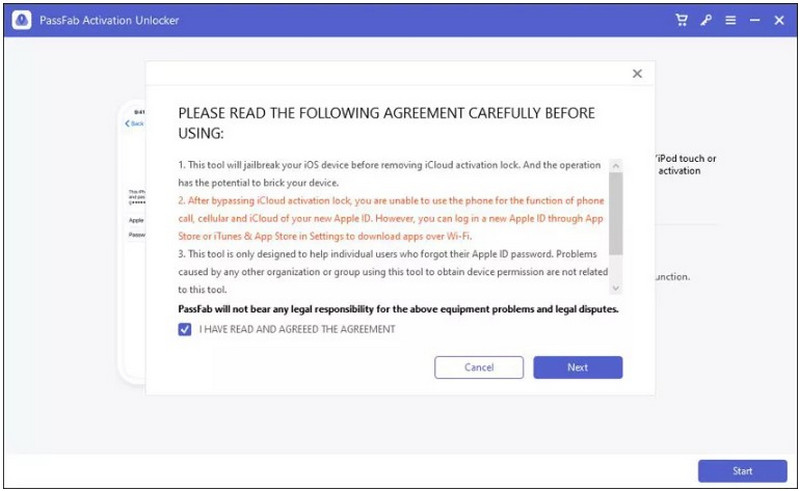 4.
Following that, kindly follow the few on-screen steps to retrieve your iDevice's jailbreak and jailbreak correctly. We may now go to the next stage by simply pressing the Start Jailbreak button.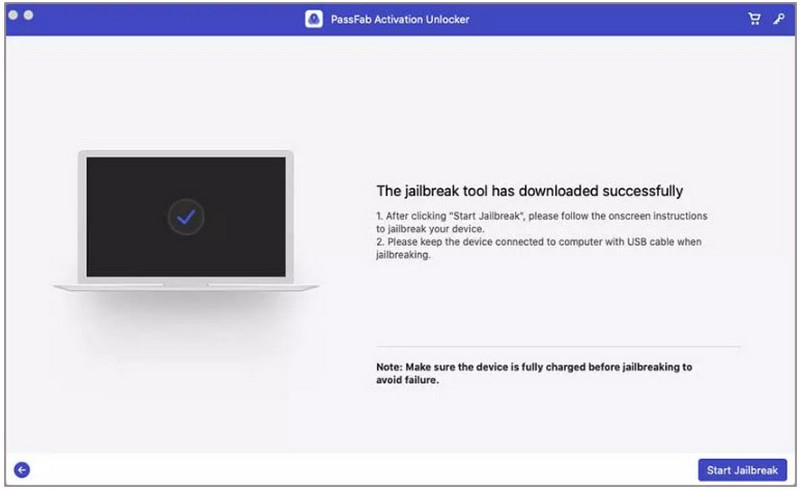 5.
Following that, the application will process your iPhone's activation lock. When the procedure is finished, select the Done option, and your iDevice will be ready to use as if it were a new iOS device.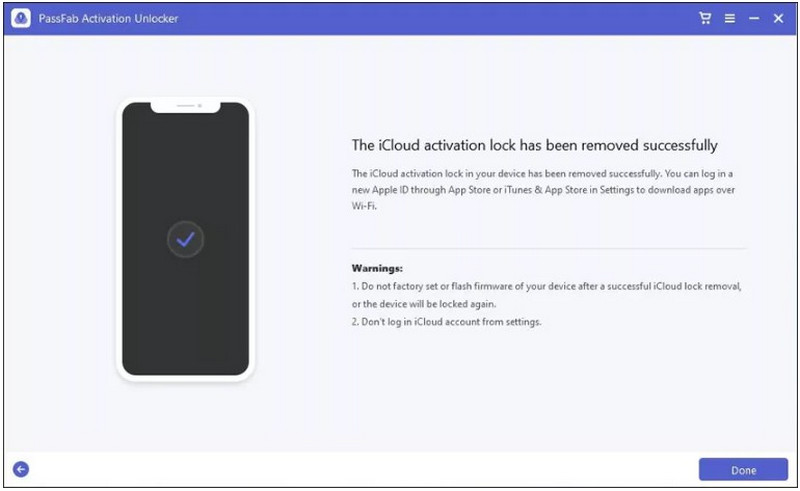 Solution 3: Use WiFi Network to Activate
Connect to a Wi-Fi network if your iPhone does not activate when using Cellular Data. Wi-Fi is often more stable than cellular data for internet access.
1.
Navigate to Settings and choose Wi-Fi. Under Networks, select your Wi-Fi network.
2.
Tap Join in the top right-hand corner of the screen after entering your Wi-Fi password.
3.
A checkmark will display next to its name when your iPhone is connected to a Wi-Fi network.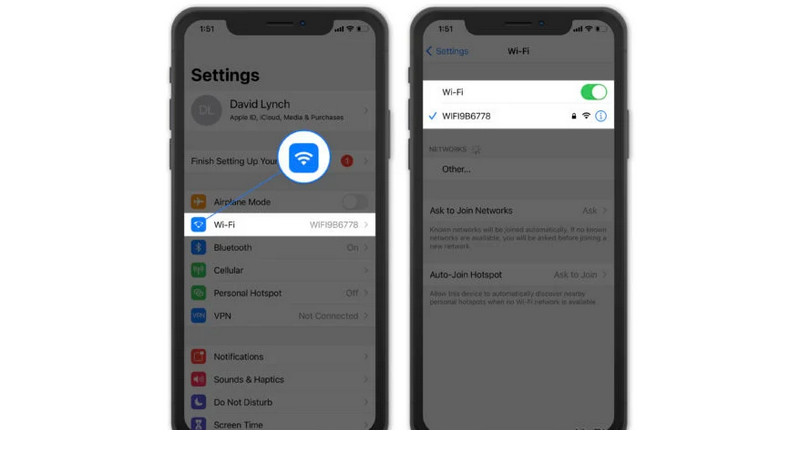 Cannot connect Wi-Fi? Check this post to find Wi-Fi password here.
Solution 4: Updating iPhone Device
Updating your iPhone to the most recent iOS version can occasionally resolve software glitches and cellular connectivity concerns. Some iOS versions feature modem updates, which can sometimes resolve Wi-Fi and cellular connection problems.
1.
On your Setting, tap General.
2.
From there, see the Software Update in the options.
3.
If an iOS update is available, select Download and Install or Install Now. Please wait for the process and see the results.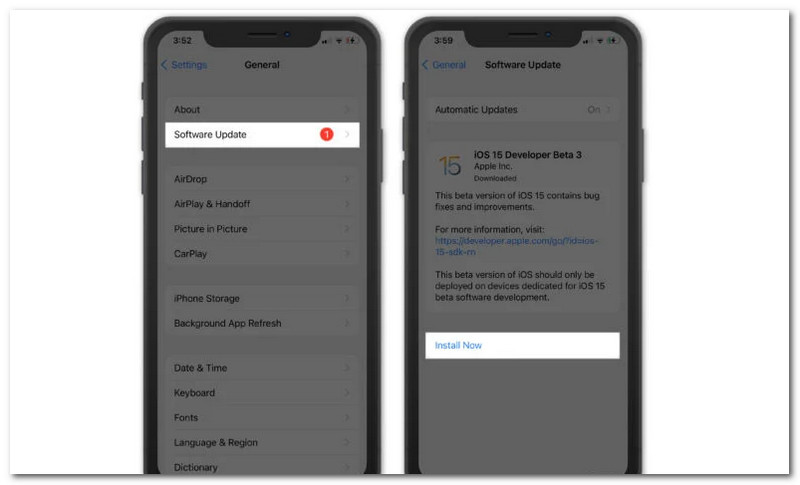 Solution 5: Resetting Network Settings
The network settings of an iPhone govern how it connects to Wi-Fi and cellular networks, Bluetooth devices, and virtual private networks (VPNs). Reset Network Settings will remove your iPhone's Wi-Fi, Cellular, Bluetooth, and VPN settings and restore them to factory defaults. This solution can occasionally resolve a persistent software problem.
1.
Go to Settings and then General. Then, on the iPhone, go to Transfer or Reset iPhone.
2.
From there, see the Reset as we access Reset Network Settings.
3.
When the confirmation pop-up displays, enter your iPhone passcode again, then press Reset Network Settings.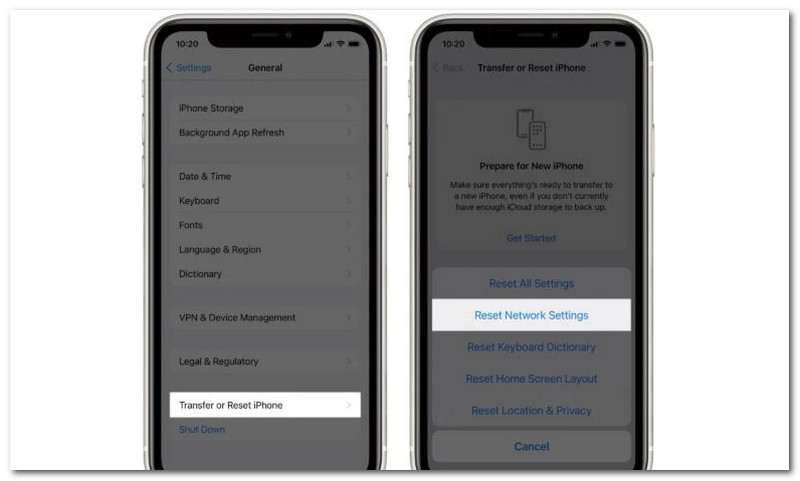 Part 3. FAQs about iPhone Is Not Activated
Does checking for the carrier setting update fix the iPhone not activating?
Yes. Apple and cellular carriers regularly update carrier settings to strengthen your iPhone's connectivity to your carrier's network. Your iPhone may not be activating because of out-of-date carrier settings. Installing carrier settings update as soon as it is available is a brilliant idea. It only takes seconds!
Can I only restart my iPhone if it is not activating?
Restarting the device can be a possible solution if your iPhone is not activating. However, it is not a suggested solution because, most of the time is not enough, mainly when the problem occurs because of an issue with our network settings.
What are iPhone activation servers?
iPhone Activation Server is a simple software meant to aid iPhone customers in activating their smartphone without providing any personal information or making any fees to the AT&T network. Furthermore, iPhone Activation Server may jailbreak your iPhone, allowing you to circumvent the limitations set by Apple and the AT&T network and use the smartphone with any carrier you wish.
Conclusion:
Those five solutions are only a few methods we can use to ease the problem on an iPhone that is not activating. However, we guarantee these methods are enough to help you with your issue. Thus, you can share this article with other users to help them with the same problem.
Did you find this helpful?
196 Votes
YES

Thanks for letting us know!
No

Thanks for letting us know!
Aiseesoft iPhone Unlocker
Get into locked iPhone iPad iPod without password or Apple ID.