How to Unlock Disabled iPhone and iPad with 4 Effective Methods
Many iOS users are experiencing a disabled iPhone or iPad. It is due to different reasons. However, one aspect is that this event can bring hassles for our users. It can make us unproductive by doing our stuff within our iOS devices. Some of us will prevent us from watching our favorite series or movie using our iPad. The gamers will not play their online games to rank up, or worse, it can interrupt our communication with our colleagues, friends, and family. We need to take some action to alleviate this problem. Join us through this post as we make solutions for your trouble. We shall know the reasons behind the problem to utilize the four methods to fix your disabled iPhone or iPad. Please continue reading, and you may use the navigation bar for easy navigating the article. Without further discussion, let us start the process of fixing the problem.

1. Why is my iPhone Disabled?
A disabled iOS device brings so much complication for our users. That is why fixing it is one of the most important things we need to do. However, it is essential to know the reason behind your problem before we start fixing it.
Many iOS devices are experiencing iPhone and iPad disabled due to the situation where they forget their Passcode. As we all know, entering so many wrong passcode attempts will lead us to disable our iPhone or iPad. The worst thing about it is that the many incorrect attempts, the more it adds to the time of disabling your iOS devices. As we get more specific, six wrong shots will give us 1 minute of disabled devices. While on your 7th wrong attempt, a 5 minutes diable will exist.
Furthermore, the 8th wrong attempt is equivalent to an iPhone 15 minutes disabled. Then, the 9th wrong attempt is good for 60 minutes or an hour of disabling your iOS device. Lastly, your ten times wrong iPhone password will allow your iOS device tp disabled until you are connected with your iTunes account. This instance is the common reason many iOS become disabled due to the forgotten Passcode. In line with that, let us know to continue discovering solutions on how to unlock a disabled iphone and iPad without iTunes as we proceed with the next step.
2. How to Unlock Disabled iPhone iPad- Easy Way
As we give you the first method to unlock a disabled iOS device, we want to start with the easiest way to do it. The first method is by using the effective Aiseesoft iPhone Unlocker. This fantastic software possesses great features in helping us make the process at ease. This tool lets you choose the function you need between wiping a passcode, removing Apple ID, and alleviating Screen Time. It is also safe to use. In addition, it is also the most accessible medium of the process because it does not require anything that can hinder the process if we are not able to provide too. Get now as we start the process of unlocking our disabled iOS device. Please pay attention to the steps and details to prevent any issues with the process.
1.
Open the Aiseesoft iPhone Unlocker on your computer as we get to see its full features and interface. Please click the function box for Wipe Password, which we can see on the first option on the screen.
2.
Then, you will now see a new tab that contains a few reminders and information about the process of unlocking our disabled iOS using the wiping feature. Read the following information and reminders and click the Start button to continue the process.
3.
After doing it, the tool will now require you to connect your disabled iOS device to your computer by using a USB cable.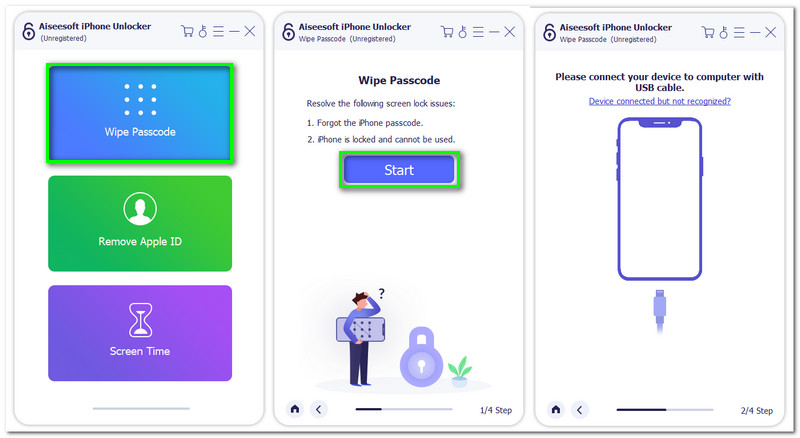 4.
A new tab will appear, which shows the information of your device. This purpose is to confirm that all the details and information are correct. These details include the category of your device, model, type, and even the iOS version. IF everything is fine, please click the Start button at the most central part of the screen.
5.
After confirming your information, it is now the time when the tools will download all of the firmware packages. It will take a few moments to get it done. Kindly wait until it is ready to go. Then, if it is now ok, please click the Unlock button now.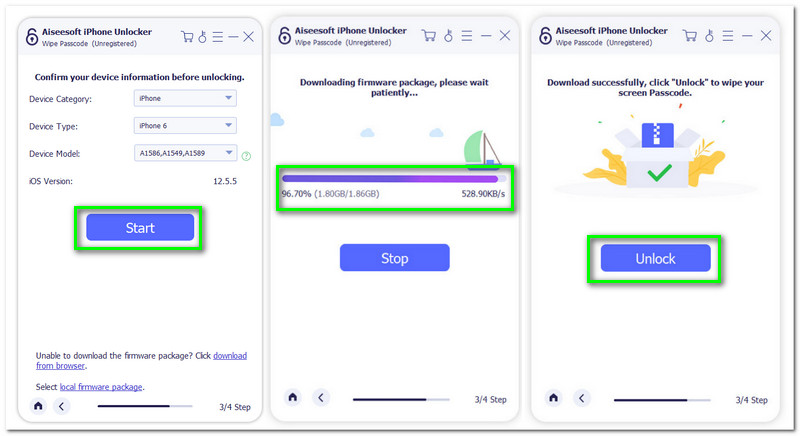 6.
This last step is for confirmation of and verification. It is now when the tool will ask for the code to confirm the whole process. Please type 0000 on the type bar and click the Unlock button on the right side of the bar.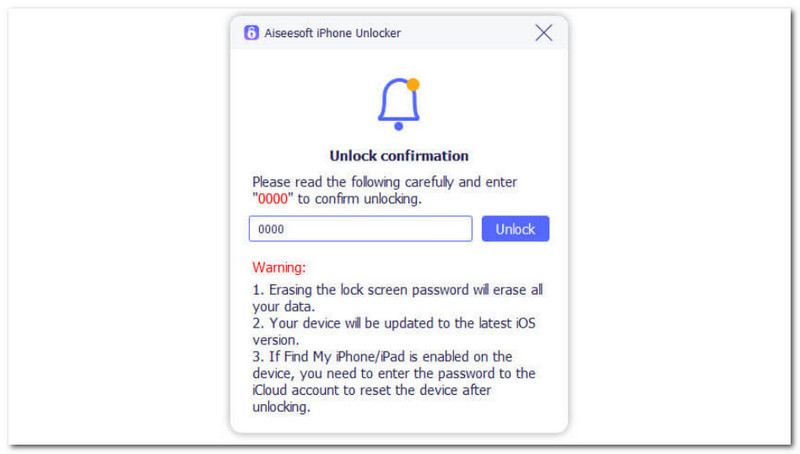 These few simple instructions are the steps we need to follow to make unlocking a disabled iphone without iTunes possible. Indeed, with Aiseesoft iPhone Unlocker, a hindrance-free process is now possible.
3. How to Unlock Disabled iPhone iPad with iTunes
The second effective method that we can follow is with the help of the great iTunes. This software is famous as one of the flexible tools we need to have with our iOS devices. It not only performs for entertainment purposes but also for our privacy and technical information within our mobile devices. In line with that, let us see how iTunes can help make the unlocking of disabled iOS possible. Kindly check the steps below.
1.
Open iTunes on your computer device.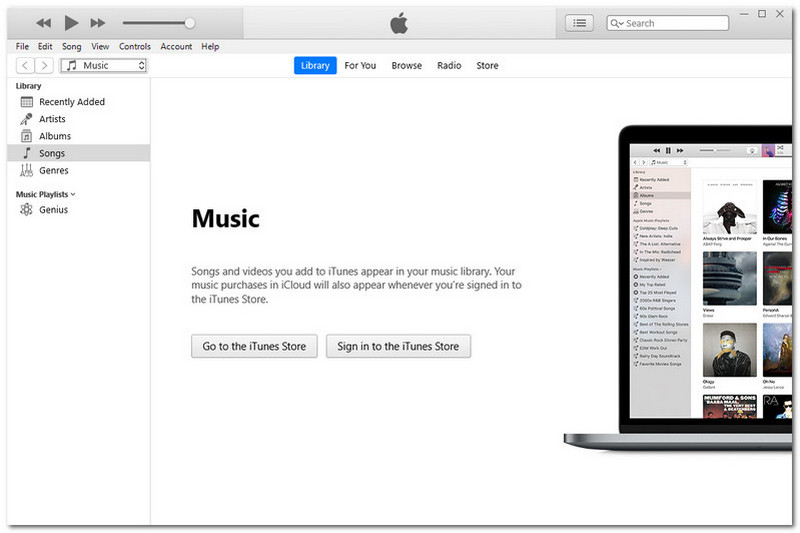 2.
The next step will require your iOS device to be in Recovery Mode. It is one of the critical things we need to do to make the process possible. However, different units of iPhones come with varying methods of putting them into recovery. In line with that, please look at the procedure below to make this step simpler.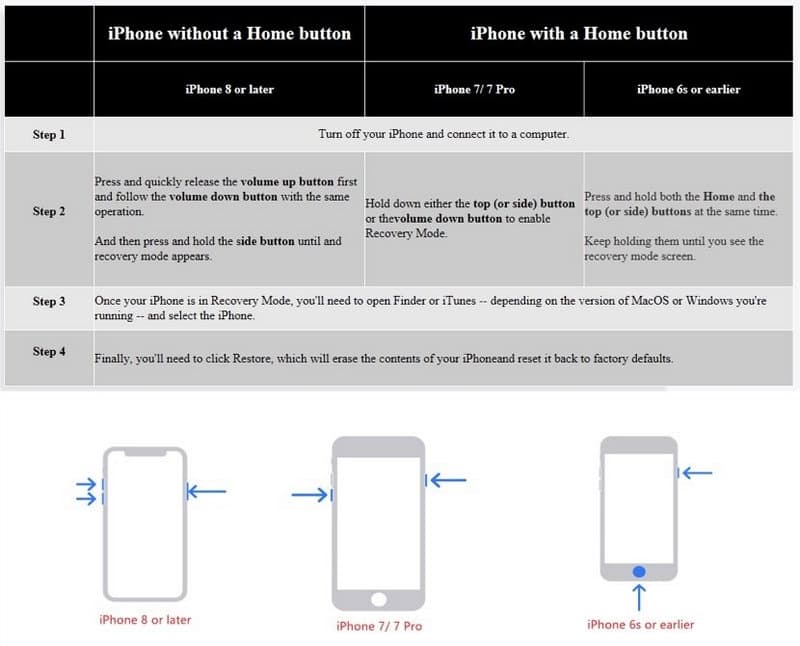 iPhone 6s and below: Recovery mode simultaneously comes with pressing the Power button and Home button.
iPhone 7, 7 Pro, and 7 Plus: Press the Power button and the Volume Down button for a few seconds.
iPhone 8 and later: For these units, click the Volume up, then the Volume down. Proceed now by clicking the Power button.
3.
After making the Recovery mode possible, go back to the interface of your iTunes and locate the Restore button. It will now remove your passcode and make your disabled iOS at ease.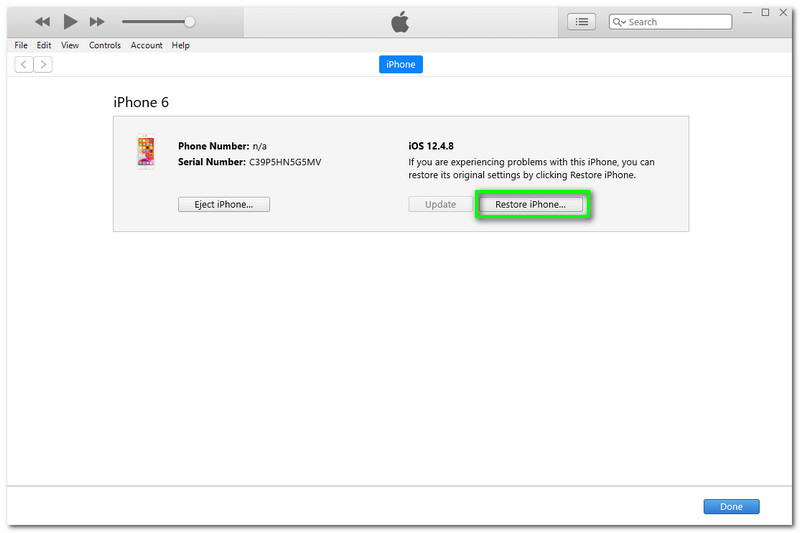 There you go, the use of iTunes with your disabled iOS. Easy yet effective methods too.
4. How to Unlock Disabled iPhone iPad via iCloud
The following method is by using another flexible tool from iOS– iCloud. This software is also significant that we can use to make unlocking possible. Please take a look at the instructions below and use them as your guide.
Note: Make sure that your disabled iOS is connected to an internet password and the Find My iPhone is one.
1.
As we begin, please go to iCloud.com using your web browser using your computer. From the website, please log in to your iCloud account. A code will be sent to your mobile number. Enter it for confirmation. Then, you will now see a pop-up tab on your web page where it will ask you to Trust the browser.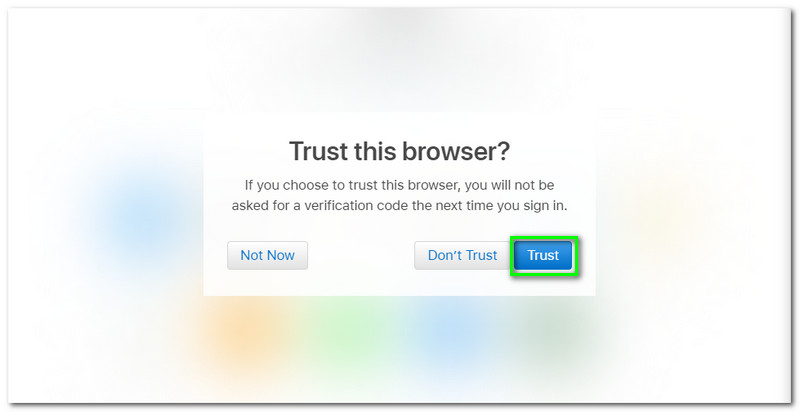 2.
On the options from your browser, find the Find iPhone feature tab. After that, choose the disabled iPhone on the option through the All Device list.
3.
The following step will require you to click the Erase button on the browser. After it, allow your iPhone to restore your data and contents automatically. This restoration process will include the removal of your passcode.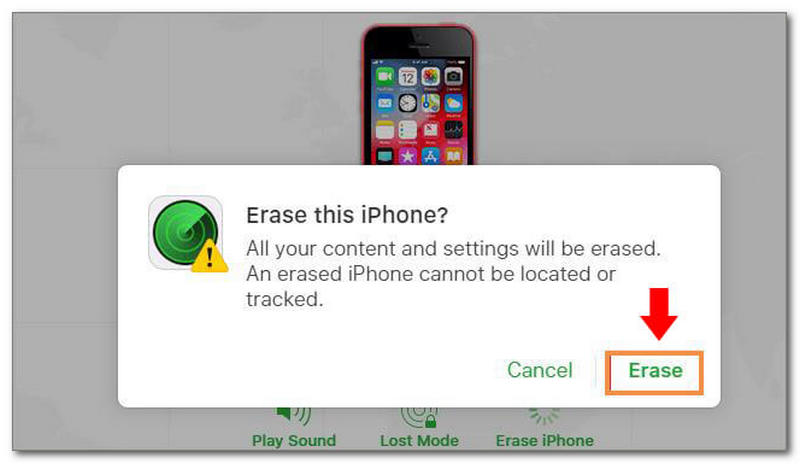 These steps below help iCloud in unlocking your disabled iOS possible. Kindly check every detail if an issue occurs.
5. How to Unlock Disabled iPhone iPad Running in iOS 15.2 or Later
The following method is for the iOS user who has the latest version of iOS. This method aims to help users of an iPhone or iPad with iOS version 15 and later. We will show some easy steps that we need to make in unlocking your disabled iOS efficiently.
1.
Try to enter a passcode until your mobile device asks you to try again after a few minutes. Then, after that, try the process again until you see an option for Erase iPhone/iPad at the bottom part of the screen. Please tap it as we continue the process.
2.
Wait for the pop-up tab to show on your screen. Enter your Apple ID to sign out your account on your device.
3.
Please click the Erase iPhone/iPad again as we allow our device to remove the settings and data within our iOS device.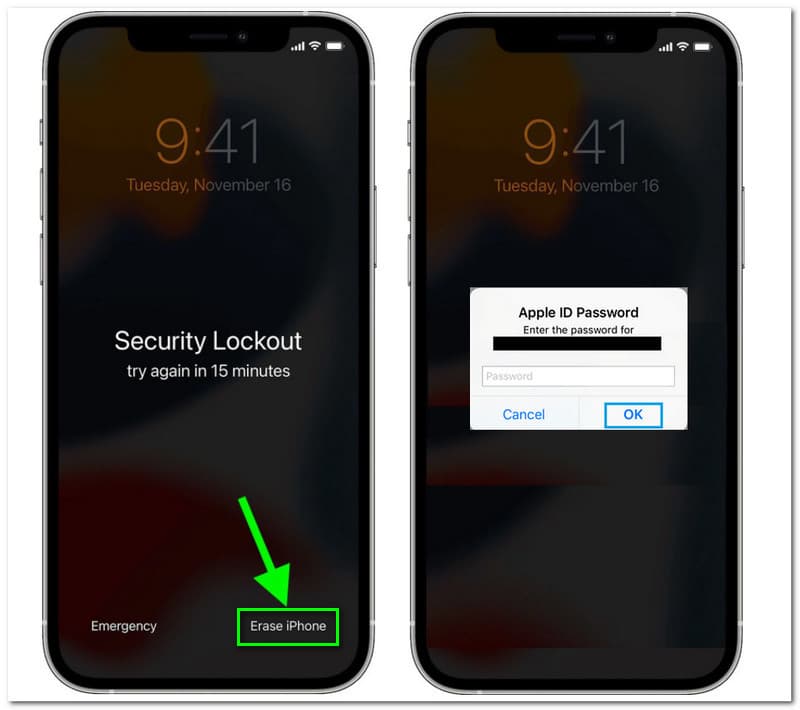 4.
Let your iOS restart. Set it up again by following every instruction on the screen. Then, use your backup for the restoration of your data and setting.
This solution is working even when you forgot iPhone passcode.
6. FAQs about iPhone iPad Disabled
May I use Siri in knowing my iOS passcode?
Yes. Siri knows your Passcode in your iPhone or iPad. We only need to say Show me my password, and Siri will show it by opening the password page under your Settings. However, knowing your Passcode through Siri is not that easy because it will be required to confirm your identity using your FAce ID in making the process possible. It is an excellent action in protecting the privacy of our iOS devices.
How can I turn off my iOS screen lock passcode to prevent iOS disabled problems?
An instant turning of your iOS screen lock passcode is effortless to do. We only need to go with the Settings of our iPhone or iPad. From the settings, please find the Touch ID & Passcode. It will lead you to the setting options where you can set the information about your Passcode. Please scroll down until you see the bottom portion of the setting and locate the Turn passcode off. Afterward, a pop-up tab will exist on your screen asking for the confirmation of the process. Then press the Turn off button as we proceed to the next step. As we finish the process of turning off or iOS screen lock passcode, please enter your Passcode.
Is it safe to use an iPhone Unlocker in fixing our disabled iPhone to iPad?
Utilizing an iPhone unlocker to remove the disabled problems within our iOS devices is safe as long as you choose a great tool to make it possible. Some of the safe and effective iPhone unlockers are the PassFab iPhone Unlocker, Aiseesoft iPhone Unlocker, and Wondershare Dr.Fone. These unlockers possess great developers that can make the process of removing our problem as safe as possible. They include great technology in protecting our privacy and even our devices with malware and trojan viruses.
Conclusion
As we end this with a blast, we can now see that removing the problem of disabled iOS is now at ease due to the effective ways to do it. We can see how useful and easy to use the AIseesoft iPhone Unlocker is in terms of doing the process. In addition, we still have iTunes and iCloud, which can help us alleviate your problem. Therefore, we hope this post will help you fix your disabled iPhone and iPad. If that is the situation, please do not forget to share this with other iOS users so that we can help them too. Lastly, visit our website for more helpful tips, solutions, and reviews for your technology and devices.
Did you find this helpful?
257 Votes
YES

Thanks for letting us know!
No

Thanks for letting us know!
Aiseesoft iPhone Unlocker
Get into locked iPhone iPad iPod without password or Apple ID.