SwifDoo PDF Review: An All-around PDF Converter without Limitations
The Portable Document Format is commonly known as PDF. With that, you can easily store and exchange files. Unlike other formats such as Word and Excel, a PDF file cannot be changed. Therefore, the PDF file is difficult to edit. To make changes to your PDF file, you need software. In this review article, we will introduce to you SwifDoo PDF. It is an all-around PDF file converter that can help you accomplish editing and convert your file. With that, please continue reading to review this software and find out all you deserve to know.

Our Verdict
Pros

It is a fast and smooth PDF converter.
It is a safe PDF compressor.
It offers three different image qualities; high, medium, and basic.
It has a better user experience.
It has a simple interface.
It provides powerful features.
It has a lightweight system resource.
It safeguards your sensitive and confidential information.
Cons

You need to create an account and sign in to use the free trial.
It is only compatible with Windows.
Overall Ratings
Interface:9.0
Features:8.5
Conversion Speed:8.5
What is SwifDoo PDF
Best for: People who want to convert, edit, merge, split, and compress their PDF.
Price: $20.00 for a Monthly Subscription, $69 for an Annual Subscription, and $159 for Perpetual License.
Platform: Windows.
Main Features
SwifDoo PDF is converter software that can convert, edit, compress, merge, and e-sign your PDF file. In addition, you can use it for free for a couple of days, and it also helps you convert your PDF to PNG, TIFF, JPG, PCX, PSD, and even further.
Moreover, SwifDoo PDF is popular online because of its features and functions. Plus, it will help you to fulfill your needs in terms of converting and more. Below, we will show you SwifDoo PDF main features:
◆ It can convert your PDF to different kinds of formats.
◆ It can also convert your PDF file to Microsoft Office, Microsoft Word, Microsoft Excel, and PowerPoint.
◆ It can create and remove electronic signatures.
◆ It has a powerful PDF editor that can add, delete, change font size, change color, and insert links or images to your PDFs.
◆ It can separate and combine PDF documents.
◆ It has an easy E-signature maker and annotator.
◆ It allows you to open your PDF document using Flash.
◆ It can scan your PDF.
◆ It can add or delete a watermark to your PDF document.
◆ It can edit, compress, merge, and split your PDF file.
◆ It can add sticky notes and stamps to your PDF file.
◆ It can underline, strikethrough, squiggly line, caret, highlight, shapes, and pencil in your paragraph on your PDF document.
SwifDoo PDF Review
Why choose SwifDoo PDF?
SwifDoo PDF is powerful and very lightweight. It is impossible to believe that this software only requires 10MB on your hard drive disk, but yes, you read it right. SwifDoo only requires a few resources to continue using it with its function.
Furthermore, SwifDoo PDF has no delays and progresses super fast. While using the software manually, we learned that SwifDoo PDF could convert PDF files to image format like JPG in a split second, and you do not need to wait any longer.
Moreover, it can also open PDF files quickly. Unlike other software, SwifDoo PDF can open files rapidly even if the files have a dozen pages. Again, SwifDoo PDF is an all-around and lightweight software. You can automatically close it and choose it as a default PDF software.
Interface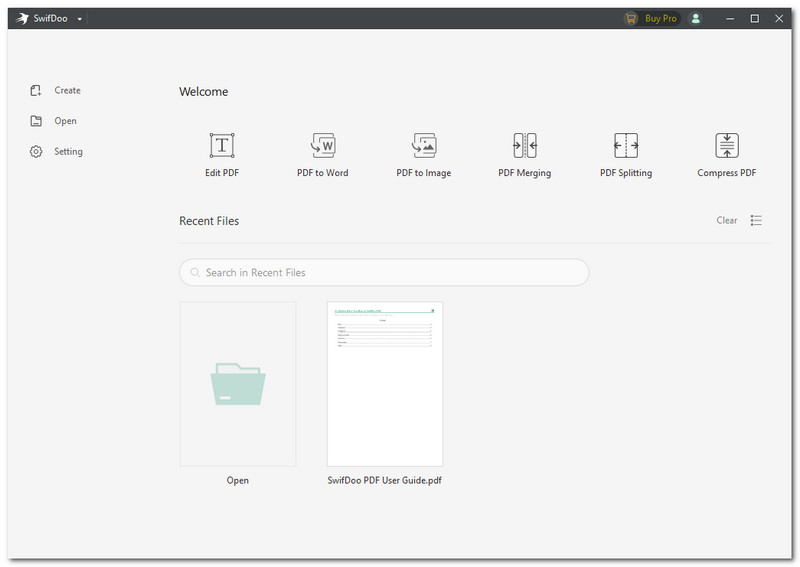 SwifDoo PDF is known as one of the most straightforward PDF converters online. It provides a User Guide and allows you to navigate quickly and understand every function of the converter software.
On the left side, you will see the options such as Create, Open, and Setting. Then, going to the middle part of the interface, you will see the Welcome and other options like Edit PDF, PDF to Word, PDF to Image, PDF Merging, PDF Splitting, and Compress PDF.
Below that, you will see the Recent Files. It provides a search bar where you can search your Recent Files and click the Open option to find a PDF file and the User Guide. Moreover, you can easily convert your PDF files using SwifDoo PDF.
Compress PDF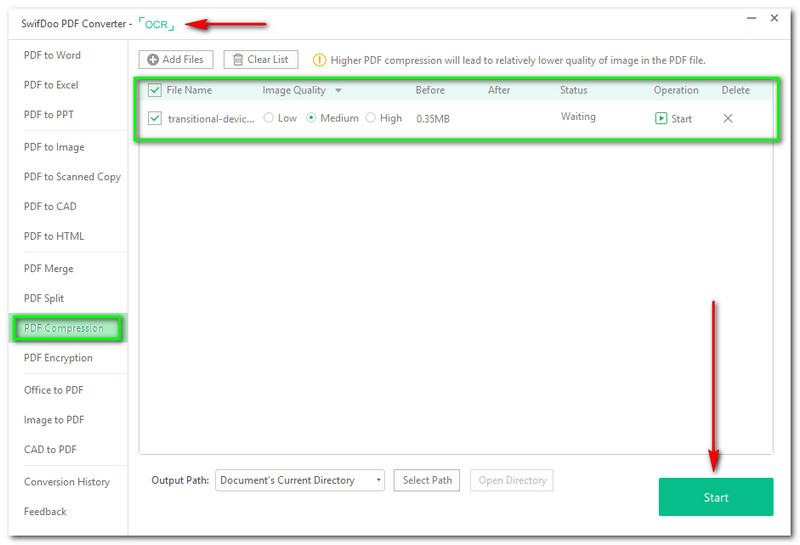 When you hear the word Compress, it means you will reduce the size of your recent PDF file size. Luckily, SwifDoo PDF can do that, and it is a compact PDF converter that can smoothly help you compress your PDF files into a more acceptable size. In short, you can forward or share your PDF files with others that will become more suitable.
In addition, it can facilitate you when you want to upload your PDF file from your computer, Dropbox or Google Drive, and it will automatically compress it. The good thing is that SwifDoo PDF will maintain your PDF file's quality and content.
Furthermore, the entire procedure will not make you wait longer because compressing your PDF file using SwifDoo is quick and straightforward.
Edit PDF
Using the editing tools of SwifDoo PDF, you can customize your PDF file. It lets you Edit, Insert Text, White-out, Add Images, Add Link, Crop PDF, Page Setup, Split Page, Deskew, OCR, Change Background and Extract TOC.
There is more you can do with the editing tools of SwifDoo. On the Home part, you can Highlight phrases, Add Text with the style of a Typewriter. Moreover, you can also convert a PDF to Word and Image. You can also add Watermark, Read the PDF using the software, add some Quick Transition to your PDF file, and Create Blank Page, From Image, From File, From CAD, and From Scanner.
On the Annotate part, you can add an Underline, Strikethrough, Squiggly, Caret, Area Highlight, Arrow, Line, Shape, Pencil, Note, Stamp, Attachment, and Eraser. You can edit more by trying SwifDoo after reading this review article.
Convert PDF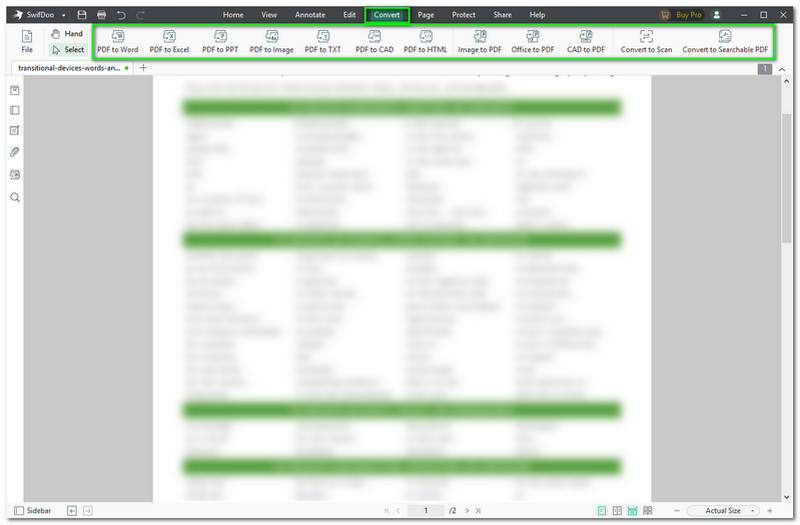 SwifDoo PDf allows you to manage your PDF file with the file content, file format, and file size. SwifDoo lets you convert your PDF files from PDF to Word, PDF to Excel, PDF to PPT, PDF to Image, PDF to TXT, PDF to CAD, and PDF to HTML. Also, Image to PDF, Office to PDF, and CAD to PDF.
You can also scan your PDF to convert it to a Searchable PDF. What else? You can convert your PDF files to JPG, PNG, BMP, TIF, and TIFF images.
FAQ of Swifdoo PDF Review
Is a free trial of SwifDoo PDF safe to use?
Yes, even if you are using a free trial of SwifDoo, you can use it safely because it extends its privacy. It safeguards sensitive and secures your confidential information. Therefore, SwifDoo PDF guarantees you high security with two-level password protection. In addition, SwifDoo PDF only collects your information to provide, improve, promote and protect the services they offer to every user. If there are issues with the data or information, contact SwifDoo PDF immediately.
What are the advanced features of SwifDoo PDF?
SwifDoo PDF provides additional features and functions. All users can encrypt and decrypt their PDF files as they desire. In addition, users can add watermarks and E-signatures to your PDF files wherever the users want to locate them. Moreover, users can also compress files with minimal clicks, saving you so much time when they send files via email.
Will the quality of the PDF file change after the compressing process using SwifDoo PDF?
When compressing files, you reduce the file size to make it easy to transfer, especially when sending emails. Using SwifDoo PDF, you can compress PDF files without losing the file quality. You will not experience data loss during the compression process. In addition, SwifDoo PDF has lossless compression, and they have a technology that whenever you compress a PDF file, there is no information lost.
Conclusion
In this review, we assist you in knowing SwifDoo PDF better. We collect its advantages and disadvantages and lay them down to have a basis if you want to purchase SwifDoo PDF. In addition, we also include its price, including its main features. Moreover, we are only happy to review its functions with you, and we will share some questions and answers just in case you will need them in the future. Furthermore, we appreciate that you finish this review article by the end. We will meet you again at our next one!
Did you find this helpful?
316 Votes
YES

Thanks for letting us know!
No

Thanks for letting us know!
PDF Converter Ultimate
An ultimate PDF converter to Word, Excel, Image, and more.