Split PDF Pages Hassle-Free with these 7 PDF Editors: For Windows and Mac
Educators and secretariat are two of the common professions known in handling a lot of files including PDF. Most of the time, their PDF files have a large number of pages. Frequently, the information on it is divergent, and hard to look at the info you need, especially when you are just looking at a single page. In other instances, having a large number of pages in PDF can sometimes lead you from being disordered. However, there are these PDF editing tools that can help you split PDF files in just a minute. Maybe you are now wondering what those things are. In connection with that, we researched 7 different PDF splitting tools for you. These consist of online and desktop software that can offer many and different functions for you.

Part 1. PDF Splitter Online
1. PDFChef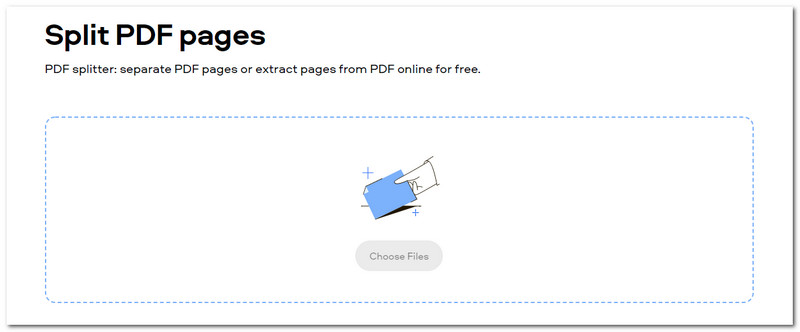 Overall Ratings: 4.0
Price: $5.9
Platforms: Windows and Mac
First on the list is PDFChef. This is an all-in-one PDF software that offers you so many tools. This will allow you to merge, rotate, rearrange, and delete PDF pages. This tool will also allow you to split PDF files with ease with just a simple step. PDFChef is a great online PDF splitter tool with a super-high-speed editing processor and converter. It works with numerous browsers including the most popular like Google Chrome, Opera, and Microsoft Edge. Furthermore, despite its being flexible, those are just basic features that can be easily mastered even by new users. Its intuitive and clean interface is also a big factor that makes your work easy and quick. Overall, this tool can be a great can choose if you are looking for a splitter that is very to use. Try it for free of avail of its full features for as low as $5.9 per month.
Pros

Simple PDF editor.
Powerful tool comes with basic functions.
Affordable software.
It offers a free version.
Cons

Functionality is not enough.
There are reports about error instances.
Messy process.
2. Sejda Free PDF Page Splitter

Overall Ratings: 4.4
Price: $5
Platforms: Windows, Mac, and Linux
Sejda Free PDF Page Splitter is another PDF splitter in Chrome and other popular browsers. That means that this PDF editor can be easily accessed with multiple platforms such as Windows, Mac, and Linux as long as you have browsers of course. This is a perfect tool that can help you split multiple pages of PDF files. For example, you have a 20-page document and you wish to split it into 4 documents with 5pages each. Fortunately, that is now possible with Sejda Free PDF Page Splitter. Just as additional information, it has software for desktops that can easily be downloaded with their websites. That version can offer you more than the online tool can do. Moreover, this is really a flexible tool that has the ability to edit and split up to 3 PDF files per hour.
Pros

It is easy to use.
Minimal interface.
Many tools other than Splitter.
Cons

Batch uploading feature is missing.
The desktop version is available for limited platforms.
3. pdfresizer.com

Overall Ratings: 4.0
Price: Free
Platforms: Windows and Mac
Pdfresizer.com is also an online PDF editor that will enable you to modify your PDF files, such as Merging, Resizing, Converting, and more. This is also a free PDF splitter for Windows 10, and other platforms including Mac. Split PDF files in just three easy steps: upload, split, and download. Other than that, here are the important things you need to know about it, you can select up to 50 files to split but the maximum combined files is just 100MB only. Combined file size exceeding that will not be processed. Therefore, if you are planning to split your PDF files, you should make sure the file size of. However, we all know PDF files are just occupying a small amount of our storage. Then it will not be a problem after all. Overall, despite its limitations in some aspects. It is also a great tool that you can choose, a tool that you will not regret utilizing.
Pros

Free PDF editor.
Possess basic features and tools.
Functions are one click away.
Cons

Websites need to be updated.
Limited features.
Part 2. PDF Splitter Software (Windows & Mac)
1. Tipard PDF Cutter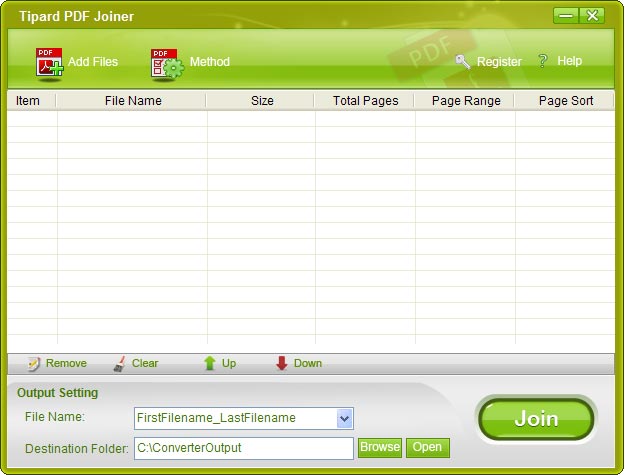 Overall Ratings: 4.1
Price: Free
Platforms: Windows and Mac
Tipard PDF Cutter is a simple one-task desktop software that allows you to extract and split selected PDF files into different documents or sections. This tool is surely an easy-to-use the function, with its clear interface that will not bring you confusion. The tool is also flexible which can provide you with different available splitting methods.
Just to clarify, although this tool can extract files, it is still different from splitting PDF. The main purpose of Tipard is to Cut (their term for split) PDF. The Tipard PDF Cutter will let you cut the file by every number of pages through bookmarks or by specific pages ranges. In the short term, extracting will be saved in one single file. Cutting purposes to diversify your document. As keys are taken away. This tool is less complicated to use, for it only focuses with a specific purpose which is splitting PDF files.
Pros

Simple tool for all users.
Flexible splitting settings.
Fast splitting process.
Free to use.
Secure with 24/7 expert support.
Cons

Other tools are not available.
Limited function.
2. PDFsam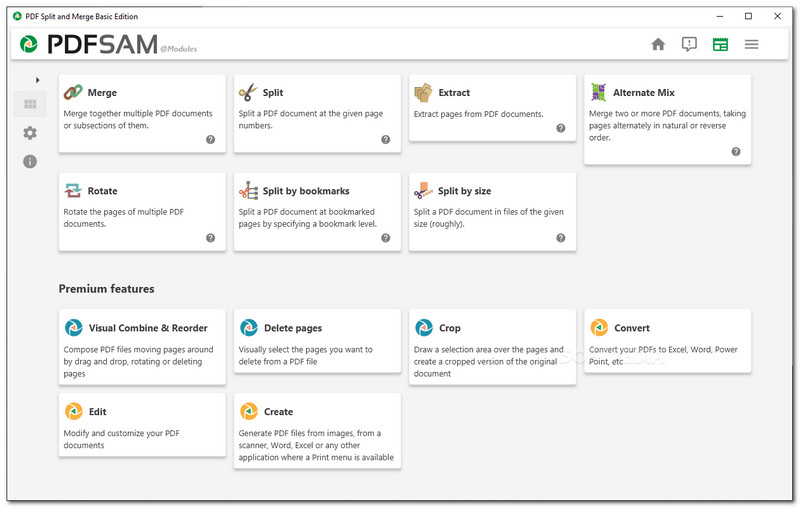 Overall Ratings: 4.0
Price: Free (Basic)
Platforms: Windows and Mac
PDFsam is composed of three types, these are PDFsam Visual. It is for encrypting and decrypting files, deleting pages, converting to grayscale, extracting texts from pages, and more. The second one is, the PDFsam Enhanced for viewing, converting, creating, editing, and inserting PDF files. The third type and the one that we will be focusing too is the PSFsam Basic. Through this type you can now merge, rotate, and split PDF files instantly. In connection with its ability to split, this tool can let you split by bookmarks or split by size. This incredible software is free and open-source that is suitable for everyone.
Pros

Many tools set available.
It has an intuitional UI.
The process can drag and drop.
Organized options in modifying.
Free.
Supports multi-platforms.
Cons

Complicated to master at first.
Pop-up for reminding you of the Premium version.
PDFsam Enhanced on Mac.
3. PDFelement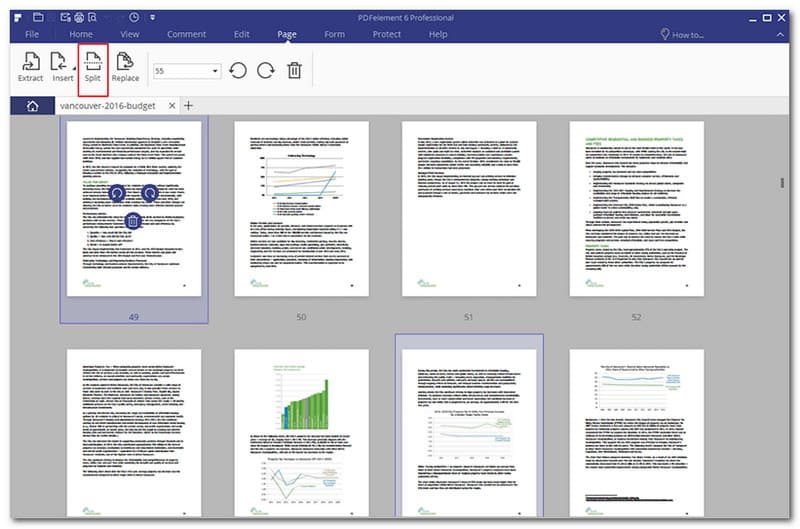 Overall Ratings: 4.2
Price: $ 6.99
Platforms: Windows and Mac
PDFelement is one of the software that you can enjoy and obtain its full features and benefits even if you are on a budget. You can do more with this amazing software. Such as create and edit PDF, convert, mark, annotate, and this is one of the best PDF splitters in the market. Through this, splitting PDF document pages can now be done instantly and hassle-free. Furthermore, it is also an award-winning software in the year 2020. This bagged the awards Popular Software and the Best Software Company, that is why no wonder why it is trusted by millions of users. In addition, PDFelement can also be called cost-efficient, with a little amount of money to utilize their powerful editing tools that can meet almost everything you need. Overall, this PDF editor will surely help you in splitting your PDF files.
Pros

Affordable splitter.
Cost-efficient.
Offers powerful tools.
Award-winning software.
Cons

Overwhelming sometimes.
Subscription-based PDF editor.
4. A-PDF Split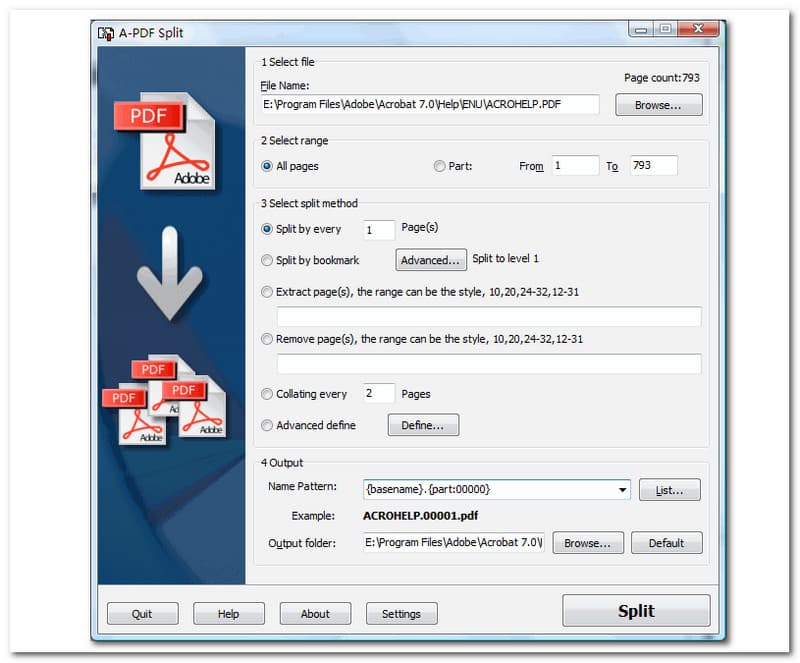 Overall Ratings: 4.0
Price: Free
Platforms: Windows and Mac
A-PDF Split was released in October 2011. It was downloaded by 14,796 as of the last data presented on their web. Although, the software looks a little bit outdated. This software has the ability to split your PDF files into numerous documents. A-PDF is a very simple and light desktop program that will allow you to split any acrobat PDF file. The split process can be done by pages, by bookmarks, or by odd/even page numbers. The best thing about this tool is that it gives you the ability to access PDF files that are protected by passcodes. No need to use Adobe Acrobat for that kind of instance. Even though there is still a lot to be improved on this converter, it still offers amazing features that can be helpful for us.
Pros

Free software.
Easy to use.
Possesses unique features.
Cons

The software is a bit outdated.
Part 3. FAQs about PDF Splitter
How to use Google Chrome to split PDF files?
Splitting PDF files using your Google chrome is easy. There are online PDF editors you can access and utilize, such as Sejda Free PDF Page Splitter All you need to do is access their website. Click the Upload PDF files button on the mid part. Select your PDF files, then click Split. Next, wait for a second and you may now download your output.
Can you recommend more software that I can use in splitting my PDF files?
There is also another PDF editor that may belong on your list. You may download Adobe PDF Splitter Software and Gios PDF Splitter and Merger for free. These tools also possess amazing features that can make the splitting process even easier.
What are the different ways to split PDF files?
These are by page numbers or by bookmarks. You can separate PDF pages one by one to be saved as different documents, or by pages range it means multiple pages per document.
Conclusion
The bottom line here, you can now organize the information on your PDF files by just splitting them into numerous documents that will become possible if you choose to utilize the PDF splitting tools presented above. Being wise in choosing what is the best for you is really essential and we hope the features, pros, and cons you have read will help you in choosing the most suitable for you. Do not forget to help your friend in looking for the best PDF editor by recommending this article or website.
Did you find this helpful?
274 Votes
YES

Thanks for letting us know!
No

Thanks for letting us know!
Tipard PDF Cutter
A professional PDF splitting tools to split any PDF file into small ones.