6 Best PDF Editor Software: The Unbiased Reviews of their Key Features, Pros, and Cons
A good and useful PDF editor can transform multiple file types. The main function of a PDF editor is to make PDFs. This would be essential for the people. Thus, people from different fields should choose the best PDF editing tools that they will be utilizing with their work. In connection with that, we gather the best software that might be placed on your list! Check out the 7 of the best PDF editing software and applications for you! In this article, we will talk about their Key features, Pros, and Cons to make the review balanced and unbiased.

Part 1. Best 7 PDF Editor Software (Windows and Mac)
The Factors in Choosing PDF Editor
You might be looking for a great PDF editor at this moment, that's why you are here! Well, you are on the path! We gather all the 7 possible PDF files editors that will help you with what you need to do! But before that, it is also important to bear in your mind the important factors you should consider in choosing what is the best PDF file editor for you!
● Ability to Create, Convert, Export PDFs.
● Will enable you to edit your content.
● Share your files online.
Foxit PDF Editor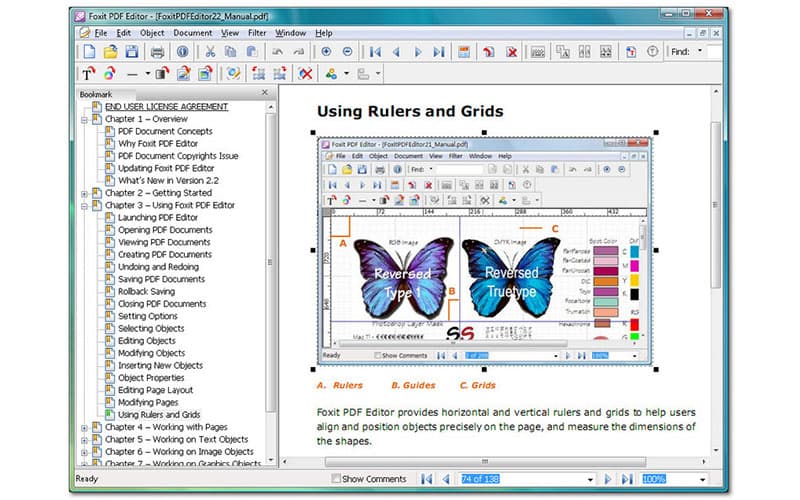 To give a glance at Foxit PDF Editor, it was defined using their words: fast, easy-to-use, and secure PDF solutions. Also to remove the confusion, Foxit PDF Editor and Foxit PhantomPDF is just the Using thus editor, many people increase their products such as businessman and consumers in line with their businesses.
An educator for their classes and discussion forums. Students, for school purposes. Foxit PDF Editor allows you to edit and create PDFs with ease and hassle-free. It offers different tools that you can utilize in creating your files, and share it with different managers or social sites. Furthermore, comments are allowed in this editor. In line with the pricing, this PDF editor offers different plans that come with different prices. However, you can get Foxit PDF Editor for as low as $15.00 for the standard price while $17.00 for business purposes.
Key Features
● Sharing options and tools.
● Able to merge and split.
● Edit from the history.
● Manage your files.
Pros

Super handy PDF editor that offers all the basic tools that you will need in your business.
Sharing and collaborating is essential in creating files such as PDF.
Its minimalist interface made the software smoother to utilize in creating your PDF files.
Has various video tutorials to help you understand it properly.
Free trial with all unlocked features.
Secured PDF file converter.
Multimedia files are amazingly integrated.
Cons

The free trial comes with limited functions.
There is no conversion to ePub.
Wondershare PDFelement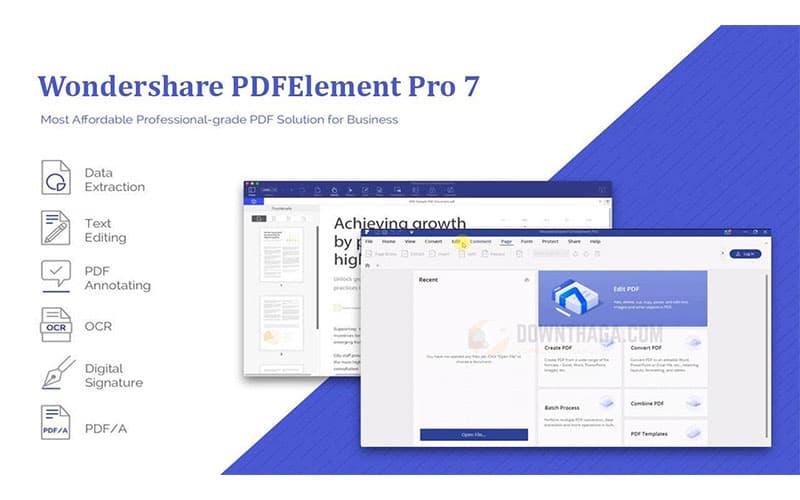 Wondershare PDFelement is an effortless and powerful PDF editor compare to others. It was labeled as an award-winning editor because it offers powerful tools for making the fantastic PDF you need. Moreover, this is the reason why tons of customers are using and trusting Wondershare PDFelement every day. In terms of being cost-effective, enjoy its incredible features by picking your plans for only $69.99 a year for Windows only, or the PDFelement Pro bundle for Windows and iOS for only $89.99. The transaction can be checked out through PayPal.
Key Features
● The batch process of documents for saving your time.
● Scanner for different documents.
● Converter for PDF files from any format.
● Extractor of data from the PDF forms.
● The dark mode is already available.
● Add comments and suggestions to the file.
● Edit and create a PDF file like a pro.
Pros

Available for various platforms such as Windows, Mac, and iOS.
Offers many tools, such as editing, compressor, and extractor.
Secured PDF file editor that cares about your privacy.
Offer almost everything you need in creating PDF files.
Cons

Technically speaking, the plans are a little bit expensive compared to the other PDF editor.
Adobe Acrobat Pro

Adobe Acrobat Pro might be the best PDF editor for you! From the glance of it, we cannot deny the fact that Adobe's products are dominating different worlds of editing software and tools. To dig deep, this PDF editor is now two years old and still improving as time goes by. It is composed of three components: for the variety of the PDF editing functions that you may utilize using your computer and mobile devices, we have Acrobat DC. For creating and exporting PDF files you make it using the Adobe Document Cloud. If you wish to read, print a hard copy, or sign your PDF, Acrobat Readers Dc will enable you to do it!
Aside from being software, this editor is also a PDF editor application that you can download with your Google store or with your App store. Overall, this incredible PDF editor is available with your Windows, Mac, and Mobile devices. No doubt why it is labeled as one of the PDF editors among the rest.
Key Features
● Create and edit your PDFs.
● Add signatures with the files.
● Customization of files.
● Navigable tab interface with ease.
● Quick Access to recent files.
● Secured and instant storing of the files locally, Document Cloud, or third-party services such as Box and Microsoft OneDrive.
Pros

Enable you to sign your file digitally for credits.
Elegant interface.
Possess a conversation that will enable you to convert file formats to PDF with ease.
Cons

Many users defined it with an exorbitant price.
Users experienced sporadic issues with the form field drop-down menu.
There are times when browser integrations are not stable.
Sometimes, it gets stuck when you open multiple files.
Preview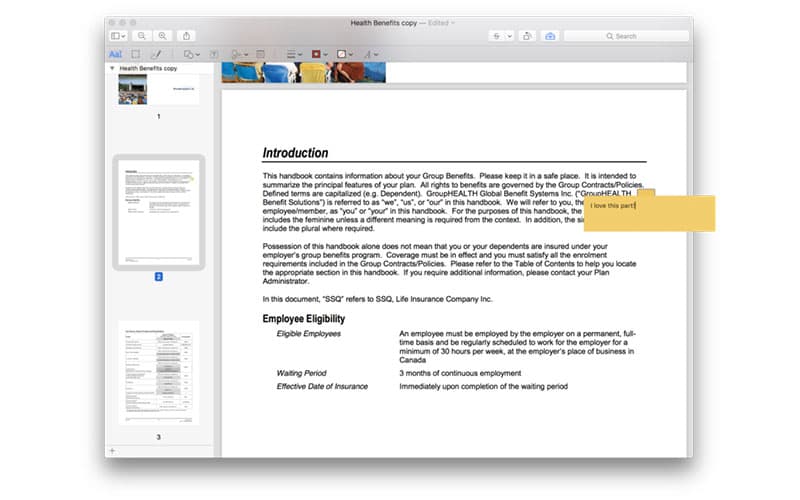 Preview is a default software in Mac that can handle PDF files with amazing features. This is a perfect PDF editor if you are just looking for basic software with less complicated functions. This is not popular with the public because this editor is only for Mac computers or laptops. However, despite that, Preview is doing amazingly well. Furthermore, this will allow you to create your PDF with ease and hassle-free. The only requirement is that you need to have a Mac utilize this editor. Moreover, this is a great choice for Mac users. For Windows people, you should now look for an alternative for this.
Key Features
● Add annotation with your file.
● PDF file converter.
● Add a bookmark.
Pros

Easy-to-use PDF editor.
Its interface is smooth and user-friendly.
Cons

Limited for Mac users only.
Limited features are offered that you can utilize in creating your PDF.
Nitro Pro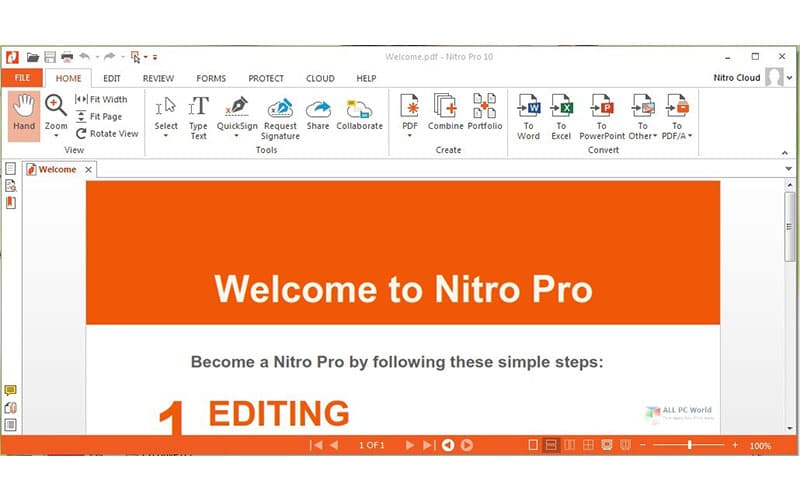 Nitro Pro can offer more than any PDF editor. It possesses so much potential as a PDF editor that can save you in managing your work. This editor is loved by tons of users, and the reasons behind this are varied. This is the most recommended PDF file editor for users who want an explosive performance editor. Nitro Pro is a collection of PDF tools that aims to replace Adobe Acrobat as the most popular PDF editor. You may get this editor for a substantial $168 for one user. You may also try its free trial, however, it does not offer the full version of it.
Furthermore, creating and converting PDFs is very easy. It offers so many features such as editing tools that will help you create incredible PDFs. Its features are organized into tabs just like what you can see with Microsoft office. Moreover, because it was a competitive PDF editor, no wonder that it can go beyond our expectations. After many years more, let us see if it can achieve its goal to become the most popular PDF editor.
Key Features
● Add text and images to the file.
● Allow modifying existing elements.
● Convert files such as Word and Excel to PDF and vice versa with ease.
● Make a new PDF using its incredible features.
● Create your PDF and add your sign for credits and ownership.
Pros

Great is the perfect adjective to define its feature-set.
Offers various PDF security features like encrypting and adding passwords.
Offer the essential and additional features that will help you in creating amazing PDF formats.
Cons

There is a conflict with the file size of the output of this editor.
The PDF editor is expensive.
PDF Expert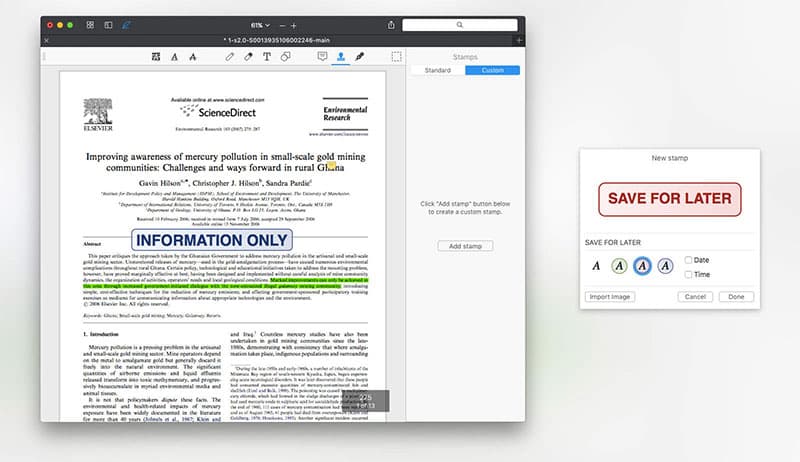 PDF Export is the last on the list but not the least because this PDF editor can offer unique and various features compare to the editors mentioned above. This is an application PDF editor that you can use in the making of your PDF files. This is a perfect choice for those people who do not have a computer or laptop but need to create a PDF for their kinds of stuff. In line with that, this is the perfect definition of the handy editor for you can use this anytime at anywhere. To get this, just go with your App Store or Google Play. Furthermore, let us now talk about its cute features. It allows you to take a snap of a PDF, highlight the important sentences, phrases, or words. The cute thing about it, you can add stickers to your file using this editor.
Key Features
● Advanced editing tools.
● High-quality conversion tools.
● Add text and annotate PDF File.
Pros

Handy PDF editor for mobile phones.
Accessible for everyone.
Basic and important features are offered.
Cons

No extra features just like what you can see in PDF editors on your PC or laptop.
Part 2. Comparison of the top 7 PDF Editor Software
Software

Foxit PDF Editor

Wondershare PDFelement

Adobe Acrobat Pro

Preview

Nitro Pro

PDF Expert
| | | | | |
| --- | --- | --- | --- | --- |
| Easy-To-Use | Interface | Pricing | Functions Features | Overall Ratings |
| 8/10 | 7/10 | 10/10 | 7/10 | 8/10 |
| 8/10 | 8/10 | 9/10 | 10/10 | 8.75/10 |
| 7/10 | 8/10 | 7/10 | 9/10 | 7.75/10 |
| 8/10 | 9/10 | N/A | 7/10 | 8/10 |
| 8/10 | 8/10 | 7/10 | 9/10 | 8/10 |
| 9/10 | 9/10 | N/A | 7/10 | 8.33/10 |
Part 3. FAQs of PDF Editor Software
What is the recommended free offline PDF editor for Windows?
You can try PDFescape Desktop but it isn't free and runs only with Windows 7. It offers incredible tools but the full version is not free.
Does Nitro Pro produce a high-quality output?
We all know that Nitro Pro will enable you to convert your files, and yes it can guarantee you a high-quality converted file.
May I merge PDF Files?
Absolutely, Yes! There are PDF editors mentioned above that will enable you to merge your PDF files. We recommend Adobe Acrobat in merging your files.
Does Microsoft Office have a PDF editor?
Yes. Microsoft Office 360 comes with a PDF editor, Microsoft Word.
Is there a free PDF editor?
Yes. Foxit PDF Editor Online, and Preview are the free PDF editor from the above list. Besides, here are the free PDF editors: PDF Candy, PDFescape, FormSwift, and Smallpdf.
What is the best PDF editor?
To select the best PDF editor, you should check oyur needs. Like price, features, ease, speed, and more are those elements you need to consider to select the best PDF editor software.
Does Windows 10 come with PDF editor?
No. Windows 10 comes a PDF creator from any application that supports printing, but not natively built in a PDF editor..
Conclusion
Bottom-line of this article, choosing the best PDF editor is not easy. That is why this article presented six of the best PDF editors with their Key features, pros, and cons so that it will help you to distinguish the great PDF editor for you. The software editor above can offer you different kinds of experiences and features. Now is the time that is the best for you! Do not forget to share this article so that you can help other people in choosing a great PDF editor.
Did you find this helpful?
237 Votes
YES

Thanks for letting us know!
No

Thanks for letting us know!