Screenpresso Review: Record Your Screen, Take a Screenshot and Edit Your File
It is not impossible to have a free version of the screenshot tool and video recorder over the internet. Also, we cannot deny that we always want to use a free version of recorder software, especially if it is the first time using the software. That is why Screenpresso is for you. If you are not aware of Screenpresso, allow this review to elaborate on it for you. It is a recorder tool that can record your screen in full or custom. Moreover, while digging in information about it, we discover that it offers many features, which we will tackle below. Please, have some time to read this article.

1. Our Verdict
Pros

It is manageable to use.
It can remove the black areas from screenshots.
You can post your videos and screenshots online.
Screenpresso's free version is available.
It supports numerous languages.
It has a floating bar.
Cons

You cannot use the software unless you update it to the newer version.
The output file is too large.
It lacks editing tools.
It is difficult to stop the recording and start a new one.
The interface disappears quickly.
Overall Ratings
Easy to use8.5
Interface:8.5
Features:9.0
2. What is Screenpresso
Price: Starts at $34.61
Platform: Windows
Main Features
Screenpresso is a user-friendly tool, and it is best to record a video and take a screenshot. It has a small computer footprint. However, it can function powerfully. Moreover, it helps you create a tutorial for your students, clients, colleagues, etc. In addition to this, it offers label and editing tools. With many functions, Screenpresso cost $34.61 only. Nevertheless, it provides a free version.
◆ It provides Optical Character Recognition.
◆ It can capture a full screen, part, and a specific window.
◆ It can capture your mouse cursor.
◆ It has a delay capture upon catching the context menu.
◆ It allows you to capture in MP4 format.
◆ It lets you capture your webcam and microphone.
◆ It enables you to export frames and images.
◆ It can resize your video and allows you to change the format.
◆ It offers a built-in editor.
◆ It allows you to publish your capture.
◆ It provides editing tools.
◆ It has a Screenpresso Cloud.
◆ It will enable you to share through emails, Google Drive, YouTube, Dropbox, Twitter, Evernote, etc.
3. Screenpresso Review
Interface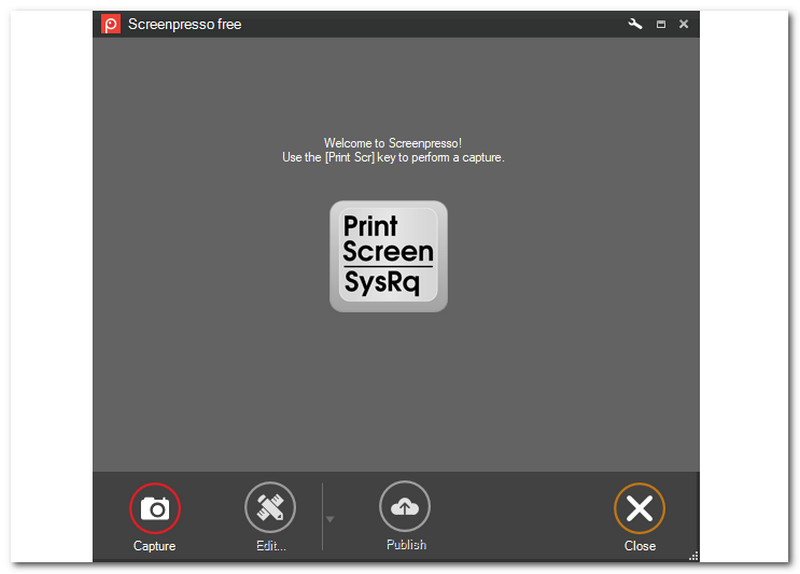 You want to have recorder software with an easy and excellent interface as a user. Moreover, the interface of Screenpresso is unique, unlike the other recorder software. It has a color combination of gray, light gray, and red. Launch Screenpresso, you will see minimal options like Capture, Edit, Publish, and Close. Furthermore, the middle part of the interface gives you a reminder like this: Use the Print Scr key to perform a capture. Overall, it is excellent to use.
Record Video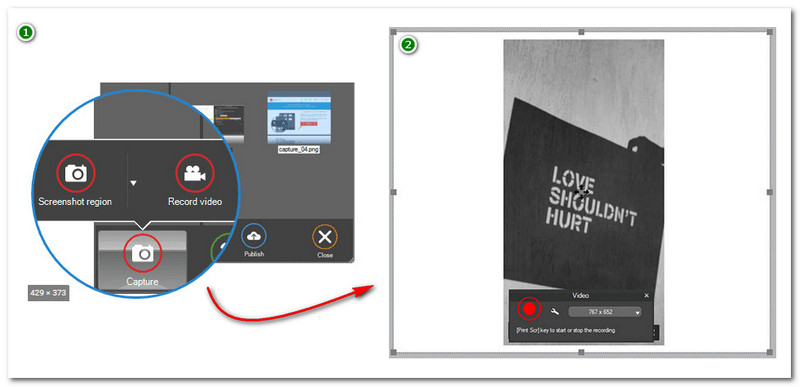 It is easy to record using Screenpresso. You can see Screenpresso on Windows Start on your computer. Or, show the hidden icons to see Screenpresso software. After launching it, click the Capture then Record Video. You have an option to record your entire screen or record the video region.
Moreover, you can also do that on the floating bar on the upper part of your computer. Suppose that you want to stop the recording process, click the PrtScr key, and the recording process will stop. Following that, you will proceed to the Screenpresso media player. Furthermore, we will discuss the Screenpresso media player below this part.
Screenpresso Media Player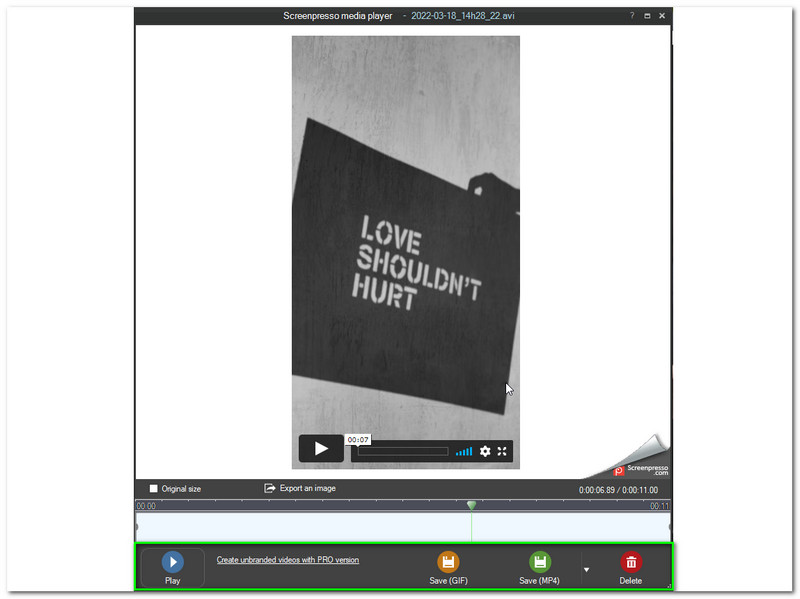 Again, after the recording process, you will go to the media player of Screenpresso. What you can do with this feature is Screenpresso allows you to play your recorded video. Also, you have an option to save it as a GIF. Just click the Save (GIF). Also, you can save it as MP4 by clicking Save (MP4). Furthermore, did you know that you can export an image while playing your recorded video on the Screenpresso media player? Allow us to explain it to you in the next part.
Export an Image - Image Editor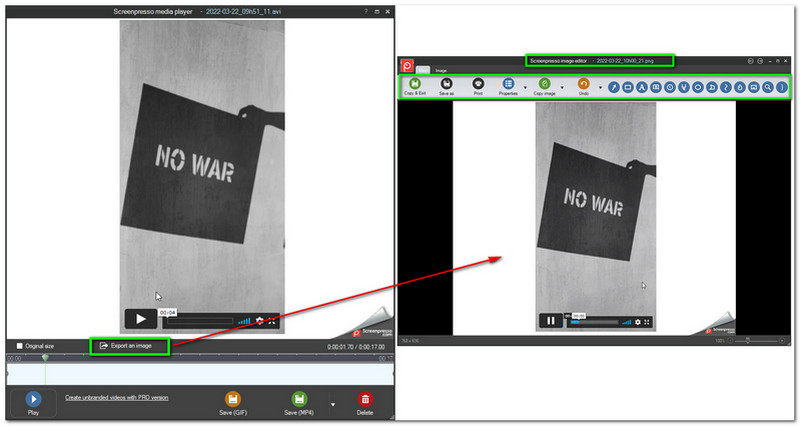 After hitting the Export an Image, a new panel will pop up, the Image Editor. In this interface, you will observe on the upper part all the available selections. The good thing about this is you can Print the image immediately. Make sure to have the correct printer. Also, you can Copy the Image to the clipboard. Moving forward, to make your image lively, Screenpresso lets you draw or add arrows, rectangles, ellipses, braces, and polygons. In addition to this, you can add a text box, text in a bubble, numbers, and images. On the bottom part of the image editor interface, you can see the length and width of the image on the left side, and you can zoom in and zoom out the image.
4. FAQs of Screenpresso
How can I activate Screenpresso PRO?
Screenpresso free version and Screenpresso PRO have the same file to give you an idea. Nonetheless, if you want to get Screenpresso PRO, you need first to download and install the free version. After that, you can enter the license key to unlock its PRO features. You can buy it at their online store. In addition to this, there is an important note from Screenpresso to their users: users can use the activation key up to five times. After Screenpresso PRO is activated, they suggest that every user backup their settings, including the license.
I am working at the office, can I use Screenpresso at our office for my work?
Yes, Screenpresso offers a free version, and anyone can use it whether you are a student, working person, businessperson, or a simple person. Screenpresso does not have a limitation. Nevertheless, you can purchase Screenpresso PRO for numerous features.
What is the difference between Screenpresso free version and Screenpresso PRO?
The good news is that all the features of Screenpresso PRO can be used on the Screenpresso free version. However, the difference is that Screenpresso PRO provides HD video capture, including the system sound recording. It can also capture Android, and it offers so much when it comes to editing tools and sharing features. If you want to understand better, you can visit the official page of Screenpresso.
How can I stop recording on Screenpresso?
While trying out Screenpresso, I also have difficulty looking for the stop bottom to stop the recording process. Until we discover something, press the PrtScn key to stop the recording process. After that, the recording process will cease immediately.
Is Screenpresso secure?
According to Screenpresso privacy and policy, they do not sell, trade, or rent the user's information. Also, they protect your information against unauthorized access.
5. Best Alternative - Aiseesoft Screen Recorder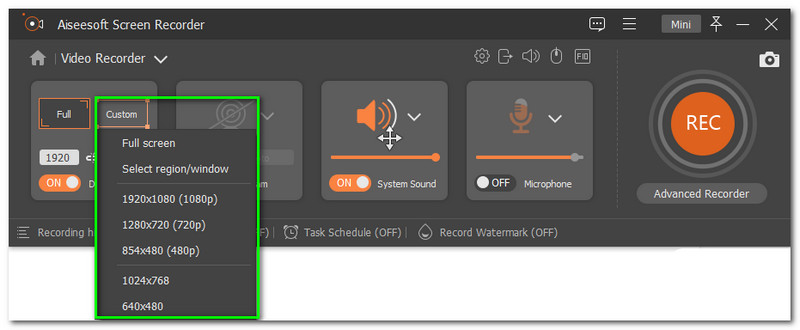 Screenpresso offers a free version. It is also good at capturing video and taking screenshots. However, we recommend a much better recorder software, and the Screenpresso alternative is Aiseesoft Screen Recorder. Do you wonder why? First of all, Screenpresso is compatible with Windows only, but Aiseesoft Screen Recorder is suitable for Windows and Mac.
In addition to this, we are proud to say that Aiseesoft Screen Recorder has a better interface. To understand it better, kindly take time and look at the table that is provided on the bottom part:
| | | |
| --- | --- | --- |
| Screenpresso | VS | Aiseesoft Screen Recorder |
| | Record Game | |
| | Record Audio | |
| | Record iPhone and Android | |
| 8.5 | Safety | 9.5 |
| 8.5 | Manageable | 9.0 |
| 8.5 | Convenient | 9.0 |
| $34.61 One time Purchase | Price | $47.20 Lifetime purchase |
| Add arrows, colorful speech bubbles, ellipses, rectangles, text boxes, crop, drop shadow, etc. | Editing Features | Add a personal label, arrows, text, line, rectangles, ellipse, brush, airbrush, callout, eraser, crop, trim, etc. |
| HD; MP4 supported | Record Video | Blue-light real-time HD; MP4, WMV, MOV, AVI, GIF, TS, supported, etc. |
Did you see the difference between the two while looking at the comparison table? Undoubtingly, Aiseesoft Screen Recorder is one of the best alternatives. It provides so much you could never imagine. By the way, we never disregard the advantage of using Screenpresso. It is also a great tool to fulfill your needs. However, you can try the best alternative, Aiseesoft Screen Recorder. Overall, both software is powerful, but Aiseesoft Screen Recorder stands out.
Conclusion:
To summarize, we can finally answer the question above, and yes, the accessible version of Screenpresso is worth the try! It has no limitation in its features, and you can do so much with this recorder software. Moreover, we hope that this review helped you a lot, especially as we provide questions, answers, and alternatives. We expect to see you again in our next article!
Did you find this helpful?
276 Votes
YES

Thanks for letting us know!
No

Thanks for letting us know!
Best Screen Capture Software
Aiseesoft iPhone Unlocker
Get into locked iPhone iPad iPod without password or Apple ID.