Reviewing Perplexity AI App for Best Use in iPhone Devices (Is it worth it?)
What makes Perplexity AI so effective? It all begins with how easy the software is to use. You may use it right now after downloading it from the App Store. You don't need to make an account or pay anything to use Perplexity AI; simply download it and start asking it questions. The app's top displays common search phrases used by other Perplexity AI users. Using the app, you'll see a collection of your personal search history at the bottom.
Furthermore, these features mentioned above are only an overview of the great tool. It can offer more than that. That is why this article exists to give us complete details about the tools. In this post, let us dig deep into its features, accuracy, issues, and comparison with other AI tools. Without further discourse, let us discover more from it now.

Part 1. What is the Perplexity AI App?
Perplexity AI was founded in August 2022 by a group of industry heavyweights from OpenAI, Meta, Quora, and Databrick. The team is determined to dethrone ChatGPT. This alliance of AI experts, led by Aravind Srinivas, Denis Yarats, Johnny Ho, and Andy Konwinski, provides a formidable chatbot experience. Perplexity AI, like ChatGPT, is a chatbot that responds to user inquiries through machine learning and Natural Language Processing or NLP.
Natural Language Processing is a branch of machine learning that allows computers to comprehend and process human language. NLP assists AI in interpreting and manipulating data and has numerous applications, including translation, online chatbots, and voice assistants. Perplexity AI, like ChatGPT, provides extensive replies to numerous inquiries to satisfy user interest. However, its unique mobile app, which requires no account login and provides seamless, on-the-go access, distinguishes it.
Part 2. Perplexity AI App Review
Perplexity AI Create Prompt
The program provides two options: create a prompt using your keyboard or use your voice by tapping the microphone button. Perplexity AI, like ChatGPT, will respond to all submitted questions. The UI has attractive animations in the search bar, and the service responds quickly. Perplexity AI is an iPhone app that offers ChatGPT to your smartphone with a gorgeous UI, features, and no irritating advertisements. The free app is not the official ChatGPT app, but it hosts the program and gives you access to all its features. ChatGPT has quickly taken over vital daily duties, increasing our reliance on the AI model. On the other hand, the lack of an app has proven to be a big disadvantage for many customers who prefer to utilize the app on their phones on the road.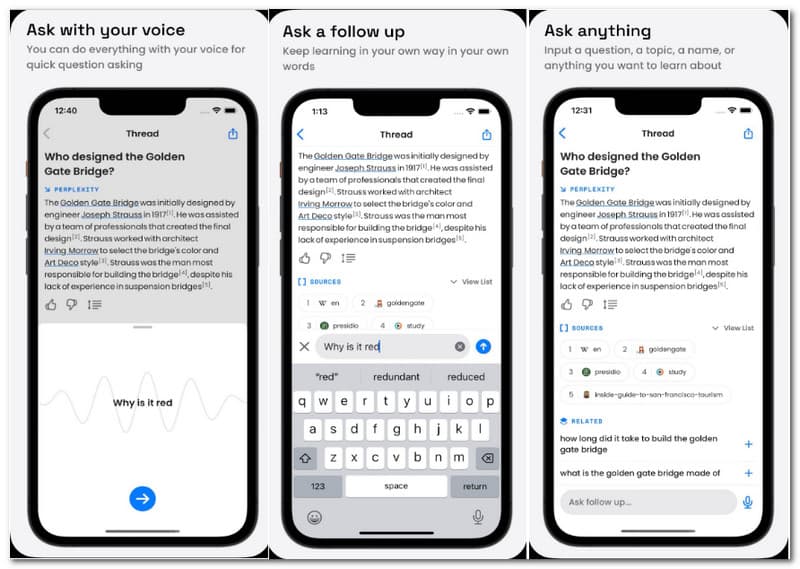 Perplexity AI Reliability
Perplexity AI also includes a feature that allows users to look at similar queries after the service responds, allowing them to delve deeper into their investigation and find the answer. After answering the query, the app presents all sources it used to get the information. The View List button displays a breakdown of each item examined by the app, and tapping on it allows you to read the sourced article directly in the app. When sources are provided and can be cross-checked for reference, this helps to eliminate the possibility of errors and incorrect replies.
Among the several ChatGPT mobile devices available on the app store, the majority of which are frauds or host malware, Perplexity AI is dependable and the finest program to use on the phone rather than going to a website to utilize ChatGPT.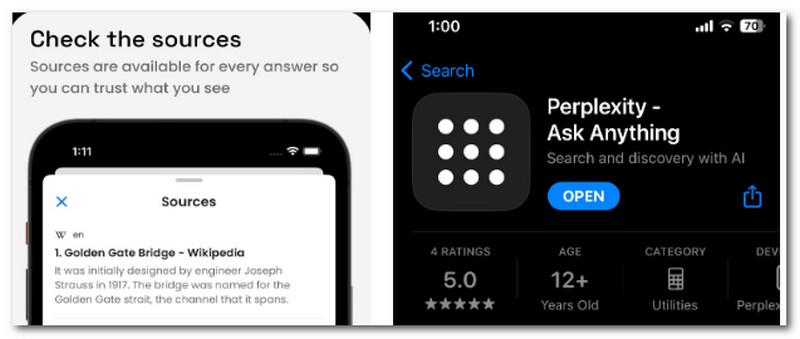 Perplexity AI Summarizing Information
You can ask Perplexity AI to summarize material so you don't have to spend hours searching the internet and going through numerous sources. You can enable Perplexity's Browser Extension and ask it to summarize the website you're on.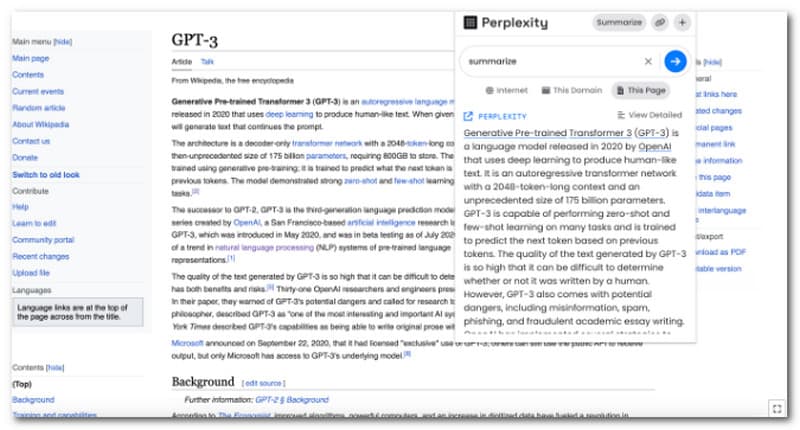 Part 3. ChatGPT VS Perplexity AI
Perplexity AI

ChatGPT

Price
Free
Free
Free Trial
A free Version is available.
A Free Version is available.
Platforms
Windows, macOS, Online, iOS, Android
Online, iOS, and Android
Accuracy
Cost-Effectiveness
Easy to Use
Features
Customer Support
Key Features

Ask questions and follow-up inquiries.
Summarize a long piece of information.
Check the source and reliability of the text.

Conversational artificial intelligence.
Creating Personalized Content.
Capabilities in multiple languages.
SEO stands for Search Engine Optimization.
Other Platforms Integration.

Pros

The benefits of Perplexity AI include its capacity to generate detailed and precise responses compared to traditional search engines, its ability to predict the next word in a sentence, and its free availability.

GPT advantages include improved natural language understanding, faster response times, and other advantages.
Possibility of generating more natural-sounding talks.

Cons

The disadvantages of Perplexity AI include its vulnerability to the specific test set utilized and its proclivity not necessarily to reflect the language model's efficacy or applicability.

It is difficult to train models to respond successfully to various topics.
Part 4. Perplexity AI App Alternatives
ZenoChat
ZenoChat is the greatest Perplexity AI Chat alternative and all-around virtual assistant you've been seeking: it's integrated into 2000+ platforms, can converse in 25+ languages, and will help you whenever and wherever you need it because it has no recurring downtimes. Furthermore, thanks to the recency upgrade, you can now ask Zeno anything, and it will gather data or information on any recent topic for you. All you have to do is enable the online search feature.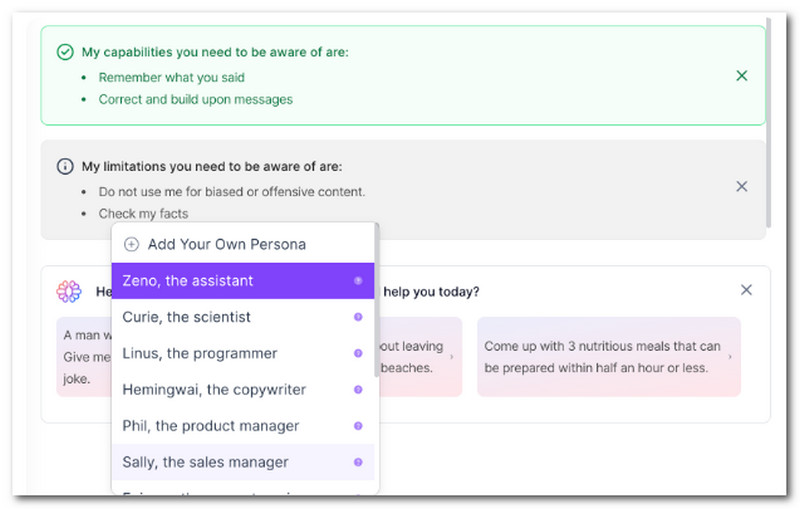 Ask AI a Question
Like Perplexity AI, you may ask AI to write anything and receive immediate results. Engage the most cutting-edge artificial intelligence! Examples include songs, poems, scripts, stories, language exercises, information, cooking instructions, dad comedy, and more. More importantly, we can find solutions rapidly. Ask AI's remarkable AI skills allow for quick responses in any circumstance, from historical facts and scientific principles to obscure trivia and pop culture allusions.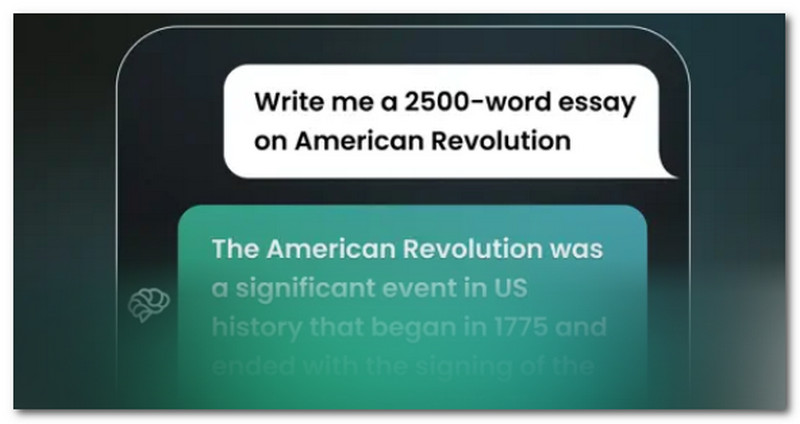 Moveworks
Moveworks is an excellent Perplexity AI substitute. A conversational AI designed specifically for enterprises is called Moveworks. This AI-trained tool employs cutting-edge large language models to provide staff help. Conversational AI called Moveworks focuses on three goals. To begin with, it is aware of employees' demands regardless of how they communicate them to the platform. Second, it addresses the demands through the script-free, spontaneous flow of speech. The final step seamlessly integrates the complete technology stack to deliver the best answer on the spot. With the use of automation, Moveworks increases productivity. Its distinctive selling point is how easily it links customers to corporate systems.

Part 5. FAQs About Perplexity AI App
What exactly is an AI perplexity score?
Perplexity evaluates the likelihood that a model will produce an input text sequence given a model and an input text sequence. There are two key applications for this, assessing how effectively the model has absorbed the distribution of the text it was trained on.
Is Perplexity nice in terms of language model score?
Yes. When normalized by the number of words in the test set, perplexity is the multiplicative inverse of the probability the language model assigns to the test set. A language model is more accurate if it can anticipate terms not included in the test set or if P, a phrase from a test set, is higher.
What model is employed by perplexity AI?
Perplexity AI, a chatbot similar to ChatGPT, responds to user inquiries using machine learning and Natural Language Processing or NLP.
What is the website perplexity?
With extensive language models, the Perplexity AI answer engine seeks to provide precise responses to queries. https://www.perplexity.ai is a website.
Conclusion
Therefore, we can conclude it is clear that Perplexity AI is a fantastic tool that can assist us with a variety of urgent jobs. We can immediately see how efficient it is at creating content, creating artwork, and reviewing the post we created. Perplexity is also a unique AI tool compared with other apps because it offers reliability by showing the sources of the text it provides for legitimacy purposes. Additionally, we can see several substitutes for Perplexity AI and ChatGPT comparison information. We hope you took a lot away from this post and can use it for your work. Sharing this information with a buddy who also needs it is a terrific idea.
Did you find this helpful?
413 Votes
YES

Thanks for letting us know!
No

Thanks for letting us know!
AnyMP4 Video Converter Ultimate
All-in-one video converter, editor, enhancer upscaled with AI.