Apps Like PicsArts: A Helpful Review for Each Alternative Tool
There are a lot of photo editors, but you would not know which one is worth it. This review will discuss PicsArt and its alternatives, namely, Vid.Fun, Canva, PicCollage, PicMonkey, Pixlr, Snapseed, and Lunapic. You will see their price and main features, and at the end of this review, it is your choice if you want to try them. You can start reading now!

1. What is PicsArt?
PicsArt is an online photo editor used by graphic designers, illustrators, and more.PicsAsrt is suitable for all platforms since it is an online tool. Therefore, you can launch PicsArt on Desktop and mobile devices.
In addition, PicsArt is known by many users because of its comprehensive features, and it is user-friendly. Furthermore, PicsArt allows the user to make multi-layered graphics with many users.
Not just that, PicsArt also has an extensive library for your Templates, Layouts, and Presets. These features produce high-quality output that lets you share to popular social media platforms, like Facebook, Instagram, Twitter, and more.
Furthermore, this article will not focus on reviewing PicsArt, but we will look for apps like PicsArt. In others words, with the help of this review, you will see all the suggested PicArts alternatives. But before that, let us now tackle the advantages and disadvantages of PicsArt below:
Pros

It has an impressive useful editing tool.
It provides many features and presets.
It has many creative user controls.
It lets you share edited an image on a social media platform.
It also lets you select a wide range of templates and layouts.
Cons

It has a free version, yet is limited in use.
It requires you to pay first before using the seven days trial version.
When you use it on a mobile device, you will experience too many Ads.
Edit Images on PicsArt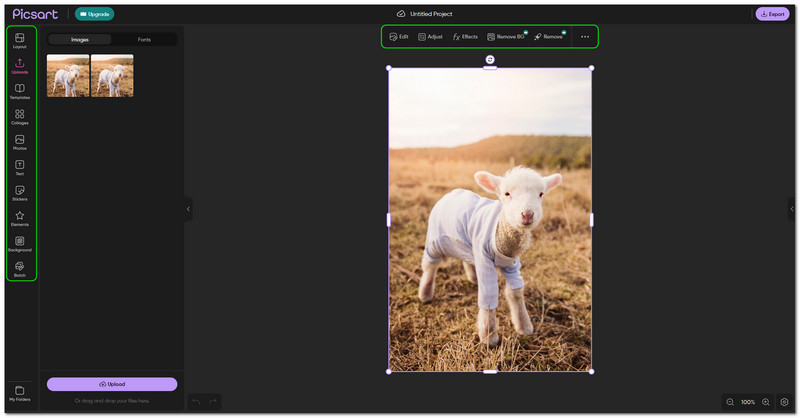 In this part, we would like to show you first the editing process of PicArt before sharing with you the best apps like PicsArt. When you launch the PicsArt main page, you can see the New Project and Upload buttons.
In addition, PicsArt lets you re-design or customize the designs from its page. In other words, PicsArt has a built-in design you can use anytime to save time on creating and designing a new one. Also, it has sizes that fit on YouTube Thumbnail, Instagram Post and Story, Facebook Cover and Profile, Twitter Cover, etc.
You will see all the choices on the editing part, such as Layout, Upload, Templates, Collages, Photos, Text, Stickers, Elements, Background, and Batch. Then, when you tap the image, you will see Edit, Adjust, Effects, Remove BG, AI Enhance, Animation, and many more.
Overall, using PicsArt to edit images will not fail you because of its features and editing tools. We can also say that PicsArt is suitable for advanced and amateur users, and one of its advantages is having a clean and straightforward user interface.
2. Top 7 Alternatives to PicsArt
Vid.Fun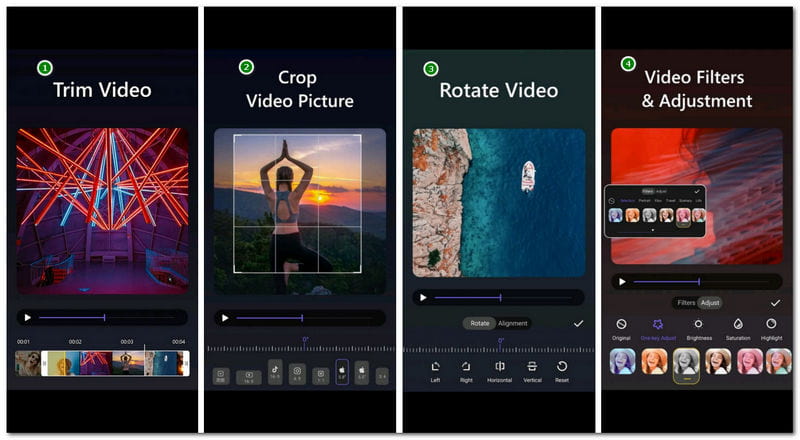 Price: Free
Platform: iOS and Android
One of the apps similar to PicsArt is Vid.Fun. However, Vid.Fun is not an online photo editor but an app that is downloadable on mobile devices like Android and iOS. On your Google Play Store and Apple Store, you can download Vid.Fun for free.
Furthermore, Vid.Fun allows you to trim an image and video. You can also crop images based on what you desire, and like other photo editing tools, Vid.Fun provides customized file sizes. In addition, it also allows you to Adjust Filters, such as Brightness, Saturation, Highlight, etc.
Canva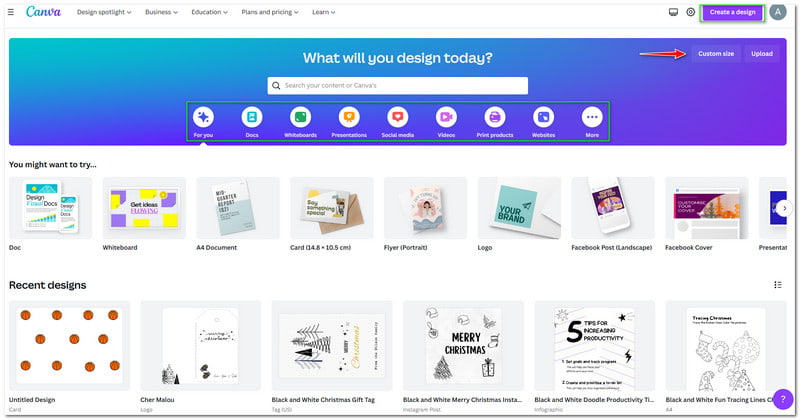 Price: Canva Pro: $42.52, Canva for Teams: $72.94
Platform: Online
The next alternative to PicsArt is Canva. As you will notice, Canva and PicsArt are almost, especially in the user interface. But this time, we will focus on Canva since it is the alternative online photo editor tool.
Canva is perfect for personal use, students, and even for business. It allows users to use various features, filters, layouts, and templates. If PicsArt focuses on editing images, Canva focuses on helping the users to edit the built-in template or create a new design layout.
PicCollage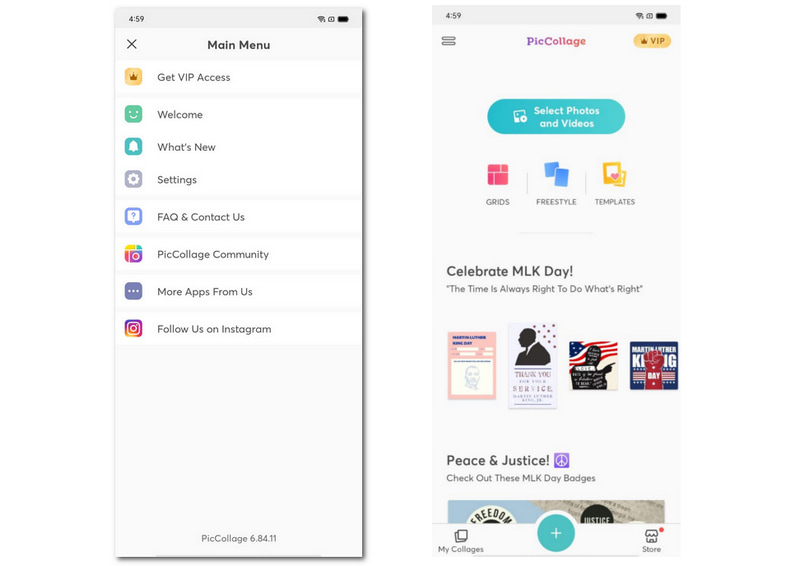 Price: $4.08 monthly and $35.00 yearly.
Platform: Windows, Mac, Mobile Devices
PicCollage is a free app like PicsArt. Actually, it is not 100% free, but it offers a free version. Nonetheless, you can purchase the PicCollage Pro, which starts at $4.08. Users must know that the free version of PicCollage contains limitations in features, filters, etc.
Nevertheless, you can still create an outstanding edited image layout. PicCollage is downloadable on Android and iOS devices, but the good thing is PicCollage now offers an online web editor. In other words, you can use PicCollage not only on your mobile devices but can also be used on PCs now.
PicMonkey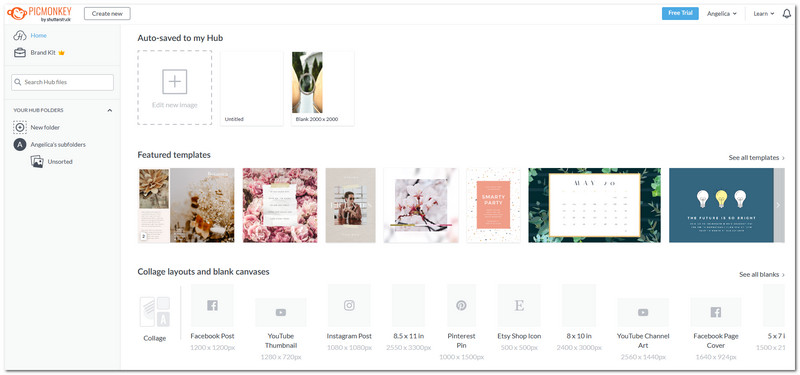 Price: PicMonkey Basic Plan: $6.00, PicMonkey Pro Plan: $10.00
Platform: Online
PicMonkey is the following app alternative to PicsArt. It is also an online photo editor tool, and you can use this to edit images using editing tools, filters, templates, etc. If you want to start using PicMonkey, you must create an account first. Do not worry; it is a free account.
Furthermore, PicMonkey has these options; Auto-Saved to my Hub, Featured Templates, Collage Layouts and Blank Canvases, etc. When you click the Auto-Save to my Hub button, you will redirect to your previous projects that are not yet done. Regarding Featured Templates, it is up to you which Template you want to use since PicMonkey provides numerous ready-to-use templates.
Pixlr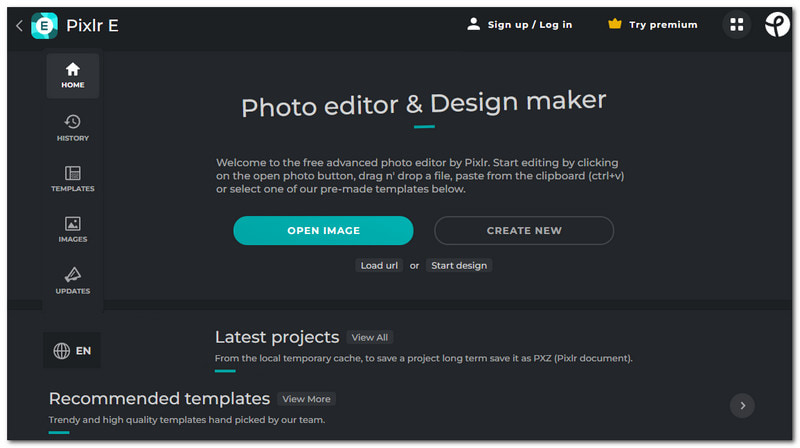 Price: Pixlr Premium: $7.99 monthly and $4.99 monthly, payable for a year.
Platform: Online
You can also use Pixlr as an alternative to PicsArt, another software anyone can use as a photo editor. Moreover, if you are not yet aware, Pixlr is powered with artificial intelligence for a photo editor, design, and animation. That is why there is no doubt about the quality of the images Pixlr produces.
Additionally, since you know that Pixlr is not free, you can use its free version. But note that most of the free software versions have limitations, so Pixlr does. The free version of Pixlr only offers Pixlr X: Quick and Easy Design and Pixlr E: Advanced Photo Editor, which is not bad for a free version.
Snapseed

Price: Free
Platform: iOS and Android
Snapseed is an application you can download on your mobile devices. It is free to use but you cannot use it on a desktop. In addition, Snapseed focuses on editing images only. Yes, images only and you cannot edit images using Snapseed.
Moreover, you can also use Snapseed to enhance the images, like the Color, Brightness, Contrast, and more. Overall, you can use Snapseed as an alternative to PicsArt and the good thing about Snapseed is you can use it offline and save the output directly to your mobile device. However, if you want to download Snapseed on a computer, you will need Snapseed as a desktop alternative.
Lunapic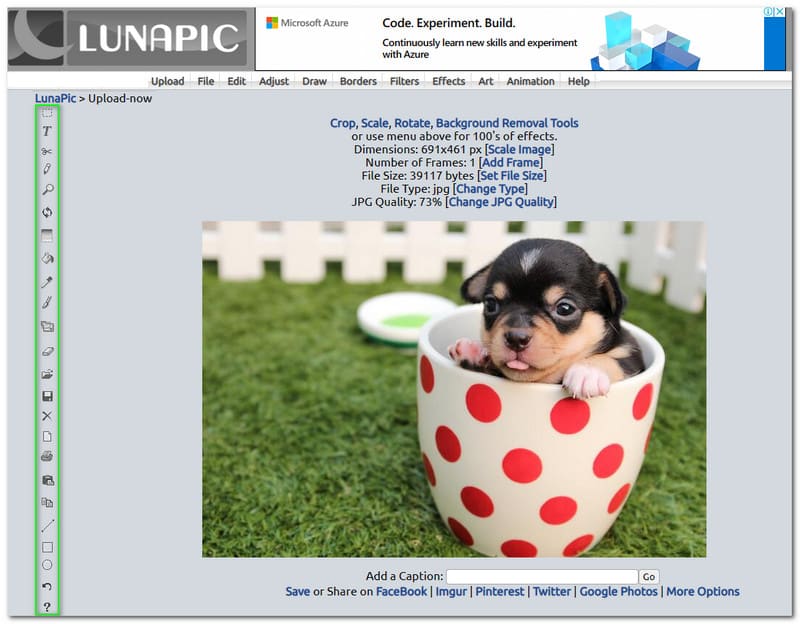 Price: Free
Platform: Online
Lunapic is a simple online photo editor; you can use this as an alternative if you do not want to use PicsArt. Lunapic allows you to upload an image and edit the images as quickly as you can. In addition, it also has more options, like Edit, Adjusts, Draws, Borders, Filters, Art, and Animation.
Again, Lunapic is a free photo editor online, and this online tool can help you a lot since it lets you save much more than using a photo editor, which is costly. Furthermore, you can also copy and paste the URL of an image and use many features, like Crop Image, Add Text, Drawing Tools, etc.
3. Comparison Table
| | | | | | | | | | |
| --- | --- | --- | --- | --- | --- | --- | --- | --- | --- |
| Platform | Price | Money Back Guarantee | Easy-to-use | Interface | Safety | Editing Tools | Editing Process | Features | Best For |
| iOS, Android | Free | | 8.6 | 8.5 | 8.8 | 8.6 | 8.7 | Edit Images, Trim Video, Crop Pictures, Adding Filters and Adjust | Beginners |
| Online | Starts at $42.52 | | 9 | 9.4 | 8.9 | 9.9 | 9.1 | Create Collages, Create Cards, Edit Images, Edit Templates | Professionals |
| Windows, Mac, Mobile Devices | Starts at $4.08 | | 9 | 9.3 | 9.5 | 9 | 9 | Grid Photos Create Freestyle Photos Edit Templates | Beginners |
| Online | Starts at $6.00 | | 8.9 | 8.8 | 8.8 | 8.7 | 8.9 | Collage Layouts, Photo Editor, Create Templates | Beginners |
| Online | Starts at $4.99 | | 8.9 | 9 | 8.9 | 8.7 | 8.8 | Pixlr X: Quick Design Pixlr E: Advanced Photo Editor Photomash Remove BG Batch Editor | Professionals |
| iOS, Android | Free | | 9 | 8.8 | 8.9 | 8.8 | 9 | Add Filters Tune Image Edit Images | Beginners |
| Online | Free | | 9 | 8.5 | 8.8 | 8.9 | 8.8 | Upload and Edit Images Add Drawing Create Art and Animation | Beginners |
4. FAQs of PicsArt
Is PicsArt free?
PicsArt is not a free photo editor tool. But it offers a free seven day trial. But if you want to use PicsArt fully, you can purchase one of its subscription plans.
Is PicsArt safe?
Yes, we can say that PicsArt is a safe online photo editor. Anyone can use PicsArt since it is an online tool and all you need is a fast internet connection. Even though it is an online tool, you do not need to have a problem with your safety, PicsArt covers you.
Is PicsArt down?
No, PicsArt is not down. You can still access PicsArt online and still visit the official page. Therefore, you can edit photos in PicsArt successfully.
Is PicsArt a good app?
We can say that PicsArt is a good app for everyone, especially for editing images. In addition, it is not pricey like other photo editors online.
Conclusion
We can conclude that PicsArtis is considered one of the most well-known and excellent photo editors online. Nonetheless, if there are still reasons why you would want an alternative to PicsArts, you can try these tools; Vid.Fun, Canva, PicCollage, PicMonkey, Pixlr, Snapseed, and Lunapic. Moreover, if you want to share your thoughts and suggestions about this article, you can do so and we will try to apply them to our next upload. See you!
Did you find this helpful?
344 Votes
YES

Thanks for letting us know!
No

Thanks for letting us know!
Photo Editor Alternatives
AnyMP4 Video Converter Ultimate
All-in-one video converter, editor, enhancer upscaled with AI.