Pixlr Editor Review: The Professional Way to Edit Photos
Nobody wants a dull image. Anyone desiring an animated, aesthetic, and incredible image full of effects and filters. Once you have those photos, you are well-organized and neat. So, to achieve all of that, you need to use a tool. We recommend you review and use Pixlr Editor. It is an online editor that will help you achieve all the beauty you desire for your images. Read this review now!

1. Overview of Pixlr Editor
What is Pixlr Editor?
Pixlr Editor is a famous online editing tool that offers many design tools. It allows you to make and insert beautiful designs using your browser. In addition, you can download Pixlr Editor on your desktop and mobile device for free.
Furthermore, Pixlr Editor lets you start an empty canvas and add images and designs. Also, you can add photos and videos to edit them. It offers five categories; Pixlr X: Quick and Easy Design, Pixlr E: Advanced Photo Editing, Photomash Studio: One-click Visual Creator, Remove BG: Auto AI Remover, and Batch Editor: Bulk Photo Editing.
Pros

It offers a free version and edits online.
It also offers many design tools you can use for editing.
It provides built-in templates.
It is affordable.
It has a professional-like user interface.
It is accessible online, on desktop, and on mobile devices.
Cons

Its free version has annoying Ads while using it.
You can only use Pixlr X and Pixlr E using the free version.
Interface9
Features8.5
Editing Tools 8.5
2. Pixlr Editor Review
Interface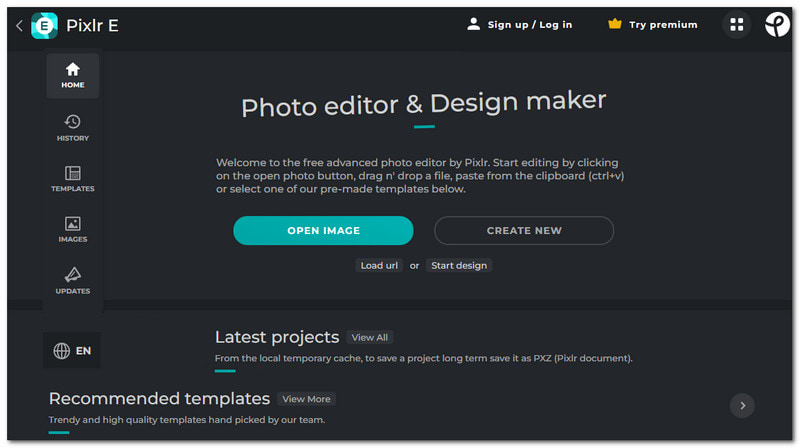 One of the advantages of Pixlr Editor is it has a professional-like user interface. It has dark colors, like black and dark gray. In addition, you will also notice that it has a user-friendly user interface.
On the upper left, you will see Pixlr, and below are the other options, such as Home, History, Templates, Images, and Updates. On the other side, you will see the Signup, login, Try Premium buttons, and Menu Tabs,
In the middle part, it is where you can start designing, and the options are; Open Image and Create New Image buttons. Below, you will see the Latest Projects and can View them All. Plus, the Recommended Templates. Overall, you will enjoy using Pixlr Editor.
Pricing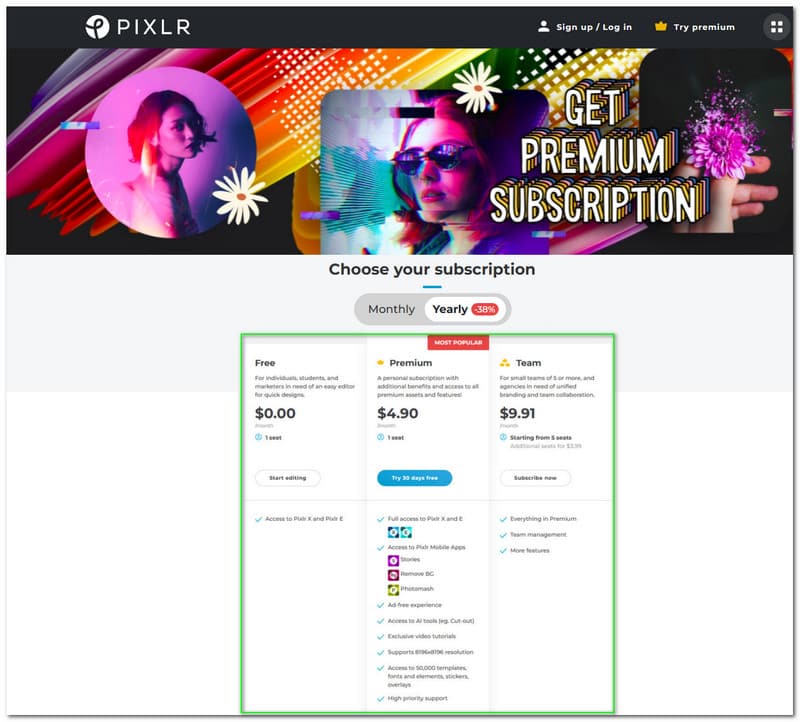 If you want to use Pixlr Editor for personal use or if you are a student, you can use its free version. Pixlr Editor lets you create easy and quick designs. Using the free version will cost you nothing. However, it has limitations. What does it mean? You can use only the two main features, such as Pixlr X and Pixlr E.
Nonetheless, supposing that you want to upgrade and use more features and tools without limitations, you can buy the Premium. It costs $7.99 monthly and $4.90 monthly, payable for a year. It includes Full Access to Pixlr X and Pixlr E. You can also use other features, like Stories, Remove BG, and Photomash.
In addition, there are no ads, and you will have full access to AI tools. What's more? Pixlr Editor provides you with more than 50,000 templates, stickers, fonts, etc. Lastly, you will become a priority in their customer support.
Another subscription plan is the Team plan. It costs $12.99 monthly and $9.91 monthly, payable for a year. This plan is advisable for team collaboration, and if you want an additional five seats, you can add $3.99. Moreover, it includes every feature and tool in the Premium plan, has Team Management, and offers more features. Since we are reviewing Pixlr Editor, we can say that purchasing it is worth it.
Pixlr Collage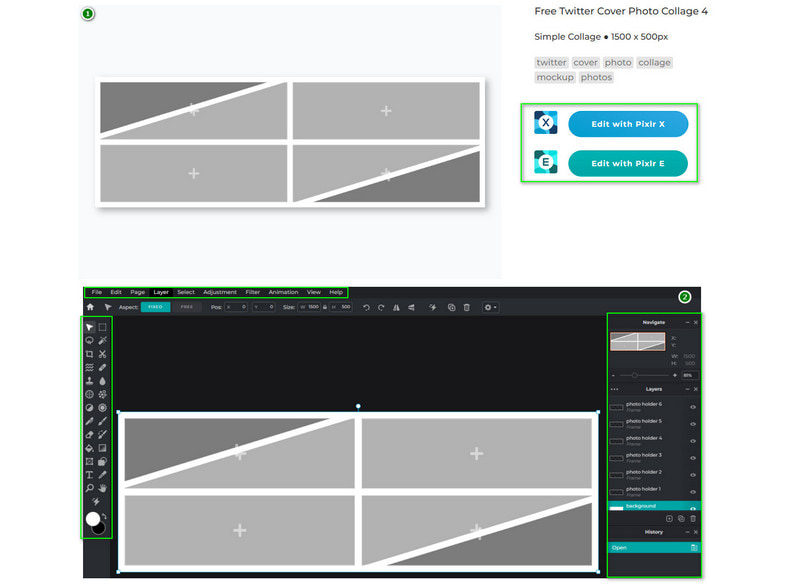 Pixlr editor offers a feature that lets you collage two or more photos as an image collage maker. It also offers built-in templates you can use for free. To make it possible, choose the layout and add your amazing photos, and then you can start editing them.
You can see the available collages on the Templates, and once you choose a collage layout, choose where you want to edit it. If you are using the free version of Pixlr online editor, your choices are; Edit with Pixlr X and Edit with Pixlr E.
You will appreciate the new panel because it looks like you are editing professionally. You will see all the options on the upper part, like File, Edit, Page, Layer, Select, Adjustments, Filter, Animation, View, and Help.
To edit your collages, of course, you need to add images first. Pixlr Editor lets you adjust the Aspect to Fixed and Free. In addition, it shows and also lets you adjust the Pos and Size. Moreover, you can use all the editing tools, such as Crop, Cut, Liquify, Heal, Clone, Blur, Sharpen, Smudge, etc.
Pixlr Background Remover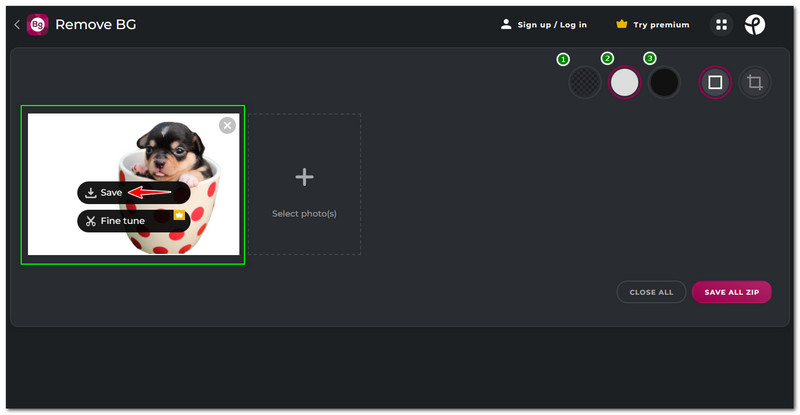 If you have a photo with an uninteresting background in Pixlr Editor, you can erase the background for free with this image background remover. It has a feature that lets you remove the background automatically. Initially, Remove BG on Pixlr Editor was for mobile devices. However, on the official site of Pixlr Editor, you can use it on your browser.
It is simple to use because after adding a photo, your background will disappear. Furthermore, you have three options for the background; Transparent BG, White BG, and Black BG. You will notice the clean outcome of the image. Once satisfied with the output image, you can see the Save button and save the result to your computer.
Pixlr Photo Editor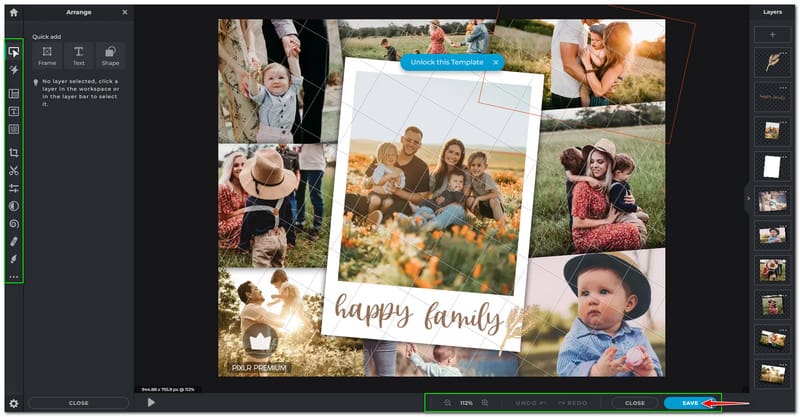 Another feature of Pixlr Editor allows you to re-design templates according to your liking. In addition, it has built-in templates for YouTube Banner, Resume, Business Card, Brochure, Instagram Story, etc.
After choosing a template, you can change and edit every photo. For example, if you tap one frame, Pixlr Editor lets you Transform it and change the Width and Height. You can also rotate the specific photo from -180° to 180°. Moreover, you can add Shapes, Outlines, Shadows, etc.
On the left side, you will see more options, such as Arrange and Style, Animation, Layout and Template, Add Text, Add Element and Image, Crop and Rotate, Cut Out, Adjust and Filter, Effect, Liquify, etc. Then, on the right side, you will see how many layers the templates have.
3. Pixlr Editor Alternatives
Canva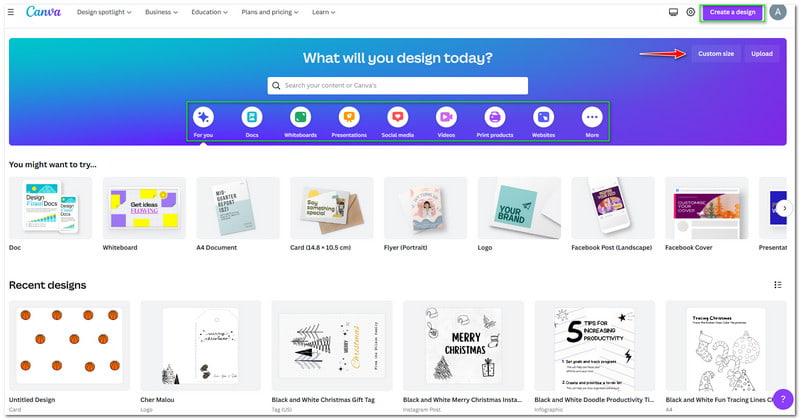 Price: Canva Pro: $42.52, Canva for Teams: $72.94
Platform: Online
One of the Pixlr alternatives is Canva, the famous online editor that offers almost everything you need for your images and more. Before using Canva, it requires you to sign in, and then you will have your personal account.
With that, you can edit Templates for Business, Social Media, Video, Marketing, Custom Prints, Cards, Invitations, etc. Moreover, you can create your own projects using the available design. If you are using the free version of Canva, expect that you can use limited editing tools.
Adobe Photoshop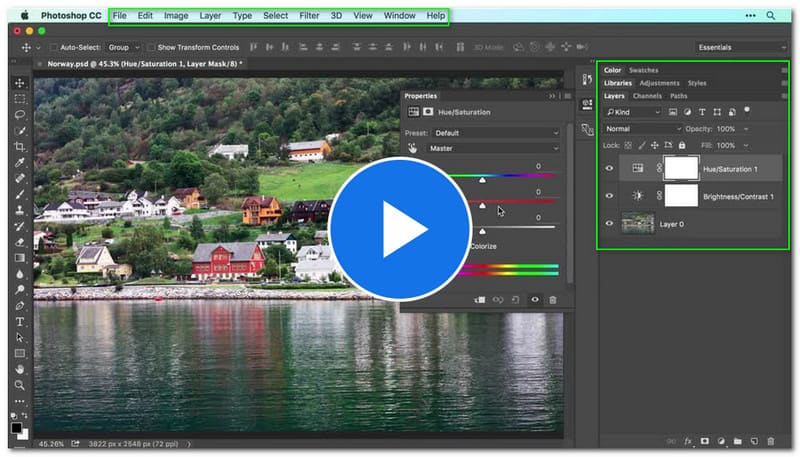 Price: Annual Paid Monthly: $20.99, Annual Prepaid: $239.88, and Monthly: $31.49
Platform: Windows, Mac
As we all know, another professional alternative to Pixlr Editor is Photoshop. It is also famous, but unlike Canva, Photoshop is needed to download and install. In addition, you cannot use Photoshop for free; you must purchase a plan from them.
Furthermore, Photoshop lets you edit images like a pro. To explain a little further, you can make your images realistic and beautiful with the use of its numerous Editing Tools. The good thing about Photoshop is all the editing tools you need are available.
BeFunky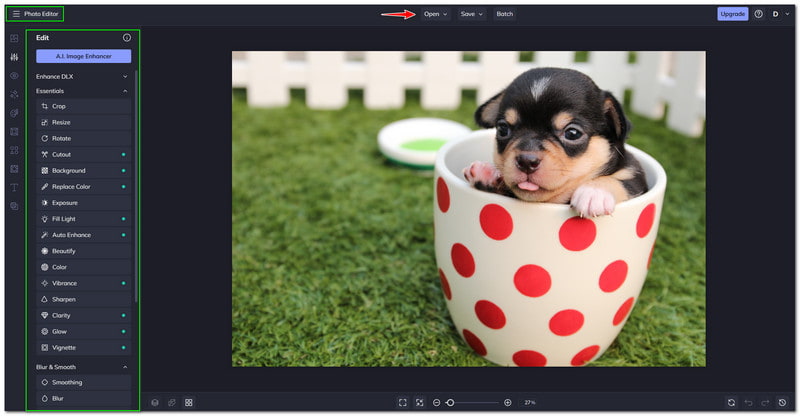 Price: $9.99 a month and $4.99 a month, payable for a year.
Platform: Online
The last alternative in this review to Pixlr Editor is BeFunky. Like Canva, you must sign up and log in to them to have a personal profile. It has a free version, but you can also upgrade it and pay at starting $4.99.
Furthermore, Befunky also provides many features, such as Crop, Resize, Turn Photos into Art, Batch Editing Photos, Background Remover, Retouch Portraits, One-Click Collage Maker, Customizable Design Templates, and more.
4. Pixlr Editor VS Canva
Pixlr Editor

Canva

Overall Ratings
Interface
Support Service
Platform
Online
Online
Pricing
Pixlr Editor Premium: $7.99 a month and $4.90 a month, payable for a year.
Canva Pro: $42.52, Canva for Teams: $72.94
Supported Formats
BMP, GIF, PNG, JPG, HEIC, etc.
PNG, JPG, BMP, TIF, TIFF, HEIC, etc.
Editing Process
Fast
Fast
Editing Tools
Advanced
Advanced
Best For:
It is best for professional use, yet affordable. In addition, it is best for making your images extra special.
It is best for professionals who can buy even a costly plan. It is also best in providing you with numerous editing tools, templates, categories, and more.
Free Trial
Free
Free
Features

Design Built-in Templates
Edit Photos
Add Animations
Remove Background
Picture Collage Maker
Add Filters and Effects

Edit Photos
Add Templates on Images
Create New Projects and Designs
Create Own Brand
Logo, Collage, Meme Maker, etc.

Pros or Advantages

It has an excellent user interface.
It offers built-in templates and designs.
It also offers a free version.
It has many colleges you can use for free.
It can be downloaded on mobile devices.

It offers many categories.
It also offers various templates and layouts.
It provides new and many designs.

Cons or Disadvantages

It has Ads while using the free version.
Its free version has limitations.

It is too costly.
Using a free version, the output file has a watermark.
5. FAQs of Pixlr Editor
Is Pixlr free to use?
Using Pixlr Editor can be free. How can we say that? It has a free version that you can use. Nonetheless, it has limitations. On the other hand, you can upgrade Pixlr Editor to use all the features.
Is Pixlr Editor safe?
While using Pixlr Editor, we can say it is safe. After uploading the images, you will notice that you can save the output image directly to your computer.
Is Pixlr down?
Pixlr Editor is not down. We can assure you that 100% because you can still visit its official page. In addition, you can fully use the features. Therefore, Pixlr Editor is not down, and you can use it anytime.
Conclusion
We see Pixlr Editor has an excellent user interface like a pro. As we review it, we discover that in spite of the excellent user interface and features, you can purchase it at an affordable cost. Plus, you can see all the features. To end, leave us positive feedback, and we will see you again in our next post!
Did you find this helpful?
315 Votes
YES

Thanks for letting us know!
No

Thanks for letting us know!
AnyMP4 Video Converter Ultimate
All-in-one video converter, editor, enhancer upscaled with AI.