Coolors Review: A Perfect Tool to Choose Colors for Designs
If you are in the design world, you have probably heard of Coolors. You can make palettes out of this online tool. Plus, you can use it for free. So, if there is someone out there that needs to create a palette for their interior, graphic, or game design. You must need Coolors to create and make a cool palette. To fully know the tool, please read the review now.

1. Overview of Coolors
What is Coolors?
Coolors is a cool online photo editor tool that allows users to edit images for free. But before using its features or tools, you need to sign up. For that reason, you will have access to all features. Moreover, the Coolors app is available and can be used on mobile devices like Android and iOS.
It is also available in Chrome Extension and Figma Plugin. Furthermore, during this review, we will have an idea of whether this online photo editor is user-friendly and who can use it better. But first, let us see Coolors pros and cons.
Pros

It has a straightforward user interface.
It offers a free version.
It is convenient to use.
Cons

It has limited features, especially for editing photos.
It is difficult to set up an account.
It does not work as you expected.
It has visible Ads on the official page.
It has login problems, and it takes too much to log in.
Interface9
Interface8.5
Easy to Use8.5
2. Coolors Review
Interface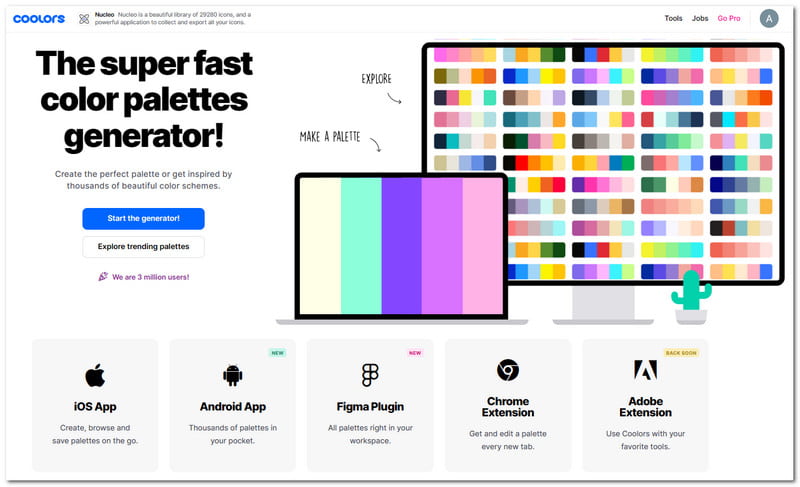 Coolors will not fail you on its user interface. Again, it has a straightforward user interface. The color white is dominant, and the color of its Logo is blue. As you can see, the options are on the right side, like Tools, Jobs, and Go Pro.
The tool includes Collage Maker, Explore Gradients, Create a Gradient, Color Picker, and Image Converter. In addition, Coolors Color Palette is also available. What else? It lets you Explore Palettes and use Image Pickers, Contrast Checkers, and Fonts. Therefore, you can get quickly use Coolors.
Coolors Pricing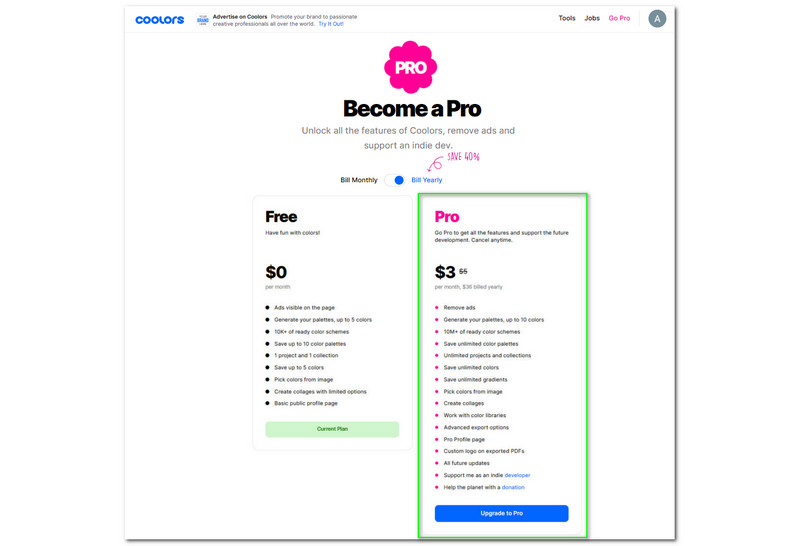 Coolors has a free version that will cost you nothing. In the free version, you will enjoy Generated Palette with five colors, more than 10,000 available color schemes, One Project and One Collection, Pick a Color from an Image, Create Collages, and a Basic Public Profile Page. The limitation you will experience on a free version is that you will have limited options while making collages. Then, you will see Ads on the official page.
On the other hand, Coolors Pro costs $5.00. Here are the features you will enjoy; Generate Palettes, Save Unlimited Color Palettes, Unlimited Projects and Collection, Work with Color Library, Advanced Export Options, Pro Profile Page, Custom Logo on Exported PDFs, etc. Of course, the Ads are removed, and you will have unlimited updates.
We can conclude that buying the Coolors Pro is worth it because it is not too expensive, unlike other photo editors online. In addition, you can use all the features without limitations. Furthermore, we want to clarify that using the free version of Coolors will not fail you also. Try it now!
Collage Maker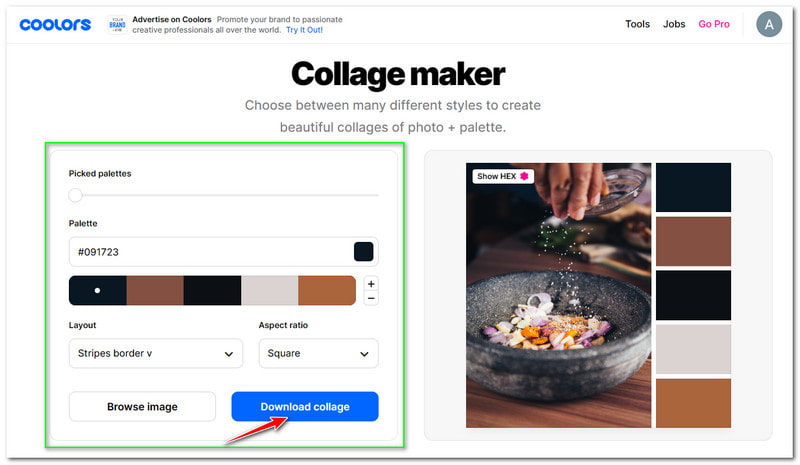 If you are one of the people who love aesthetics, you will love this feature. It is a Collage Maker from Coolors, allowing you to create aesthetic collages of your photos and produce a palette. After adding your photo, you will see the Preview on the right side, which is your photo and the palette.
On the left side, it is where you can take control of your palette on the Preview. Coolors let you adjust Palettes by moving the small circle below Picked Palettes. Then, you can also choose more colors on the Palette. You will see five different colors, and you can change each on the Color Picker. Plus, you will see the Code Name of a color. For example; #A05E2C, #6C3D37, etc.
In addition, you can change the Layout; you can choose Stripes Border V, Stripes Border H, Stripes V, Stripes H, Square V, Square H, and more. What else? If you are unsatisfied with the default ratio, you can change it to Square, 3 x 2, 2 x 3, 5 x 3, etc. Once you are finished, you can click the Download Collage button.
Coolors Color Picker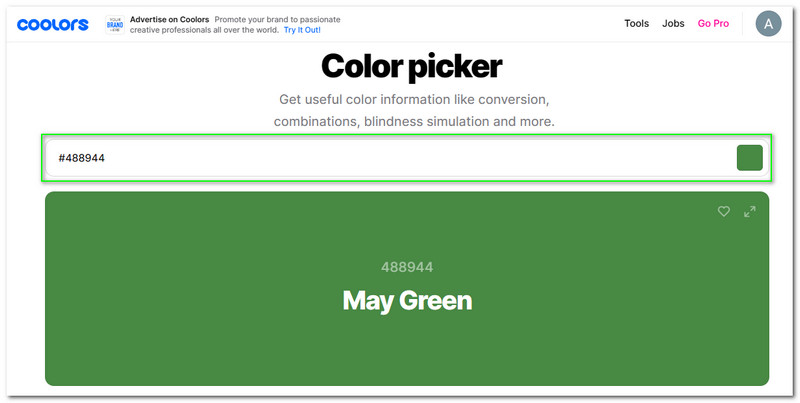 The next feature we would like to discuss with you is the Color Picker. You can use this if you are looking for a wide variety of colors you can choose for graphic design, etc. This feature does not require you to add images to collect color palettes. Just click the feature and start finding the colors you desire.
In the middle, it has a rectangular panel where you can find and choose various colors. When you click the small box, you can access the Color Picker, which will provide you Color Code. In addition, you can click the HSB, where you can adjust the Saturation, Hue, and Brightness.
Below, you will see the Conversion Color. For that reason, you can copy the HEX, RGB, CMYK, HSB, HSL, LAB, XYZ, LCH, etc.
For more color picker tools, you can refer to this post.
Make a Gradient Palette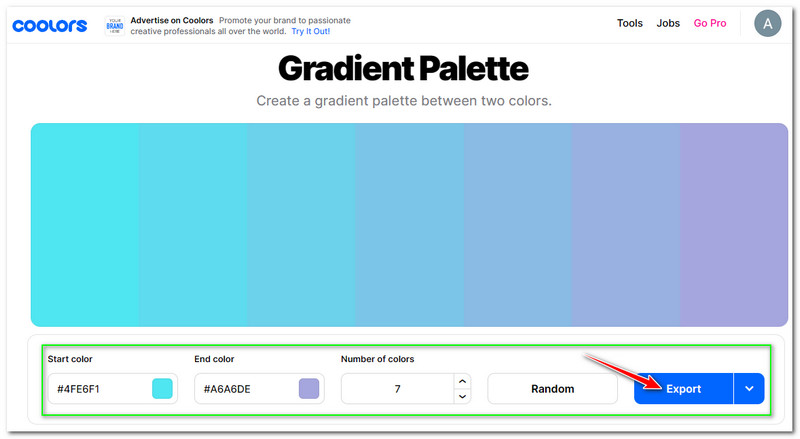 It is another feature that does not require a photo to create a color palette. This feature allows you to create two colors. In short, it will look like an Ombre Color. If you are unaware of an Ombre Color, it is also a combination of colors that usually has a light color on the top and a dark color on the bottom.
Coolors lets you choose a Start Color and an End Color, and to do that; you can pick a color on Coolors Color Picker, HSB, HSL, RGB, CMYK, etc. Moreover, it is up to you how many colors you want on your palette; you can change the number of colors in Coolors from two colors up to 30 colors.
Furthermore, you can select the Random button. Therefore, you do not need to choose a Start and End color and allow Coolors to pick color palettes. You can also see the Example Palettes below. After that, export the Gradient Palette by clicking the Export button.
3 How to Use Coolors
Do not be confused; Coolors is focused on giving users a color palette that will match their desire. On the other hand, some online photo editors focus on editing images, creating collages, and more.
For that reason, this part will enlighten you because we will teach you how to use Coolors. We will use one of its features, and let us explain the steps to you one by one. Let us start now:
1.
On the official page of Coolors, find the Tools button in the right corner. After that, choose the Collage Maker option. Then, you will proceed to the next panel.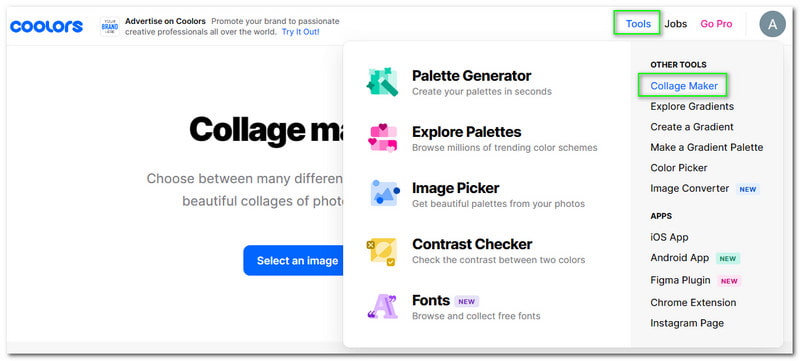 2.
Add an image by tapping the Select an Image button in the middle part. Then, you will have the option to Upload from the Computer, Paste a URL, and Choose from Camera or Stock. Also, you can Drop an Image.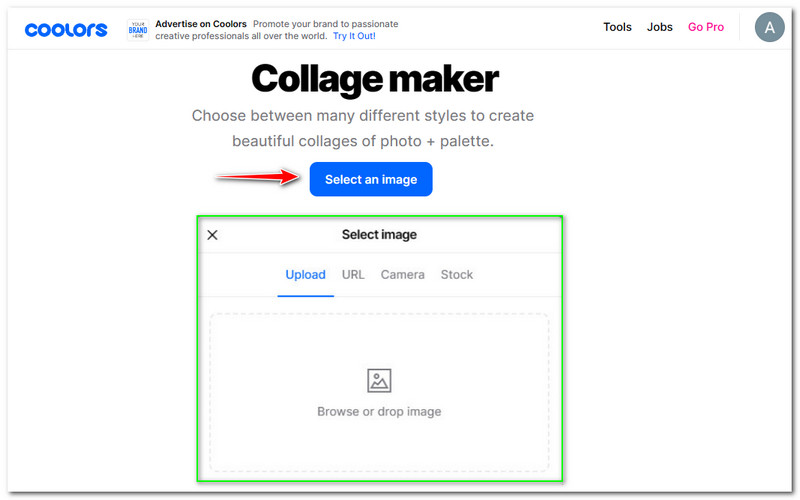 3.
After adding an image, you will see the Preview of your image. You can adjust the Picked Palettes and change the Palette Color by choosing the Color Picker. In addition, you can change the Layout and Aspect Ratio.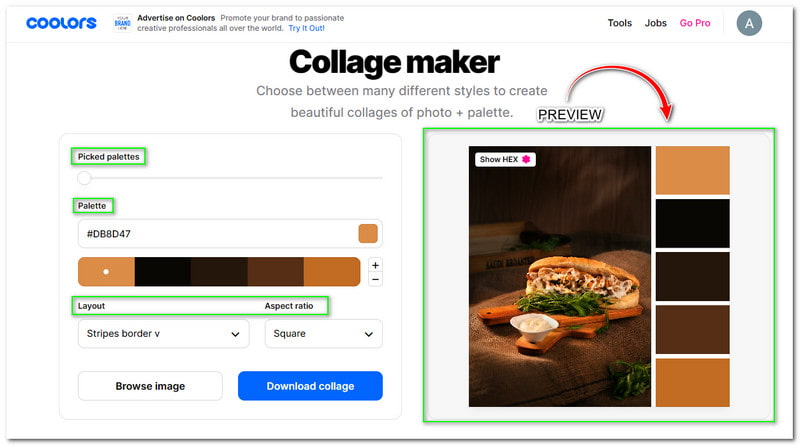 4.
After the adjustment process, download the collage palette by clicking the Download Collage.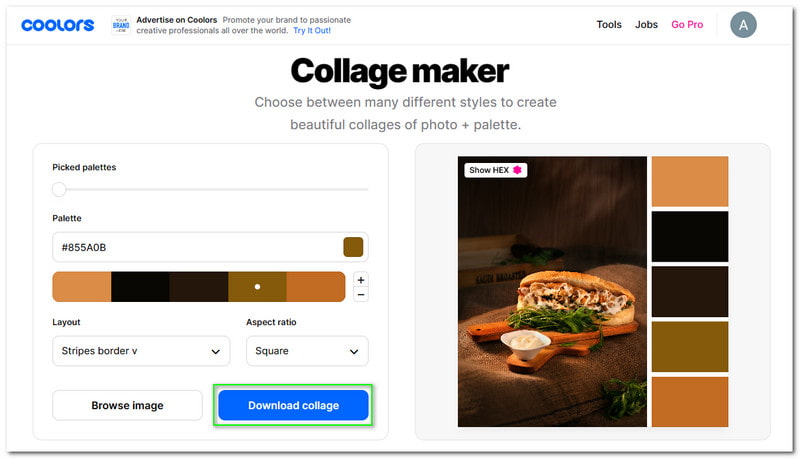 To summarize this part, you will notice that using Coolors is easy and manageable. In addition, there are features that you do not need to add an image and start creating palette colors. You will see a review in the upper part of this article.
4. Coolors Alternatives
LOLColors
Price: Free
Platform: Online
LOLColors is an online tool that offers arranged color palette inspiration. It provides numerous palettes you can use for your desired design. To be honest, as you visit its official site, you will recognize how to use it properly. However, you will see all the available palettes it offers.
While browsing the palettes, LOLColors allows you to sort and like the palette you like. Nevertheless, as of now, LOLColors temporarily disable sorting and liking palettes. Moreover, if you are curious about it, you can visit the page now.
Canva Color Wheel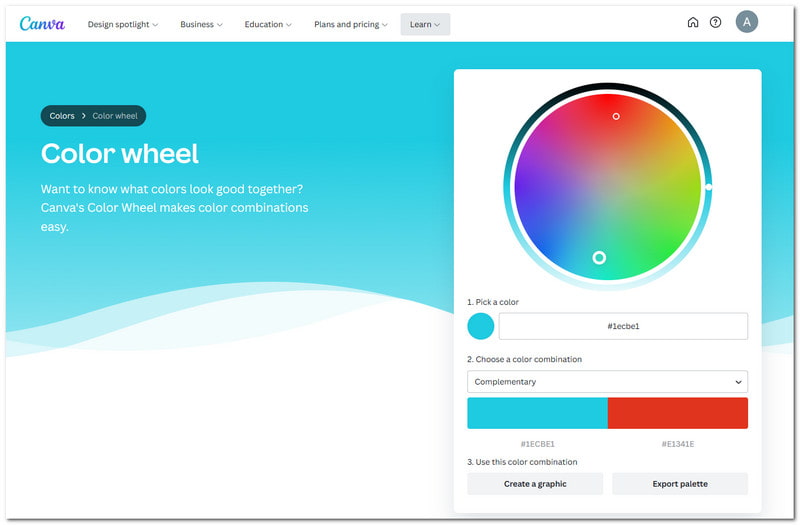 Price: Free
Platform: Online
Aside from Canva's online photo editor, Canva also offers a Color Wheel. It is a feature from Canva that allows users to use it for their designs. It provides a wheel full of colors, and in the middle of it, it has a small circle that you can move when choosing a color.
First, Canva Color Wheel lets you Pick a Color and then Choose a Color Combination; you can choose a category, such as Complementary, Monochromatic, Analogous, Triadic, and Tetradic. Once you choose a Color Palette, you can use that for your future edits. But before that, click the Export Palette first to save it on your computer.
Adobe Color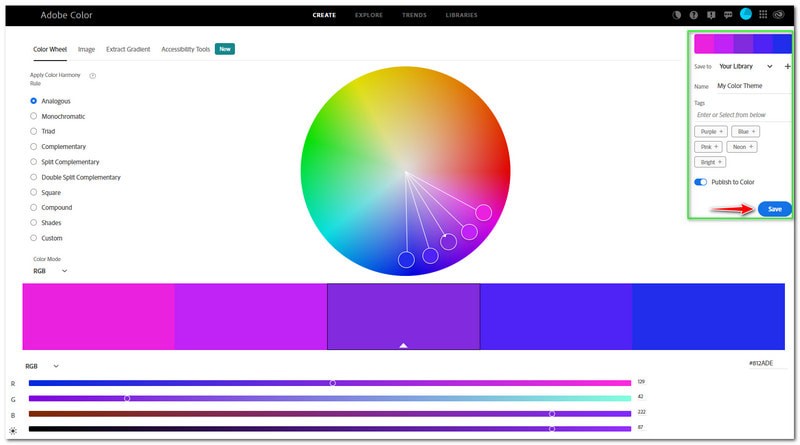 Price: Free
Platform: Online
Another Coolors alternative is Adobe Color. Luckily, Adobe Color has an online web app that is free to use. It allows you to choose colors on the Color Wheel, and here are the categories you can select; Analogous, Monochromatic, Triad, Complementary, Split Complementary, Double Split Complementary, Square, etc.
Furthermore, Adobe Color lets you save the Color Palette to Your Library. In addition, you can Rename your Color Palette or Theme. Plus, create Tags and Publish to Color. Once you are done, click the Save button.
5. FAQs
Is Coolors free to use?
You can use Coolors for free since it offers a free version. It lets you use Collage Maker, Create a Gradient, Make a Gradient Palette, etc. However, a free version has limitations. For example, you can only generate palettes of up to five colors, etc. Moreover, you can purchase Coolors Pro.
Does Coolors provide customer service?
Yes, Coolors has customer service. Nonetheless, it is not what you expect. It only provides email, where you can email anytime. In short, it does not have chat support.
How to delete my account on Coolors?
It is quick to delete your account on Coolors. Just click your Username, and then you will see the Account. After that, find the Delete Account button to erase your account.
Conclusion
To sum up, we have known that Coolors is not focusing on directly editing images, but it is an online tool that gives you an idea and offers you numerous color palettes. In addition, you can upload an image not to edit it but to make a color palette from it. Moreover, you can also try the Coolors alternative. To end, see you again in our next post!
Did you find this helpful?
379 Votes
YES

Thanks for letting us know!
No

Thanks for letting us know!
AnyMP4 Video Converter Ultimate
All-in-one video converter, editor, enhancer upscaled with AI.