FastStone Review: Affordable and Easy to Manage Software
If there are stock images on your cameras, computer, or mobile devices, it is time to edit them and share them with your social media accounts. You can use FastStone; it offers numerous features you can download and install separately. Are you wondering how that happened? Read this review article now!

1. Overview of FastStone
What is FastStone?
FastStone is a comprehensive photo editor and photo converter software. You can do so much using this software that you can never imagine. It may look simple, but it offers a variety of features. For that reason, if you have photos you want to edit and convert, you can count FastStone.
Moreover, you need to know that you need to download and install different software. FastStone is not the software itself; you must download every feature separately. Allow us to give you an example. When you are on the official website of FastStone, choose what feature you want to use.
After that, start downloading and installing the features you selected. You can download and install them all, which is better. Or, select a feature that you just need. So much with that, let us see the advantages and disadvantages of FastStone below:
Pros

It offers a free version.
It also offers various features.
It provides different editing tools.
Cons

Its user interface is not very appealing.
It does not offer monthly and yearly plans.
You need to download the software separately, which is a hassle.
Interface8.5
Features8.5
Editing Tools 8.9
2. FastStone Review
Interface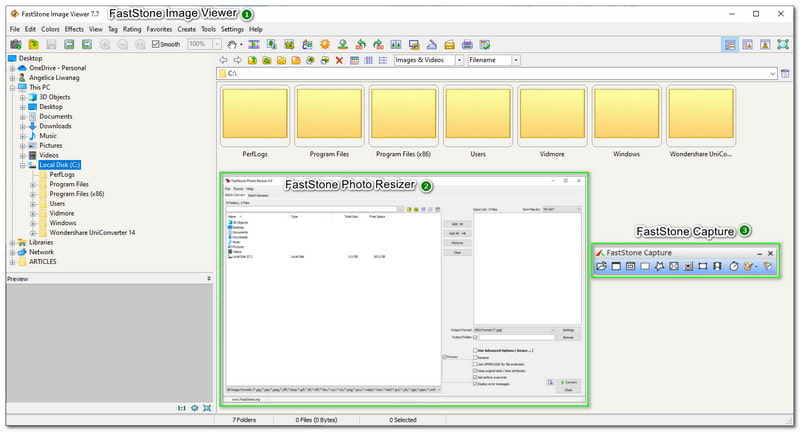 Since FastStone requires users to download and install software, there are different interfaces. Nonetheless, all the software similarities are their interface. We can say that the interface of FastStone is not appealing. But the good news is it is manageable.
First, let us start with FastStone Image Viewer. It has colors plain white and light gray, and you can see that on the screenshot we provide above. On the upper part, you will see the options like File, Edit, Colors, Effects, View, Tag, Rating, and more. You can also see Import Photos and Videos Icon, etc.
Second, let us proceed to the FastStone Photo Resizer. It has the same color as FastStone Image Viewer, and the options are File, Theme, and Help. You can also see Batch Convert and Batch Rename.
Lastly, the FastStone Capture, you can also see the Convert Images in the Tool button. Moreover, the options are; File, Capture, Edit, Colors, Open, Save, Draw, Caption, Resize, Paint, and more. Overall, even though FastStone does not have an appealing user interface, you will appreciate that it is manageable to use.
Pricing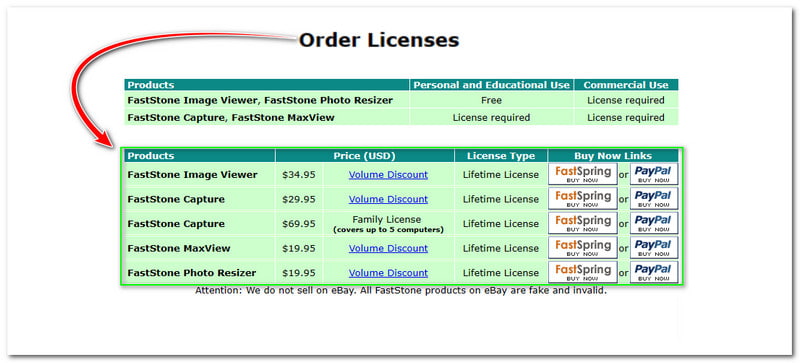 When it comes to pricing, you cannot buy FastStone as a whole. What does it mean? Since you need to download and install the software separately, you must also purchase the software individually. In this review, please allow us to discuss the price list and more.
The products of FastStone are FastStone Image Viewer, FastStone Capture, FastStone MaxView, and FastStone Photo Resizer. You can purchase FastStone Image Viewer for $34.95, FastStone Capture for $29.95, and $69.95, which covers five computers, FastStone MaxView for $19.95, and FastStone Photo Resizer for $19.95.
The question is, what are the license types? Because of their price, once you purchase the products, you will enjoy the software for a Lifetime License use. Moreover, you can get benefits by receiving free updates forever, and you can choose FastSpring or PayPal for your payment.
FastStone Image Viewer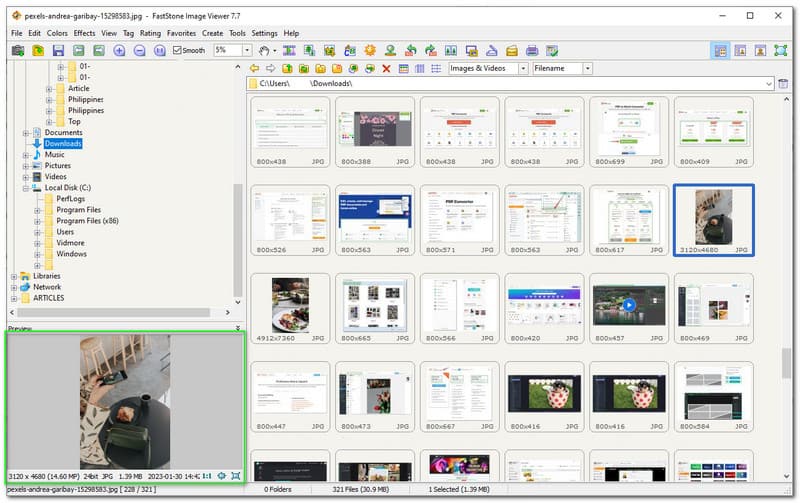 The aim of FastStone Image Viewer is from the word itself; it can view your images. When you launch the software, you can immediately see what is inside your computer. This software also helps you to organize your photos on your desktop.
As you can see, it will show you the pictures of every folder on your computer, such as Desktop, OneDrive - Personal, This PC, 3D Objects, Documents, Downloads, Pictures, Videos, Local Disk, etc.
Furthermore, it provides a Preview panel, and once you click the image, you will see the photo automatically in the Preview corner. Below the image, you will see the Size, MP, Bit, File Format, Date, and Time of the photo.
What else? You can also make a Slideshow from your photos; just tap the SlideShow Icon. Plus, you have an option to Resize, Resample, Crop Board, Draw Board, Add Text, Lines, Adjust Lighting, Clone, Heal, Rotate, Compare Selected Images, and much more.
FastStone Capture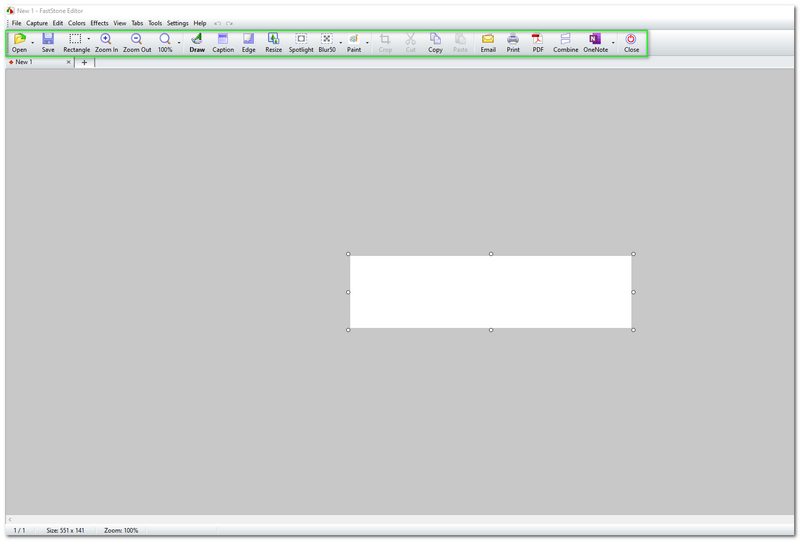 FastStone Capture is one of the popular features of FastStone. In addition, this is the software that gets more downloads and installations. Usually, FastStone Capture is used for taking screenshots, but it can also be perfect for editing images.
When you open the user interface of FastStone Capture, you will see File, Capture, Edit, Colors, Effects, View, Tabs, Tools, Settings, and Help. Below are the options like Open, Save, Rectangle, Zoom In, Zoom Out, Draw, Caption, Resize, Blur, Paint, and more.
So, how does FastStone Capture work? After taking a screenshot, you can click the Draw button. Then, it allows you to Select Object, Select Canvas, Rectangular Text Box, Text, Step, Line, Eraser, Fancy Line, Pencil, Polyline, Line Highlighter, and you can Add an Image to your screenshot.
What's more? FastStone Capture allows you to Convert Images into a Single PDF File and Convert Images into a Single Image File using the FastStone Photo Converter. You can click the Add, Remove, and Draw on your image before converting it into a PDF File. FastStone Capture also lets you tick the Shadow and Title. It is almost the same as Convert Images into a Single Image File; it just adds Resize, Sequence, File Name, and Separation.
FastStone Photo Editor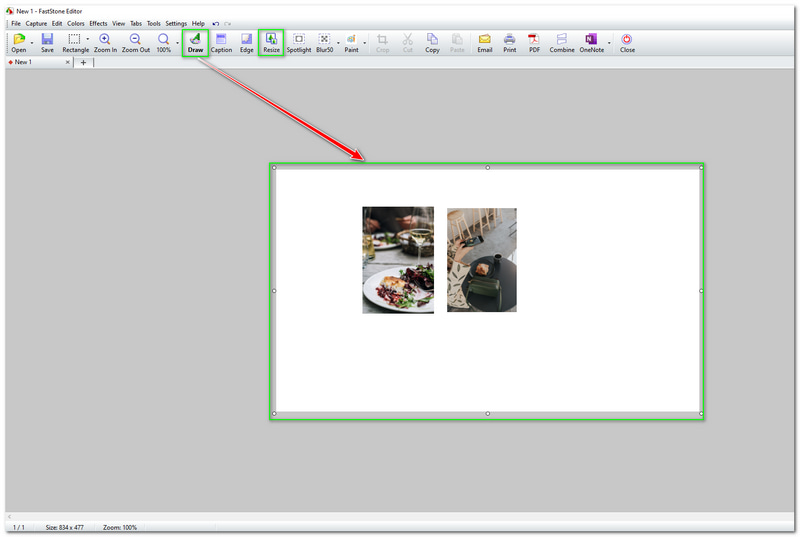 FastStone does not have FastStone Photo Editor software, but it allows you to edit photos using FastStone Capture, the software we discussed above. Some users wonder if this software can create FastStone Collage, and the answer is yes.
How is that possible, right? But on the Draw Icon, you will see the Insert Image. FastStone lets you create your own templates and add images as much as you want. After adding images, you can also add extra details, like adding text and more.
What else? It also has a FastStone Photo Resizer. You can see the Resize Icon on the top corner of the panel, and a small box panel will appear. After adding a photo, you can start resizing an image with the image resizer.
It will show you the Original Size and New Size. After that, you can tick the Pixel if you want to adjust the Width and Height. But if you want to adjust Width and Height by percent, tick the Percent. Once the adjustment process is done, you can click the OK button.
3. FastStone For Mac Alternatives
AnyMP4 Screen Recorder for Mac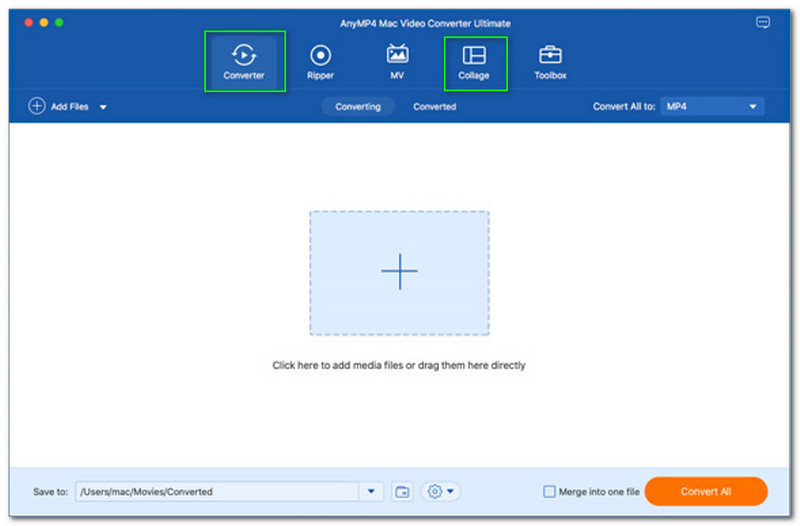 Price: 1 Month License: $19.96, Lifetime License: $49.96, Business License: $99.96.
Platform: Windows, Mac
FastStone for Mac is not available, and if you are a Mac user, the alternative tool we can suggest is AnyMP4 Screen Recorder. It is a well-known and all-around capture software for screen, video, and audio. It is also one of the top leading software to create and make you the best output, whether it is an image, video, or audio.
AnyMP4 Screen Recorder allows you to take screenshots with its built-in editing tools. You can Draw, Add Text, Stickers, Watermark, etc. You can also resize photos by using this software. That is why we highly recommend this software.
Photoshop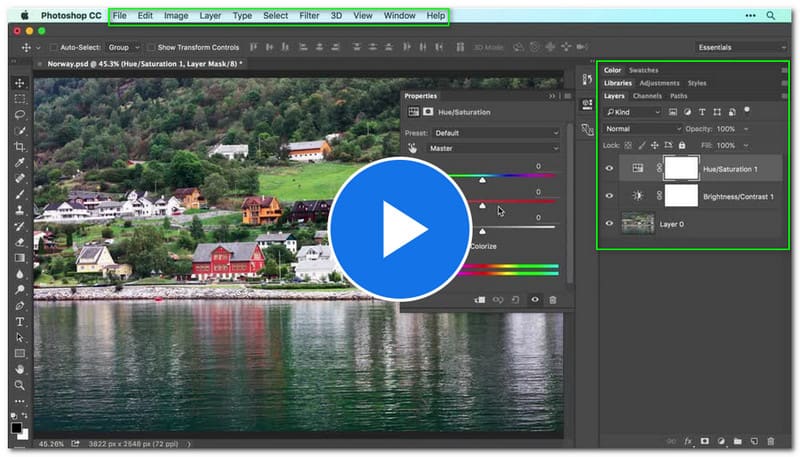 Price: Annual Paid Monthly: $20.99, Annual Prepaid: $239.88, and Monthly: $31.49.
Platform: Windows, Mac
Another popular software you can use as an alternative to FastStone is Photoshop. It has an excellent user interface and is perfect for professional users because it is not manageable to use. It lets you add images to edit them using its extra Editing Tools.
It provides editing tools, such as Draw, Crop, Effects, Colors, Text, Lines, Arrows, Circle, Rectangle, Paint, and many more. Therefore, you can use Photoshop not just for basic editing but in advanced editing. However, it is pricey, but you can try it now!
inPixio
Price:inPixio Photo Studio costs $49.99, inPixio Photo Studio Pro costs $59.99, and inPixio Photo Studio Ultimate costs $99.99.
Platform: Windows, Mac
Lastly, do not forget to consider inPixio as an alternative to FastStone. It is also a great way to edit your photos. It offers an artificial intelligence tool that lets you use your images. In addition, it offers an advanced editing tool, like Remove Background, Edit Photo Backgrounds, and Remove Unwanted Objects, etc.,
4. FastStone VS inPixio
FastStone

inPixio

Overall Ratings
Interface
Support Service
Platform
Windows
Windows, Mac
Pricing
FastStone Image Viewer: $34.95, FastStone Capture: $29.95/$69.95, FastStone MaxView: $19.95, FastStone Photo Resizer: $19.95
inPixio Photo Studio: $49.99, inPixio Photo Studio Pro: $59.99, inPixio Photo Studio Ultimate: $99.99.
Supported Formats
JPG, BMP, PNG, TIFF, etc.
PNG, BMP, GIF, JPG, TIF, TIFF, HEIC, etc.
Editing Process
Fast
Moderate
Editing Tools
Moderate
Advanced
Best For
It is best for beginning users who want to use an affordable user interface. It is also best for editing images.
It is best for professional users that offer advanced features.
Free Trial
7 Days
7 Days
Features

Image Viewer
Image Capture and Screenshot
MaxView
Photo Resizer
Photo Collage
Batch Conversion

Photo Editor
Remove Background
Remove Unwanted Objects
Edit Photo Backgrounds
Image Blur

Pros or Advantages

It has many features.
It also has numerous editing tools.

It offers advanced features.
It has a nice user interface.

Cons or Disadvantages

Its user interface is not very appealing.
It does not offer monthly and yearly plans.
You need to download the software separately, which is a hassle.

Its downloading process is too slow.
It is hard to find the subscription plan.
5. FAQs of FastStone
Does FastStone offer a tool for screen sharing?
FastStone focuses on editing images as well as converting images into PDF and image file. Nonetheless, upon reviewing it, FastStone does not have a tool for screen sharing.
Can I use FastStone offline?
Yes, you can use FastStone and all its features offline. After downloading every software, you can use and edit it even without the internet.
Is FastStone safe?
As a reviewer and as a user, we are also using FastStone, and according to our experience, FastStone and all its features are safe to download, install, and use.
Conclusion
We are finally done reviewing FastStone; we have discovered every feature and software. Plus, we learned about the alternatives and comparison table. To end, we will see you again on our next upload!
Did you find this helpful?
333 Votes
YES

Thanks for letting us know!
No

Thanks for letting us know!
AnyMP4 Screen Recorder
Capture every moment in desktop, browsers, programs and webcam.