inPixio Review: Edit Photo with AI-Powered Photo Editor Online
Have you experienced taking images, but all of them are dull? That is saddening. If you are looking for a photo editor, you can consider using inPixio. We heard that inPixio is full of tools. With that said, this review helps you discover how appropriate inPixio is. Plus, this is your chance to expand your knowledge about its alternatives. Read now!

1. Overview of inPixio
What is inPixio?
inPixio is a simple photo editor, but it is popular on the Web. It is known for providing several solutions to create outstanding image output. In addition, it also provides an affordable photo editor, which is perfect for the beginner user.
Furthermore, inPixio is ready to download and install the software. It is ready to modify and improve your images. Just upload your photos in the format of JPEG, BMP, and PNG. Therefore, from the RAW image file into the edited image output file.
So much so that we would also like to share its advantages and disadvantages. Of course, before using software, you deserve to know everything about the software. Please see them below:
Pros

It has a simple layout and user interface.
It can run smoothly on Windows and Mac.
It offers great editing tools.
It also offers a RAW editing tool.
It is inexpensive, which is good news for amateur users.
Cons

It lacks basic parameters.
It does not have a photo management system.
It does not offer advanced photo editing.
It requires you to install every feature before using them.
Price9
Interface9
Performance8.5
2. inPixio Review
Interface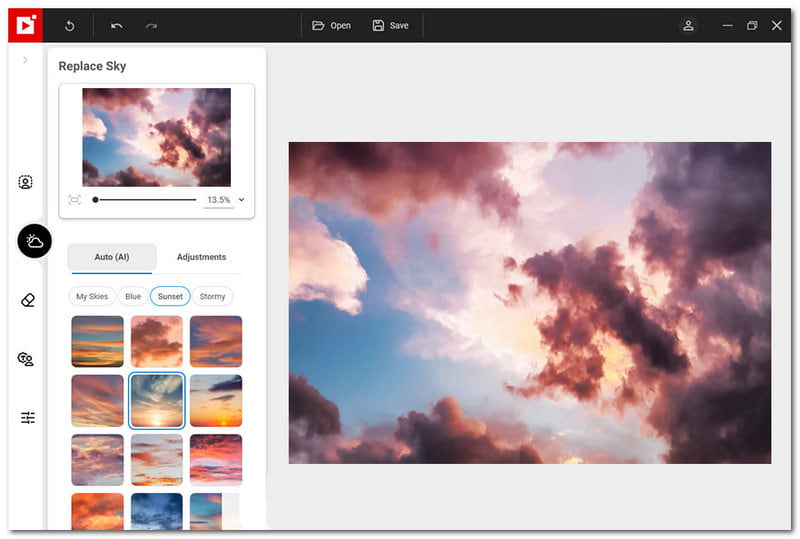 inPixio is now updated, as well as its user interface. However, inPixio still has a simple user interface, but if you compare it to the previous one, the update is visible. The color of the user interface of inPixio is black and white.
You will see the Refresh, Undo, Redo, Open, Save, Activate, and Profile on the upper part. Then, you will also see the other features in the left corner, like Remove Background, Replace Sky, Erase Objects, Make Photo Montage, and Edit Photo.
Overall, the user interface of inPixio lets you see all the AI-based tools, such as removing unnecessary parts, modifying and merging photos, etc. In short, amateur users will love using inPixio since it is simple and clean.
Pricing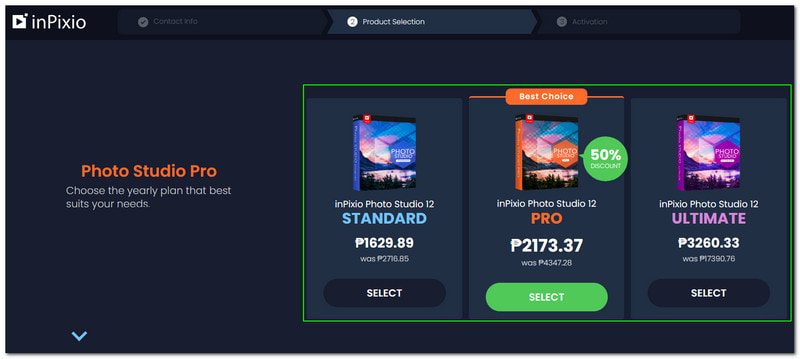 inPixio has three different subscription plans. You can choose the inPixio Photo Studio 12 Standard for $29.86. Once you purchase this plan, you will have access to some of its features, like Remove Background, Correct Image Errors, Edit Portraits and Landscape, Crop and Cutout Photos, Create Photo Montages, and access to Interactive Tutorials. Nevertheless, this plan has limitations.
The next plan is inPixio Photo Studio 12 Pro which costs $39.82 and includes all the above features. Plus, these other features; Make Photo Vibrant, One-Click Image Correction, Complete Editing Features, Edit, Enhance, Touch Up, 100 Plus Filters and Effects, 30 Plus Frames, and 50 Plus Original Textures. For that said, you will also notice that the second plan has limitations, but it is not bad. Actually, this plan is the best choice and best seller.
Lastly, the inPixio Photo Studio Ultimates price is $59.73, including everything. What does it mean? Once you purchase this plan, you will enjoy using inPixio without limitations. It includes Blur Photos, Enlarge Whole Pictures, Create Crytsal-Clear Photos, etc.
inPixio Remove Background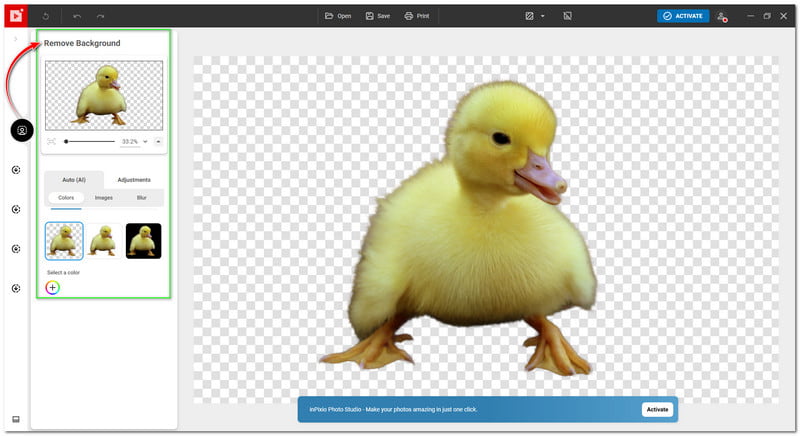 There will always be an instance where you do not want your background and want to remove it instantly. Using inPixio, you can possibly do that! It allows you to remove unnecessary background and replace it with the color you like.
Furthermore, you will also do it quickly. Once you click the Remove Background feature, inPixio lets you add a photo from your computer. After that, you will see the inPixio AI is processing your photo. This means after the processing, your photo has no background. You can save it as it is. However, you will also have other options. For more image background removers, you can check them here.
You can click the Auto AI that lets you choose your background color. You can select the color by clicking the Select a Color button. You can also add an image to be your background. Or, you can choose the Blur section.
On the other hand, if you select the Adjustments button and adjust the Temperature, Exposure, Scale, Smoothing, Contrast, and Brush Size. Overall, you have so many options. Supposing you want to save the image after the editing process, click the Save button in the upper corner.
inPixio Photo Montage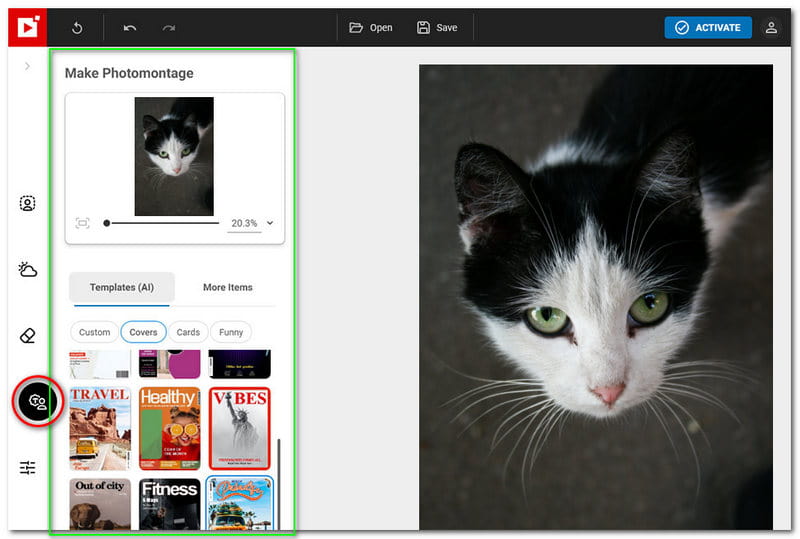 inPixio is not a boring photo editor software because it allows you to create a high-quality and unique photo montage. Again, you just need to select the Make Photo Montage feature on its main user interface, and then inPixio will let you add an image from your computer.
It is now easy to make photo montages in inPixio because it is now powered with AI templates. For that reason, you can use that to bring uniqueness to your photo. When you click the Templates AI button, you will see Custom, Covers, Cards, and Funny. Therefore, you have a chance to choose which one you like.
Moreover, inPixio also offers more when you click the More Item button. You can merge photo cutouts of your loved ones to create a family portrait, create a time-travel montage by adding vintages or old photos, mix images of your favorite pets, and more. In other words, your creativity is not compromised when you use this feature from inPixio.
3. inPixio Alternatives
AnyMP4 Image Upscaler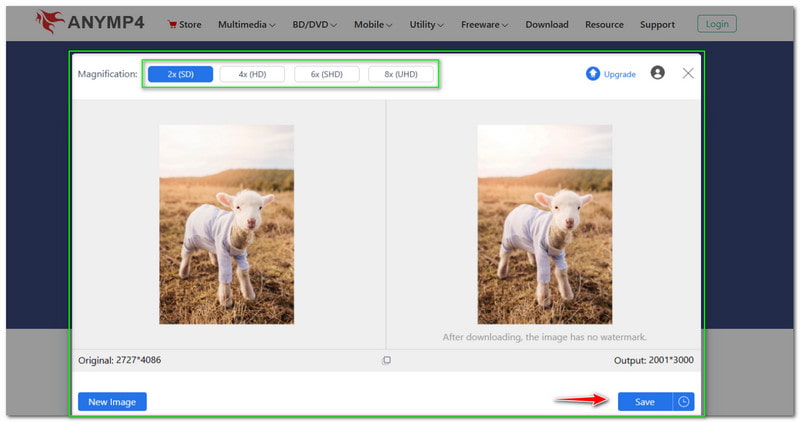 Price: Free
Platform: Online
One of the inPixio alternatives is AnyMP4 Image Upscaller. Aside from it being free, you can use it online. This online photo editor lets you drop and drag files directly to the main page. Or you can also click the Upload Photo button to choose an image from your desktop.
In addition, like inPixio, AnyMP4 Image Upscaller is also powered by Artificial Intelligence. Moreover, one of its main features is magnifying images from 2x up to 8x. The good thing about this is once you Magnify the image; you will never experience a loss of quality. Yes, that is how excellent AnyMP4 Image Upscaller is.
GIMP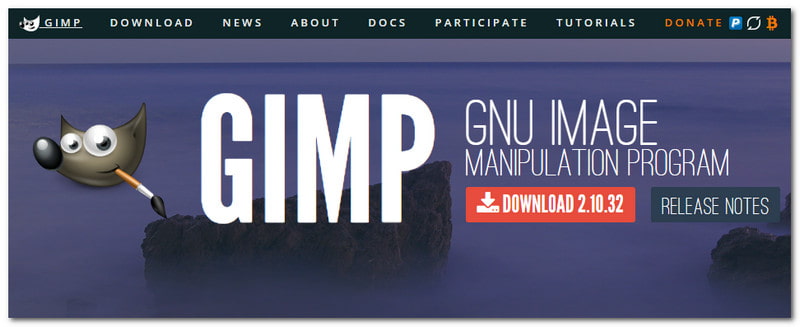 Price: Free
Platform: Windows
Are you aware of GIMP? It is a free yet professional photo editing software, and you can use this as an alternative to inPixio. It is suitable for Mac, Windows, and Linux, and it is open-source software. If you are a photographer, graphic designer, illustrator, and whosoever, GIMP is perfect for you if you do not want to use inPixio.
What else? GIMP lets you use their feature, Photo Editing; it provides Digital Black and White Conversion, Luminosity Masks, Tone Mapping with Colors, and Focus Groups. As you noticed, the features mentioned are not basic editing tools. Therefore, GIMP photo editor software is more advisable for advanced users.
BeFunky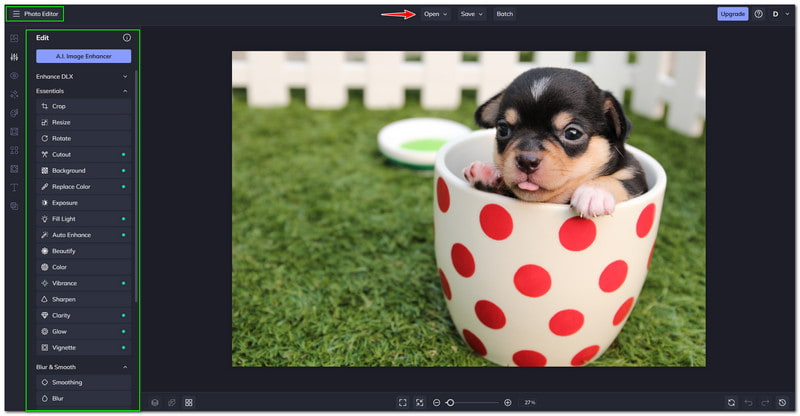 Price: $9.99 a month and $4.99 a month, payable for a year.
Platform: Online
The last alternative to inPixio is BeFunky. It is another online photo editor that allows you to Create Projects, Edit Images, etc. It is almost complete and way more affordable than inPixio. That is why there is no wonder why BeFunky is one of the alternatives to inPixio.
BeFunky also allows you to use your Favorite Tools, such as Oil Painting, Glitch Art, Background Remover, and A.I. Portrait Enhancer. Yes, you read it right, BeFunky is also powered by AI. What else? You can also use these features; Replace Color, Cartoonizer, Facebook Templates, etc.
4. inPixio VS BeFunky
inPixio

BeFunky

Overall Ratings
Interface
Support Service
Platform
Online
Online
Pricing
inPixio Photo Studio 12 Standard: $29.86, inPixio Photo Studio 12 Pro: $39.82, inPixio Photo Studio Ultimates: $59.73
Monthly Plan costs $9.99, and Yearly Plan costs $4.99.
Supported Formats
JPG, BMP, PNG, etc.
JPG, BMP, GIF, TIF, TIFF, PNG, HIEC, etc.
Conversion Speed
Moderate
Fast
Editing Tools
Advanced
Advanced
Best For
It is best for online editing and lets you edit photos quickly. Also, it is best for amateur users because it has a straighforward user interface.
It is best for editing images, like making Collages and Editing Photos. It is also best for users who want to purchase an affordable online photo editor.
Free Trial
7 Days
7 Days
Features

Remove Background
Replace Sky
Erase Objects
Make Photomontage
Edit Photo

Edit Images
Beautify Portraits
Turn Photos into Art
Decorate Images
Create Collages
Create Design Portraits
Improve Your Productivity

Pros or Advantages

It has a simple layout and user interface.
It can run smoothly on Windows and Mac.
It offers great editing tools.
It also offers a RAW editing tool.
It is inexpensive, which is good news for amateur users.

It provides a free tool for all types of users.
It also provides many features.
It has a professional user interface.

Cons or Disadvantages

It lacks basic parameters.
It does not have a photo management system.
It does not offer advanced photo editing.
It requires you to install every feature before using them.

It has limitations upon using the free version.
5. FAQs of inPixio
Is inPixio free and legit?
Unfortunately, inPixio is not a free photo editor. The price of the subscription plan starts at $29.86, and it has three subscription plans. Nonetheless, you can use the inPixio trial version for seven days. Regarding its legibility, yes, inPixio is legit, 100%.
Is inPixio any good?
Do you wonder if inPixio is any good? Of course! After reviewing this photo editor online, we can say that many users love to use inPixio because of the AI-powered features and the simplicity of its user interface.
Is inPixio safe to download?
Yes, it is. However, one disadvantage is that it requires users to download all the features. Therefore, it is a hassle to do. Also, we notice that you need to download many before using one feature.
Did you find this helpful?
319 Votes
YES

Thanks for letting us know!
No

Thanks for letting us know!
Conclusion
Finally, we are done reviewing inPixio, as well as its alternatives, namely, AnyMP4 Image Upscaler, GIMP, and BeFunky. We also leave a comparison table; feel free to see it. Overall, if you love this comprehensive review, join us again in our next article!
AnyMP4 Video Converter Ultimate
All-in-one video converter, editor, enhancer upscaled with AI.