Passware Kit Review: One of the Most Leading Password Recovery Software
Losing accessibility to your computer is frustrating and frightening! Most of the time, users lose their laptop access because they always forget their passwords. Nevertheless, do not be frustrated anymore. The best solution for that is to have the best recovery software. So, we are introducing to you Passware Kit, which can recover different passwords such as Windows, MS Word, MS Excel, and more. To know more, start reading the full article review.

1. Our Verdict
Pros

It supports over 300 file types.
It is supported by hardware acceleration.
It has live memory analysis.
It is easy to use.
It is an instant password reset.
It offers a free trial.
It can easily detect encrypted files on a drive.
It has extensive file support.
It offers Passware Kit Demos and Samples.
Cons

Mac supports only the Passware Kit Standard Plus.
The affordable versions have limited features.
It crashes sometimes.
Overall Ratings
Customer Support:8.5
Functionality:9.0
Features:9.0
2. What is Passware Kit
Best for: Password recovery for Windows passwords, but it can also recover passwords for MS Excel, Word Documents, Websites, etc.
Price: Passware Kit Basic costs $49.00, Passware Kit Standard costs $79, and Passware Kit Standard Plus costs $195.00
Platform: Windows and Mac
Main Features
Passware Kit is not just a Windows password recovery but also for the password recovery of MS Excel, Word Documents, Websites, and more. In addition, it is also a leading password recovery since it covers not just one but also can recover many passwords. Moreover, it is an easy-to-manage software, and you do not need to be professional to use this tool. Please see them on the bottom part to be more overwhelmed with its features.
1. It instantly recovers your password for local Windows accounts.
2. It can also recover Microsoft Live ID accounts, server accounts, and domain administrators.
3. It has security settings using a bootable CD, DVD, and USB Flash Drive.
4. It is fast in recovering Windows passwords, MS Excel passwords, PDF Documents passwords, File Maker passwords, Word Document passwords, etc.
5. It has a password history where all your recovered passwords are saved and are ready to reuse on other files.
6. It offers step-by-step customization of password recovery settings.
7. It supports FDE decryption.
8. It provides password managers.
9. It also provides crypto wallets.
10. It has a Live Memory analysis.
3. Passware Kit Review
Interface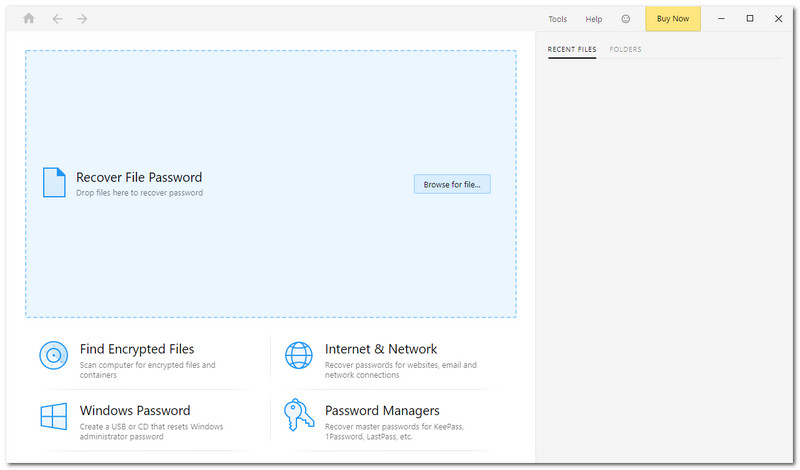 Passware Kit has a straightforward interface. It has a combination color of white, light gray, and sky blue for the icons. On the upper corner of the interface, you will see the Tool, Help, Smiley Icon, and Buy Now. The good thing about its interface is you can easily find every option. Therefore, you will not waste your time finding what you need.
Furthermore, in the middle part, you will see the Recover File Password, and next to that, you will also see the Browse for a file where you can input your file. It will also let you drop your files on the box in the middle part. On the lower part, you will notice four other options: Find Encrypted Files, Windows Password, Internet & Network, and Password Managers. Lastly, you will see the Recent Files and Folders on the right side of the interface.
Recover File Password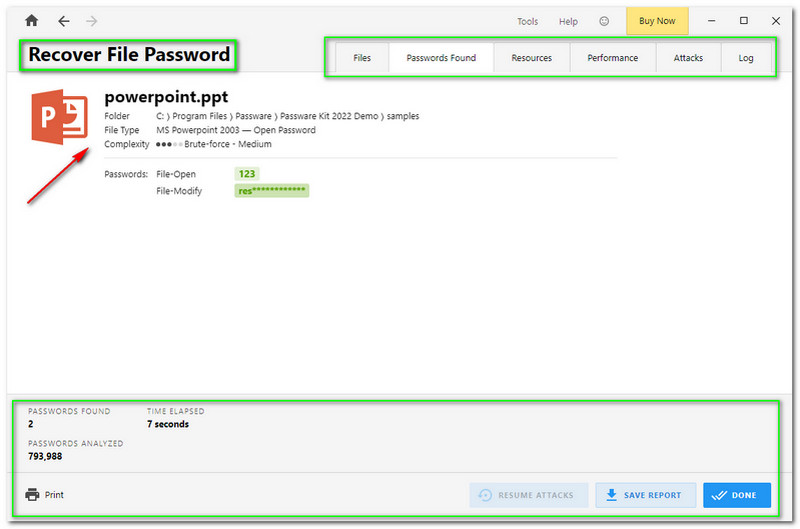 To recover your file password, click the Recover File Password, and it will let you select a file from your computer. When you choose a file, you will proceed to the next part. You need to wait for the result, but you can click the Skip Attack, Skip File, and Skip Group while waiting for the process. In addition to this, you can also Pause and Stop the cycle. However, you need to do it faster since Passware Kit can find your password in seconds.
Moreover, when the process is finished, it will show you the Password Found. You can also check the Resources, Performance, Attacks, and Log. Then, on the bottom part, you will also see other information. As you can see, the Password Found is 2, Time Lapsed is 7 seconds only, and Password Analyzed is 793,988. Then, on the lower-left corner, you can print the result by clicking the Print button, and on the right lower part, Passware Kit allows you to Save Report. After that, click the Done button.
Tools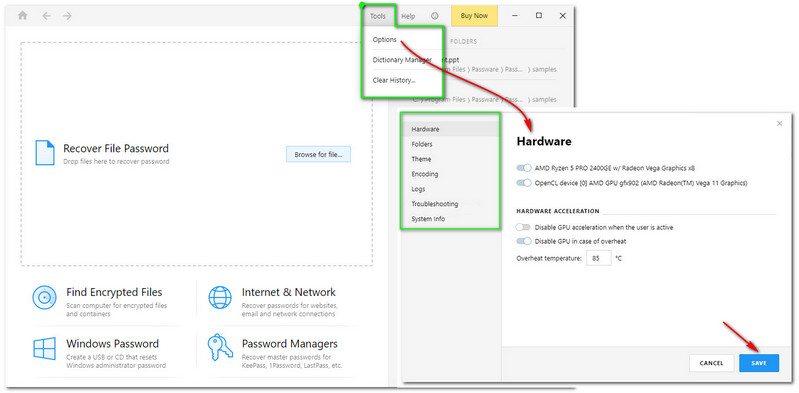 When you tap the Tools on the upper part of the interface, you will see options like Options, Dictionary Manager, and Clear History. Then, click the Options, and you will see Hardware, Folders, Theme, Encoding, Logs, Troubleshooting, and System Info. In this part, we will see the Folder and Theme. You can choose where you want to save every File Processing Folder on the Folder and where you want to Save Temporary Files. Then, on the Theme, Passware Kit allows you to choose from its three themes Light, Dark, and Auto. After all the customization, click the Save button.
4. FAQs of Passware Kit
What is Passware Kit Forensic Portable?
It is a comprehensive electronic evidence discovery solution. It reports all the password-protected items on your computer, and it will decrypt them. It is also another software that can recognize more than 300 file types, and it works in a batch mode recovering every password.
Is Passware Kit safe?
According to the developers of Passware Kit, they are dedicated to keeping your information secure. In addition, they will also continue to work on features so that your information will be safer, especially file encryption.
Can I use Passware Kit on Linux?
Unfortunately, no. However, if you have Windows or Mac, you can use it to use Passware Kit and enjoy its numerous features. It also offers a free version!
5. Passware Kit VS Spower Windows Password Reset
Passware Kit is somehow expensive. It has three kinds of subscriptions, and what we do not like is the Passware Kit Basic has limited features even though you will pay for it. Nonetheless, overall, Passware Kit is still the leading password recovery tool. Furthermore, if you want to purchase software for a lifetime with no limitations yet at an affordable price, you can try Spower Windows Password Reset. On the lower part, allow us to lay down its features. Do not worry. We have that too if you want a review about Spower Windows Password Reset!
1. It allows you to recover passwords for Windows, Word, PowerPoint, Excel, Outlook, PDF, etc.
2. It can recover the Windows Raid Server password.
3. It lets you make a new Windows user without logging in on Windows.
4. It also enables you to remove a Windows user.
5. It allows you to use a bootable CD, DVD, and USB Flash Drive to recover passwords.
6. It offers a free trial.
7. It is safe to use.
As we notice, both software is excellent, and they also satisfy every user's needs. However, users will always consider the price, and they will still choose the affordable yet without limitations.
Conclusion:
In this review, we discover that Passware Kit is one of the leading software over the internet. It was evident because of the features that we tackle from this software. In addition, we also know that it has three kinds of subscriptions and we conclude that they are pretty expensive. To end, we hope that you obtain so much from this review. Please leave us a comment and like. See you again in our next article!
Did you find this helpful?
229 Votes
YES

Thanks for letting us know!
No

Thanks for letting us know!