Spower Windows Password Reset Review: Be Informed about its Price, Features, and more
Having problems accessing your computer is such a big problem, especially when you need to see an essential account on your computer. The worst thing is you cannot access your computer because you no longer know its password. For that reason, you tend to look for software that can fix your problem. This review is perfect timing for you! We are presenting Spower Windows Password Reset to you, and it can recover your password in just a minute. Let us know what more it can do. Let us read now!
1. Our Verdict
Pros

It has an animated and unique interface.
It is easy to manage.
It is supported with all versions of Windows.
It offers a free version.
It provides user guides that are filled with information.
Cons

Its graphics are outdated.
You need to buy it after the trial version.
Overall Ratings
Customer Support:8.0
Easy to use:8.5
Features:8.5
2. What is Spower Windows Password Reset
Best for: $27.95 for lifetime use.
Price: Professional costs $17.95, Server
Platform: Windows and Mac
Main Features
Spower Windows Password Reset is reliable for recovering a password for Windows accounts and other accounts such as Microsoft Word passwords, Microsoft Excel passwords, PowerPoint Excel, Outlook passwords, and more. The good thing about this is Spower Windows Password Reset guarantees you a hundred percent security and safety. To be more aware of its main features, please take a look below:
1. It can recover your forgotten domain and administrator password for every version of Windows.
2. It can also retrieve a password for Windows Raid Server.
3. It lets you create a new Windows user without logging in on Windows.
4. It also allows you to remove a Windows user.
5. It can recover passwords using a bootable CD, DVD, and USB Flash Drive.
3. Spower Windows Password Reset Review
Interface
Spower Windows Password Reset is a free download software with a unique and animated interface. Amazingly, it has a cloudy theme effect on the upper part. It is also where the Home, Buy Now, Help, and About are located. It has a color of dark blue, Persian blue, light blue, and white. In the first photo, the Spower Windows Password has a Welcome note for every user. Then, you can also notice Step 1 of 2: Choose the media type, and it will let you choose from the two options; USB Flash Drive or CD/DVD. After that, take a look at the second photo. After choosing, you will proceed to the following interface part, and you will see Step 2 of 2: Insert Blank CD/DVD. Next to that is the Begin Burning. On the lower part, you will see the Status.
Windows Password Reset
Choose a Bootable USB Flash Drive and CD/DVD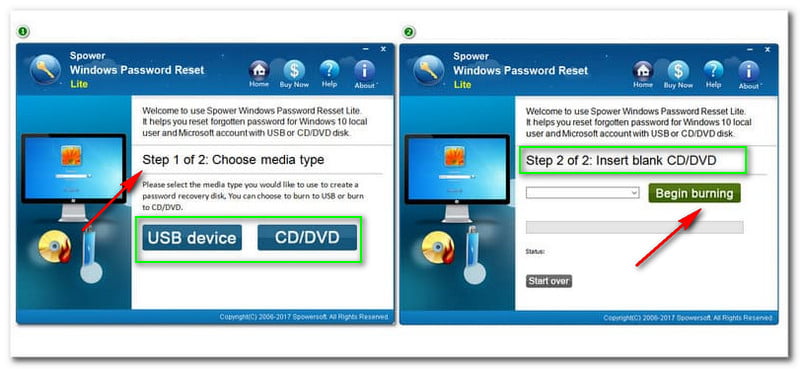 To reset your Windows password, you need to choose if you want to use a bootable USB Flash Drive or CD/DVD. Suppose that you select the CD/DVD and click the Begin Burning to create a CD/DVD password reset disk. After that, you need to set your locked computer to boot from CD/DVD or USB Flash Drive.
Boot Your Locked Computer Using Windows Password Reset Disk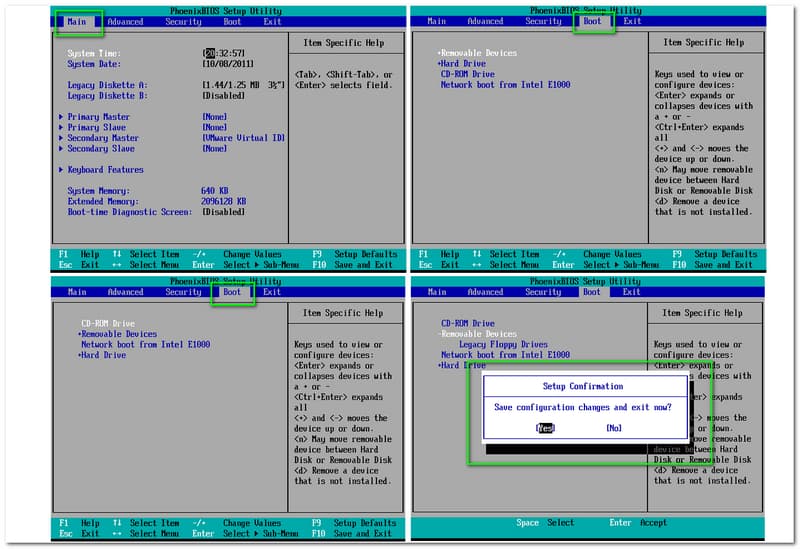 In this part, click the BIOS Entry Key right away after powering until. After that, the BIOS setup screen will appear. The BIOS Entry Key is different when you use a different computer model. Now, you can tap the F2 to enter the PhoenixBIOS setup utility. To give you a tip, many BIOS Entry Keys for many PC models. Then, you will see the Main, Advanced, Security, Boot, and Exit on the BIOS setup screen. On the Main part, you will see all the information like System Time, System Date, Keyboard Features, and more.
Moreover, on the Boot part, you will see Removable Devices, Hard Drive, CD-ROM Drive, etc. Then, when you click an option, Spower Windows Password Reset will ask you permission about the Setup Confirmation. If you want to save the configuration change, click the Yes button. If not, click the No button.
4. FAQs of Spower Windows Password Reset
Is Spower Windows Password Reset safe?
By Spower Windows Password Reset, they respect entirely every user's privacy. In addition, they will not collect any information about the user without explicit permission and consent. They also said that any information you provide to them would be treated with proper standards, keeping them protected.
Why does my computer asks me for an administrator password upon downloading Spower Windows Password Reset? What can I do?
The reason why your computer asks you for an administrator password is that it is beyond security. When users try to run some program, it will ask you for permission. Because of that, you can download the program to your computer and start burning discs. After that, insert the burned disc into your locked computer to begin recovering the password.
What is the difference between the trial version and the full version of Spowe Windows Password Reset?
A trial version of Spower Windows Password Reset can only show you the list of all user names of Windows. However, it cannot reset their password. In addition, the trial version is not included with the 24/7 customer support. On the other hand, you will enjoy all the benefits of the full version, and the great thing about this is when you purchase it, it will be suitable for a lifetime subscription.
5. Spower Windows Password Reset VS Windows Password Reset Disk
Undoubtingly, Spower Window Password Reset is an excellent tool for recovering your forgotten password. It has all the features you can have from a tool. However, who does not want a free password recovery tool, am I right? If you are interested, Windows Password Reset Disk is all you need! It is a free resetting password for users, whether beginners or professional users. Remember, Windows Password Reset Disk is an online tool. Here are some of its features:
1. It can reset your password or PIN.
2. It can reset your Windows 11 local account password.
3. It can reset your Microsoft account password.
If you desire to learn more about Windows Password Reset Disk, we have prepared a review about it, and we hope you will also consider reading it!
Conclusion:
Did you learn from this review? We hope you do since we discuss every part of it, such as advantages, disadvantages, features, price, platform, and more! We also obtain information about how it is safe for every user. We expect you to leave us a thumbs up and positive comment! See you in the following article!
Did you find this helpful?
311 Votes
YES

Thanks for letting us know!
No

Thanks for letting us know!