8 Best AI Chatbots Online: Tap on AI's Potential with a Perfect Tool
AI-powered bots have been an overnight sensation and received great attention from the whole world. With the coming of AI text generators, AI girlfriends, and AI chatbots, we have witnessed such a magnificent revolution in business, education, culture, and life. You can talk to AI with almost everything and give commands to AI chatbots to complete the marketing plan, blog scripts, essay drafts, and even lyric songs. The best thing is that everyone can access the AI chatbots online, regardless of their roles, jobs, ages, and locations, to acquire something different.
The outcry for an advanced and smart AI chatbot online also grows like mushrooms after rain. The AI market, as a result, is also filled with homogenous and nominal products to feed the customers. To save you from the awful products and experiences in AI chatbots online, we have surveyed the 8 best picks by people and made an unbiased review on each one. You can have a better grasp of each AI product and decide on the most suitable one.

1. What Is Artificial Intelligence Chatbot Tool?
AI Chatbot tool, as its name indicates, takes the basis of artificial intelligence technology and NLP (natural language processing) system to communicate with users and answer their questions. With the renewal of GPT, now human-AI conversation developed by leaps and bounds, and more and more interactive functions and tones are added to written or spoken talks.
2. Top 8 AI Chatbots Online
Jasper
Jasper is more than an AI chatbot on daily topics. It pools content, frameworks, and logical cohesion all together to offer users a satisfying result. For those with requirements for Google rankings and business use, the selective modes and pre-installed templates will be a great help to improve the working efficiency and output quality. Whether you are planning for a diet plan, compiling a marketing blueprint, or just working on your YouTube post, Jasper will follow your keywords and generate interlinked paragraphs or articles at a fast speed.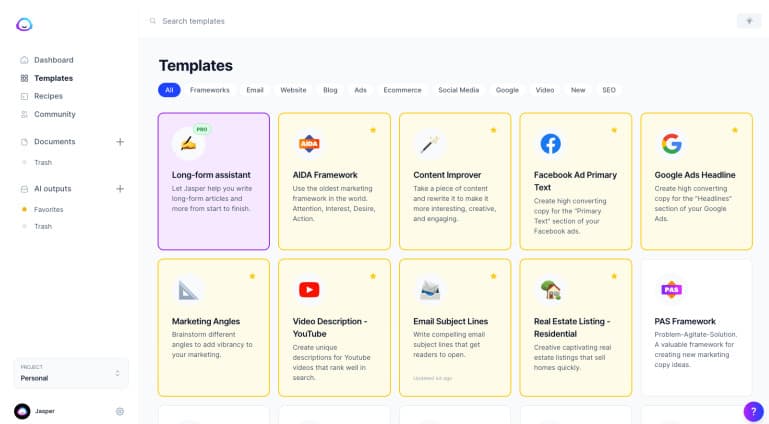 Platform: Online, Desktop, and Mobile
Price: $49-$125 (free trial for 7 days)
Features:
◆ Responsive and insightful.
◆ SEO-friendly for starters.
Pros

Flexible modes and tones for the boss, marketers, and post writers.
Save the answer and changes automatically.
Create, adjust, and improve your content with third-party tools.
Diverse templates for all styles of copywriting.
Cons

Need a manual check and change on content accuracy.
Potential risks for plagiarism on specific topics.
Chatsonic by Writesonic
This AI chatbot online also opens the gate to AI writing, chatting, and art. Chatsonic by Writesonic can understand your request for images and texts precisely and offer you impressive comments and summaries in different fields. You can get the latest information on big events, weather conditions, medical health, historic discoveries and so on. Office workers can also monitor, and analyze the marketing data and optimize the strategies in sales, promotions, and so on.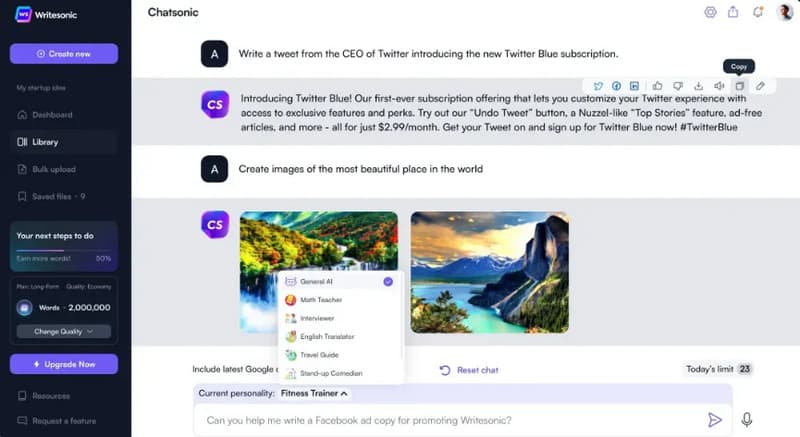 Platform: Online, Desktop, and Mobile
Price: $0-$12.67/monthly (free trial for 10,000 words)
Features:
◆ Accessible and affordable.
◆ Practical, commercial, and also entertaining.
◆ Intuitive interface.
Pros

Applicable in text and text-to-image content.
No credit card is required in the free trial.
User-friendly instructions.
Quick and time-saving for all demands.
Cons

Unsensible details to match the figure in images.
Repetitive responses to familiar questions.
Google Bard
Google Bard is a big buzz in 2023 and sparked a heated discussion about AI chatbots online. As long as you have a Gmail account, you can easily start a conversation with Bard on various topics, from academic terms to entertaining events. When you dig deeper into it, you may tell Bard's difference from other AI chatbots in its rigor and controllability. Instead of being a straight jab, it will state like "not enough information" or "no definitive answer" and skip specific questions.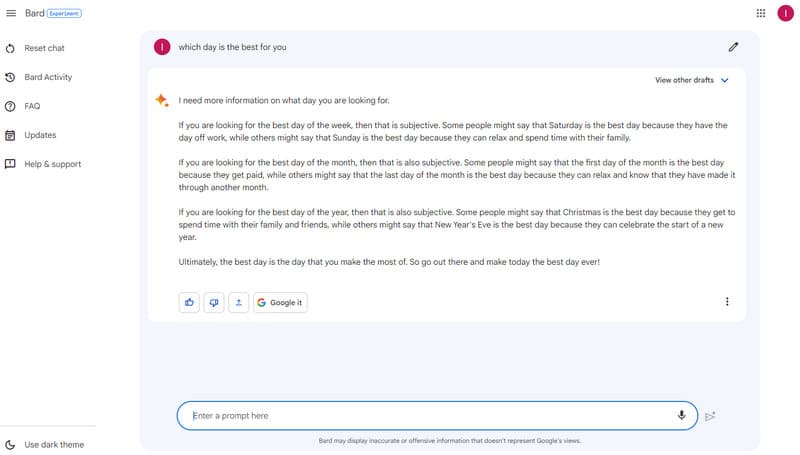 Platform: Online
Price: Free
Features:
◆ Interactive and Knowledgeable.
◆ Offer lengthy and acceptable answers within seconds.
◆ Avoid subjective or sensitive answers.
Pros

No ads and credit card request
Selective drafts for one single question.
Sensible value orientation.
Cons

No clear standard to test the originality and accuracy of the content.
Still a new-born in business currency and cooperated projects.
Ryter
You can reach Ryter for AI writing, grammar improving, art creating, and illustrating. A clear layout for different functions comes into view once you log in and create a Ryter account. This chatbot can brainstorm ideas for media posts, write covers, customer feedback, and so on. It can also be a cost-effective option for those to reformat, enhance and adjust the users' original text.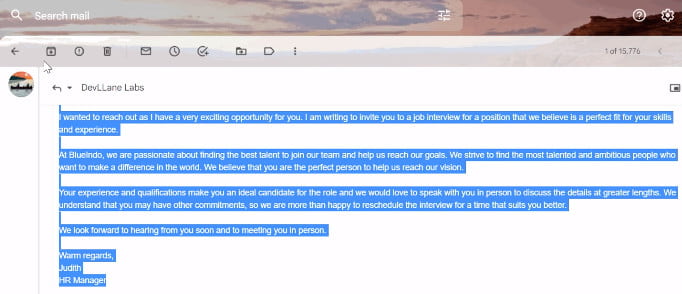 Platform: Online, Desktop, and Mobile
Price: $9-$29 (Free plan for 5 images/monthly)
Features:
◆ Multilingual
◆ A native plagiarism checker.
◆ Image and texts both supported for a generation.
Pros

Monthly access to a free trial version.
Understandable and easy tutorials.
Original creation in AI arts and graphics.
Cons

A fact check is required for authentic info.
Still need improvements in long posts.
Perplexity
Perplexityis an appreciated AI chatbot by mobile and desktop users. It functions just as it displays in the ad. You can ask any query and follow up to keep learning from this AI assistant. The whole interface is function-oriented and clear-cut, which helps you focus on effectiveness. Besides, here are updated questions everyday for your reference and picks. Which makes it more friendly for starters.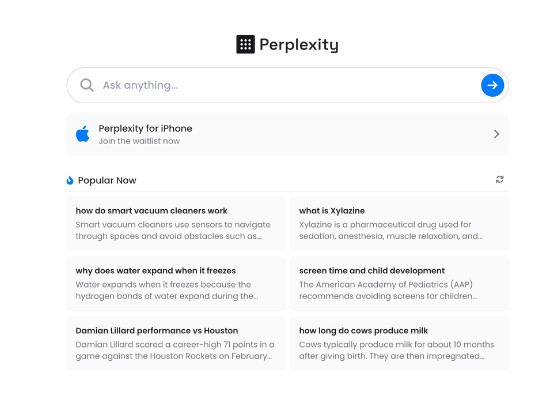 Platform: Online, Desktop, and Mobile
Price: Free
Features:
◆ Ask questions with voice and input texts.
◆ Information source provided for authenticity.
◆ Problem solver for mobile users.
Pros

No pop-up ads or annoying subscriptions.
Clear and intuitive user interface,
Prompt responses to questions.
Cons

Answers are not flexible to questions alike.
Functions for editing and proofreading are limited.
RoBERTa by Facebook
RoBERTa by Facebook is a dynamic-masking based model to process natural language. This AI bot has optimized the BERT (Bidirectional Encoder Representations from Transformers) approach and can function as a multi-tasker to perform different language modelling. But this AI bot, unlike the primary BERT approach, RoBERTa by Facebook is not designated to predict the next sentence for the training data.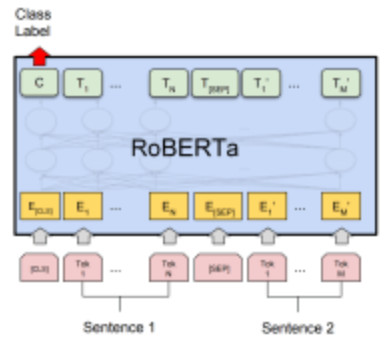 Platform: Open source
Price: Free
Features:
◆ Cutting-edge technology in NLP tasks.
◆ Integrate the benefits of AI research.
◆ Enhance BERT's performance.
Pros

Timesaving with fruitful results.
Little reliance on labelled text data.
Require less human work.
Cons

More challenges to labour work.
Iterations are required more on the network.
Kuki
Kuki, with its engaging designs and human-like tones of chatting, is a big invention in the metaverse and AI chatbot world. A lively conversation is no longer impossible in AI chatting since Kuki has developed a unique mode. You can get all details and even a timeline for a specific topic while enjoying the natural tone of Kuki. For those with needs of entertainment, they can play games, start an individual or group chat, and more here.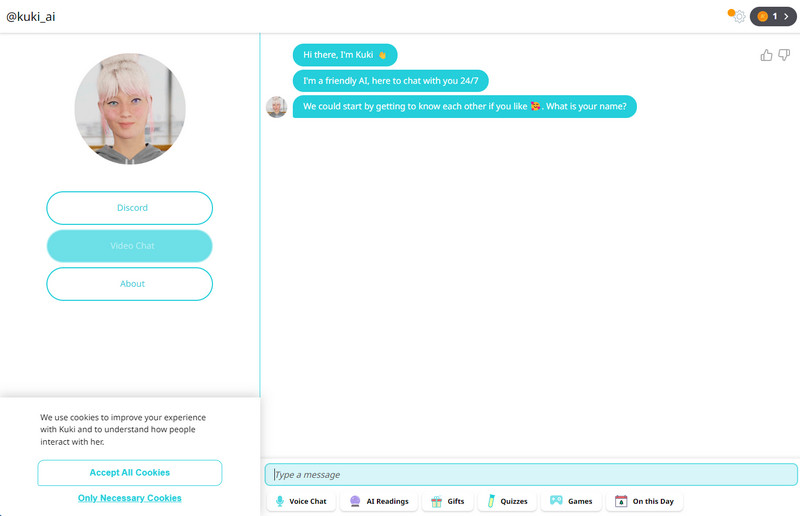 Platform: Online, Desktop, and Mobile
Price: Free
Features: sd
◆ Multiple functions for human-AI interaction.
◆ Communicative on real-life topics.
◆ Compatible with popular social media platforms.
Pros

Easy-to-start settings.
Support voice and video chat modes.
An incentive coin system for AI chatting.
Cons

Potential risks for data loss and security.
No standard for the professionalism and accuracy of the info provided.
Character.AI
Character.AI is another human-like AI chatbot product famous for its flexibility and vividness. You can create a custom AI character as your chatbot and get a satisfying result with a personal description. The content of your conversation is determined by its role, and you can move further to tap into its potential with intimate relationships. Users are offered the full rights to direct the talk and control the responses.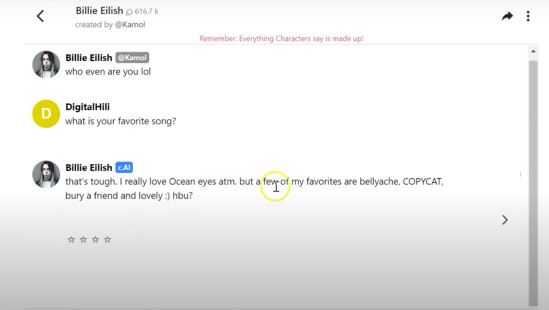 Platform: Online, Desktop, and Mobile
Price: $9.99/monthly; $122/yearly
Features:
◆ Yield life-like responses and advice for a good experience.
◆ Support personalized AI chat characters.
◆ Memorable, intelligent, and responsive.
Pros

Harmonious match of the AI role and the speaking tone.
Flexible and changeable adjustments.
No generic answers.
Cons

A little expensive for the subscription.
Need manual direction and control.
3. FAQs of AI Chatbots Online
1. Does Google have an AI bot?
Yes, and the latest Google Bard is a popular AI chatbot for anyone with a Gmail account. Compared with other AI bots, Bard features lengthy and optional answers for a single question so users can pick the ideal one among several choices.
2. Is Siri an AI chatbot?
Not exactly. Siri is designated as a virtual and voice assistant to help Apple users better manage and control their devices. But AI chatbots are targeted at a broader audience with commercial benefits.
3. Are AI bots illegal?
Up till now, there have been no precise regulations or laws to ban the use of AI bots. But developers and companies should always keep in mind that AI-driven tech can only be popularized in line with moral and legal rules. Users should also avoid dangerous hints and fact-check the information by AI bots.
Conclusion
This is a lead-in post about AI bots for chatting online. After reading through their merits and drawbacks, you can chat with the best AI chatbots and start a wonderful journey. You can reach more details with the access above and decide on your ideal one finally.
Did you find this helpful?
410 Votes
YES

Thanks for letting us know!
No

Thanks for letting us know!
AnyMP4 Video Converter Ultimate
All-in-one video converter, editor, enhancer upscaled with AI.