Capto Review – All You Want to Know about Capto
Have you ever heard of Capto? Developed by Global Delight Technologies Pvt. Ltd, Capto is not a common screen recorder that you may expect. It is an all-in-one suite for the users of macOS X v10.10.5 & later to record screen, take snapshots, and edit videos, audios, and images. Do you want to know if it is worth paying US$30 for the software? In this unbiased Capto review, we are going to talk about the features, pros, cons, pricing, and alternative of Capto.
Part 1: Features of Capto You May Want to Know
Get a little bit deeper into Capto and you will find Capto is really an unconventional suite unlike either the screen recorders or video editors you met before. It has 7 major features, each of which is very powerful.
Feature 1: Record All Activities Happening on Your Screen
Capto can record high-definition videos including 4K videos on Mac (cannot record 4K videos in High Sierra). In the preferences, you can select the Maximum Frame Rate (10 FPS, 15 FPS, 20 FPS, 25 FPS, 30 FPS, and 60 FPS) for your recording. Capto also allows you to decide whether to show your cursor in recording or not.
Feature 2: Edit the Recorded Videos and Video from Elsewhere
When you input a video into Capto to edit it, you will be amazed by how intuitive the editing interface is. Even video editing beginners can use Capto to join, cut, trim, crop, and add annotations to a video without any effort.
Feature 3: One Click to Take a Screenshot or Web Capture
The screen capturing feature of Capto can help you get a screenshot in any case. It can even capture a drop-down menu, which is tricky to achieve with other screen capturing programs when you happen to be in such need.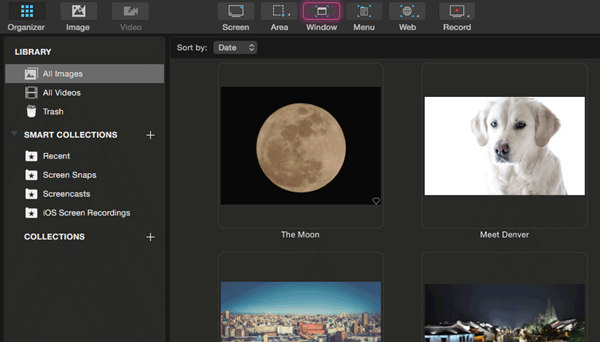 Feature 4: Edit an Image in Various Ways and Export it to Multiple Formats
Capto includes a smart toolkit to edit images. Using it you can add blurs, highlights, arrows, texts, free drawings, and more into an image. The annotation is the unique feature of it. Plus, you can use Capto to export an image to PNG, JPEG, TIFF, PDF, GIF, BMP, and CAPTO formats.
Feature 5: Extend to Screen Recording to Your iOS Devices
Have you ever tried recording a game on your iPad but finally found the game got unsmooth and the iPad got very hot? Capto can help you out! With Capto, you can simply connect your iOS device to your Mac with a cable and record your iOS screen from the Mac.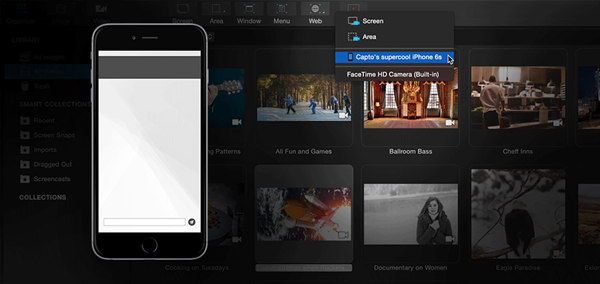 Feature 6: Manage your Media Files and Folders Conveniently
Capto makes your video and image collection smart and searchable. It helps you sort the captures automatically so you don't need to do it by hand. The most prominent management feature is the tags-adding, which enables you to add tags to screen recordings and captures, and later search them by keyword.
Feature 7: Share Videos and Images to Social Media and Cloud Services
In Capto, you can share your screen captures and recordings instantly to social networks like Twitter, Facebook, Airdrop, etc. In addition, Capto can cooperate with the FTP and SFTP servers if you have them.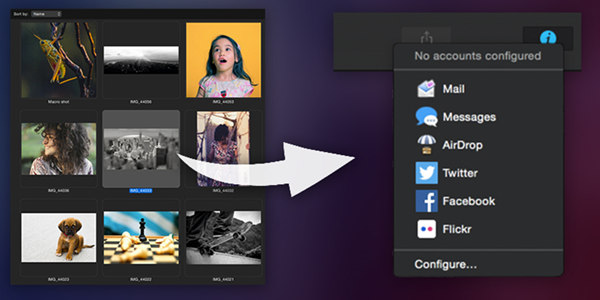 Part 2: Capto Review - Pros and Cons of the Software
1. Pros and Cons of Capto
Pros

Add annotations to videos
Unlimited video length
Delicate and intuitive user interface
Record iOS devices from Mac
Cons

Doesn't have a Windows version
Poor audio controls
2. Overall Score of Capto
Easy to use 9.5
Editing features 9.0
Gameplay capture9.8
Video quality 9.8
Annotation features 9.6
Part 3: Capto Pricing – Is Capto Worth Buying
Capto offers a 15 days free trial for you to experience the full features of the program without any limitation. If you are a user of macOS X v10.10.5 & later and just like the software, you can consider purchasing a lifetime license for Capto. The pricing is shown in the chart below:
| | | |
| --- | --- | --- |
| Single License | Student / Educator Pack | Family Pack |
| US$16.49 | US$19.99 | US$74.99 |
Part 4: Best Alternatives to Capto 150words
Screenflow
Screenflow can be called a real pro in video editing and screen recording. Every inch of it is perfect, except for the price of US$129.99. If you only care about efficiency instead of economy, Screenflow can be your best alternative to Capto.
Screenflick
As said before, Capto works not very well when it comes to audio control and editing. In this aspect, Screenflick does much better. Screenflick is selling at US$35, which is not much more expensive than Capto. Just US$5 more expensive, Screenflick is a suitable alternative to Capto if you need to edit audio frequently.
Screenium
Screenium is also a good alternative to Capto. Screenium can record your screen at 60 FPS with 4K or 5K ultra-high resolution. Just like Capto, Screenium is also able to record your iPhone, iPad, and Apple TV screens. It's also worth noting that Screenium has already been optimized for the new M1-based Macs.
Part 5: FAQs about Capto
Can I install Capto on my Windows computer?
No, you cannot. You can only install Capto on macOS X v10.10.5 & later. If any installer claims to be an official Windows version of Capto, it must be fake and might contain viruses and plug-ins.
Will Capto develop a Windows version in near future?
It is hard to say but one thing is sure - there is no news indicating that Capto is going to publish a Windows version at present.
How to handle the issue 'some of the hotkeys could not be enabled'?
Go to the Capto settings and alter to the Hot Keys tag. Just check the Override System defaults box. Then you will not get the alert anymore.
Conclusion
This review talked about the software Capto in detail. Capto is an unconventional video recording and editing suite, which has 7 powerful features, namely screen recording, video editing, screen capturing, image editing, iOS screen recording, media management, and media sharing. Among them, the iOS screen recording is the most prominent one. The main disadvantage of Capto is the poor audio control and editing. Did you download Capto? Please share with the other readers your experience by leaving a comment below.
Did you find this helpful?
152 Votes
YES

Thanks for letting us know!
No

Thanks for letting us know!